Dear Friend:
It's my understanding that you already have some experience as a trader and investor.
You know how to make money in the markets, but somehow you're not getting quite the results you're seeking.
That's why this could be the most important letter you'll ever read in your lifetime.
You see, I believe you have potential to earn two, three, and even four times more than whatever you're making right now.
I mean gains like these...
Cannabis stock wins of 138%... 209%... 243%... and even 318%.
Or 243% on a credit card company ... 517% from an auto maker ... 164% on a convenience store chain ... 314% on a sub-continental oil explorer ... and 202% on a mobile communications innovator.
IRS-approved "Liberty Checks" with regular payouts of $1,380…
Every 20 days!
Or wins like 14% on QQQ in 34 days ... 17% on SPY in 41 days ... 16% on DIA in 21 days ... 10% on AAPL in 42 days ... 11% on QQQ in 14 days ... and 13% on IWM in 11 days.
Plus a new strategy that's already delivering super-fast profits like 18.30% in DIS ... 19% in SBUX ... 21.2% in UPS ... and 16.3% in TXN ... all in just 1 day each.
And that's just the start of it.
You could be making real gains just like this not just now ... not just this year ... but for the rest of your life.
Heck, even beyond that! (I'll explain how you can pass down this legacy of wealth-generation to your family members too.)
But here's the best part ...
2018 and beyond could be
your most profitable
(and laziest) investing EVER
I don't say that lightly. I'm serious about making every year better than the last. You'll do less work to be far more profitable. Much more!
Quitting your job will definitely be an option, if you're still working. And if you're retired already, a much higher standard of living awaits you.
It's certainly worked for me and some very special clients of mine.
You see, all it takes is one big thing.
One big domino.
Knock that down and suddenly a whole new world of greatness opens up for you. Something that really CAN double, triple and even quadruple what you're earning right now in your portfolio.
There's always something -- one big thing -- that once you figure it out, will totally transform your investing and trading returns.
Once you find it and knock it down...
Suddenly EVERYTHING changes.
Could THIS be your domino?
Perhaps capital gains growth might be what you're really after.
(If you're more of an income investor, hold on for a sec and I'll tell you all about that too.)
Imagine going back in a time machine to December 5, 1933. Alcohol's just been made legal again with the end of Prohibition.
And all the world's best booze producers are now able to sell into the world's fastest growing market.
Companies like Guinness… Anheuser-Busch… and Seagram. You could buy any of these (or their competitors) and make yourself an absolute fortune.
Today, the legal marijuana business is just like alcohol after prohibition!
It's going to grow to a $100 BILLION market…
And you can get invested NOW – before full legalization.
You see, legal cannabis is in exactly the same spot as post-Prohibition alcohol: suddenly legal and with a VERY hungry market begging for their product.
It's the #1 profit opportunity I've seen since the 90's dot-com boom.
Forbes says the marijuana market is set to grow from $7.1 billion to $22 billion by the year 2020. New York bank Cohen & Co says there'll be a $50 billion market by 2025.
And boutique research firm Arkrell Capital predicts a $100 billion market by 2030.
The numbers just keep getting bigger and bigger.
And yet the profits are ALREADY piling up ...
"My one day profit on
January 2nd was $32,000!"
John Mardinly is a retired engineer who absolutely loves playing serious classical guitar.
(And he's one of my special members who took me up on an earlier offer to go from good to GREAT with his investing.)
John weighed up the legal cannabis research I made available to him ...
... and then went all-in on 10 of the pot stocks I recommended. In just a few months, he was up $98,822 including a 222% gain in just one of the stocks.
"My one day profit on January 2nd was $32,000!
How has this affected me? Music is my life. Now I am seriously considering buying the ultimate classical guitar; a Greg Smallman. ~$35,000."
Now that's a step into greatness.
It turns out that John's "big domino" was taking the plunge into one of the hottest of hot sectors at the time: pot stocks.
I helped John uncover those stocks and he had the conviction to buy them. That earned him almost all the cash he needed for his ultimate classical guitar.
Remember, he made almost enough ($32,000) in just ONE day to cover it.
And just think about it ... there are already 50 million Americans using cannabis.
We're looking at a market that's predicted to grow from $7.1 billion into $22 billion in two years ... and then $100 billion in just 12 years.
That's all you need to transform a tiny investment into a massive fortune.
And it's why I'm personally preparing to become a "Pot Stock Millionaire" with a $100k investment. Yes, I'm putting my own money on the line to give myself a $1,000,000 windfall from this new "post-Prohibition" era in legal cannabis.
That's why I have even more great picks lined up for the next wave of major marijuana profits.
You can do it too ... if you join John and myself ... and decide that legal cannabis is your "one domino" to greatness.
But let's not get ahead of ourselves.
There are a few more dominoes you might want to know about too...
Maybe THIS one's the best choice for you?
You see, what's crazy (and fun, actually) is that everyone's "big domino" is different.
You might be more of a "cash on the barrelhead" investor.
That means income expert Steve Mauzy's special "Liberty Check" trades could be what transforms your investment life from good into great.
You see, Steve's already closed out 15 urgent alerts with a 13.3% average yield.
He's led his followers to collect huge dividends of 10%, 28% and even 33% with a strategy for collecting the biggest dividend payments.
And right now, it sure looks like 2018's going to continue being a huge year for these payouts.
I call them "Liberty Checks".
That's because American companies have $3.1 trillion in cash sitting in overseas bank accounts. Donald Trump's tax policies seem to be paving the way for bringing this cash back into the U.S. with 1-day payments of 5% - 60%...and possibly even more.
Steve looks for the companies most likely to deliver a "Liberty Check" to lucky shareholders. Then he gives you the alert so you can cash in ... big-time.
How much could you make?
It all depends on how much you invest.
Special member Madeleine Wood decided the "Liberty Check" strategy was exactly the domino she was looking for ...
How a 76-year-old grandmother
earned $43,779 in just 7 months!
Madeleine started with a $2,493.19 gain in just 18 days. Then her "2nd and best experience" was a $16,142.67 winner in 76 days followed by another $11,495 in 28 days.
She made a huge $27,637.67 in cash in less than seven months.
As she says, "If I can do it at 76 years old and with limited English, I think everybody can do it. Kuddos!"
That's a life-changing win right there.
Especially when we look at what Paul B. accomplished using the same "Liberty Check" income strategy:
He's teaching his daughter how to trade with over $33,000 in profits
You see, Madeleine's story is hardly unique.
A $10,000 investment into a "Liberty Check" situation could pay out $1,000 or even $6,000 in just one day.
Steve alerted special member Paul B. to one of these huge payouts and showed him exactly how to collect the cash.
As Paul puts it...
"I have collected 3 liberty checks -- CYOU, Warrior Met Coal and TDG Transdigm. The first two paid me about $8,000 (combined) and Transdigm paid me about $33,000 in gains. That's not an error; TDG benefited me $33K. It's a pricey stock but the payout was sweet and the recovery time to pre-dividend share price was short, quite short.
How do the gains impact my life? I'm funding an apprenticeship while our adult daughter learns the ropes of trading. These payouts make that possible and she has participated in the last play (CYOU).
My personal goal is to reach deca-millionaire status and Dividend Confidential has an important role in my strategy. It's far superior to endless trades and more desirable because you can see in advance what the results will be."
I think you'll agree that 'deca-millionaire status' is major league success. That means having $10 MILLION dollars.
But you don't have to be that ambitious. It's totally up to you.
Let me show you ...
"... it would normally give me a 17% return, which I am happy with!"
Paul's already knocking down domino after domino thanks to his special membership. He's swinging for the fences for a whopping 8-figure net worth.
But again -- everyone's domino is different. You just have to pick the right one for YOU.
Here's how Gil Marcotte took Steve Mauzy's "Liberty Check" idea and put his own spin on it. As he says ...
"Hello Steve, I really enjoy your program but I have slightly different goals as to my returns.
I like to capture the dividend and then recover 5% return for my trouble plus 1% per month on the capital appreciation. At the end of 1 year, it would normally give me a 17% return, which I am happy with!
... I got my 5% return within 1 week (a 260% yearly return) without having to wait for the dividend or the capital gain. So I sold it before the ex-date and I now have the cash on hand ready to invest in another stock.
FYI; so far, I've invested in 3 of your 4 suggestions and did very well."
As Gil discovered, the world's your oyster once you knock that domino over.
21% annualized ...
and he didn't even take all the trades
Eric Richter isn't interested in classical guitars (or pot stocks) but he loves collecting cold, hard cash income on his trades just like Paul and Gil.
We showed Eric a few new tricks to try, and he took full advantage:
"Your service is great. So far I'm making 21% annualized on High Yield Trader and I haven't even participated in all your trades. More importantly though I've learned some trading techniques from you that have enabled me to squeeze out more money than I use to get on my personal trades. Thanks for the great service."
You see, Eric was already making money on his trades. Now he's making even MORE.
Just from doing "one thing" better than before.
Once he realized that the real key to success was finding how to do ONE thing and focusing on it ... he began squeezing more money out of each trade.
But that's not all.
The "one thing" isn't just results,
but the confidence to
GO ahead and actually DO something
What's that old saying about knowledge is power?
Once you've got it -- and the confidence to actually use it -- then magical things start to happen in your account.
According to Richard Brinton ...
"You manage to make a complicated process actually understandable and it is making me money. Thank you. I've learned to stop the losers and ride with the winners. This was not easy for me as I tended to hang on in the 'hope' that something positive would happen. It frequently didn't….
You've also saved me a lot of subscription money that I no longer waste on other 'teachers.' Obviously I was looking for the holy grail. That also doesn't exist but your mathematical approach works."
You see, results don't happen just from thinking about getting better. You have to be a "do-er".
That's how you nail that ONE THING that's blocking you away from greatness. You jump in and start doing great things.
Mark Nichter tells me he probably didn't get the exact prices we recommended set but he still "received an annualized return of 54.5% after holding the position for only 51 days. Wish I had had more skin in the game! Will definitely try to free up more cash on the next trade I get into."
And Jean-Charles Poirier has declared himself "very satisfied with the results achieved" since we showed him the way. He's bagged 15 winners against 3 losers, with his gains outstripping losses by 10 to 1.
All this from these guys doing ONE THING they hadn't known about before.
Now here's another
very profitable domino
you probably don't know about (yet)
Everyone's different about the ways they imagine doubling, tripling and even quadrupling their money.
It doesn't have to be special dividends like Madeleine, Paul, Gil, and the others. Or mega-growth stocks like the high-impact pot companies I highlighted for John Mardinly and other members.
There are other kinds of income trading you can profit from too.
Andy Crowder shows our special members how to collect regular income with some of the safest and most effective strategies you'll ever find.
Andy's an expert options trader, and takes safety to a whole new level.
So if you're one of those people who hides under the bed when you hear "options", please don't run away yet.
That's because Andy's unique approach gives you close to a 90% chance of making money.
He only makes a trade recommendation when the numbers tell him he's got a winner.
And no matter which direction the stock market moves -- up, down, or flat -- Andy can show you how to make money. You even get to decide how much you want to make.
Andy's the one who can show you how to start with a 1.5% dividend... and crank it up to a 16% return. Or take a 2.83% yield... and convert it into a total return of more than 20%.
He's also the go-to guy for wins like 14% on QQQ in 34 days ... 17% on SPY in 41 days ... 16% on DIA in 21 days ... 10% on AAPL in 42 days ... 11% on QQQ in 14 days ... and 13% on IWM in 11 days.
Plus there's his newest strategy based on company earnings. I'll tell you a bit more about it in just a moment.
But it's already delivering profits like 17.6% in JNJ ... 19% in COST ... 10.5% in CSCO ... and 15.6% in V.
All in just 1 day each. That's fast!
Quick Income Without Headaches
So is that kind of quick turnaround stressful? I certainly don't think so.
After all, Andy's hit on 16 winners from his last 20 recommendations.
That's the kind of track record that lets you sleep pretty soundly.
Take Michael Bobal's experience, for example:
"The new trades I have been making with Andy are the Delta Codes, and Earnings trades. I do participate doing the other trades: iron condors, put selling and credit spreads. I have done these trades over the previous 15 years. The big advantage to working with Andy is that I have a partner in my business.
...I am retired and have a substantial long term portfolio. I can basically live on the gains from these option trades in addition to my social security. If this continues I will not have to invade the principal of the long term portfolio for my retirement income.
Two of the real benefits of working with Andy is that you have a big brother with experience to ask questions. Andy has freed up a substantial amount of my time. I always have someone watching the market. Being retired I do not want to spend the majority of my time at the computer screen.
I would definitely recommend Andy's service to a friend and have done so. I wish I had this type of service when I first started out."
See how it works?
More money, less stress. More peace of mind. That's how you elevate your life to a whole other level. You find that one big domino and knock it over.
As Mike knows, you can save yourself years of trial and error -- plus countless dollars -- once you see how to get there.
And remember, Andy will never send you a trade recommendation if it doesn't have at least a 75-90% chance of making money.
Andy's readers enjoy access to 4 distinct options strategies. Each one focuses on a unique and profitable concept designed to put money directly into your account ... instantly.
All 4 strategies deliver consistent wins.
But Andy's recently uncovered what could be ...
The very BEST way to
trade for fast, big profits
Andy's figured out the best way to trade stocks during Earnings Season.
You see, publicly traded companies report their financial results every 3 months.
Stocks often make big moves during these times. In fact, shares can bounce 5% - 20% in either direction after beating or missing expectations.
This volatility often frightens the typical buy and hold investor, but not Andy's followers.
This increased volatility is a GOLDMINE because these large short-term moves allow astute traders to cash in one profit after another.
During a 6-week period, all 500 companies in the S&P 500 share their performance. That's 18 earnings reports per day on average ...
... and together they deliver one HUGE tidal wave of potential trades.
Andy uses a simple, low-risk strategy for trading during earnings season. One that doesn't involve buying a single share of stock. One that multiplies your gains even if the stock price doesn't make a big move.
In fact, I've never seen a better way to generate big profits during earnings season.
Here's what Harold Sader has to say:
"I want to tell you how pleased I am with credit spread and iron condor trading based upon your Options Advantage (OA) recommendations. Yesterday I closed out 4 spreads and condors for full credit value notwithstanding the worst market day in recent memory. Furthermore my last 12 transactions have been successful. Even with an uncertain market, your OA approach works, works, works! Thank you.
There are many important and valuable aspects to your approach:
Hitting singles in the short term allows for a very high annual ROI;
The returns on my last 6 spreads and condors ranged from a low of 13.12 % to a high of 21.95 % over periods of 5 days to 46 days. The potential annual returns are staggering;
Mean reversion normally works very well;
Preventing huge losses is more important than taking potential gains;
Widen buy/sell spreads to reduce risk and get a reasonable return. I am, at times, more conservative than your recommendations."
Just to be completely clear, you don't need to be a "real" trader to make these kinds of profits.
This strategy works for every investor whether you invest $100 or $100,000. Even if you've never tried these ideas before.
You see, David S. has found he not only "really enjoys trading options along with you" but also that he's "learned so much and have certainly been making money from a source which I'd not previously understood or utilized."
And as Scott K says:
"I've belonged to Andy Crowder's High Yield Trader and Options Advantage services for a few years now and these services are phenomenal. I've only been trading for about 4 years now and I've done a myriad of options educational services, alert services (when and what to buy and sell), even one on one coaching.
But Andy is the best you'll find. He not only gives you alerts of what and when to buy and sell but he provides excellent, top quality educational webinars, videos, reports that teach you how to do what he does. He truly gives you the fish and he teaches you how to fish. He also answers personal emails regarding trades and teaching in a very timely matter. Take it from someone that has gone full circle, spending thousands upon thousands of dollars on so many other services out there. You often get what you pay for, but in the case of Andy's services, you are provided superior trades and education for much less than any other comparable service out there."
There's nothing to fear, even if you're a total newbie to some of this stuff.
Remember, you can only go from good to great by knocking down that domino.
Andy's got 4 of them for you to try, and you might find any -- or ALL of them -- are exactly what you need for extra income in your portfolio.
Now there's even more good news ...
I'm going to help you find
your ONE thing for you
Transforming from good to great isn't easy.
But you don't have to worry about going around in circles trying a few half-baked ideas you don't have time for.
All you have to figure out is that ONE thing I'll help you uncover ...
... and you could be seeing double, triple and even quadruple the investment returns while feeling WAY less stressed.
You could be earning up to 5 times more income from your top stocks and ETFs.
You could be profiting from what Jack Bogle (founder and retired chief executive of The Vangard Group investing powerhouse) calls the most volatile market of his entire lifetime.
You could be collecting massive IRS approved 5-60% Liberty Checks several times a year.
You could be raking in 15-35% cash in just 1-5 trading days over and over again during earnings season.
I've even uncovered a way for you to buy pre-IPO shares in the next hot IPO months before it goes public.
And the next cannabis boom (version 2) is about to explode too.
Does all that sound like something you'd like?
I sure hope so, but first ...
I have to admit two things here ...
First of all, me and my team can help you become great.
But we CANNOT offer you explicitly personalized investment advice.
No one can, even when they're legally able to do so. That's because no one knows your own goals and dreams better than you do.
That's why this membership is designed specifically for good investors who are happy to soak up what we offer ... act on actionable recommendations ... and go from good to GREAT.
I really hope that's you.
Are you ready?
Remember, finding that one BIG domino won't happen in a day.
And it isn't cheap either.
But it IS very valuable, as you're about to find out:
Here's where I pull back
the curtains and reveal all
I'm offering a special and exclusive program for 25 people.
It's an extraordinary opportunity that gives you $22,426 worth of our most profitable research for a one-time lifetime fee.
It's called Wyatt Select and you'll receive exclusive, LIFETIME access to every single research service we publish.
This unique membership could save you tens of thousands of dollars and you'll get access to everything we publish or ever WILL publish.
For the rest of your life.
Actually, it's even better than that: your Wyatt Select membership can be passed on to family members as a living legacy of wealth for the next generation.
That was not a misprint. Once you're "in" Wyatt Select, it's yours forever.
And remember ...
There's a one-time fee.
That's it.

There are NO recurring charges
and NO renewal costs ever.
You'll get everything delivered directly by email with everything also available through our members-only web site.
So what exactly are the Wyatt Select services?
You get total strategic diversification across 10 unique services that cover every base. You're getting access to ...
IRS-approved "Liberty Checks" where you collect one-day payouts of 5% - 60%.

Government-approved marijuana stocks set for triple digit gains ... again!

Easy 24-hour earnings season trades (1 day to 1 week wins)

Simple options income trades set up to win at least 80% of the time

Plus much more!
See for yourself:
Earnings Season Trader (Retail Price: $3,950): Andy's newest and hottest service targeting 15% - 40% profits per trade. And with a holding period of just 4 – 7 trading sessions. Most of his trades take just 1 day and they're delivering profits like 18.30% in DIS ... 19% in SBUX ... 21.2% in UPS ... and 16.3% in of TXN ... all in just 1 day each.
Options Advantage (Retail Price: $3,950): Andy's unique approach to the market gives you a 75% - 90% chance of making money. He's booked 10 straight wins with one strategy alone including gains from 10.7% - 30.4%. From all strategies combined, he's taken only 4 losses from 33 trades this year. That's a huge 87.9% win rate and each winner puts money into your account -- instantly.
Millionaire's Retirement Club (Retail Price: $2,950): Steve shows you how to buy completely overlooked investments used by just 3% of American households. They're not REITs, MLPs, BDSs, or an options strategy. But these these 893(C) Accounts allow you to buy shares at a genuine discount to their true value while earning 2 - 10x more income than you'd collect from blue chip stocks. 893(C) Accounts set you up to build a portfolio of great income opportunities at a deep discount.
Dividend Confidential (Retail Price: $1,995): Steve uncovers unique income investment ideas I call "Liberty Checks." Some members have pocketed $27,637.67 in cash in less than seven months and $33,000 from a single investment thanks to Steve's income sleuthing into special dividends.
Million Dollar Portfolio (Retail Price: $1,995): My personal portfolio of stocks where I started with $100,000 of my personal savings and the goal of building it into a cool million. I reveal every buy, every sell, every deposit and every profit I take including 789% on MasterCard (MC) ... 640% on Tesla (TSLA) ... 3,101% on Netflix (NFLX) ... 71% on Starbucks, 193% on FedEx, 219% on Apple, and 279% on Google. (This is where I book my pot stock gains too!)
High Yield Trader (Retail Price: $2,995): Andy shows you how to turn any ordinary stock into a "quick-cash generator" whether it's rising, falling, or just plain flat. Slash your downside while fattening your upside by building a "safety cushion" for every stock you own. This is how you take a measly sub-3% dividend and turn it into a 32.6% ... 26.10% ... 107.9% ... 128.5% ... or 49.6% total return.
Andy's Option's Alliance (Retail Price: $3,994): Andy's private "mastermind" options group. You not only receive a lifetime of Earnings Season Trader, Options Advantage, and High Yield Trader…you also receive access to Andy's private Facebook group and Monday morning strategy calls. Plus, you gain access to Andy's private scheduler where you can reserve 1-on-1 coaching calls with Andy!
Dollar Wealth Club (Retail Price: $199): I'll send you my #1 investment idea or quick income trade each month. It could be a blue-chip stock, an emerging technology stock, a PRE-IPO situation or a red-hot biotech. You'll know exactly what I think presents the biggest profit opportunity each month.
High Yield Wealth (Retail Price: $199): My monthly Dividend Calendar reveals how to earn $16,700 in dividends every year. We're currently holding quality stocks yielding 9.2% ... 10.9% ... 6.8% ... and 8.2% that keep delivering cash quarter after quarter like clockwork.
Personal Wealth Advisor (Retail Price: $199): This is Your Personal Road Map to Market Riches where the entire Wyatt team of analysts and researchers pitches in to bring you the best market ideas they can find.
So there you have it.
Wyatt Select is 10 super advisories totally focused on ensuring you find your ONE THING that's blocking you from greatness.
That's how you get those profits I told you about earlier:
Cannabis stock wins of 138%... 209%... 243%... and even 318%.
And 243% on a credit card company ... 517% from an auto maker ... 164% on a convenience store chain ... 314% on a sub-continental oil explorer ... and 202% on a mobile communications innovator
Special dividend yields averaging 13.3% each
Wins like 14% on QQQ in 34 days ... 17% on SPY in 41 days ... 16% on DIA in 21 days ... 10% on AAPL in 42 days ... 11% on QQQ in 14 days ... and 13% on IWM in 11 days
Plus Andy's new Earnings Season strategy that's delivering super-fast profits like 18.30% in DIS ... 19% in SBUX ... 21.2% in UPS ... and 16.3% in TXN in just 1 day each.
You get every opportunity we find ... for life.
And together, everything in Wyatt Select is worth $22,426 a year if you were to subscribe to each one separately. ("If" is the operative word here. Wyatt Select is actually a very specially-priced bundle for a very limited time.)
Interested?
I want to make really sure of that.
That's why ...
You must apply to claim
1-of-25 available slots
Click Here Now!
I did say this was exclusive, didn't I?
It really is. I don't allow just anyone into Wyatt Select.
You have to be a "do-er", not a tire kicker. You've got to stand up and swing at some pitches ... or your spot's wasted.
I'd rather give you spot to someone else if you're not REALLY ready to become great.
However, I must warn you again ...
It's not cheap, but it IS one heck of a
fantastic lifetime value
If you were to subscribe to all 9 services for one year, you'd pay $22,426.
If you subscribed for 5 straight years, you'd pay $112,130.
That's a pretty substantial sum.
But I'm not asking anything like that. Even though this is a lifetime membership with a one-time only fee...
... you're only going to pay a fraction of the one year subscription price.
With that in mind ...
Here's How To Apply
I've limited this to just 25 investors for a very good reason.
First of all, we've found if we enroll more than that, we can't provide the same level of 1-on-1 attention you deserve as a Wyatt Select member.
Secondly ...
I want serious people who are ready to go from good to great. People who are actually going to USE as many of the 9 Wyatt Select services as possible.
This is not for newbies who are just getting started as investors. You must have some experience and enough confidence to actually put real money into $18,432 worth of strategies, recommendations and picks and enjoy real profits.
Like Dale Caldwell, for example:
"Good Evening Ian!
Thanks so much for your and your Team's efforts. You guys are awesome!
My overall portfolio was up 53.77% in 2017. Almost all of my portfolio is based on selections from your monthly recommendations in the Millionaire Portfolio, although I have purchased some recommendations from your Dividend Confidential service as well.
I have purchased several of your Cannabis stock recommendations. I am up over 150% on two of my purchases. I purchased Aphria 9/19/17 and that position is up 156% in 133 days or a 427% annualized return. I purchased Cronos on 11/6/17 and that position is up 168% in 85 days or 720% annualized return. I have listed information on my purchases of your Cannabis recommendations below including date, shares etc. I also attached a spreadsheet which is easier to read.
Stocks that you have recommended that I have purchased in addition to the Cannabis stocks include TSLA, GOOG, AAPL, BRKB, BABA, HCC (41% Dividend!), FB and PYPL.
Thanks Ian!
Wishing you a great 2018!
Dale"
And Darwin Moore too:
"I have a 120K portfolio and make 18K to 25K annually...
I retired at 55 in 2016 and my options trading gives me a 2nd income stream apart from pension and savings. We can pay for cruises (which we love) or other vacations without dipping into savings. That is VERY liberating and satisfying. We have saved all our lives, so my option's profits are our "spend it!" money. Most people don't have that; we do!
...I had a mentor early on who taught me a lot, but he retired and I was adrift. Then I found Options Advantage. I am conservative, and so is Andy. When he speaks of high probability trades, appropriate position sizing, and not taking trades with too much risk... he is speaking my language... I find that I almost exclusively trade with Andy because of our like-minded nature...
I think it helps that I had some poor teachers along the way, so that a good one, like Andy, shines even more by comparison...
I've also just started teaching my 24 year old daughter and intend to gift her an OA subscription when she is ready. I want her to have that 2nd income stream luxury."
See? Just like that.
I want to hear YOUR success story once you're part of the Wyatt Select family.
(If you're very privacy-minded, you don't have to tell me your story if you don't want to -- it's not mandatory. But I definitely want you to ACT on what you're getting with Wyatt Select even if you maintain radio silence).
So no tire-kickers, please.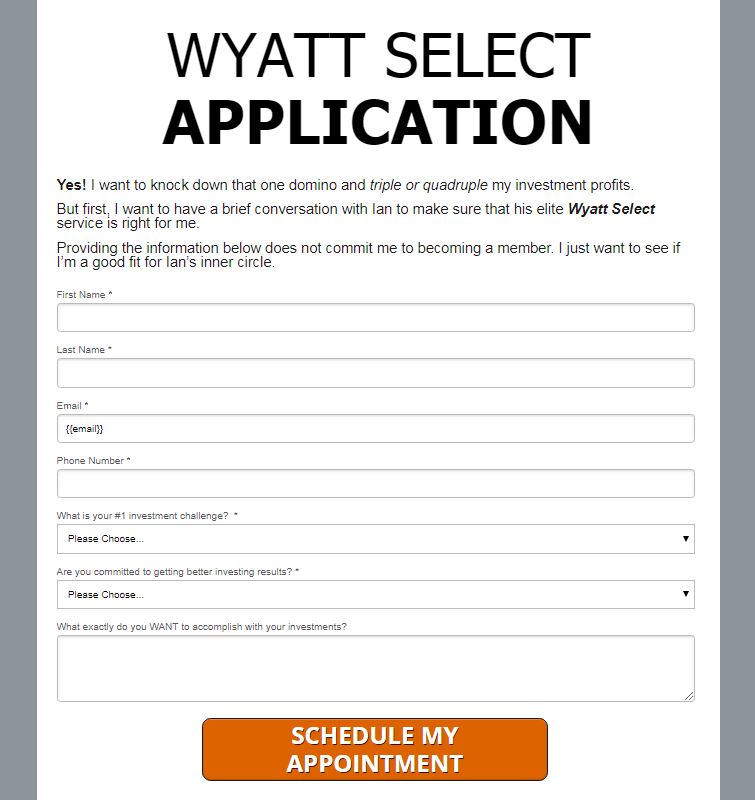 I've created a simple application process to filter out the non-serious folks who are only going to waste my time.
1. Click here to access the application right now.
2. After you fill it out, I'll review it personally.
3. Schedule a quick 15-minute phone call.
4. You'll have a call with my VIP Client Success team to get all of your questions answered.
Remember, this opportunity is extremely limited​ because there are ​only 25 spots available.
We'll accept only 250 applications, by the way. That's the maximum numbers of applications that I'll have time to review.
So your window of opportunity won't be open long.
Yes, there's a deadline too.
You must apply BEFORE May 25th at 5pm ET.
So if you feel this is right for you, don't delay.
Click the "Apply Now" button below. Fill out an application NOW or you'll miss out on this opportunity for at least 3 months. Maybe more.

Once your application is accepted, my VIP Client Success team will schedule a call at your convenience.
But you MUST apply before we hit the 250 person limit.
I'm expecting every spot will be FULL before the deadline on May 25th at 5pm.
Now thanks for taking the time to read this letter. I look forward to chatting with you soon if you're truly a good fit for this very exclusive service.
Ian Wyatt
P.S. You're probably thinking this must cost something crazy ... like $15,000 or something.
Nope. ​It's not even half of that. And I strongly believe it's worth it ... IF you're ready.
Just like Beverly Kirshblum:
"I originally purchased your lifetime membership last year at the age of 86. After thinking about it, i realized it may have been foolish to spend that amount of money at my age for a lifetime membership. But I didn't cancel. And boy am I glad.
The advice that I followed since then more than made up the cost. With the last purchase of Warrior Met Coal, Inc. (HCC) I made 4 times the amount of the membership. I cannot say "Thank You" enough times. Again, I am delighted that I didn't cancel."
Anyway, the 25 spots of this expanded program are going to fill up fast. If you want in ...

If and when I offer this again, the price will be at least 50% higher than today.
So it really is in your best interest to nail down this one-time lifetime fee right now. It's the lowest possible price you'll ever see for all 9 Wyatt investment research and alert services today.
Plus you'll also get anything else we create in the future for FREE ... for the rest of your life.