It's Your Opportunity To Turn Just $1,000 Into $1,990,807
You are just one click away from gaining access to ALL the premium research Wyatt Investment Research has (or ever WILL have)…
Along with our proprietary, exhaustively-researched financial strategy "The Snowball Retirement Blueprint" which will help you IMMEDIATELY start "snowballing" your money into a multi-million dollar retirement fortune… even just starting with as little as $1,000.
The investment decision you're making right now is the most important and helpful one you will ever make.
It is going to transform your financial situation for the better -- forever.
We only open Wyatt Select about once a year.
And if you're seeing this page, it means you still have the opportunity to get in on this special promotional offer.
You have been fortunate enough to be in the "right place at the right time" – don't let that fortune go to waste.
Take bold action by following through with your decision and committing right now.
Otherwise, if you leave this page – you void your spot. And somebody bolder than you will fill it (that's a tough way to put it, but that's the truth).
It's your opportunity to turn just $1,000 into $1,990,807…
And you can only do so by using the proprietary strategy we've laid out using these EXACT research services.
The trade alerts, research, and portfolios included below is your "golden ticket" to endless riches.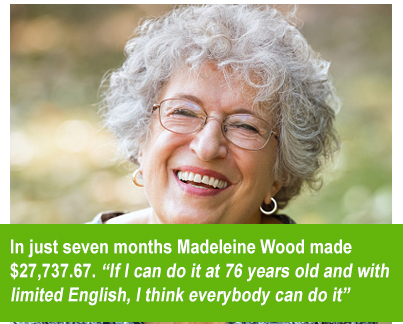 As you'll find out in your comprehensive report, "The Snowball Retirement Blueprint" included as part of your membership in Wyatt Select….
This combination of quick, short-term, money-making trades will begin to pay you income immediately on a weekly basis.
Then, you have endless opportunities to roll a percentage of that regular income into positions that will see you mounting endless millions of dollars in your sleep.
Separately, these services offer you the ability to make consistent gains in a single time-frame…which makes them powerful.
Together, these services cooperate flawlessly to provide you the ability to make income in weekly, monthly, quarterly, AND yearly timeframes…
This rapidly snowballs your wealth in a way that is ONLY possible when these services are combined.

Here Is A Re-Cap Of EVERYTHING You're Getting Today With Wyatt Select
(And All The Money You'll Be Saving)

Earnings Season Trader
[$3,950/year Standalone Cost]

Most people get crushed by Earnings Season (unless they just plain get lucky).
But with Andy Crowder's Earnings Season Trader, you'll be taking simple 1-day trades using a unique formula favored by the biggest Institutional traders on Wall Street.
In 2018, subscribers had an 82.5% win-rate.
Here are all the closed trades taken from 2017-2019.
Just imagine how much money you could have made.
Add up all of these gains and subtract the losers – you have 516.9% net gains.
That's enough to turn $500 into $2,584.50…
$1,000 into $5,169….
$5,000 into $25,845….
$10,000 into $51,690!
And remember, almost all of these trades last a single day. The gains you made from each of these trades wouldn't have taken you weeks or months or years.
They'd turn into cold, hard cash right in your account within 24 hours.

Options Advantage
[$3,950/year Standalone Cost]
In between making an absolute killing during Earnings Season 4 times a year, you could be pulling in 10% to 20% nearly every single WEEK using Andy's Options Advantage.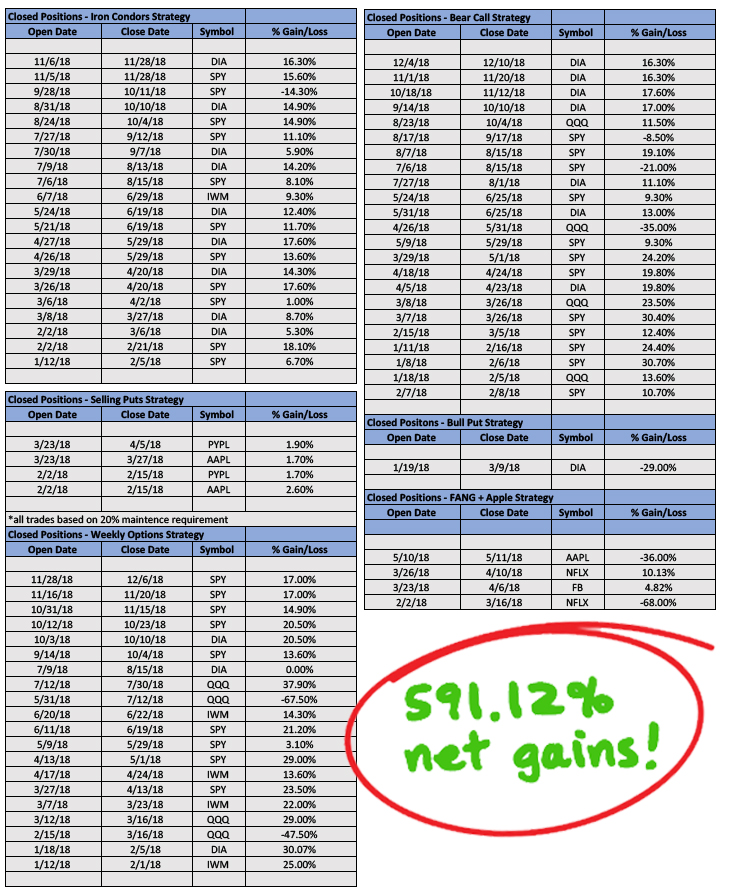 Here are all the closed positions of Andy's Options Advantage trades for 2018 – a complete win-rate of 87.67%.
If you were a subscriber you would have received every single one of these recommendations.
A total of 73!
Add up all these gains and subtract the few losers, and you've got an extraordinary net gain of 591.12%!
That would turn $500 into $3,455.60…
$1,000 into $6,911.20….
$5,000 into $34,556….
$10,000 into $69,112!
<
Millionaire's Retirement Club
[$2,950/year Standalone Cost]
Here, Steve Mauzy will show you how to buy completely overlooked investments used by just 3% of American Households – little-known 893(c) Accounts, allowing you to buy stocks at a discount and earn 2x to 10x MORE than you'd collect from Blue Chip stocks.
Purchase stocks at 12.4%... 7.6%... 14.1%... 18.4% (and more) discounts.
Then get yields of 8.8%... 5.8%... 7.2%... 9.3%... 13.3% (and more).

Dividend Confidential
[$1,995/year Standalone Cost]
This is how you create a mountain of multi-generational wealth while doing virtually NOTHING.
With these regular dividend income plays, you will be banking gains hand over fist. For example, $27,647.67 in seven months... $33,000 from a single investment.
Each and every month, dividends will be paid out to you. Let them compound, or take out a slice to finance a new home, car, boat, or vacation. When you have money stacking up in your sleep, the possibilities are endless.
Just look at all our closed positions since 2016…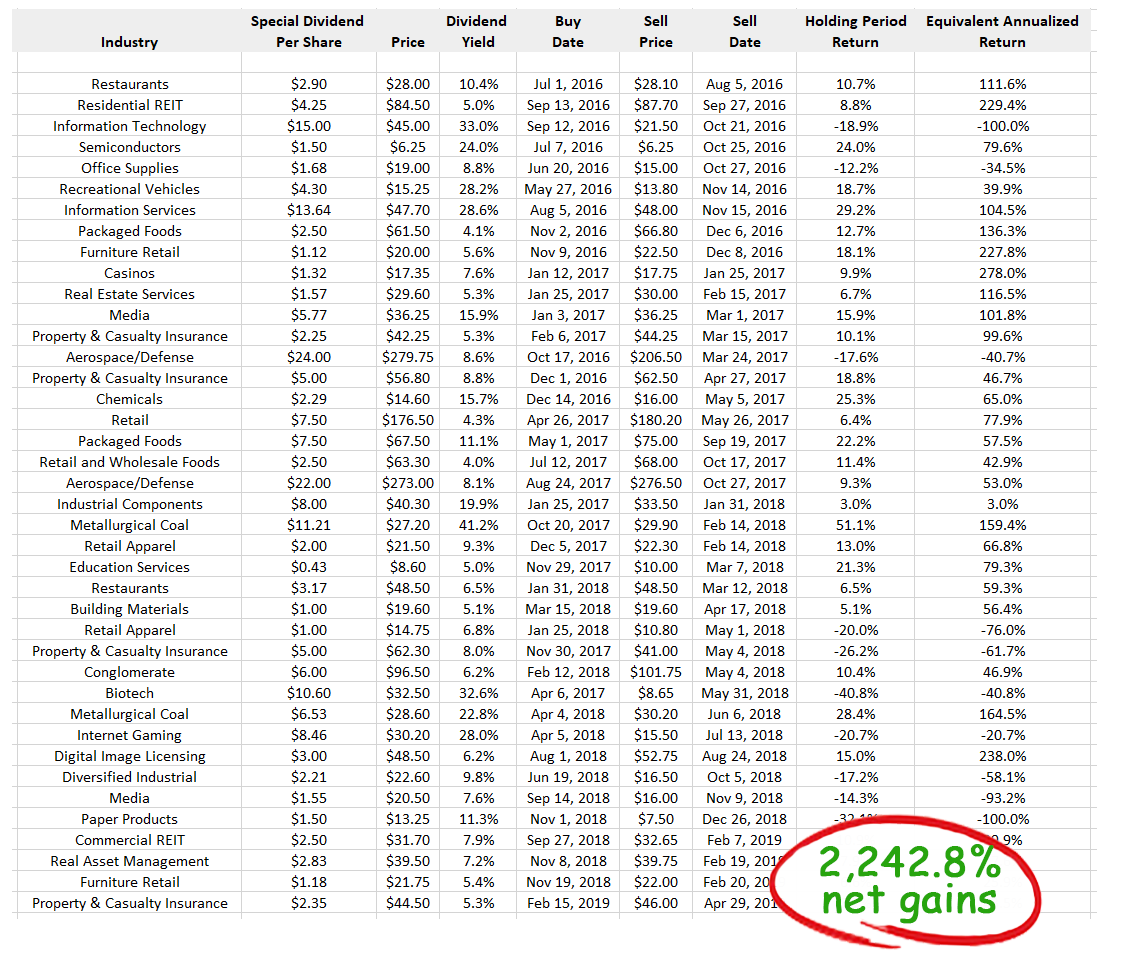 Not only would you have seen a 71.4% win-rate since we began sharing these investments with subscribers…
If you add up all these gains and subtract the losing positions, you have a total 2,242.8% NET GAIN in just about a three year period.
That would have turned $5,000 into $112,140!
Or $10,000 into $224,280!
Imagine the open positions we have in store for you! Or, better yet, the new positions that could be making you similar gains over the NEXT two or three years!

Million Dollar Portfolio
[$1,995/year Standalone Cost]
This is Founder, Ian Wyatt's PERSONAL portfolio. That means, every trade he takes, you see – every buy, every sell, every deposit, every profit he takes.
This portfolio was started with $100,000 with the goal of turning it into a cool million. And now, you can get first-hand insight into Ian's process, and invest right along with him.
That means taking out gains like 789% on Master Card… 640% on Tesla… 3,101% on Netflix… 71% on Starbucks… 193% on FedEx… 219% on Apple… 279% on Google…
And just wait until you see the pot stocks Wyatt has been adding to his portfolio! You're in for a real treat.

High Yield Trader
[$2,995/year Standalone Cost]
Working at Oppenheimer & Co. Andy Crowder discovered the secrets that the big Institutional Wall Street players use to not only bank consistent gains in literally any market environment… but to also simultaneously hedge their positions on stocks.
And in this service, you'll learn how to turn ANY "ordinary stock" into a "quick-cash generator" while SLASHING your downside risk and FATTENING your upside.
This allows yourself to build a nice, comfy safety cushion for every stock you own.

Andy's Options Alliance
[$2,995/year Standalone Cost]
Get PERSONAL access to Andy as part of his "Private Mastermind."
This is going to put you in first-hand contact with Andy Crowder. You'll never be left out to dry and you'll never have a question that's left unanswered.
You'll be getting access to Andy's private Facebook group and Monday Morning Strategy Calls.
Plus, you'll get access to Andy's Private Scheduler where you can reserve one-on-one coaching calls!

Dollar Wealth Club
[$199/year Standalone Cost]
Get Ian Wyatt's "$1 investment idea" or quick income trade each and every month. It's like opening a Christmas present! You never know what exciting new idea you're going to get.
For example, it could be a blue-chip stock… an emerging technology stock… a Pre-IPO situation… or a red-hot biotech.

High Yield Wealth
[$199/year Standalone Cost]
Right now, in our high-yield wealth portfolio, we're holding stocks yielding 9.2%... 10.9%... 6.8%... 8.2% and more that KEEP delivering cash quarter after quarter.
Here, I'll show you!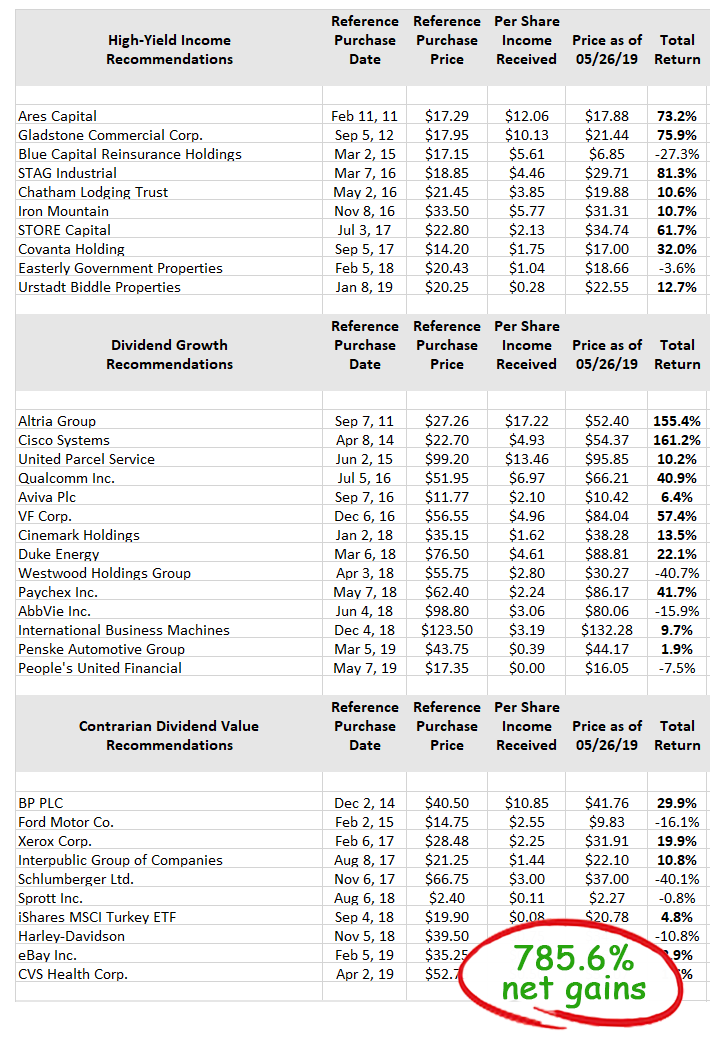 We are up 785.6% on all open positions!
Yet, we have closed out nearly 70 positions in that time as well, for total net gains of 1,511.4%!

Personal Wealth Advisor
[$199/year Standalone Cost]
This is your personal road map to market riches….
The ENTIRE "Think Tank" at Wyatt Investment Research participates in this portfolio helping to hand you the best market ideas they can (on a silver platter).
For example – 151.1% gains on Serapta Therapeutics…
119.1% gains on Nintendo…
117.5% gains on NVIDIA...
90.6% gains on Coupa Software, Inc.

Million Dollar 420 Club
[$2,995/year Standalone Cost]
Bank off the legal marijuana revolution without getting caught up in dangerous gambling and "speculation" by letting the expert Think Tank at Wyatt Investment Research walk you through this exciting new sector….
You can bank gains like 101% on Aphria…
258% on Cronos Group…
57% on MedReleaf…
258% on Green Organic Dutchman…
And much, much more….

420 Profit Multiplier
[$2,997/year Standalone Cost]
This is Andy Crowder's proprietary formula for BOOSTING your marijuana profits by using a strategy that is far superior to any other trading strategy in the world and applying it directly to your marijuana investments.
<
Capitalist Ventures
[$1,997/year Standalone Cost]
Each year you'll receive 3 to 5 new opportunities that offer tremendous upside profits.
You will be provided with situations that have the potential for AT LEAST 100% returns over a 2 to 12 month horizon.
These opportunities will allow you to get positioned in PRIVATE companies BEFORE they start trading.
You'll grab shares of private placements, IPO stock offerings, secondary offerings, and private placements in public companies.
Plus, you'll be presented with special situations and unique deals, such as stock warrants that can help you vastly multiply your returns.
Not only that, you'll only be provided with deals that have a clear path to liquidity, either through an IPO or RTO (Reverse Take Over).
<
Snowball Retirement Blueprint
[Absolutely Priceless]
This is the proprietary investment formula we uncovered after years of exhaustive research, using the help of some of the greatest financial minds and analysis the world has ever seen.
This "Think Tank" has a combined 75 years of combined experience and created a financial path that can turn just $1,000 into $1,990,807.
This is the "guidestone" that will help you take your Wyatt Select membership and use each of its "parts" to create a stellar, solid, unshakable dynasty of wealth that will last for generations…
Even if you're starting with a few hundred bucks!
Nothing like this has ever been done before in history. So, because of that, we cannot even really put a price on it.
TOTAL VALUE: $29,416 (Per YEAR)

YOU PAY: $4,995
(one-time payment for LIFETIME access)

This is it! You make this one-time investment today in your financial future and you benefit for LIFE.
The world is at your fingertips after this moment. Your financial future is SET the moment you fill out the form and click the button below.
But I have to WARN you. You will simply never see this offer again. Period.
As I explained in the presentation today, we simply can't do this year round.
We can't do this for EVERYBODY.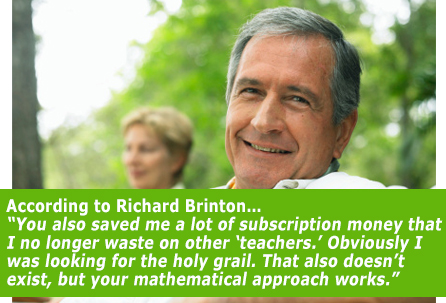 We are LOSING money by offering this to you today.
So if you don't take massive action now, you'll never have this opportunity again to get locked in for life at THIS drastically reduced price.
So fill out the form below NOW – don't wait another second and don't second-guess this opportunity to change your life.
Because, if you choose not to take advantage of this opportunity, you will likely regret it the rest of your life.
Take action now, and let's get started on snowballing your investment into millions upon millions…
IMPORTANT NOTE FOR CURRENT WYATT INVESTMENT RESEARCH MEMBERS:
If you currently have a subscription with Wyatt Investment Research, when you become part of Wyatt Select, your subscription will automatically be upgraded and you will no longer be billed for your previous subscription.
Reserve your spot by calling TOLL FREE
1-888-875-1960
- OR -
Complete the Enrollment Form Below
WARNING: Leave This Page – Void Your Spot
There's no denying that there are literally hundreds of "Financial Advisory" services out there.
We've been in this business since 2001 and have been trying to cut through all that "noise" to bring people the just plain good, solid investment ideas and strategies…
Strategies that have proven track records…
That are SAFE…
That are PREDICTABLE…
That are HIGH PROBABILITY…
And that are still FAST.
We have sacrificed sensationalism and outrageous promises like "1,000% gains" and "get rich overnight" because we don't want to dupe our readers in with unrealistic statements just so we can boost our subscription profits (or as some pathetic attempt to "out-do" our competitors).
We don't care about that stuff.
We ACTUALLY want our readers and subscribers to make good money and we don't want them to risk their account to do it.
We ACTUALLY want people to retire comfortably, which is why we're always looking for ways people can do just that (even starting with a very small amount of money).
The fact is that our team spends hundreds upon hundreds of hours a month working for YOU.
Andy Crowder, for example, our Chief Trading Strategist stresses himself out CONSTANTLY because he is trying to find the best, safest, highest-probability trades for you.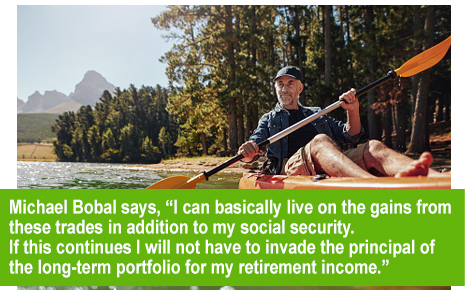 He loses sleep trying to deliver his trade alerts for his subscribers.
He doesn't have to do that – no way.
Andy could keep that stuff to himself, keep making his money, and you'd never be the wiser.
He doesn't' have to make weekly videos, explain every trade, write countless special reports, and more…
Same thing with Stephen Mauzy. He could just keep making is enormous dividend payouts using his formula.
He could keep it to himself and not share an iota of his knowledge with you.
Heck, so could I (Ian Wyatt).
Yet, we have chosen to share this because we want to give back.
And we are doing our absolute level best to provide you with amazing value.
I WISH we could give this research for free.
But we can't – like I said before, we are spending hundreds upon hundreds of hours at our headquarters for you.
And to keep our operations going, members need to pay money. That's just the way this ol' world works.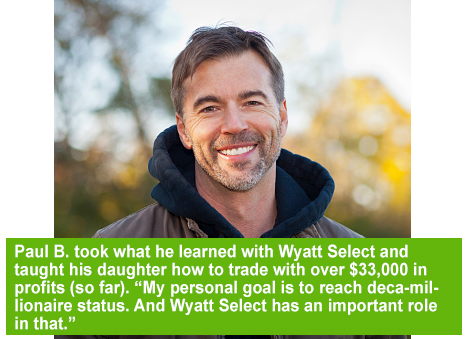 But just look at the opportunity you have right now.
We have taken $29,416 worth of potential subscription revenue (for us) PER YEAR.
And we are giving you the opportunity to pay a single $4,995 fee for LIFETIME access.
Think about how much money we have to leave on the table to give you this opportunity today.
What if you stay a member for 5 years?
We are leaving $141,085 in potential revenue on the table.
That's not to mention any and all research we may add in by bringing new, innovative members to our team.
So, if you think this is "all about the subscription revenue" for us – think again.
From a pure business and marketing standpoint, we stand to make more money from you by NOT offering you this opportunity today. Period.
But it's not about the money.
It's about helping you.
And – short of just plain going out of business by dropping our prices too low – this is the absolute level-best we can do.
This is our square deal.
But it's only here now.
This is a one-time offer.
If you leave this page you simply won't have this opportunity again.
So don't waist a single moment.
Choose your plan below (I recommend lifetime access) and get started now.
See you on the inside…
Good Investing,



Ian Wyatt

Fill Out The Form Below And Never Buy Another Financial Advisory Subscription Again
P.S. I never really understood what "you can lead a horse to water, but you can't make it drink" really meant until I started Wyatt Investment Research back in 2001.
I am constantly astounded at the amount of people who cross my path who say, "I wish I had more money…I wish I could retire…. I'm worried about my finances….I'm worried I can't afford a medical emergency….I want to travel…I want a better life…I want to give my children more after I'm gone."
The list goes on and on.
And yet, when provided with what they need on a silver platter to completely transform their lives and not just improve their financial situation, but completely ELIMINATE all their financial problems…
They often walk away from the opportunity.
Why?
Because it costs money.
Yet, I have seen these same individuals walk away from an INVESTMENT (that will be returned to them shortly after they start following the course)…
And immediately go into more credit card debt for many thousands of dollars more than my research would have cost them…
Yes indeed, dear reader, you can "lead a horse to water, but you can't make it drink."
You need to understand, that the money you are spending today is not a "liability" – it is not money that is forever leaving your bank account.
The money you are spending today is an asset – it is an investment.
An investment that will last you for LIFE and will eliminate your financial issues forever, finally freeing you up to live the life you deserve.
An asset that, once in your possession, forever grows in value and never depreciates in value.
I hope you make the decision to "drink" from this river today.
But I can't force you…
Reserve Your Spot By Calling TOLL FREE 888-875-1960
- OR -
Complete Your Enrollment Form Below