Top Stock Insights
The Real Secret Behind
Apple's Biggest Success
Recently, Tim Cook, Apple CEO, revealed all the details on its most advanced products ever… except for one.
And this one "tiny" detail could make you five times richer than Apple investors within the next twelve months.
Here's how.
Fellow Investor,
On September 9, 2014…
Apple announced its latest lineup of new high-tech products.
It was an impressive display of technology… and showmanship.
CEO Tim Cook revealed a lot at the big Apple launch event…
But not everything.
We were treated to demonstrations for the new iPhone 6…
And the even newer Apple Watch (essentially a computer you wear)
Yet, what Mr. Cook didn't reveal to the hundreds of people gathered in Cupertino, CA…
Or the millions, like me, watching on their computers…
Was this…
Absolutely every iPhone, every iPad… every new Apple Watch…
Would be completely worthless…
If it wasn't for one particular company.
It's the "secret" behind every iPhone... and just about every other Apple product on earth.
A secret that few ever hear about…
Yet, this one U.S. company is so vital to every aspect of Apple's "Mobile Revolution" …
That every time Apple releases a new device… its stock soars.
In fact, investors in this "secret" company can regularly bank five times more money than Apple investors.
And this year – I expect to see the stock take off and shoot higher again…
Because the new technologies that make the new iPhone 6 and the Apple Watch the most advanced ever…
Makes this "secret" company even more important to Apple's future.
Now, I'd like to show you why this company – the secret behind Apple's biggest successes – has been so lucrative for investors…
And how you could be part of the next run-up in share price.
It all started when the iPhone 3GS launched back in June 2009.
From July 13 until October 1 – the three months after Apple launched this iPhone – AAPL shares took off roughly 35%.
Not too bad.
But – take a look at what happened to the "secret" company behind the iPhone:
Take a look at this chart...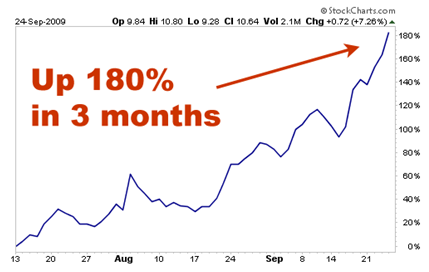 That's more than 5 times better than shares of Apple did over the exact same period.
And after the extremely popular iPhone 4 went on sale in June 2010…
Shares of Apple rose roughly 40% in the eight months following the release…
But look what happened to shares of the company behind Apple's success: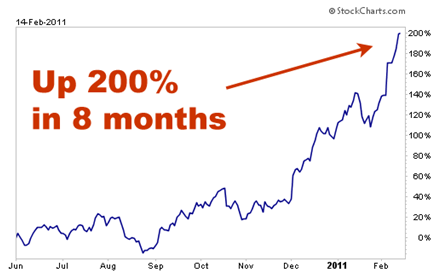 Again – that's roughly five times more gains than AAPL…
And when the all-new iPhone 5 was released in September 2012…
Apple shares actually sank – down roughly 25%...
While this "secret" company continued to rise…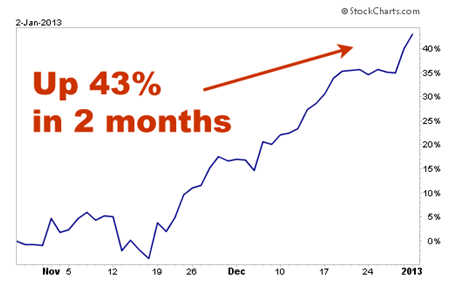 Most recently….
In 2013, after the latest iPhone 5C and 5S went on sale, Apple shares were up roughly 17%...
But shares of this stock once again soared 5 times higher than AAPL.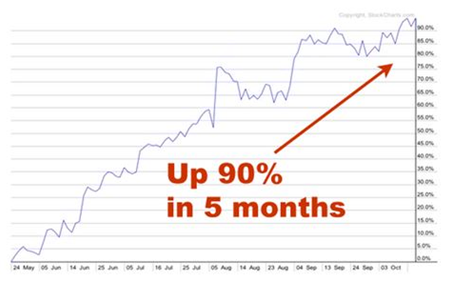 And this year, it's poised to do the same...
Because the launch of Apple's newest iPhone… the iPhone 6… isn't like its previous product releases… this is different.
Right now, consumers are buying up smartphones at the fastest pace ever…
In fact, 2015 is projected to be the biggest year for smartphone sales yet!
Over 1.9 BILLION smartphones will be sold this year alone, reports Gartner Research.
And you better believe that Apple is getting in on that action.
According to industry experts, AAPL is expected to sell more than 256 million iPhones…
And 15 million to 20 million Apple Watches…
In the next 12 months alone.
And that's why I'm writing you today…
The products announced at the latest Apple event are the most sophisticated, most advanced products of their kind – ever.
The iPhone 6 is considerably larger with a new A8 processor… making this the fastest iPhone ever.
In fact, the newest version of this smart phone is now 50 times faster than the original iPhone.
It also has faster wi-fi…
Not only that – Apple introduced the Apple Wallet… a new technology that's sure to prove a major leap forward.
Apple Wallet holds all your vital payment information in one secure place… and it lets you make purchases by simply pointing your iPhone at a special reader.
But the most impressive thing about the launch (which I'm actually watching live now as I'm writing this to you)…
Is also the most eagerly anticipated advancement from the whiz-kids of Cupertino in years…
The Apple Watch…
In the constant evolution of technology – Apple Watch may be the apex.
It does everything…
It tells time, it has health and fitness apps, it uses regular apps like the iPhone and iPad… and it all synchs seamlessly through the iPhone.
Naturally, CEO Tim Cook and all the other presenters at this tech-fest were proud and excited by their latest advancements…
And rightly so.
But what he didn't reveal is the "secret" company behind Apple's successes…
And as I'll show you in a minute…
Apple's latest advances make this "secret" company even more indispensible to Apple's future.
Not just Apple… this little-known company
profits every time a Samsung Galaxy
smartphone is activated, too.
Here's why…
All the slick features of Apple's iPhones and Samsung's Galaxy smartphones – simply can't function without this company's indispensible technology.
That means everything that's great about the world's most popular mobile devices:
Apps…

Email and the Internet...

Maps and navigation...

Games…

Streaming music and video...
Only function because of this one incredible technology.
And this company has a lock on it.
Which is what makes this company such an attractive investment opportunity right now...
Because BOTH Apple and Samsung depend on it to fuel their new smartphone launches.
A quick example… shares of this company soared 45% in just 30 days after Samsung's extremely popular Galaxy S II smartphone went on sale in June 2011 (over 40 million were sold). Have a look: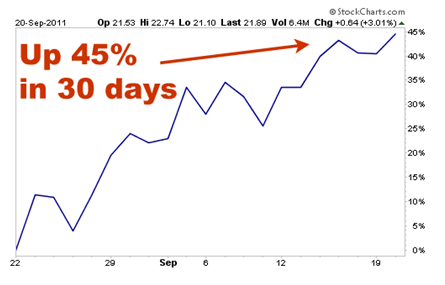 And this company's valuation more than doubled in the six months after Samsung released its Galaxy S4 in April 2013: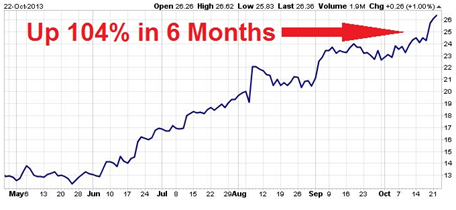 And with 2014 set to be a record-breaking year for smartphone sales… over 1 billion units are being sold… this is truly a historic opportunity to get in this company early – before shares take off once again!
Here's the thing though – of all the smartphone makers in the world today… Apple and Samsung are the only ones turning a profit…
Apple earns 72% of all profits from smartphone sales with Samsung taking in the rest at 28%.
(Note: The competition, including Microsoft, HTC, and Blackberry-maker Research in Motion, sell their smartphones at a loss.)
So, in addition to Apple and Samsung accounting for the majority of smartphone sales now and in the coming year…
This trend is set to continue… as Apple and Samsung re-invest billions into releasing new smartphone after smartphone – eventually cornering the market!
Now with so much hype surrounding these new smartphone launches... you might be thinking if you should just invest in Apple, Samsung, or even Google – Samsung's righthand man – and call it a day.
I wouldn't argue with you... In fact, I own shares of Apple and Google myself...
But if you're looking to really grow your money... save for retirement... and achieve financial dreams like taking a vacation to Hawaii… paying for your kids' or grandkids' college tuition… or even amassing a sizable down payment on a seaside condo...
You'll want to invest in multiple growth opportunities... like the highly profitable company I've been talking about:
The nimble U.S. company that profits each time a new Apple or Samsung smartphone hits the shelves.
But, by now... you must be wondering... how exactly is this company poised to cash in? How does it make money?
So I'll cut right to the chase:
iPhones and Samsung smartphones are useless without this company's technology!
I realize that's a bold statement... but when you consider what really makes smartphones the amazing devices they are... it's certainly not a stretch of the truth.
Because no one just uses their phones for making calls anymore...
(According to Cheltan Sharma Consulting, voice usage on mobile networks has been level for years...)
They use them for browsing the web, sending text messages, uploading photos, and using popular apps like Facebook, Twitter, and iTunes – all those amazing features you see in those ads on TV.
Yet, there's a catch... and this is where our company comes in...
None of these apps and programs would work without one thing... and you might have already have guessed what it is...
In a word – it's data.
iPhones and Samsung's Galaxy phones need fast, limitless access to data... available 24/7... and streamed from cell towers and buildings all over the world.
That may not sound like a big deal...
But if you've ever received a shockingly large cell phone bill after watching a video, excessively browsing the web... you'll know data doesn't come cheap.
It's the most expensive part of your bill!
And nobody knows that more than Apple and Samsung smartphone owners…
Because these high-end phones consume more data than anyone else!
Apple and Samsung users are the world's data hogs
They make up a whopping 80 percent of world's heaviest data users, according to tech research firm Analysys Mason.
Apple iPhone 5 and Samsung Galaxy S III owners consume and upload more data than any other smartphones in history.
In fact, last year alone... thanks to the release of Apple and Samsung's most data-hungry smartphones ever the iPhone 5 and Galaxy S III... worldwide mobile data usage DOUBLED!
And what's even more astounding is that the amount of mobile Internet traffic in 2012 was greater than all prior years combined!
And this is just the beginning... According to future projections, smartphone data usage is set to nearly double EVERY YEAR for the next 2 years!
Mobile Data Usage is Growing
92% a Year!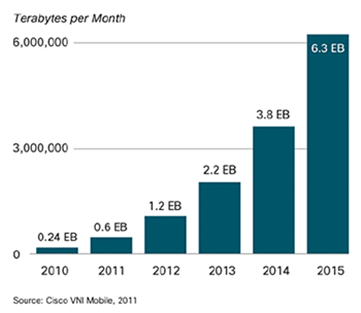 This is all happening because each new smartphone that hits the market consumes more data than its predecessor.
"Every new generation of the iPhone consumes 50 or 60 percent more data than the previous one"
– Michael Flanagan, CTO, mobile network firm, Arieso
A quick example... when Apple iPhone started including voice recognition software known as "Siri." A female-voiced program that can make appointments for you, tell you the weather, and essentially do anything you ask her... but for a price.
Siri consumes massive amounts of data.
According to Bloomberg, "Siri doubles iPhone data volumes" – placing an enormous strain on mobile networks.
In the wake of Siri, AT&T users reported a dramatic increase in dropped calls and network coverage.
But the arrival of Siri and this sudden, massive increase in data consumption isn't an isolated event... it's the start of a long-term trend…
Because the same goes for Samsung…
Each new smartphone they launch heavily relies on data and the Internet to run its apps and high-tech features.
In fact, last year's Samsung Galaxy S III smartphone uses nearly four times as much data as the older, simpler iPhone 3G.
What we are seeing here… is a fundamental shift in how everyone, all over the world, uses the Internet...
A phenomenon that will last for years – and, more importantly, one that you can get in on right now!
"A year from now, the vast majority of traffic [for many internet companies] will come from mobile..."
– Matt Murphy, Venture Capitalist, Kleiner Perkins
Because it all starts now – with the release of the iPhone 6… plus 5 more smartphones from Apple and Samsung – the most sophisticated mobile devices ever.
Today's mobile web users are doing more with their smartphones than ever before.
This includes streaming movies, playing next generation video games, and having face-to-face chats with friends and family.
With all of these activities, screen size mattes.
And Apple has taken this battle for screen size supremacy seriously as you can see by the mock up at right. The new iPhone 6 (shown next to the new Samsung Galaxy) is scheduled to have a 4.7" screen.
And the very latest rumors, just confirmed by G4Games, suggest that Apple will additionally be releasing a "phablet" version of the iPhone 6 just in time for Christmas. This iteration will sport a 5.44" screen and feature sapphire glass. Simply put, it will dwarf the competition.
The iPhone 6 is a completely redesigned smartphone that features a new, superfast processor… a 13 mega-pixel camera… and an ultra long-life battery.
A revolutionary phone like this… one designed to push the industry forward and steal back marketshare from Samsung... is great news for investors.
(And even better news for our one company… more on this ahead.)
When over 520 million owners log on and start using all of these smartphones' new features... watching HD movies, downloading music, and browsing the web... mobile networks will once again feel the pinch...
And this is where you can cash in...
All this skyrocketing mobile data usage means windfall profits for one company...
You see, it's this company that provides all the data iPhone and Samsung smartphone owners need.
It owns pipelines of data that run to iPhones and Samsung smartphones that allow them to use apps and access the Internet at lightning fast speeds from anywhere, anytime.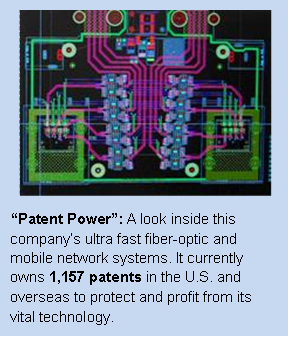 If that sounds complicated... it is. No ordinary company could be tasked with such a vital role.
This company manufactures crucial systems... including lasers, photodetectors, and integrated circuits… that make up the heart of our nation's mobile networks.
Like a heart pumping blood… these systems regulate the flow of data to the entire network...
Which is key here, because while millions of Apple and Samsung smartphones can be activated in a matter of hours… Remember: over 520 million will be sold in the coming months… new cell phone towers don't pop up over night…
Meaning demand for data routinely outstrips what our mobile networks can provide.
And it's at that moment when the real genius of this high-tech firm pays off…
The second mobile networks are under strain…
Like after millions of new iPhones are activated… or during March Madness when half the country is streaming live games and scores on their phones…
These unique systems make the entire network run faster and more smoothly – boosting mobile Internet speeds, instantly, without having erecting a single cell tower.
No wonder, shares of this company surge an average of 128% after every new iPhone release…
Because it's absolutely vital to the success of these smartphones!
Without this company, smartphones wouldn't be used for much at all – no email… no downloading… and no Facebook!
That's why this company stands to profit most in the months ahead...
Because as over a billion smartphones are activated...
mobile networks around the world will once again be strained as users require more and more bandwidth – just like after the release of the previous iPhones and Samsung smartphones.
Which brings me to one more important point I must tell you about...
As I mentioned earlier, the iPhone 6 and Samsung Galaxy smartphones are only the beginning of a long-term trend...
a fundamental change in the way the world uses the Internet.
Just a few short months ago, Internet traffic that originated from smartphones and tablets surpassed that from all other sources:
Mobile Overtakes Desktop Browsing
as the #1 Source of Internet Traffic on
December 31st, 2013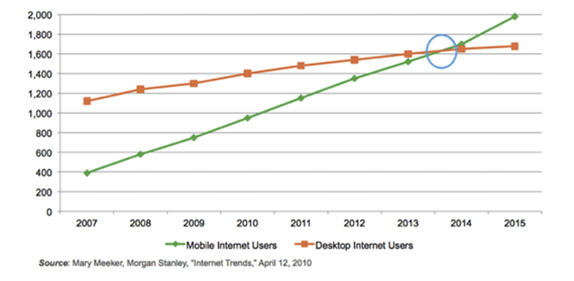 As you can see, in addition to this company immediately profiting from the continued sales of Samsung Galaxy smartphones and the coming launch of the groundbreaking iPhone 6...
It also has years and years of growth ahead of it...
Right now there are about 4.2 billion mobile devices… that's a lot of smartphones…
But in a matter of months, that number will hit 5.3 billion!
And in just a year…. by 2015… the number gets even larger as over 16 billion data-hungry mobile devices come online!
That's double the world's population!
If mobile networks get strained now… imagine the amount of data required to run 16 billion smart devices – the upside potential for this company is tremendous!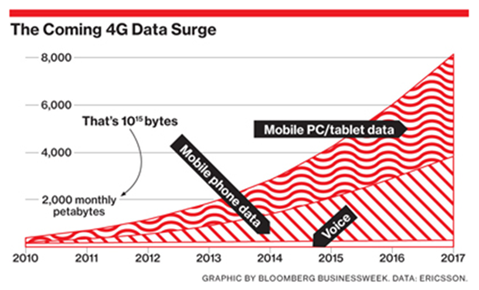 Plus, in addition to this enormous growth potential, this company already has a healthy bottom line...
Revenue almost doubled in a two years when carriers including Verizon and AT&T accelerated their mobile networks to 3G speeds.
And now with these carriers upgrading their networks to 4G – Barron's reports this company's "revenue continues to ramp."
Plus, this company has $554.7 million in cash, which represents roughly 25% of its market capitalization… the sure sign of a healthy tech firm.
And not a lot of people know about it… shares are cheap… trading at a forward P/E ratio of 13 – far below the sector average P/E of 34!
I can't wait to give you this company's name and ticker symbol so you can get in early...
And position yourself to profit before over 520 million new iPhones and Samsung smartphones are activated – sending mobile data usage (and this company's stock!) soaring!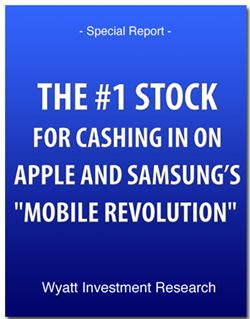 But out of respect for my paid subscribers, I must send you this information in the form of a brand new special report.
It's called, The #1 Stock for Cashing in on Apple and Samsung's "Mobile Revolution."
Inside, you'll get a detailed analysis of this company's business.
Including how much you could expect to make in the months ahead.
And when you request it today, you'll be able to access it– INSTANTLY – so you can read over all details right away, before the new iPhone hits the shelves.
PLUS – inside this brand new report, you'll also get a BONUS stock recommendation.
In addition to finding out all the details of this little-known company that's reaping massive profits each time a new iPhone or Samsung smartphone is activated… you'll discover one more mobile company.
It's a cash-rich dividend payer that's earning billions manufacturing wireless chips and semiconductors. And, most important, it has a foothold in rapidly expanding wireless markets including Latin America, China, and India… markets that are set to grow by 308%, 246% and 185% respectively.
In fact, it's making so much money… it recently authorized a $5 billion share repurchase program… and it increased its dividend by 40%!
Now, I want to make sure you get full ongoing analysis concerning both of these stocks – now and through the launch of the iPhone 6 and the critical months ahead.
So you know exactly what's happening! – and when I'm taking profits or adding more shares.
That's why when you claim your special report – The #1 Stock for Cashing in on Apple and Samsung's "Mobile Revolution" – right now...
I'll also give you 90 days of FREE email alerts and access to my exclusive investment service, Top Stock Insights.
But before I send you your special report and activate your All-Access pass to my service, please allow me a quick introduction...
My name is Ian Wyatt. I'm the Chief Investment Strategist and Founder of the highly successful firm Wyatt Investment Research.
Five years ago, I launched Top Stock Insights in the face of one of the most brutal and uncertain markets in decades. But unlike most investors at the time... we were making money.
You see, my team and I are dedicated to investing only in stocks that have specific catalysts to get their shares moving quickly... so we can get in... enjoy months of growth... and then bank profits!
Of course, finding these timely opportunities isn't easy. We log countless hours researching... scouring the market for only the very best stocks.
But it's worth it. Because this market has proven to be increasingly difficult for buy and hold investors.
These days, there's always a fresh crisis waiting right around the corner to sink stocks. And in an environment like this... no gain is safe.
That's why with every stock we recommend, we always have a clear exit strategy... complete with price targets...
So you always know EXACTLY when to sell... and when to take profits!
That's why Top Stock Insights is unlike most other investment services... because we don't believe in set it and forget it.
We fanatically watch every stock we recommend…
The result is: You're getting total investment guidance. And for the select few readers who've already joined us... it's paying off!
Have a look at these recent gains booked in the Top Stock Insights portfolio: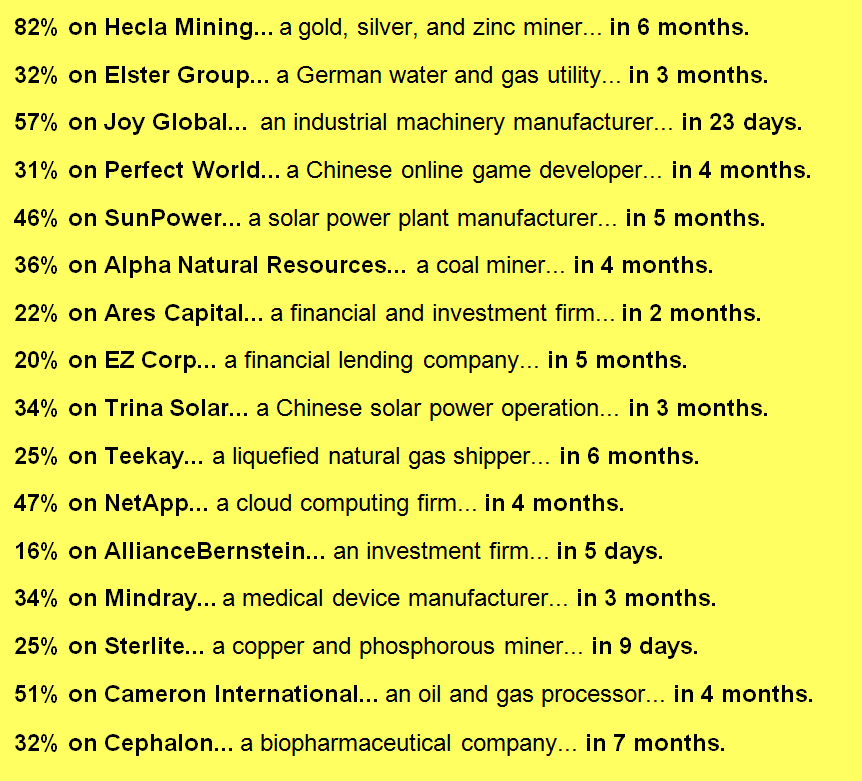 To get you on your way to earning profits like these with Top Stock Insights...
And position yourself to profit from the launch of the iPhone 6… and continued sales of Samsung smartphones with the high-tech company revealed in your special report The #1 Stock for Cashing in on Apple and Samsung's "Mobile Revolution"...
I've made it easier than ever for you to get started...
Right now, as soon as you reply, you'll get these two wealth-building resources for ONLY $49.
That's the name, ticker symbol, and a detailed analysis of the company that stands to profit most from soaring mobile data usage…
(PLUS: all the details of your bonus dividend-paying stock pick.)
AND 90 days of ongoing communication and investment research, including new, official stock recommendations and email alerts with Top Stock Insights... all for one LOW price.
That's enough time to take you right through the launch of the iPhone 6!
Now I realize that with iPhones and Samsung Galaxy phones flying off the shelves during this record year for smartphone sales… this kind of time constraint could lead to a hasty decision or, worse, a missed opportunity.
That's why I'd like to direct your attention to our corporate policy that guarantees this is a win-win for you and makes the report FREE if you choose.
You're special 90-DAY money-back guarantee!
If at any point during the next 3 months you find that Top Stock Insights isn't for you, you can simply call my customer service manager to cancel: no hassles, no run-around, no hard feelings – just a prompt and courteous 100% refund.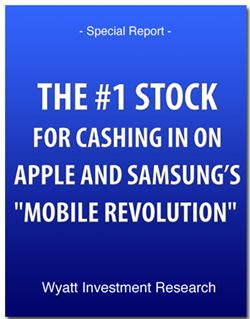 And your special report, The #1 Stock for Cashing in on Apple and Samsung's "Mobile Revolution" is yours to keep with my compliments.
Of course, this kind of guarantee makes it possible to get everything we have to offer and pay nothing...
That's okay. Because that's just how confident I am in what we have to offer you!
Now, let's review everything you'll receive when you start today:
52 weekly issues of Top Stock Insights filled with market insight and updates on portfolio holdings. You can expect to receive two brand new handpicked recommendations each month – including the full rationale behind every recommendation, including any potential risks and price targets, so you'll have everything you need to make your own sound investment decisions.

Email alerts sent to your inbox the minute there's breaking news concerning a Top Stock Insights portfolio holding – so you'll always know when I'm taking profits.

Full access to the Top Stock Insights subscribers-only website, where you can pore over every transaction made in the portfolio and read our entire issue archive and special reports library.

LIVE customer service during regular business hours with our customer service expert who is ready to help you with all your subscription needs.

100% Full Money Back Satisfaction Guarantee – if at any point during the next 3 months you aren't completely satisfied, you can call and receive a full refund... no questions asked.
And you'll get instant access to your special report The #1 Stock for Cashing in on Apple and Samsung's "Mobile Revolution."
Which reveals the full details of the unique company that reaps massive profits... and sees its stock soar an average of 128%... every time a new iPhone or Samsung smartphone hits the shelves!
I urge you to click the link below... claim this incredible offer and your special report... because there may never be an easier or better time to position yourself to profit.
Click here to get your report right now.

Good Investing,
Ian Wyatt
Chief Investment Strategist
Top Stock Insights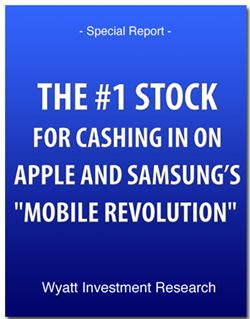 P.S. I'm making this report The #1 Stock for Cashing in on Apple and Samsung's "Mobile Revolution" available to you now – RISK-FREE – for a limited time. But soon after I make this report available and millions of iPhones and Samsung smartphones are activated in the weeks and months ahead... it's highly likely that this company could run far above my target buy price. That's because this is a great opportunity and I'm sure investors will buy it in droves.
So, please – if you're interested, I really would prefer that you have a fighting chance to invest in this company – so don't wait. As I said, if you decide this report is not right for you, you can immediately cancel and get all of your money back, with the report yours to keep. So you really have nothing to lose and everything to gain!
Click here to get your report right now.
* Investing in stocks carries certain risks for loss just as much as it presents opportunities for rewards. While each of the stocks in this new investment report has been thoroughly researched by professional analysts, investors are advised to perform their own research and due diligence before investing. Future returns claims made in this promotion are based on calculations and evaluations made to the best of the ability of Top Stock Insights research analysts, however they CANNOT be guaranteed and should not be considered as such.