Who Says You
Can't Make A Fortune With $1?
Fellow Investor,
These days, a $1 dollar bill rarely even buys a refreshing soda at the store. Not like the good ol' old days when all they cost was a rusty nickel…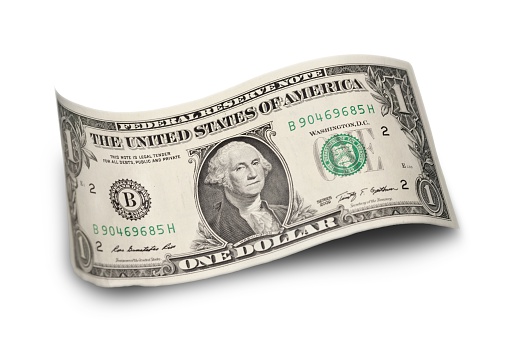 Today's that's all going to change for you…
Because you're about to see something never attempted before...
Where your crisp $1 bill could open the door to life-changing riches.
Where it'll give you access to potentially the most profitable investment ideas of the year. Some with opportunities at 6-figure windfalls.
See...
One incredible BIG IDEA could:
change your life…

give you total freedom... and

make you some serious cash.
If you're skeptical... Look at Elon Musk, who founded Tesla Motors.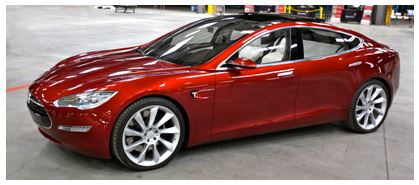 Billionaire Musk faced off against the likes of behemoths Ford, GM, and Toyota. His BIG IDEA innovated the electric car and transformed it from geeky to sexy.
Or, check out Reed Hastings...Founder of Netflix...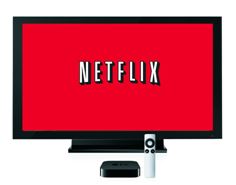 Billionaire Hastings broke through a TV sector dominated by the likes of 21st Century Fox and Comcast. His BIG IDEA brought on-demand entertainment to a TV-hungry world
If you bought both their stocks recently (when I recommended them to my readers)...
Gains would've landed you quick and easy 862% and 1,532% wins.
Meaning a $5,000 grub stake in each stock balloons to a whopping $119,700!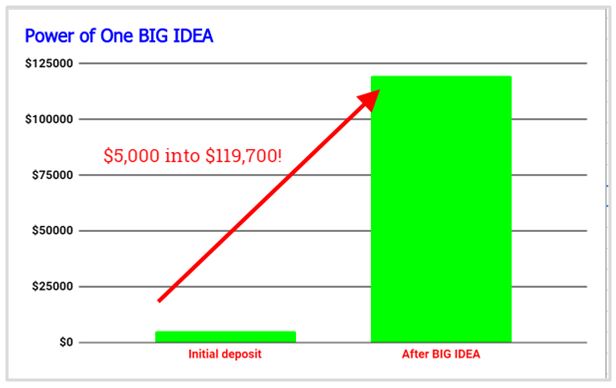 I understand Tesla and Netflix are huge, front-page-news examples...but, you get the picture.
The point is...
Finding just one or two BIG IDEAS like these could make you a fortune.
You don't need to shell out hundreds to thousands of dollars.
From now on... you'll only need $1.
Because the absolute best, BIG IDEA investment this month could be yours for a buck.
What I'm about to show you has never been done before…
And I'll explain more about this opportunity...
But first, it's important you know who I am and why I'm willing to give you life-changing ideas for basically nothing.
I WILL GIVE YOU MY BEST STOCK PICKS FOR VIRTUALLY FREE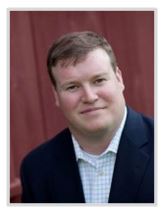 My name is Ian Wyatt.
I founded Wyatt Investment Research back in 2001. Every day, over 350,000 investors request my financial research and stock picks.
My company was named #185 on the Inc. 500 list of fastest growing companies. And Big 4 accounting giant - Deloitte - named Wyatt Research a Fast 500 company.
We've grown because of the BIG IDEAS we share with investors like you.
Every 30 days, all eight of my premium research and trade alert services release big-time opportunities to subscribers.
Monthly, we issue more than 27 option trade alerts…
We recommend 5 to 10 new stocks in a variety of investment portfolios…
And our portfolios currently include more than 165 stocks, mutual funds, and ETFs.
I have 4 analysts in-house who help me zero in on these game-changing opportunities. Each of my awesome experts bring a unique skill to the table:
Andy Crowder (our options pro)
Steve Mauzy (our income expert & CFA)
Jay Taylor (our hot stock picker)
For one-year access to all our picks, you'd shell out up to a whopping $13,283:
Dividend Confidential ($1,995/year)
High Yield Trader ($1,995/year)
Million Dollar Portfolio ($1,995/year)
Options Advantage ($3,950/year)
Millionaire's Retirement Club ($2,950/year)
High Yield Wealth ($199/year)
Personal Wealth Advisor ($199/year)
It's not out of greed we charge these amounts…
It's because of the amount of deep research, decades of expertise, and time that goes into our work.
Not to mention the travel grind to financial conferences and analyst meetings to sniff out the next BIG IDEA…
From New York City to Vancouver... Amsterdam to Beijing... San Francisco to Washington D.C... and Nairobi to Paris…
But...remember...
One single, solitary idea could transform your portfolio.
We leave no stone unturned.
After 16 years of sending ideas --- a calculated 56,000 hours of studying investments…
We've spotted some mega-whales!
Here's a few recent BIG IDEAS we sent to readers like you:
57% in Paypal

160% in Apple

252% in Alphabet

476% in MasterCard

862% in Tesla Motors

1,532% in Netflix
$1,000 into each of these plays would have generated an amazing $33,390 in profits!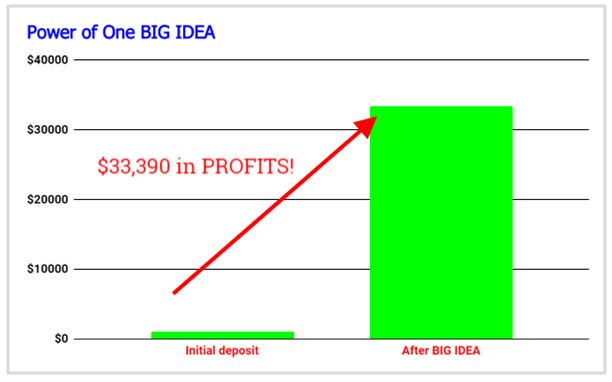 In these crazy markets, it's tricky to uncover real gems with the overwhelming amount of information blaring out there:
CNBC. The Wall Street Journal. Business Insider. Blogs. Twitter…
Thus, I wanted to make the fastest, most simplest way for you to jump on the next, great plays. No hesitation , no guesswork, no information overload.
So, while sitting here in our offices in Vermont, I had an innovative idea. A moment of Isaac Newton brilliance, if you will...
"Why not send out our one, top investment idea each month? The very best play of all our 8 products!"
The kicker…
We do it for a $1 per month!
Sounds nuts, I know (my CFO is still banging his head!).
To give away our most premium play in this industry is like showing your hand in poker. "Could it hurt our business?"
Maybe...
For you, though, it's a slam dunk. While others might pay $3,950 / year for a SINGLE service, you'll get a peek at one of its top plays for just one dollar.
For us, it's how we're different. We don't make as much money as other publications. But, we're near the top when it comes to giving you value.
Just a few weeks ago, Andy Crowder gave away his entire blueprint for trading weekly options...for $0. Other analysts would happily send you a $3,000 bill for the same training.
We look for ways to provide value first.
That's why every month I'll sit-down with my 4 analysts to hear their top picks. They'll each present their case for the monthly BIG IDEA.
A real battle royale! Friendly competition always brings out the best!
Then, I'll narrow their 4 picks down to ONE MONUMENTAL PLAY.
Again, a $5,000 investment in just two top stock plays recently would've turned into $119,700!
This $1 idea has been in beta...but now it's picking up speed.
INTRODUCING THE DOLLAR WEALTH CLUB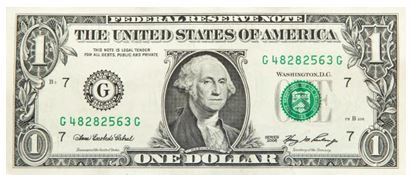 For just $1 per month, you'll get our absolute best BIG IDEA sent to you as part of our Dollar Wealth Club.
Costs less than a song on iTunes.
Taxes already included.
There are:
No hidden fees ($1/month that's it)
No sneaky upgrades (NO sneaky $99 charges after 6 months)
No increased renewal fees ($1/month for LIFE)
This is as simple as it gets:
How it works:
Sign up for $1/month.

My analysts work for you at $12/year salary

Your email will get an ALERT for the top monthly investment play

Done.
What makes this even more exciting and interesting than any other service out there...
You may not always receive a stock play. The best opportunity next month could be an ETF income investment, a profitable options trade, a closed-end fund value buy...
...nothing's off limits...
For example, other recent plays included:
19.9% special dividend in one single day
A sweet "backdoor play" for investing in Uber and Airbnb PRE-IPO shares
Raking in 9% monthly income from highly-liquid ETFs
Monster 32.6% gain on May 30 from one pharma stock
Quick income plays designed to 3x...5x...even 10X your income from last year
A marijuana stock on the cusp of surging 711%
This is big news for you.
LAUNCH YOUR
DOLLAR WEALTH CLUB
TOP 5 PLAYS TO MAKE NOW:
For the first time in our 16-year history…
I'll be sending you a huge play per month...but, you won't have to wait until the next one.
Today, I've put together 5 BIG IDEA recommendations for you to use right now.
This is fun because you're getting a mixed 'goodie' bag of strategies, industries, and investment types.
You won't find that with other publications out there charging you $49 - $99 per year.
Here's 5 to whet your whistle:
SPECIAL REPORT #1: The Best Cancer Biotech in America
12 drugs in the pipeline...only 1 needs to be successful for this stock to go bonkers!

This company has partnered with juggernauts, Eli Lilly and Merck

I expect this stock to skyrocket up to 100% with in the year

SPECIAL REPORT #2: Become a Rich Landlord: Collect 4x Extra Income from this Real Estate Play
4X income without the hassle of managing properties

One REIT is in a 'safe' spot: they own hospitals, hotels, warehouses and office buildings

I expect this stock to pop 25% within the year.

SPECIAL REPORT #3: Profit from America's Aging Baby Boomers
One groundbreaking device is helping with knee replacements as the boomer population is set to double

Recent selloff opens up great value play

I expect this stock to bump up 28% within the year.

SPECIAL REPORT #4: The Safest Way to Profit from Legal Marijuana
Blue-chip stock ready to rocket in this space growing at 31% annually

Their products lie at the nucleus of production facilities in California, Colorado and Washington

Many pot stocks have already surged 1,000%+

SPECIAL REPORT #5: Dividend Aristocrat Now on Sale
Company has increased dividend payouts 12% every year

Trading at a huge 26% discount (unheard of!)
Many of my readers pay up to $285 for access to these 5 reports.
Yet, you will save...well, $285... on them when you join the Dollar Wealth Club now.
Get access to these special reports FREE when you request access to our TOP monthly investment pick for $1.
Yes, you didn't misread that from before. $1 per month.
Recap…
Here's everything you get when you join the
Dollar Wealth Club today:

#1 Investment Idea Every Month
On the first business day of the month, I'll send you our top BIG IDEA investment. It may be a long-term growth stocks recommendation, a top dividend stock, or a quick income trade.


Launch Portfolio: 5 Bonus Special Reports ($285 value):

The Launch Portfolio provides you with complete access to my five special bonus reports. These include a top biotech fighting cancer, an undervalued dividend stock trading at a 26% discount and a REIT for collecting 4x more income.



EXCLUSIVE BONUS: Live Members-Only Training: Monthly, I'll host a LIVE webinar training explaining the BIG IDEA. Plus, I'll have my analysts join me and answer questions. [My analysts charge $300-500 per hour of their time...you get full access FREE].

Early Access and Invitations [BONUS]: Every week, we hold exclusive training events (free). With your membership, you'll get early access ̶ over 50,000 investors tune in each year.

You're Getting 99% OFF For the
Most Exciting Opportunity Around
I'm giving such a steep discount because you deserve an easier way to find great investment ideas. Plus, I understand it takes time to build trust. That's why I'm willing to take a 99% haircut on the normal fees.
Later on, if you're happy with these BIG IDEA picks ...maybe you'll want to partner up again on more advanced plays.
But…
As you can imagine, I can't afford to keep this $1/month offer up forever. I have to keep the lights (and heat) going up here in the Northeast.
That's a give-in. But, while I'm still crazy enough to keep this door open, now's the time to get in.
Click below to reserve your spot in the Dollar Wealth Club.
Good Investing,
Ian Wyatt
P.S. At $1/month, I'm already in the red. Not to mention, my credit card company happily takes a $0.50 bite out of your $1 charge each month. So, I can't give refunds on this.
However, I'll make you a deal --- If at any point, you don't feel the value is there, I'll cancel your subscription. No questions asked.
But, I'm betting with all the goodies you're receiving immediately, you'll see the value 200X over.
Give Me Access to my #1 Investment Idea -
Every Month - for ONLY $1