When you take advantage of this one-time-only offer, you'll immediately access Andrew Packer's disruptive tech stock research valued at over $13,956.
Billionaire's Crypto Code Quick Start Package
SPECIAL BONUS REPORT #1
Wall Street Bets $5.7 Billion on the #1 Crypto Stock
for 2021
Valued at $297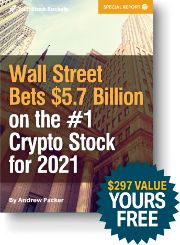 One unlikely company has become the crypto "darling" on Wall Street. That's because the company has amassed a multi-billion-dollar ownership stake in cryptocurrencies. And the stock allows top asset managers and mutual funds exposure to the crypto boom.
Morgan Stanley has over $300 million invested – and Blackrock's stake is approaching $850 million! In fact, Wall Street institutions already own 98% of the entire company.
This tech stock has become a "must own" stock for every major technology mutual fund. And it probably deserves a spot in your portfolio too.
SPECIAL BONUS REPORT #2
Goldman Banker Launches Private Crypto
Valued at $497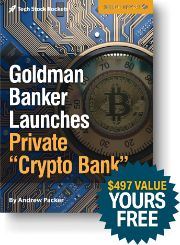 One former executive at Goldman Sachs is building a new bank. And this disruptive financial firm plans to topple Wall Street's biggest players.
This new bank is 100% focused on crypto with an investment bank, proprietary trading desk, and asset management business. Plus, the firm just launched a +$300 million venture capital fund that's placing bets on the next big crypto startups in Silicon Valley.
This little-known stock could soar 1,100%. That's because crypto assets will go mainstream in the coming years. And the market could expand 10X from $2 trillion to over $20 trillion in assets.
SPECIAL BONUS REPORT #3
Top 2 Crypto Mining Stocks Targeting 1,106% Profits
Valued at $697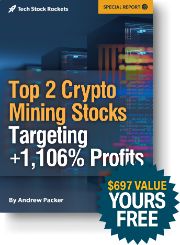 Gold mining stocks have ALWAYS outperformed gold in a bull market. And the same could be true with cryptocurrency mining stocks.
These undiscovered stocks process millions of transactions to maintain the blockchain. And get rewarded by earning cryptocurrencies than can be worth millions.
One of these top crypto mining stocks is earning over $3.2 million per day! And over the next year total revenues could top $1.2 billion!
Andrew's estimates suggest these two mining stocks could soar 1,1,06% and 1,212% in the coming years! Act now and these crypto mining stocks could be the next "10 baggers" for YOUR portfolio.
SPECIAL BONUS REPORT #4
Top Stock Exchange Launches Cryptocurrency Pre-IPO
Valued at $497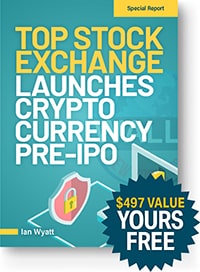 Cryptocurrencies are in a huge bull market. Bitcoin is trading above $60,000 – surging 767% in the last year! Big companies including Tesla Motors and Square are investing billions. And even the big banks are jumping onboard.
One new digital currency exchange could become "the Robinhood of Cryptos." It's being launched by one of the most established stock exchanges. This new company it plans to do over $6 billion in annual transactions!
This new crypto exchange is preparing to go public within 90 days. Inside this report you'll discover how to claim your Pre-IPO shares.
Plus, you'll discover why shares could surge as much as 657% after the IPO.
SPECIAL BONUS REPORT #5
The #1 Crypto Pre-IPO Targeting 352% Profits
Valued at $497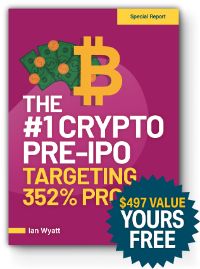 One overlooked cryptocurrency exchange is quietly preparing to go public. And with +$500 million in sales – it's going to be a major player in this +$2 trillion market!
That's why Softbank… Fidelity Investments… and one hedge fund manager are investing over $600 million. And you can invest right alongside these major players.
Today is your chance to claim Pre-IPO shares for less than $15 – compared with over $300 / share for Coinbase! Get this complete report with urgent details and Pre-IPO instructions.
My price target suggests 352% upside before the IPO!
3 EXTRA CRYPTO BONUS REPORTS
Discover the Top 3 Cryptos to BUY for 10X - 25X Profits in 2021
Valued at $1,491
URGENT: This mark the very first time we've recommended these undiscovered cryptocurrencies.

Everyone knows about Bitcoin… Ethereum… and of course even Dogecoin. However, our research has identified 3 little-known cryptos that could see their prices surge 10X – 25% in the next year.
Other cryptos are already surging 6,575%... 9,471%... and even 110,556% in the last year! So, it's completely possible that these new cryptos could see similar life-changing gains.
FAST ACTION BONUS
The Simplest Way to BUY Bitcoin & Ethereum in YOUR Brokerage Account
Valued at $397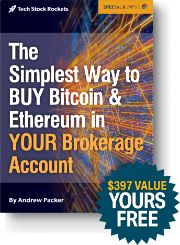 Everyone needs to own a little bitcoin. Unfortunately, many financial advisors and online brokers have made it extremely challenging.
This fast-action reports reveals the simplest way to get exposure to cryptocurrencies in your existing brokerage account. Whether you have a full-service financial advisor – or an online broker – you can instantly get access to cryptos. And this report reveals exactly how to do it in less than 60-seconds.
This Fast Action Bonus is yours free – if you reply immediately.

With Tech Stock Rockets you'll get the following weekly membership benefits:
MEMBERSHIP BENEFIT #1
Weekly Tech Stock Rockets Newsletter
Valued at $2,995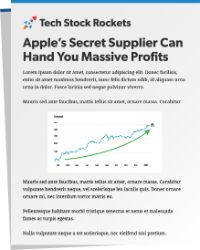 Every week, you'll receive the weekly newsletter. Each issue will keep you up to speed on latest disruptive technologies changing the world including EVs, self-driving cars, artificial intelligence, biotech, blockchain, DeFi, and cryptos.
Plus, Tech Stock Rockets will alert you to at least two new disruptive tech stocks every month.
Andrew promises to give you his full research file on each of these situations. And that means briefing you on the company, the market opportunity, and how to maximize profits along the way.
MEMBERSHIP BENEFIT #2
Tech Stock Trade Alerts
Valued at $995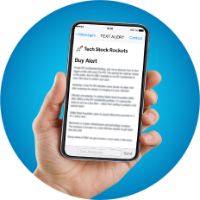 The technology market is moving quickly. And you now understand that in order to earn big profits – you may need to move quickly.
That's why Andrew will be sending you urgent Tech Stock Trade Alerts via email and text message (SMS). These alerts will bring your attention to fast moving situations that require your prompt attention.
Your trade alerts will arrive with ALL the details. This includes the name of the company and instruction on how to secure shares in your online brokerage account. And you can either "copy and paste" these into your broker or simply read them over the phone to your financial advisor.
MEMBERSHIP BENEFIT #3
Live Model Portfolios
Valued at $995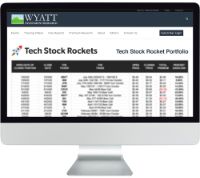 Your membership also gives you access to the Tech Stock Rockets model portfolios. The launch portfolio will include 10+ disruptive tech stocks to BUY NOW. And this lets you jump in on the ground-floor level on day #1.
Over the next year you'll watch us build out a complete portfolio including 25 – 35 total stock positions. And each of these can be bought in a regular brokerage account.
With a total of 30+ stocks there will be plenty of action. Yet the size of the portfolios will be completely manageable with just 10-minutes of "work" each week.
MEMBERSHIP BENEFIT #4
Tech Stock Rockets Members Dashboard
Absolutely Priceless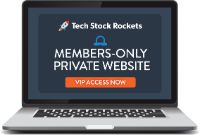 To stay organized, you'll get complete 24/7 access to the Tech Stock Rockets members-only web site.
The web site will give you immediate access to everything. You'll be able to read the past issues of the newsletter, download the PDF special reports, review the trade alerts, and monitor the model portfolios.
Everything will be accessible on-demand and at your fingertips. Of course, you can always call the V.I.P. Concierge team at 1-888-875-1960 if you ever have questions or need help.


Your Satisfaction Is 100% Guaranteed
You're ready to access everything ASAP!
Plus, your satisfaction and success are 100% guaranteed in two crucial ways: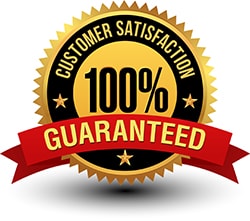 First, your satisfaction is guaranteed. If you're not 100% satisfied at any time, you can contact Wyatt Investment Research. They will cancel your membership and provide a credit toward any other research or trade alert service that's available.
Second, your performance is guaranteed. You can contact Wyatt Investment Research if you don't earn at least 300% profits in the next year using this research. If your results come up short, you can request that your membership gets extended by an extra 1-year – no questions asked.
With everything to gain – and nothing to lose – now is the time to get started with your…
You're now ready to enroll in Tech Stock Rockets and claim shares in the top crypto tech stocks and Pre-IPOs today! And the next step requires you to either…

Complete the Secure Order Form Below
- OR -
Call: 888-875-1960