Fellow Investor,
On November 29th, 1988 something incredible happened…
In a small basement lab, a scientist turned the key on a prototype of a new high-tech engine.
An engine that didn't run on gasoline or diesel – but was just as powerful.
As it roared to life, the scientist knew nothing would ever be same (he would also soon become very wealthy).
You see, the technology behind this engine makes the truck pictured above more economical… more efficient… than a hybrid like the Prius!
I realize that sounds hard to believe.
But this is no Spruce Goose.
Over 15,000 of these vehicles were built and sold this past year alone. (And a total of over 135,000 are on the road right now).
Chances are, you've seen them on the streets of your hometown without even knowing it.
And unlike plug-in electric cars or hybrids… these cars and trucks are cheap to own and operate.
It costs about the price of a movie ticket to fill them up.
"I was able to fill the car's tank for $11.62, the gasoline-cost equivalent of $1.92 a gallon." – Jerry Garrett, New York Times
Now, I won't beat around the bush here…
If you haven't guessed already, I'm talking about cars and trucks that run on clean, efficient natural gas.
The Energy Information Administration estimates America holds approximately 2,200 trillion cubic feet of natural gas.
That's equivalent to the size of Saudi Arabia's proven oil reserves… meaning we have enough natural gas for 92 years of U.S. demand.
And since natural gas is so abundant… and we control our own supply… prices are projected to remain cheap compared to oil for years to come.
Just look at the growing spread between oil and gas prices: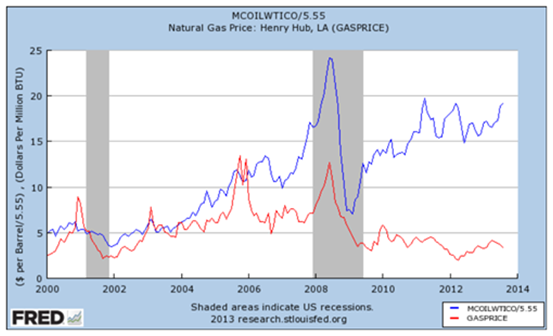 So, while we have more than enough cheap fuel…
And the means to get at it – currently 210 natural gas pipelines stretch 305,000 miles across America...
(And more are being built every day... even here in tree hugger Vermont, a 43-mile natural gas pipeline was just approved.)
Now it's the type of vehicle that's key here…
You see, this company isn't competing against Tesla or Toyota by making sedans…
They're building powerful engines for vehicles that make up the backbone of the U.S. Economy.
I'm talking about heavy duty pick-ups, tractor-trailers, construction vehicles, mining trucks, garbage trucks, city buses... the list goes on and on.
Because it's these engines that burn the most fuel…
and get the most cost savings when switching from burning expensive gasoline and diesel to cheap natural gas.
"Natural Gas will overtake oil as the most used fuel."
– International Energy Agency
That's why companies everywhere are choosing to buy natural gas powered vehicles over conventional ones.
A quick example: The waste management industry.
Garbage trucks run all day hauling heavy loads… when the price of diesel goes up, these companies watch their profits dry up.
That's why 60% of garbage trucks sold today run on cheap natural gas… just 5 years ago only 3% of garbage trucks ran on natural gas.
And this is just one industry. Whole fleets of trucks are running on clean, cheap natural gas.
And they have a network of fueling stations stretching coast to coast to fill up their tanks for as low as 87 cents a gallon!
Note: Every green dot below represents a completed natural gas station… this already exists!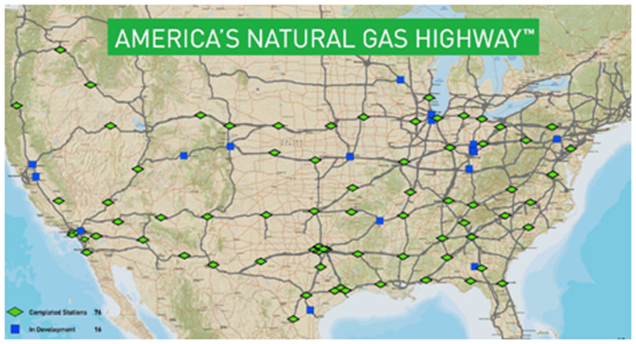 And it's all thanks to the breakthrough technology of one company.
Now, shares of this manufacturer building natural gas powered trucks won't stay cheap for long.
In fact, it's launching several new products in the next 6 to 12 months... including engines for Volvo, Ford, Mack, Peterbilt, and Kenworth, just to name a few...
And its on pace to double its revenue by the end of this year (over the span of 2010 to 2014).*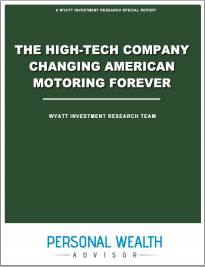 To make sure you get every opportunity to invest in this company, we've just posted a full 10-page research report on this company on our website.
It's called, The High-Tech Company Changing American Motoring Forever.
And since it's on our secure website, you can read it ASAP! – find out everything you need to know – including a full financial analysis complete with price targets... and snap up shares before this stock moves any higher!
But there's something you should know if you decide to invest in this company:
I'm telling you this not just to be honest…
Here at Wyatt, we have a disclosure and trading policy that makes sure our readers always enter and exit a stock before we do. So, you know exactly where our interests are… and can earn more money than we do (a courtesy rarely extended by the majority of charlatans in this industry).
But also to let you know that our employees at Wyatt Investment Research are involved in our corporate investment club… a fund of pooled money that we all contribute to.
And our staff believed so strongly in this opportunity… everyone from secretary to CEO recently agreed to invest in this stock detailed in the special report, The High-Tech Company Changing American Motoring Forever…
So, should you decide to invest, you can do so knowing… we are all in it together.
Now, I don't know about you, but this is exactly the kind of company I prefer to invest in…
Companies with real products, hard assets and thousands of employees – that contribute billions to the American economy.
I'd much rather put my money behind these companies than a flakey social media company that makes a few pennies every time someone posts a photo of their lunch.
Because I know that I'll see a real and lasting return on my money.
That investors who wait to get in could miss out on a hefty amount of gains.
Waiting to get into this stock could mean the difference between making 30% (not bad)*...
And doubling your money.*
The timing is so important on this one…
That I've prepared a Special Report that I'd like to get into your hands immediately.
It's called The High-Tech Company Changing American Motoring Forever.
And I want to give you a free copy of this Special Report right away.
See, opportunities like this do not come along every day.
In fact, many of the best opportunities in the market often fly right under the radar of most investors.
For every stock that makes headlines around the country – like Facebook, or Twitter…
There are smaller, lesser known companies out there, quietly making investors tons of money*…
Like:
164% on this convenience store chain
314% on this sub-continental oil explorer
202% on this mobile communications innovator
75% on this little known semiconductor company
130% – overnight – on this tiny biotech outfit
190% on this silver producer
55% on this banking company
56% on this unique equipment company
102% on this real estate portal
82% on this mining outfit
85% on this tech giant

Hi. My name is Ian Wyatt.
I'm the founder and publisher of Wyatt Investment Research.
And uncovering exceptional gains like these – on a regular basis – is why I started our flagship research service – Personal Wealth Advisor.
How do we do it?
How do we direct our readers to gains like this – over and over again?
Well, for one, Personal Wealth Advisor is the only one of our services that gives you access to our entire team of research experts.
Every single one.
This team approach creates a research juggernaut – uncovering real, money-making opportunities from across the entire spectrum of the markets…
In fact, that's how I first came across the company responsible for creating the "American Prius"…
This opportunity was first brought to my attention by a member of our team…
And I'd like to send you a free copy of our Special Report: The High-Tech Company Changing American Motoring Forever.
To secure your copy, simply accept my personal invitation to become a member of Personal Wealth Advisor.
Personal Wealth Advisor is much more than a newsletter.
It's a blueprint to help investors of all stripes grow their investment portfolio and protect their wealth.
To guide you along this road to riches, I've commissioned a team of some of the finest market minds I ever met.
Each analyst tasked with one goal, and one goal only – to bring you their best ideas every single month.

Andy Crowder has been trading dividend stocks for over 15 years. A veteran of Wall Street's Oppenheimer & Co. in New York City, Andy's worked as a professional options trader, research analyst and financial columnist.
During his stay on Wall Street, he learned the tricks used by professional traders to consistently earn profits. Today, he teaches those strategies to active investors who want a piece of the vast wealth created every day in the markets.
Specialty – Andy is a numbers guy... what they call on The Street a "quant".
Andy invests with no emotion – just numbers.
He doesn't chase after stocks – he waits for opportunities to come to him... putting him light-years ahead of the herd of investors who move in and out of stocks on the slightest of whims.
Andy's advanced skills in the market have allowed him to devise a simple, safe and effective method for multiplying any dividend in the market... and make it as much as 10X bigger.*
For instance, Andy was able to take the modest 3% dividend paid by Microsoft, and ramp that up to more than 23.5% – roughly 8 times more money.*
In fact, just recently, he showed readers how to turn a 1.6% dividend into a 21.4% payout (more than 13X more money)... a 4.8% dividend into a 13.4% return (nearly 3 times more money)... a 3.7% dividend into a 12.7% payout (almost 3.5 times more money)*...
And that's just a handful of the kinds of returns Andy's been able to pull off...
And you can see why I've asked him to come on board as part of the Personal Wealth Advisor team... because he'll be able to bring you a level of wealth-creation you may have never seen before.
Readers love what Andy's doing for them:
"Andy, I'm a believer in your approach. The last few months have been profitable. Your strategy is working and I'm on board. It's about time an analyst figured out how to play this market and you're doing it."
– Joe A.
"Just wanted to say thanks for a great service... covered today for a profit of almost 50%. Amazing...Take care and keep up the good work."*
– Davin L.
" First of all, I want to thank you for the insight you provide in your service; funny how unlike most the other "gurus" out there, you actually stress patience and letting the game come to you."*
– Blake R.
"Love your work... I have made steady gains since joining your service. Keep up the good work. Thanks"*
– Mike S.
"I have been quite pleased with your subscription service so far... Thanks"*
–Yohan
"I've been doing very well over the past several months...based on your strategy. Thanks"*
–Martin H.
"I have been using your strategy... have 7 positive trades with enough income to satisfy my expenses and much more... I am fully on-board with waiting for the trades to present themselves."*
Regards
–Rick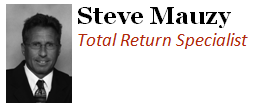 Stephen Mauzy is a Certified Financial Advisor. His background as equity analyst and an experienced financial writer makes him the perfect choice for our team.
You may even have seen one of his appearances on CNBC, where he brought his skill and unique insights to speak the truth to the talking heads.
Steve's specialty is two-fold – what he calls Total Return Investing. He focuses on two specific elements for building the biggest returns.
Total Return Element #1 – Value Investing .
Steve prides himself on being a traditional value investor – meaning he closely follows the principles espoused by the legendary value investor Ben Graham.
Steve has used his savvy and insight to bring readers solid wins, including 60% on Icahn Enterprises... 49% on McCormick... plus 110% on this unique play on healthcare real estate... and 57% on this Euro-oil producer.*
Total Return Element #2 – Dividends
Steve is a strong believer in combining dividend income with growth. In fact, heonly buys income investments with solid upside potential. As he regularly likes to reminds us, "Income investing IS investing. Everything else is speculation."
I've asked Steve to come on board to lend his expertise and level-headedness to your Personal Wealth Advisor team.
"I have accumulated $2,310 in dividends... keep up the good work." *
– Gary M.
"I feel safe after choosing the companies you recommended. Instead of trying to buy and sell everyday... I buy what you are suggesting... and I just wait for my dividends".*
– Andre G.
"I am new... but am very impressed with what I am seeing. I don't believe I've ever been more impressed with a newsletter, so I'm looking forward to putting this all together."*
– Nick M.
"Appreciate the timely top quality stock recommendations & analysis; it is far superior to... other investment periodicals I receive."*
– Gregory C.
"I am so new at this investment strategy and read your article last year about the small bank in Manhattan that paid a 9.5 Interest dividend, year end and year out. This hooked me on your wisdom and knowledge on investing. I look to learn more from you as time goes on. Thanks, and you have made me money."*
– Larry L.

I founded Wyatt Investment Research in 2001. With an audience of more than 450,000 individual investors from around the world, I'm proud to say we've become well known as a valuable source of unbiased investment opinions.
I've been asked to contribute my insights to various financial publications, including AOL Finance, Barron's, Marketwatch, MSN Money, SeekingAlpha and Yahoo! Finance.
John Wiley & Sons also published my book called The Small-Cap Investor: Secrets to Winning Big with Small-Cap Stocks.
My specialty is value investing – I don't follow specific sectors or types of companies. Instead, I scour the entirety of the market – small caps, growth stocks, large caps and dividend stocks...
Looking for solid stocks trading at deep discounts to their actual value.
That strategy led me to some of my biggest winners...
Including the 486% win on Tesla... the 398% gain on Netflix... and the 236% ride on MasterCard.*
"Thank you for picking such winners for us little people. Your newsletter... has kept my IRA from shrinking these past 10 years. Keep it up, look forward to more choices!"*
– Ann T.
"Ian, I love your newsletters: informative and easy to understand for a novice like me. Thanks."*
– Todd D.
"You are one of the few people that, I believe, really care whether your clients trade green. Please keep up the good work."*
– Sidney Y.
"Based on your recommendation I paid for my subscription on my very first trade. Thank You!!"*
– D. Mead
"I love the emails you send because they're the most informative ones out there...I just wanted to let you know that you're a big inspiration to me and I thank you for the educational information you send out."*
– Massimo V.
As a new subscriber of Personal Wealth Advisor.
Your team has put together a complete library of investment research for you...
A series of hard-hitting, quick-reading special reports designed to let you hit the ground running...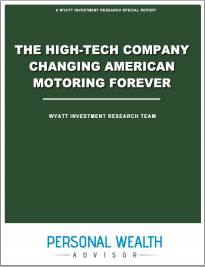 To get you cranking out the gains as soon as possible.
In addition to your free report: The High-Tech Company Changing American Motoring Forever.
I've asked my team to assemble their best insights and current recommendations for making money in the market...
And each has put together special research specifically for Personal Wealth Advisor.
And I can tell you, they've pulled out all the stops.
As a new member of Personal Wealth Advisor, you will also receive: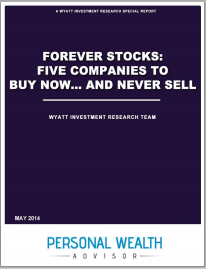 Forever Stocks: Five Companies to Buy Now... and Never Sell
Building a solid foundation is the secret to growing your wealth. And these five stocks are the best of the best of the market. Each has been cranking out returns for investors for decades – some for more than 100 years.
These are some of the same companies that Warren Buffett's Berkshire Hathaway owns – and I like them for the same reasons he does: they represent the best of what I call "The Investor's Ideal"... growth, stability, and income.
A $19.99 value – yours free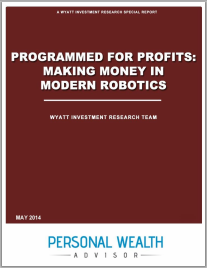 Programmed for Profits: Making Money in Modern Robotics
Expected to become a $14.2 billion industry in just five short years, this is one of the most exciting, but least covered opportunities in the world today. Robotics is quietly changing the world, and how we live in it. And we've nailed down three of the best opportunities for profits.
A 29.99 value – yours free
Yours free as a Charter Member of Personal Wealth Advisor
Personal Wealth Advisor gives you a comprehensive, easy-to-follow, all encompassing road map to wealth...
Giving you insights and investment ideas from the entire market – not just one niche.
Whether you're building your retirement nest egg, saving for a college education, or just want to make money – Personal Wealth Advisor is the only service you will ever need.
In addition to your free money-making reports, as a member of Personal Wealth Advisor, you can expect.
Personal Wealth Advisor Monthly Newsletters – delivered directly to your inbox. Every month you'll receive a new report, emailed to you with the identity of the newest additions to our Personal Wealth Advisor Portfolio.
Regular Portfolio Updates – These contain in-depth analysis and important updates on stocks in our model Portfolio, plus insights into opportunities we are currently researching.
Instant market updates – Up to the minute updates on the news affecting your portfolio. As soon as a fast-moving development occurs, you'll get an alert so you can lock in profits.
Members-only website access – You'll get your own password so you can log on to our members-only website any time – day or night. Here you'll find a comprehensive overview of our model portfolio, all of our recommendations and a constantly expanding library of special reports on specific, time-sensitive opportunities.
Personal Wealth Advisor Monthly Q&A – This is where you get the chance to grill our team of experts for answers to your most pressing questions. Whatever it is, feel free to ask – and your team of experts will do their best to give you the details you're looking for. And, for the record, we don't dodge the hard ones... so bring it on.
Special Training Videos and Webinars – designed especially for Personal Wealth Advisor members, these special presentations will let you get even deeper into a subject – from income and bonds to tech stocks that rocket. We'll be releasing the first webinar in this series soon. And, as a Personal Wealth Advisor member, you'll have unlimited access to these trainings as they're produced, so you can return again and again to review what you've learned.
And more... much more...
You can begin to understand that I mean it ...
When I say that Personal Wealth Advisor is the only research service you may ever need.
By this time, you're probably wondering about the costs for this comprehensive investors service...
Well, after this enrollment period ends, Personal Wealth Advisor will retail for $199...
But right now you'll get in for a lot less.
In fact, if you subscribe to Personal Wealth Advisor now, you can have everything I've just told you about....
Our brand new report: The High-Tech Company Changing American Motoring Forever…
The eight profit reports from our editors...
And all the rights and privileges of membership for one full year...
For just $49.
That's over 75% off the regular retail price.
Put that in perspective...
Less than one dollar a week...
What else would that buck buy you?
Well, for a dollar you could buy a slice of pizza every week... a new disposable razor... or about one half of a Sunday paper...
Or you can use that dollar to grab the most profitable and timely market information available anywhere... from one of the finest teams of researchers in the business.
Personal Wealth Advisor is the pinnacle of my investment research career...
A service I feel every investor – large or small, novice or pro – can profit from.
And I want to prove it to you.
Your satisfaction is guaranteed. If you're not completely satisfied during your 90-day trial period, just call our office and request a 100% refund. Plus, you'll get to keep everything you've received so far – including the special reports – as our gift to you.
And if you decide this new service is not right for you – I want you to keep the new report, The High-Tech Company Changing American Motoring Forever.
And your additional special reports...
As my way of saying "thanks" for checking us out.
I realize there are some folks out there, who will consider pulling a fast one on me...
Who will join this service and then cancel – just to grab our reports.
They'll probably think themselves so clever.
And even though such actions might make this a losing proposition for us...
I'm willing to take this risk – to prove the value of Personal Wealth Advisor.
This offer can happen only once... and this offer could disappear without a moments notice.
So join now.
It will only take a few minutes...
To get started on a lifetime of wealth and opportunity.
I've done all I can up to this point.
It's up to you.
Click here now to enroll as a Charter Member of
Personal Wealth Advisor.
Or call Toll-Free
1-866-447-8625
You'll get unlimited access to the most comprehensive investor service available today... for just 13 cents a day.
Albert Einstein once said that nothing happens in the universe until something moves.
Well, now it's your move.
Now it's your chance to positively affect your universe... to build your wealth with solid, sound research and recommendations...
Will you make 130% over-night, as some of our readers just did?*
Well, I can't promise that will happen...
But I can say this...
What would be your chances of more than doubling your money – over night, or even over a year – on your own?
How much would you have to read, study and figure out by yourself...
To uncover just one opportunity to double you cash?
How long would it take you?
A year? Two? Ten?
Why struggle, when with one simple click, you could make it much, much simpler to make that kind of money... with a team of experts experienced in producing those kinds of gains?
I'm looking forward to welcoming you as member of Personal Wealth Advisor.
Yours for greater wealth,
Ian Wyatt
Chief Investment Strategist
Personal Wealth Advisor
P.S. You'll receive our new report: The High-Tech Company Changing American Motoring Forever.
P.P.S. Plus – two bonus investor reports... are yours free just for checking us out. The stocks in these reports could hand you gains of 40%... 100% and 140%... and do it rather quickly. Heck, some of our readers grabbed gains of more than 130% on one pick – overnight! You do not want to miss out on the next triple digit winners.*
P.P.P.S. And of course – your satisfaction is completely and totally guaranteed. I'm so convinced that Personal Wealth Advisor will prove so invaluable to you as an investor, that if after 90 days for any reason you decide it's not right for you, I will give you a prompt, courteous and complete refund... and you can keep all the reports we give you – our way of saying thanks for taking the time to check us out.
Click Here to Join