Dear Reader,
Imagine being able to easily detect – at the earliest possible stage – threats like cancer…
Or renal disease…
Or a heart attack…
Without ever having to step inside a doctor's office.
Sounds crazy, right?
Yet a brand new medical technology promises to do just this.
What's more, this breakthrough in disease detection is part of an all-new growth sector set to pop 2,512% in just the next few years.*
Now, as exciting as this sounds, when I first heard the idea, I was pretty skeptical.
…But when I saw just how close we already are and why, well, I wanted to know more –a lot more.
You see, every year, cancer treatment costs an estimated $290 billion.
Yet this breakthrough would not only spare patients and providers an enormous amount of money and suffering…
…it would also launch a complete and epic reversal in how we currently treat illness.
As the famed molecular biologist spearheading this project notes,
"For the last two thousand years, healthcare has been this transactional, reactive system. We're diagnosing cancer at the wrong time. It's analogous to only changing the oil on your car when it breaks down."
Now, it might be hard to believe that something so momentous could be so close. Yet I can assure you, my research has discovered that this miracle could become a part of our everyday lives very soon.
In fact, in large part it already is . To understand why, you have to go back about three years…
Because on July 30, 2012 the Food and Drug Administration (FDA) gave its approval for an epic game-changer in medical technology.
And it is now battling – successfully – one of the deadliest health disasters of our time.
Let me explain:
According to the World Health Organization (WHO), over half of all the world's medications are not taken as prescribed due to patient forgetfulness and discomfort with side effects.
This calamity costs providers up to $300 billion in avoidable hospital visits each year.
Plus it causes as many as 125,000 annual deaths.
But all of this is changing, right now, thanks to an amazing medical breakthrough.
So what is it, exactly?
Well, it's not anything doctors inject into you.
...even better, it isn't planted through any surgical procedure.
Instead, it's swallowed—in a pill. A "smart pill", that is.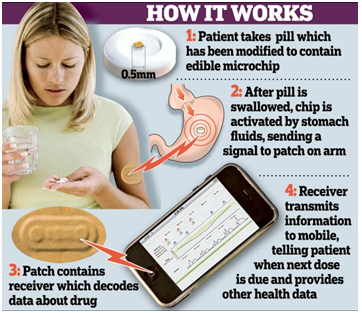 Embedded with a tiny sensor made from silicon and natural ingredients, this smart pill uses the patient's own stomach fluid as a source of electro-magnetic energy…broadcasting data to a patch on the patient's body.
The data tells when (or even if) the patient's medication was ingested, reads the patient's heart rate, body temperature and more. This data is then sent to their doctor's smartphone app for immediate review.
So how is this smart pill working for patients?
Well, in a recent study involving 412 test patients, the smart pills were able to detect medicine ingestion 99.1% of the time.
What's more, the sensors correctly identified the dose and type of drug for 100% of all 20,993 ingestions during this trial…with no false positives or side effects!
Sounds incredible…but not only does this technology already exist…it has even been approved by the FDA!
It's also part of a rapidly growing new medical industry: mobile diagnostics.
A Huffington Post headline calls mobile diagnostics "The Game-Changing Innovation in the Fight Against Disease and Deadly Outbreaks."
And not surprisingly, this industry is experiencing explosive growth.
According to leading market research firm Grand View Research, it's expected to grow from $1.95 billion in 2012… to $49 billion by 2020.*
That's 2,512% within the next few years!
Martin Cooper, creator of the world's first mobile phone says, "This emerging focus on the phone as a device for transferring personalized health information to and from an individual sets society up for revolutionary improvements in healthcare."
The first smart pill is an astounding example of just such an improvement.
…But it's the next one on the horizon that could really put the "R" in revolutionary.
Speaking of which, let me tell you more about the already-massive progress being made on it…and why I'm so optimistic.
The secret laboratory perfecting this newest "smart pill" breakthrough is becoming the stuff of legend.
Here, more than 100 scientists – oncologists, cardiologists, biochemists, optical physicists, cell biologists – from Stanford, MIT and Genentech work round the clock to develop stunning breakthroughs in medical technology.
Steering its smart pill project is the same biologist who developed the test to screen blood donations for HIV and other viruses… saving countless lives and slashing the time and money once needed.
So exactly how would this next smart pill fulfill the promise of detecting cancer before it even starts?
It begins with something very, very tiny:
And when I say tiny, I mean less than 1/1000th the width of a red blood cell.
…nanoparticles coated with antibodies and proteins.
Coursing through the blood stream, their job is to detect and attach themselves to cancer cells or arterial plaque – long
before they become a major problem.
At the end of each day, the nanoparticles congregate in your wrist…where they report their discoveries to a "smart" wristband that uploads this data to your doctors' smartphone app.
Like I said earlier, it sounds too amazing to be true.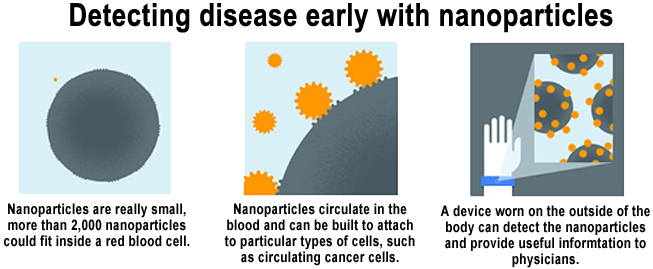 …But not when you realize how far along it already is: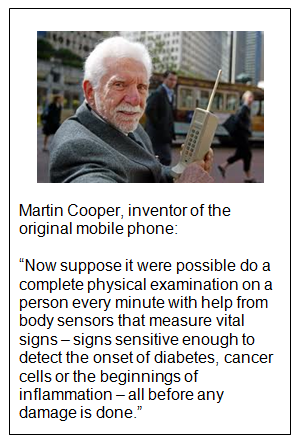 Late last year the company announced not only had it made significant progress on creating these iron-oxide nanoparticles…but on discovering the coatings that make them bind to cells!
For example, in one case they put a coating on the nanoparticle that detects sodium. Though very common, sodium is also a key indicator of renal disease.
When coming in contact with a sodium molecule, the nanoparticle changed color. By seeing what color its glowing, they can determine the amount of sodium in the bloodstream.
As MIT consultant Robert Langer remarked, "A lot companies are doing one step in a project like this. They're doing four steps."
But here's where it gets even better:
You see, there are many companies that are working to fight cancer…
And they have a history of rewarding early investors.
The FDA approval process is extremely lengthy…but it doesn't require an approval to send these stocks soaring.
Just look at some of the big profits from the last two years:
Agios Pharmaceuticals (AGIO) : After announcing positive results for its Phase 1 tumor-fighting drug AG-221, the stock soared 306% in seven months.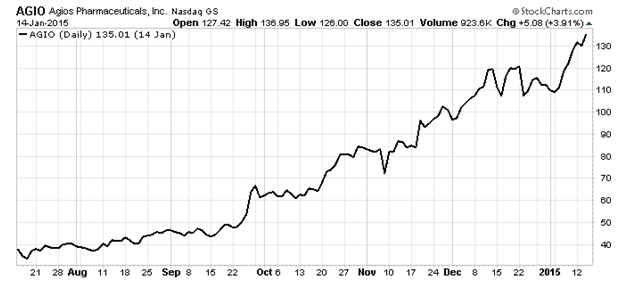 Now, I certainly hope AG-221 makes it all the way through Phase 3 and receives full FDA approval as soon as possible.
…But just imagine what life would be like if you never had to worry about tumors to begin with – because your doctor could nip them in the bud long before they appeared.
Inovio Pharmaceuticals (INO) : In Phase II of testing a therapeutic vaccine for treating cervical cancer, its stock soared over 400% in just seven months as more positive news from its clinical trials kept spreading.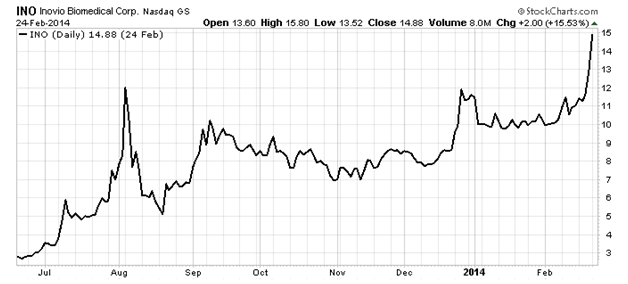 TG Therapeutics (TGTX) : It's in the midst of developing a drug to treat Chronic Lymphocytic Leukemia, a rare condition attacking bone marrow.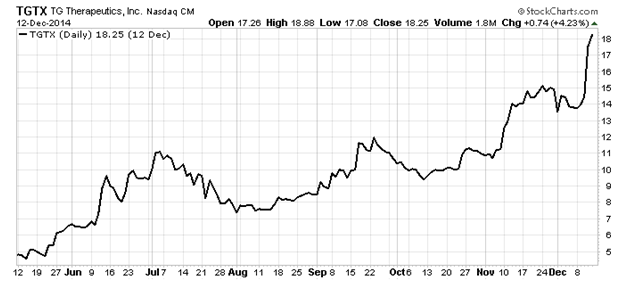 After announcing positive results from its Phase I study and striking a global licensing deal with Ligand Pharmaceuticals (LGND) last summer, it soared 270% in just six months.
CytRx (CYTR) : Developing a treatment to blast chemo-resistant tumors, the stock shot up 277% in less than two months after positive results from Phase II clinical trials were announced: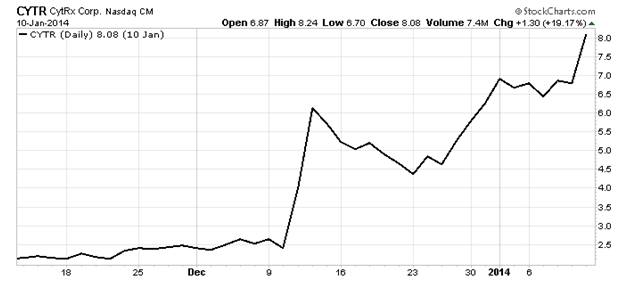 And then there's Puma Biotechnology (PBYI):
Last July, its breast-cancer fighting drug neratinib moved from to Phase 2 to Phase 3 of FDA testing.
That's because test results show survival rates of 33% in women with early-stage breast cancer who used neratinib, compared to a placebo.
When investors heard the news, the stock popped 295% overnight and kept on climbing!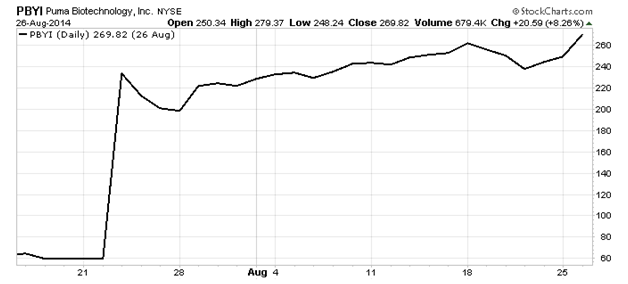 As you can see, there's no need to wait until the FDA's full stamp of approval. The truth is that you could start profiting every step of the way, right now.
I'll show you how in just a moment.
But first, there's something else you should know: You see, this cancer-detecting smart pill is far from the only medical wonder the company I've been telling you about is developing.
Fact is, there's another urgent breakthrough it's making even more massive progress on…
Diabetes, now afflicting 347 million people around the world, is getting out of control.
Like cancer, almost all of us know someone who is a victim of the disease.
And while there's still no cure for diabetes…life is about to get much, much easier for its victims.
Let me explain:
As part of their daily regimen, people with diabetes must constantly keep their blood sugar levels under control.
If they don't, they put themselves at risk for blindness, heart failure, kidney failure and even limb amputation.
But as you know, keeping blood sugar levels under control isn't a walk in the park. It requires patients to prick their fingers and test their blood all throughout the day.
After a while, this daily regimen becomes so tiring and disruptive that many patients check their blood sugar levels a lot less often than they should.
But, just like cancer screenings, what if this painful ritual became obsolete?
That day is even closer than you think.
It won't come from a smart pill…but something even simpler.
A smart lens.
It looks and feels just like a contact lens…but there's a big difference.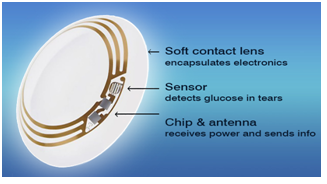 You see, this particular lens has a tiny wireless chip embedded within its two layers…that uses the patient's own tear fluid to monitor blood glucose levels. Also within the lens is an equally tiny antenna –thinner than a human hair – that sends this data to a smartphone app.
Early last year the company unveiled a prototype of this lens and has since completed multiple clinical research studies to refine it.
And not only is it in discussions with the FDA…it has already struck a licensing deal with a major company to market it.
That company is Novartis (NYSE: NVS) – which soared after making a major investment in the first FDA-approved smart pill: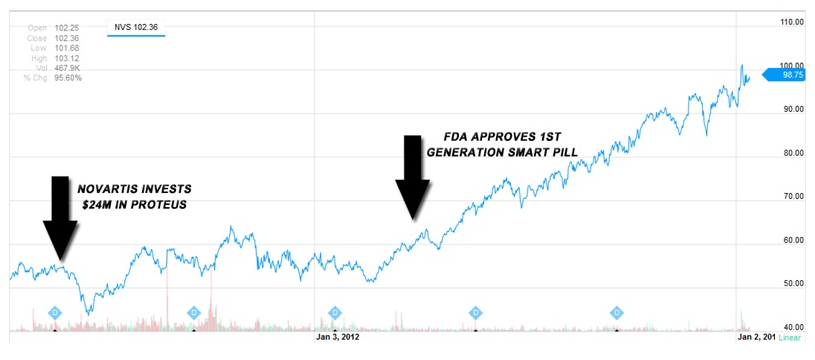 Keep in mind, most investors are still in the dark about mobile diagnostics and these spectacular developments.
But I don't believe they will be for much longer.
And once they see the writing on the wall, the stock I've been telling you about is bound to soar dramatically.
…Making this a must-have for every serious growth investor.
But it gets even better :
Because the company behind the smart pill and smart lens isn't a risky biotech…
Nor is it an established pharmaceutical company that spends its time worrying about the next quarterly earnings report…
This opportunity is an entirely different beast.
The truth is, the two medical breakthroughs I've told you about are only a small sample of what they're busy creating.
You see, this company is already one of the most innovative and disruptive businesses in the world…
And its founders are boldly passionate about creating the kind of epic earth-shakers that people will remember them by for generations to come…which is why this has to be the surest profit opportunity available.
I've put all the details together for you in a special new report:
Smart Pill Profits: How to Invest in the Next Medical Breakthrough.
And I want you to have it free of charge.
Inside you'll get the full story on this must-have innovator, along with the latest details on all the other breathtaking wonders they're busy creating.
I'll show you how to grab this report in just a moment, but first, I should probably go ahead and introduce myself:

My name is Ian Wyatt.
I'm Chief Investment Strategist at Wyatt Investment Research.
I founded my company back in 2001. We're located in Vermont, far away from the noise of Wall Street or Washington DC.
I've been an active investor for more than twenty years…
And I've made it my mission to help investors beat the market – without making ridiculously high-risk bets. I don't day trade, use options, or try to time the market.
Because that's not what successful investors do .
Instead, successful investors focus on finding value –cash rich companies with solid fundamentals, assets and growing markets…and whose interests are squarely aligned with shareholders.
These are exactly the kind of stocks you can rely on when everyone else is rushing for the exits.
This commitment to finding outstanding investments has helped Wyatt Investment Research grow our loyal audience to more than 400,000 active investors from around the world.
Now, I'd like you to have the opportunity to see for yourself with my Personal Wealth Advisor.
Personal Wealth Advisor is a new service unlike any other we've ever published here at Wyatt Research.
Why?
Because with Personal Wealth Advisor, you have access to my entire team of wealth-building experts.
My wealth advisors have brought their own readers solid wins of*
60% on Icahn Enterprises
486% on Tesla…
49% on McCormick
236% on Mastercard
110% on this unique healthcare play
57% on this Euro-oil producer…
420% on Africa Oil…
185% on Allot Communications…
190% on Endeavour Silver…
398% on Netflix
125% on Susser Holdings…
…and many more.
Now, for the first time, each wealth advisor is tasked with one goal, and one goal only – to bring their best ideas front and center – and present them to you every single month.
In the span of just a year, they've brought investors returns of*
202% on this mobile communications innovator
55% on this banking company
56% on this unique equipment company
102% on this real estate portal
82% on this mining outfit
85% on this tech giant
314% on this sub-continental oil explorer
75% on this little known semiconductor company
130% – overnight – on this tiny biotech outfit
190% on this silver producer
…and so many more.
So much does it cost to access Personal Wealth Advisor?
As you can imagine, profitable intel like this doesn't come cheap.
Hours and hours of research go in to making sure that every single play has exactly what it takes to put money in your hands.*
With all the mountains of data that must be sifted through and the extensive traveling often required, I think you'll agree we'd be well justified in charging a few thousand dollars for this kind of service.
You can bet Wall Street would eagerly charge this much.
But that's not what we're about here at Personal Wealth Advisor.
We believe every investor deserves the chance to make the kind of double-and triple-digit returns you've seen here. After all, these opportunities weren't created just for the wealthy.
That's why we usually charge just $199 for a full year of access to Personal Wealth Advisor.
I said usually.
You see, because I'm so adamant about making sure these opportunities are available to as many investors as possible, I'm going out on a real limb here...
Not only am I offering a discount to readers who subscribe now…
I'm slashing the annual subscription price by more than 75% ... giving you access to Personal Wealth Advisor for just $49.
When I told my CFO this, he nearly choked on his lunch. After finally clearing his gullet, he told me then and there that this discount was far too big.
I agreed – which is why we are only offering this bargain for a very limited time.
…And why I urge you take advantage of it now before it's gone for good.
When you do, you'll have a full 90 days to make sure Personal Wealth Advisor is right for you. If you decide for any reason that it's not, just let me know by day 90 and you'll receive a full, unconditional refund.
Here's what you get as you join us:
Personal Wealth Advisor Monthly Newsletters – delivered directly to your inbox. Every month you'll receive a new research report with multiple stock picks and updates, emailed to you with the newest additions to our Personal Wealth Advisor Portfolio.
Regular Portfolio Updates – In-depth analysis and important updates on stocks in our model Portfolio, plus insights into opportunities we are currently researching.
Instant Market Updates – Up to the minute updates on the news affecting your portfolio. As soon as a fast-moving development occurs, you'll get an alert so you can lock in profits.
Members-Only Website Access – Log on to our members-only website any time – day or night. Here you'll find a comprehensive overview of our model portfolio, all of our recommendations and a constantly expanding library of special reports on specific, time-sensitive opportunities.
Personal Wealth Advisor Monthly Q&A – This is where you get the chance to grill our team of experts for answers to your most pressing questions. Whatever it is, feel free to ask – and your team of experts will do their best to give you the details you're looking for. And for the record, we don't dodge the hard ones... so bring it on.
Special Training Videos and Webinars – Designed especially for Personal Wealth Advisor members, these special presentations bring you even deeper into a subject – from income and bonds to tech stocks that rocket. We'll be releasing the first webinar in this series soon. And, as a Personal Wealth Advisor member, you'll have unlimited access to these trainings as they're produced, so you can return again and again to review what you've learned.
And more... much more...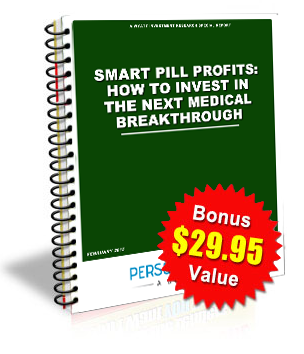 All for just 13 cents a day.
Even if you decide Personal Wealth Advisor isn't for you, Smart Pill Profits: How to Invest in the Next Medical Breakthrough (a $29.95 value) is yours to keep.
I'd say that's a pretty sweet deal.
Still…I think it could be even better.
That's why I want to send you two more money-making reports as soon as you join us: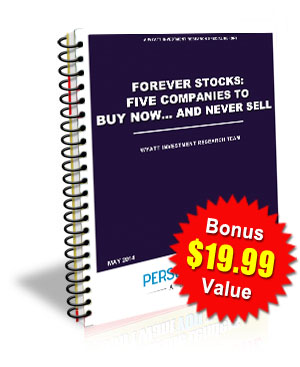 Free Report #1: Forever Stocks: Five Companies to Buy Now… and Never Sell
They might not be the sexiest companies in the world…but they're certainly some of the strongest. If years of solid, compounding growth and hefty dividends are your thing, look no further than these five pillars of stability. Each has been cranking out returns for investors for decades – some for more than 100 years.
These are some of the same companies that Warren Buffett's Berkshire Hathaway owns – and I like them for the same reasons he does: they represent the best of what I call "The Investor's Ideal"... growth, stability, and income.

A $19.99 value – yours free.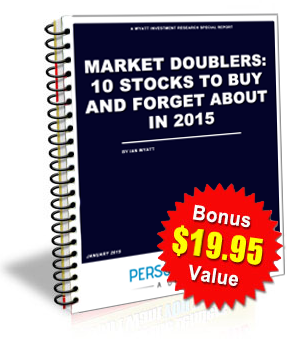 Free Report #2: The Market Doublers: 10 Stocks to Buy and Forget About in 2015
Since 2010, a select group of stocks with one thing in common has crushed the S&P 500 by 240% – and has nearly doubled the 5-year average returns enjoyed by titans like Warren Buffett and David Einhorn. It sounds incredible, but once you understand why you'll want to get them for yourself ASAP.

A $19.99 value – yours free.
That's $70 in free gifts, plus $150 in savings… just for taking a no-risk look at Personal Wealth Advisor today.
Your satisfaction is guaranteed. If you're not completely satisfied during your 90-day trial period, just call our office and request a 100% refund. Plus, you'll get to keep everything you've received so far – including the special reports – as our gift to you.
It can't get much better than that.
But you must act now. As I'm sure you understand, this special offer can't last much longer. (If my CFO had his way, it wouldn't even exist!)
That's why I urge you to join our many other thrilled readers right now. You risk absolutely nothing when you do.
I look forward to welcoming you here to Personal Wealth Advisor.
Yours in prosperity,
Ian Wyatt
Chief Investment Strategist
Personal Wealth Advisor
P.S. Remember, you'll have to pay $150 more for a year of Personal Wealth Advisoronce this offer ends. There's just no reason why you should have to miss out on it – or the many time sensitive opportunities I've mentioned above. Please don't delay.