Dear Reader,
It's one of the largest and hottest regions on the South American continent.
It's the last frontier of unexplored wilderness.
Spanish explorers, finding no gold or silver, moved on and never returned.
An arid land of spiny brush, dust and armadillos, this sparsely populated flatland is home to nomadic hunters whose way of life remains unchanged since the first humans set foot here.
Crops find it difficult to grow in the hard clay soil.
Uninviting and unforgiving, the Gran Chaco spans 400,000 sq. miles across parts of Argentina, Paraguay, Bolivia and Brazil.
It's not on the radar of any sensible tourist…and most travel guides will intentionally avoid the entire area.
Yet what few realize is that this brutal no-man's holds the key to an epic fortune.
And it's right in the crosshairs of one of the world's most powerful dynasties…
The Bush family.
The name connotes power, politics and connections.
The kind of connections they've used for decades to make themselves rich in industries including oil, finance and banking… even professional sports.
But what few realize is that there's another "industry" they're cornering quickly and decisively.
One that stands to make them far, far richer.
To understand why, you have to go back nearly ten years, deep into the heart of the Paraguayan Chaco…
It was in 2006 that Jenna Bush, daughter of then-President George W. Bush, flew to Paraguay for 10-days.
The "official" story was that she was on a mission with UNICEF.
But that wasn't the real reason for her trip to the southern hemisphere…
Because while she was there, Jenna met with Paraguayan President Nicanor Duarte and U.S. ambassador James Cason.

Paraguay President Duarte Visits George W. Bush at the White House
Nothing is known about what was said between them.
But what we do know is this: by the time Jenna Bush left the country, the Bush family had bought ownership of 298,840 acres of Paraguayan land…
Near the Brazilian border…and right in the heart of the Chaco.
Why on earth would the Bush family choose to purchase nearly 300,000 acres of land in this desolate region?
There's no oil here, that's for sure.
Conspiracy theories abounded…
One popular theory was that the Bush family needs a getaway in case their political fortunes in the U.S. go south.
But the truth is altogether different – and far more sinister.
The real reason is this:
Lying within the Paraguayan Chaco is a natural resource so immense that it could soon turn the Bush family from mere millionaires into billionaires.
The fight for control of this natural resource is so huge that Credit Suisse calls it the "Paramount Megatrend of our Time."
The Bush family realizes the huge potential…and is making a big investment to control this opportunity.
But they're not alone.
As I'll show you today, other wealthy insiders are quickly moving to shore up control of this crucial resource.
They include billionaire investor T. Boone Pickens…Warren Buffett…Goldman Sachs and JP Morgan.
These investors are pouring hundreds of millions of dollars into this timely opportunity...right now.
The scarcity of this resource has made it a primary cause of wars around the world.
This one resource has caused more than 500 conflict-related events...11 of which have turned violent.
Over the past 15 years, there have been armed conflicts over this resource in Bangladesh, Tajikistan, Yugoslavia, East Timor, Malaysia, Peru, Ecuador, Namibia, Zambia, Botswana and Angola.
In fact the British non-profit International Alert estimates that there could be 46 conflicts within the next 10 years…all related to this scarce resource.
This resource is so precious that people are willing to die for it.
And so profitable, that the world's most powerful insiders are quickly trying to take control of the market.
So what is this resource?
The answer may surprise you. It's not oil or gold.
Which brings me right back to the Paraguayan Chaco:
Underneath this desolate region lays one of the world's largest freshwater aquifers.
It's called the Acuifero Guarani.
Covering parts of Paraguay, Brazil, Argentina and Uruguay, Acuifero Guarani is estimated to hold 8,900 cubic miles of fresh water – nearly three times the size of California.
Why did the Bush family buy 298,840 acres of land in the Paraguay's Gran Chaco?
It wasn't to start up a ranching operation in South America…
To search for oil in this desolate region…
Or to build a family compound outside of the U.S…
The only reason the Bush family bought land in Paraguay is because of the Acuifero Guarani.
This aquifer is the largest single body of groundwater in the world…
With enough drinking water to supply the entire world population for more than 200 years.
The Bush property in Paraguay is right in the middle of this huge water supply…
Giving them a unique opportunity to profit from shrinking water supplies.
As the chief economist at Citigroup says, water will become "the single most important physical-commodity based asset class, dwarfing oil, copper, agricultural commodities and precious metals."
And an economist at the New York Board of Trade says it "is not only the most vital commodity – it is also the most undervalued."
Here's why…

The scarcest resource…is becoming even scarcer
It's a supremely cruel irony:
Though two-thirds of the world is covered in water, only 2% of it is fit for human consumption.
And 87% of this "good water" is trapped within glaciers.
This means that only 0.25% of accessible water is fresh water.
The simple fact is that there isn't enough water in this world.
More than 780 million people still lack access to it, according to the World Health Organization.
This alone is sobering enough.
But the situation becomes even more stark when you realize that the world's fresh water supply is about to become a lot scarcer.
According to a report from IBM, a growing number of people live in places where water demand greatly exceeds the available supply.
In fact, the number of people living in these areas will jump by 40% by the year 2030.
To give you an idea why, consider the case of just one country: China.
Thirty years ago, most of the country was a backwater. The people here lived on a diet of mostly of rice, porridge and cabbage.
Due to rapid economic growth, China has experienced a radical shift in its diet, now consisting of eggs, meat and dairy products.
In the last 25 years, meat consumption alone has skyrocketed 150%.
The problem is, it takes an awful lot of water to produce the grains that feed their cows, pigs, and chicken.
Take pork, the favorite meat in China.
To produce one kilo of pork requires 4,800 liters of water and two kilos of water-intensive feed.
All that for just one kilo of pork!
Because of this change, the fresh water under the North China plain – which harvests half of the country's wheat and a third of its corn crop – is now being rapidly depleted.
Of course, China isn't the only country where diets are rapidly changing.
According to the USDA, meat consumption throughout the entire developing world is expected to grow an average of 2.4% each year over the next decade.
Lest you think water scarcity is just a problem for developing countries, think again:
As I write this, California is in the midst of a historic drought that could cost its farmers nearly $3 billion this year.
Of course, water is an issue throughout the U.S.
According to the U.S. Government Accountability Office, water managers in 36 U.S. states expect severe water shortages in the near future.
Nothing illustrates this better than the situation facing Lake Mead, which supplies water to multiple states via the Hoover Dam.
Filled in the 1930s, it plunged to its lowest levels ever last year.
In fact, since 1998 its capacity has dropped by more than 5.6 trillion gallons.
That's one of the key reasons that the Interior Department warns there is a 20% chance of water shortages for Arizona and Nevada next year if the lake maintains current levels.
As dire as the prospects for Lake Mead sound, it's nothing compared to the entire Colorado River Basin, which has lost 17 trillion gallons of water over the last decade, according to a joint study by NASA and the University of California, Irvine.
Colorado River: 1999 vs. 2014


That decline is significant.
It's enough water to supply more than 50 million households for a year!
And now that it's gone, those 50 million households need to find another source of water.
As the study's lead author says, "We thought the picture could be pretty bad, but this was shocking."
In California, water reservoirs are literally drying up.
The state's largest reservoir is at just 40% capacity. And the state's second largest reservoir – Lake Oroville – has sunk 70%.
These pictures tell the full story of the California drought.
Lake Oroville Reservoir in 2011
Lake Oroville Reservoir in 2014
Municipal water prices are already spiking throughout America.
Cities including San Antonio are seeing rate hikes of 20% since 2011.
Forbes says, " Even relatively water-abundant cities on the east coast such as Baltimore and Philadelphia have raised water prices by magnitudes over the past decade."
And in water-rich New Orleans, average household rates are scheduled to more than double from 2012 to 2020.
All of this is why IBM believes that the United States will need to grow its water supply 165% above 2000 levels by 2025.

Goldman Sachs, JP Morgan and Warren Buffett
are betting big on water opportunities
The writing is clearly on the wall…
That's why some of the world's premier investors are quickly moving to profit from this worldwide water crisis:
Take T. Boone Pickens, the oil billionaire from Texas. His company Mesa Water owns 200,000 acres of land sitting atop the Ogallala Aquifer

–

the largest aquifer in North America, spread across eight states. Mesa Water has permits for 65 billion gallons of water a year

–

meaning Pickens now owns more water than any other person in the U.S.

In 2003, Goldman Sachs purchases Ondeo Nalco (NLC), the world's leading producer of water treatment technologies. Warren Buffett is the company's largest shareholder.

In October 2007, JP Morgan acquires utility Southern Water, which provides water to 2.3 million people.

The next month, Citigroup partners with HSBC Bank and Prudential to acquire European water utility Kelda for $6.3 billion.

In 2010, J.P. Morgan Asset Management and Water Asset Management leads a $275 million buyout bid for SouthWest Water in England.

In 2011, Hong Kong billionaire Li Ka-shing buys Northumbrian Water, serving 2.6 million people.

In March 2012, Goldman Sachs buys Veolia Water, serving 3.5 million people, for £1.1 billion.

In 2012 Filipino tycoon Manuel V. Pangilinan announces a deal to buy a 49% stake in Vietnam's Kenh Dong Water Supply Joint Stock Co.
There's no question about it: water is set to be the hottest commodity of the 21st century.
As a fund manager in London says, "We can't live without water, we can live without gold. Water is about as attractive as it gets."
And it's why Forbes claims, "By some estimates, water-related infrastructure improvements will require $22 trillion in investment worldwide over the next two decades."
That's a lot of money.
And it provides a timely opportunity to get in on the ground floor.
Those who place their bets now can make huge returns investing in the water sector.
The good news is, I've found a simple way you can do just this.
There is one company that's created a wide range of water treatment technologies to help solve the world's water scarcity issues.
This innovative company's high capacity filters eliminate minerals, odors and bacteria…allowing people to quickly obtain clean water from less than pristine sources.
Its products are already sold in 60 countries around the world, with large manufacturing outfits in China and India – two major countries with significant water scarcity and quality issues.
What's more, it has only begun to tap the huge potential of its water treatment technologies in these countries…an open road for decades of future growth and sales.
This company is also one of the most shareholder-friendly companies I've come
across.
In fact, it's already doubled its dividend in the last six years…and I expect bigger payments will be coming soon.
Already a major player on the scene, this dynamo is about to get a lot bigger as the desperate demand for more clean water skyrockets even higher.
As one analyst says, "If you want a retirement stock that you don't have to worry overly much about, this may be the stock for you."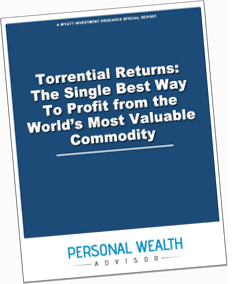 It's the next-best thing to owning land above a giant aquifer…
That's why I've got all the details on this must-have innovator for you in a special new report, Torrential Returns: The Single Best Way to Profit from the World's Most Valuable Commodity.
And I want you to have it free of charge.
I'll show you how to grab your copy in just a moment, but first, allow me to introduce myself.
My name is Ian Wyatt.

I'm Chief Investment Strategist at Wyatt Investment Research.
I founded my company back in 2001. We're located in Vermont, far away from the noise of Wall Street and Washington D.C.
I've been an active investor for more than twenty years…
And I've made it my mission to help investors beat the market – without making ridiculously high-risk bets. I don't day trade, use options, or try to time the market.
Because that's not what successful investors do.
Instead, successful investors focus on finding value – cash rich companies with solid fundamentals, assets and growing markets… and whose interests are squarely aligned with shareholders.
These are exactly the kind of stocks you can rely on when everyone else is rushing for the exits.
This commitment to finding outstanding investments has helped Wyatt Investment Research grow our loyal audience to more than 400,000 active investors from around the world.
Now, I'd like you to have the opportunity to see for yourself with Personal Wealth Advisor.
Personal Wealth Advisor is a new service unlike any other we've ever published here at Wyatt Research.
Why?
Because with Personal Wealth Advisor, you have access to my entire team of wealth-building experts.
My wealth advisors have brought their own readers solid wins of*:
60% on Icahn Enterprises ...
486% on Tesla…

49% on McCormick ...
236% on Mastercard

110% on this unique healthcare play ...

57% on this Euro-oil producer…

420% on Africa Oil…
185% on Allot Communications…

190% on Endeavour Silver…
398% on Netflix

125% on Susser Holdings…
…and many more.
Now, for the first time, each wealth advisor is tasked with one goal, and one goal only – to bring their best ideas front and center – and present them to you every single month.

In the span of just a year, they've brought investors returns of:
202% on this mobile communications innovator

55% on this banking company

56% on this unique equipment company

102% on this real estate portal

82% on this mining outfit

85% on this tech giant

314% on this sub-continental oil explorer

75% on this little known semiconductor company

130% – overnight – on this tiny biotech outfit

190% on this silver producer
…and so many more.
But here's the really good news: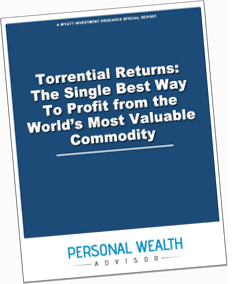 Grab your free copy of Torrential Returns: The Single Best Way to Profit from the World's Most Valuable Commodity and I'll slash the annual subscription price to Personal Wealth Advisor in half.
So instead of paying $99 for a full year, you'll pay just $49.
That's less than 14 cents a day.
Not only that, you'll have a full 90 days to make sure Personal Wealth Advisor is right for you.
If it's not, just let me know by day 90 and I'll refund every single penny then and there.
But if you're too busy enjoying your profits, you'll only pay a small fee of $49 for the entire year.
That's it.
And regardless of which way you decide, Torrential Returns: The Single Best Way to Profit from the World's Most Valuable Commodity is yours to keep.
Here's what you get as you join us:
Personal Wealth Advisor Monthly Newsletters – delivered directly to your inbox. Every month you'll receive a new research report with multiple stock picks and updates, emailed to you with the newest additions to our Personal Wealth Advisor Portfolio.
Regular Portfolio Updates – In-depth analysis and important updates on stocks in our model Portfolio, plus insights into opportunities we are currently researching.
Instant Market Updates – Up to the minute updates on the news affecting your portfolio. As soon as a fast-moving development occurs, you'll get an alert so you can lock in profits.
Members-Only Website Access – Log on to our members-only website any time – day or night. Here you'll find a comprehensive overview of our model portfolio, all of our recommendations and a constantly expanding library of special reports on specific, time-sensitive opportunities.
Personal Wealth Advisor Monthly Q&A – This is where you get the chance to grill our team of experts for answers to your most pressing questions. Whatever it is, feel free to ask – and your team of experts will do their best to give you the details you're looking for. And for the record, we don't dodge the hard ones... so bring it on.
Special Training Videos and Webinars – Designed especially for Personal Wealth Advisor members, these special presentations bring you even deeper into a subject – from income and bonds to tech stocks that rocket. We'll be releasing the first webinar in this series soon. And, as a Personal Wealth Advisor member, you'll have unlimited access to these trainings as they're produced, so you can return again and again to review what you've learned.
Claim Your Free Report and Save $50
Just Click Here Now
I urge you to take advantage of this offer now before it's gone for good.
I look forward to hearing from you.
Good Investing,
Ian Wyatt
Chief Investment Strategist
Personal Wealth Advisor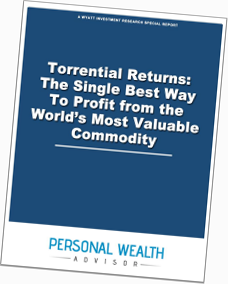 P.S. Remember, the dawn of driverless cars is here. The only question is whether you'll let it pass you by…or profit immensely from this exciting megatrend. Act today, and you could make upwards of 630% returns.* Grab your free copy of Torrential Returns: The Single Best Way to Profit from the World's Most Valuable Commodity today.
P.P.S. I've got two more free special report gifts waiting for you as soon as you accept your risk-free invitation:
The Apple Effect: One Stock to Profit from Apple's Latest Breakthrough. Mobile data usage is soaring 92% higher each year...Inside, you'll discover the single best way to profit from this explosive, exponential growth swamping the globe. If you're serious about making huge profits from non-stop mega-trends, the information in this report is a must read.
Smart Pill Profits: How to Invest in the Next Medical Breakthrough.
Imagine being able to detect cancer before it even starts…and without ever setting foot in a doctor's office! And all thanks to a single pill that could alert your doctor to any warning signs. This might sound too incredible to be believed – but one of the most innovative and disruptive companies in the world is already making big headway on it. This is one story you don't want to miss out on.