Fellow Investor,
Is it really possible to beat the market by an average of 226%...in just two months?
Most sensible investors would answer "no."
But the truth is, it's very possible.
In fact...informed investors have been using this simple strategy for over forty years. How do they do it?
Well, an elite group of researchers discovered astonishing:
Every year since 1974, there's been a two-month window when stocks suddenly become great bargains…and then quickly outperform all major stock indexes.
By an average of 226%.
That's why they call it "Wall Street's Only Free Lunch."
Of course, most investors have no idea this Free Lunch even exists.
But this little nugget was revealed to me on page 112 of a very special book.
For nearly 50 years, serious and informed investors everywhere have had it by their side to guide them through every conceivable kind of market.
Inside you'll discover a gold mine of historical data revealing key market trends, patterns and cycles - all illuminating the path to superior performance.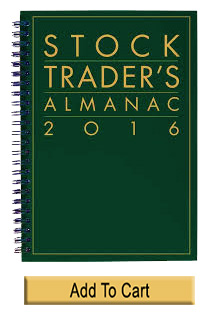 Edited by 25-year Wall Street veteran and market historian Jeffrey A. Hirsch (whose father Yale Hirsch published the first edition in 1967), The 2016 Stock Trader's Almanac is indispensable for those committed to profiting from decades of market analysis.
Now this book usually sells for $50. But as part of a special agreement with the publisher, I want to send you now as a special gift.
With stock market volatility picking up in 2016, it's crucial that you have The Stock Trader's Almanac 2016 by your side.
Don't take my word for it. Consider these glowing reviews from some of the market's seasoned veterans:

"Information is key to successful investing and investors will find the Almanac chock-a-block source of need-to-know stuff."
-Steve Forbes, Forbes Magazine

"The Almanac is the truth! Every year I get the new copy, every time I crack the book I learn something new. The Stock Trader's Almanac has become a part of the firmament for professional investors and retail players alike. It's an institution unto itself - all at once a studious and yet highly readable reference. I recommend snagging a copy and keeping it with you at your desk."
-Josh Brown, CNBC commentator

"I've been reading the Almanac since Yale first published it back in 1968. I wouldn't miss a year for anything. It's the perfect reference for every trader's desk."
-Larry Williams, Darlings of the Dow Fund

"The Stock Trader's Almanac is a treasure-trove of solid gold investment nuggets. No serious trader should have it far from his hands."
-John Mauldin, Mauldin Economics

Click here now to claim your FREE copy of
The Stock Traders Almanac!
Remember the old saying, "Those who do not learn from history are doomed to repeat it?"
I like to think of it another way: those who don't learn from market history are condemned to lose and miss out -- big.
And this kind of history is exactly what you'll discover within the pages of the Almanac.
For instance...there are days that pay...and days that really pay.
That's because since 1997...on a certain day of the year...the Dow closes on average nearly 20 times higher than every other training day.
No joke.
That's quite a significant difference -- and an incredibly easy way to pad your portfolio.
You'll discover exactly which day I'm talking about on page 86 of The Stock Trader's Almanac 2016.
That's not all:
On page 52 you'll discover something even more astounding...
You see, one of the most agonizing questions many investors face is when to be in stocks...and when to hold cash.
Not knowing when to do either can mean the difference between earth-shaking returns...or crushing losses.
Thanks to the research in The Stock Trader's Almanac 2016, you'll now know exactly when to be invested...and when to sit on the sidelines.
Sound incredible?
The researchers at the Almanac discovered something amazing:
Since 1950, those who were invested during the "wrong" time of the year averaged annual gains of just 0.4%...
Conversely, those who did know when to be invested averaged annual gains of 7.5%--a colossal difference.
Now, 7.5% might not sound like much, but think of it this way:
If you knew exactly when to be in stocks...and when to stay in cash...your $10,000 investment would have grown to a whopping $838,486.
It's exactly this kind of path-breaking breaking research that sets apart The Stock Trader's Almanac 2016.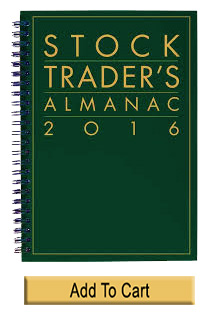 And why readers are so crazy about it. That's why Amazon customers give the book a 4.5 star rating!
Just take a look at a few of the recent Amazon customer reviews...
Almost invaluable; almost priceless!
By Daniel Turov



There is an old British expression, "to be penny wise and pound foolish". The Almanac would be a good VALUE at $100 or more. It is the single best source of the most valuable publically available stock market information. It is almost "invaluable"! It should be bought by all investors who want to understand what the very best professionals know. Or, better yet: Don't buy it, and instead let us professionals take your money in the marketplace!
A Very Helpful Investment Guide
By William T. Sayers and Charlene Sayers



We have been purchasing the Stock Trader's Almanac each year over the past seven or more years and always find the information provided in it to be very helpful in choosing and timing investment purchases and sales.
If you invest, you've gotta have this book
By Ryan Detrick



As someone who professionally trades the stock market for a living, not a day goes by that I don't consider seasonality in my work. There is no place that is better at breaking this down than the Stock Trader's Almanac. NO ONE has done it longer or better.
There's much more waiting for you inside the Almanac...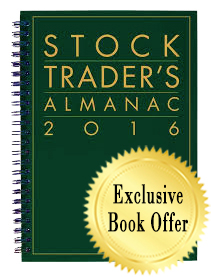 As you know, 2016 is a Presidential election year.
For many, it's a time for disgust and despair.
But for Almanac readers, it's a special opportunity to bank major profits.
Inside The Stock Trader's Almanac 2016, you'll discover...
The best month to buy stocks in a presidential election year-it's a bear killer! (page 90)
Which months of an election year hand investors 150% higher returns than all others (page 32)
What Presidential term years are the most profitable: Since 1833, these two years have produced average returns nearly 250% higher than the others (page 130)
The Presidential term year that is the absolute worst for investors: Since 1920, this year has produced losses of 13.9% and 10.9% for the Dow and S&P 500 (page 40)

There's much more you'll discover inside, but first, allow me to introduce myself.
I'm Ian Wyatt, the founder and chief investment strategist here at Wyatt Investment Research.
We're a small, independent investment research firm with 300,000 readers from around the world. Located in Vermont, we're far away from the hype on Wall Street or corruption in Washington D.C.
My goal is to help level the playing field for every investor...including you.
And that's exactly why I want to send you your copy of The Stock Trader's Almanac 2016 as a special gift.

Click here now to grab your gift now

When you get it, you'll have immediate access to a goldmine of profitable intelligence that you won't find anywhere else.
For instance...did you know there are two holidays you should NEVER trade around?
Since 1980 these two holidays have been the absolute worst for investors...handing them negative returns three days before and three days after.
Conversely, you'll learn which holidays are very bullish for the market-when it definitely pays to be invested.
All of this is revealed on page 88 of The Stock Trader's Almanac 2016.
And that's not all. You'll also discover...
The Dow's very best performing month of the year since 1950 (page 38)...and the very worst (page 74).
WARNING: Two days you must never, ever sell stocks on (page 70).
The very best month for small caps: For 42 years, small cap stocks have QUADRUPLED the returns of blue chips during this time (page 106).
Which quarter has produced the greatest, most consistent gains for the Dow and S&P every year since 1949 (page 102).
The two most consistently bullish days for the Dow since 1989 (page 70).
The best three consecutive months for the NASDAQ since 1971. These three months produced 150% greater average returns than those of the S&P 500 during this period (pages 58, 148).

Are you a data junkie? Inside the Almanac, you'll also have access to charts revealing...
Monthly and annual highs, lows and closes for every major NYSE index since inception...
Average daily S&P and NASDAQ performance for each year...
The 10 best and worst trading days, months, quarters and years for every major NYSE index...
Monthly percentage changes in the S&P 500 during every presidential election since 1944...what happens when incumbents win and when they lose...
Quarterly percentage changes in the Dow, S&P 500 and NASDAQ since 1949, segmented by pre- post- midterm and election year cycles...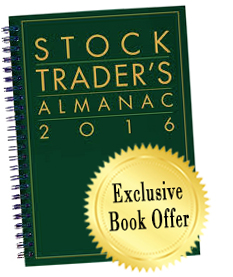 Simply put, there's no substitute for The Stock Trader's Almanac 2016.
You need this book if you're truly committed to being an informed investor who's far ahead of the crowd.

"Jeff Hirsch is following in the great tradition of his father, Yale Hirsch, with this nonpareil almanac of Wall Street data. It's a treasure for investors who want to remember the past as they plan the future."
-Louis Rukeyser, PBS host of Louis Rukeyser's Wall Street

"The Stock Trader's Almanac should be on every investor's desk. It's an invaluable source of investment advice, trading patterns, and Wall Street lore. It's also fun to read. I refer to it frequently throughout the year."
-Myron Kandel, CNN Financial

"All my almost four decades in professional investing, I've found this annual tour de force fascinating. There is a lot of provocative here to whet your whistle and adrenaline-rush your curiosity. If you don't find something here that tickles your mind, you probably don't have one."
-Ken Fisher, Fisher Investments

Keep in mind that we have just 100 copies of The Stock Trader's Almanac 2016.
The books were just delivered to my warehouse...and I'm sure they'll all be claimed soon.
So I urge you to grab your free copy by clicking here now.
When you respond today, you'' also gain instant access to Personal Wealth Advisor, yours to review risk-free for 90 days.
Like The Stock Trader's Almanac 2016, Personal Wealth Advisor is concerned only with what the raw data tells us -- all to help you uncover the safest, most solid investments available.
The rest is just noise.
Personal Wealth Advisor is unlike any other investment newsletter we've ever published here at Wyatt Research.

Why?
With Personal Wealth Advisor, you have access to my entire team of wealth-building experts.
Each wealth advisor is tasked with one goal, and one goal only - to bring their best ideas front and center - and present them to you every single month.
My wealth advisors have brought their own readers solid wins of:
49% on McCormick...
57% on this Euro-oil producer…
60% on Icahn Enterprises...
110% on this healthcare play...
125% on Susser Holdings…
185% on Allot Comm…
190% on Endeavour Silver…
236% on Mastercard...
420% on Africa Oil…
486% on Tesla…
1,047% on Netflix...
...and many more.
That's not all: In the span of just a year, they've also brought investors returns of:


55% on this banking company
56% on an equipment company
75% on this tech play
82% on this mining outfit
85% on this tech giant

102% on this real estate portal
130% on a tiny biotech
190% on this silver producer
202% on a mobile stock

314% on an oil explorer
...and so many more.
But here's the really good news: By accepting this risk-free invitation, you can join these lucky investors and receive 12 full issues of Personal Wealth Advisor for just $49.
That's less than 14 cents a day.
And you'll have a full 90 days to make sure Personal Wealth Advisor is right for you. If it's not, just let me know and I'll refund every single penny.
There's more...
When you join us through this web page only, I'll rush you 5 special bonus reports.
These urgent money-making reports include: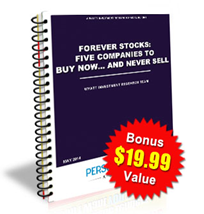 Free Report #1: Forever Stocks: Five Companies to Buy Now... and Never Sell
(a $19.95 value)
They might not be the sexiest companies in the world...but they're certainly some of the strongest. If years of solid, compounding growth and hefty dividends are your thing, look no further than these five pillars of stability. Each has been cranking out returns for investors for decades - some for more than 100 years.
These are some of the same companies that Warren Buffett's Berkshire Hathaway owns - and I like them for the same reasons he does: they represent the best of what I call "The Investor's Ideal"...growth, stability, and income.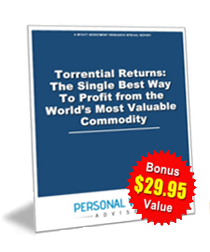 Free Report #2: Torrential Returns: The Single Best Way to Profit from the World's Most Valuable Commodity
(a $29.95 value)
You won't find it traded on any exchange...but over the last 15 years, one resource has caused more than 500 conflict-related events...11 of which have turned violent. What's more, the British non-profit International Alert estimates that there could be 46 conflicts within the next 10 years...all related to this scarce resource. And some of the wealthiest insiders - Warren Buffett, Goldman Sachs and JP Morgan-are moving to profit from it right now.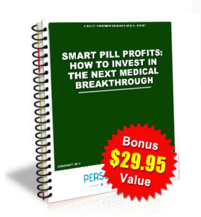 Free Report #3: Outsiders Rising: Two Outsider Stocks to Buy Now
(a $29.95 value)
A few years ago, a team of Harvard Business School researchers discovered how a small group of eight "Outsider" stocks crushed the S&P by 20-to-1. Now, we've discovered two more special "Outsider" stocks set to join their ranks. One is crushing the S&P 500 by 650%...the other has handed investors 760% returns over the past 9 years. And they're just getting started! You'll definitely want to make room for these two special stocks in your portfolio.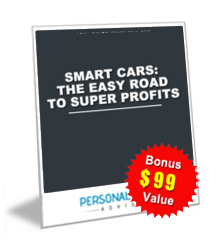 Free Report #4: Smart Cars: The Easy Road to Super Profits
(a $99 value)
The age of driverless cars is upon on us. Apple, Google, Tesla and many others are set to make this revolutionary technology a part of our everyday lives very soon. It's the most epic invention since the Internet-one that can make you 630% richer. Find out how in this special report.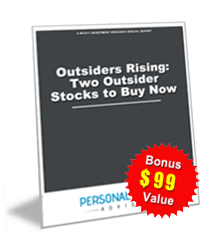 Free Report #5: Smart Pill Profits: How to Invest in the Next Medical Breakthrough
(a $99 value)
It didn't even exist five years ago...but a brand new medical market has been unleashed....And according to one research firm it is expected to balloon 2,512% by 2020. But what's really exciting is the new medical technology that's responsible for this growth. Not only has it already been approved by the FDA...but the Huffington Post calls it "The Game-Changing Innovation in the Fight against Disease."
Plus, I'll rush you your free copy of The Stock Trader's Almanac 2016 (a $50 value).
In total, that's over $325 in money-making gifts.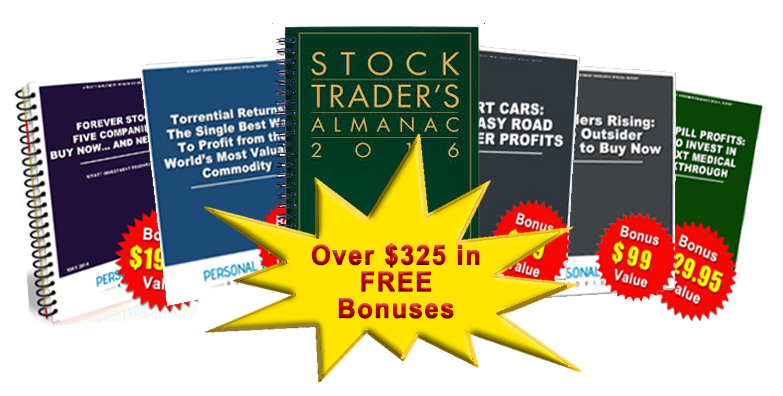 It can't get much better than that.
But you must act now.
With just 100 copies of The Stock Trader's Almanac 2016 available, I'm certain they'll be gone within 24 - 48 hours.
Click here now to claim your free copy
and your free reports right now.
Yours in prosperity,
Ian Wyatt
Chief Investment Strategist
Personal Wealth Advisor
P.S. Remember, we have just 100 copies of The Stock Trader's Almanac 2016 available in our warehouse. Once we're out, we're out. Get this invaluable book now for free while you can.
Click here...
before this disappears.
P.S.S.
Don't forget, you have a full 90-days to make sure Personal Wealth Advisor is right for you. If it's not, just let me know and I'll refund every penny. All of the risk is entirely on me.