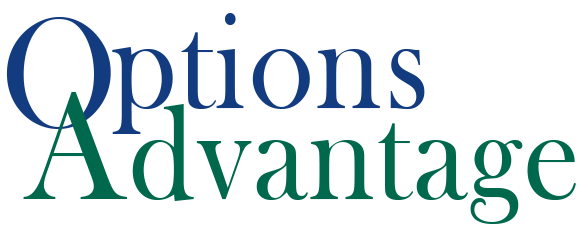 Join the Pro-Level Traders Earning $2,991 Every Month
My name is Andy Crowder, and if you're worried about the market…
...if you need $2,000 or more in extra monthly income…
...OR, if you don't want your money exposed to a large drop in the stock market…
The time is NOW to use my 5 Income Secrets to massively grow your account while also generating torrents of cash.
Now you can realistically grow your portfolio from a modest $25,000 to a massive six-figure fortune… win 93.1% of your trades…
…and get access to my most comprehensive, profitable, valuable service ever: Andy's Options Advantage.
I've built this service exclusively for the new options bull market happening right now, with 507.6% in total gains so far in 2018!
I'm so confident in my methods for profiting from up, down, and sideways moves, I personally guarantee you will have an opportunity to more than DOUBLE your portfolio in the next 6 months.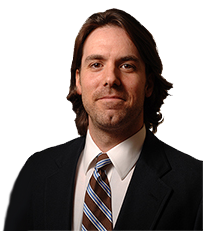 You're about to be one of just 50 exclusive charter members admitted to Andy's Options Advantage
I'm limiting membership because you'll get unlimited access to me, Andy Crowder, personally. I'll be taking every one of your calls, texts and emails. (All the details are below.)
Once I hit the 50 member limit, I could shut down enrollment right away. Based on the overwhelming initial response to my Options Boot Camp, this could happen within the next hour.
Don't wait another minute. When you enroll, you'll get immediate access to my top 3 strategies for earning $2,991 each every month!
As soon as you sign up, you'll receive:
Timely issues and alerts rushed to my inbox

the second I publish a new trade. Inside, you'll get the full rationale for the trade including a step-by-step breakdown with information on pricing, position sizing, probability of success, and maximum return.

We don't wait for what the market dishes out – Options Advantage always keeps you one step ahead, with trades designed to take full advantage of market volatility --- 15-20 active trade alerts every month!

Weekly updates sent EVERY Friday at 5pm ET

that contain my outlook on the market and my latest options trading tips and strategies. These information-packed dispatches give you updates on every open position in the portfolio so you always know exactly what's happening.

SMS / Text Message Alerts to keep me up to speed on EVERY trade… even when I'm away from my computer.

Six Different portfolios

keep you winning in up, down and sideways markets. You can view every transaction and see exactly how I construct my trades for every possible market scenario.

24/7 access to the Options Advantage subscriber-only website

where you can see all of my in-depth special reports and updates, video presentations, and valuable options research.

You'll hit the ground running with my
Options Pro Quick Start Package

SPECIAL REPORT #1: Andy Crowder's Complete Guide to Options Profits

SPECIAL REPORT #2: 3 Simple Options Strategies for Earnings Extra Income Without Taking Big Risks

SPECIAL REPORT #3: The Vital Rule for Every Options Trade

SPECIAL REPORT #4: Using ETF Options for Wealth Protection and Portfolio Growth

SPECIAL REPORT #5: Iron Condors: A Step by Step Approach


Available with a platinum membership...
Andy's Options Mentorship Program
When you enroll with a platinum membership, I will be your trading mentor for Options Trading. That means you'll get complete access, including:
Private email access

Phone call support, with Andy's personal phone number

1 - 2 business day response

Regular "office hours" for mentoring clients
Trading Mentorship is a $3,995 value... and it is ONLY available with the PLATINUM PLAN!
PLUS, only 50 new members can access Andy's Options Mentorship Program.
By acting today, you'll have a chance to lock in HUGE 92% savings – the BEST price ever offered!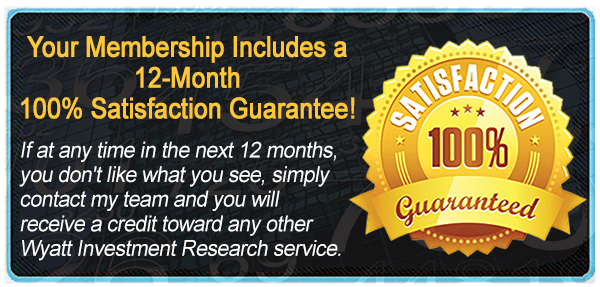 My Options Advantage strategies are crushing the market this year with 507.6% total gains. Plus, my members and I are WINNING an amazing 93.1% of these trades.
For this reason, it is VERY likely that all 50 spots will be
100% "SOLD OUT" within 24 hours.
Please respond ASAP if you're serious about making massive profits, even when the stock market is going nowhere.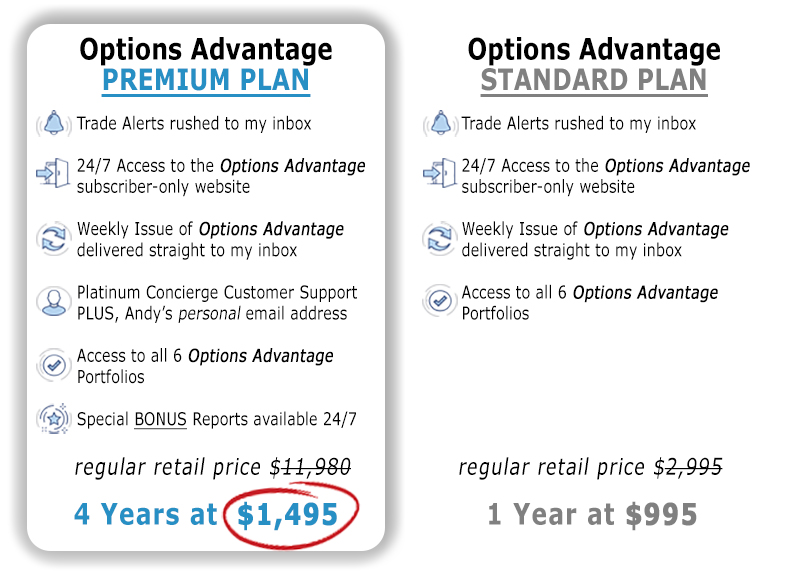 Simply Fill Out The Form Below
Or Call 888-875-1960 To Get Started!