Yes! I'm Ready to Collect Up To 10x More
Retirement Income
I'm one click away from access to one of the most elite areas of the investing world: The Millionaire's "Secret Stock Market".
I want complete access to these hot retirement income plays!
Current opportunities on this "Market" produce:
EXTRA INCOME than regular dividend stocks, mutual funds, and ETFs.
Other current plays can payout over 10X more income than 11,400 funds being peddled by brokers and advisors.
I understand buying these shares could be my BEST chance to a stress-free retirement and to capitalize on this wild bull market.
Only 2.7% of Americans invest in this "Secret Stock Market" and I don't want to be left out.
I'm ready to capture this income today in my 401(k) and IRA!
With Steve Mauzy's Millionaire's Retirement Club, I'll discover complete details regarding:
The quiet, "secret" corner of the market paying out millions each month including 6-figures to Bill Gates and average Americans.

Five red-hot retirement income plays.

Steve dug through 585 investments and select the top 5 to BUY RIGHT NOW.

A no-holds barred look at Steve's "Alpha Scores"

and how to use his 'magic formula' to find the best income plays for earning 2x, 5x, and even 10x more income!
My exclusive membership gives me complete access to Steve's 2 special bonus report reports...
Plus, I'll get instant access to the charter issue revealing the top 5 plays. This research gives me COMPLETE details on ground floor retirement income plays.
I Want Access to the
Millionaire's "Secret Stock Market" Right Now!
I'm Ready to Make 10x More Retirement Income!
On the next page, I'll get confirmation of access to "arguably the best investment vehicles on the planet," according to Bloomberg.
This exclusive research package includes:
BONUS REPORT #1
An Insider's Guide To The Millionaire's "Secret Stock Market"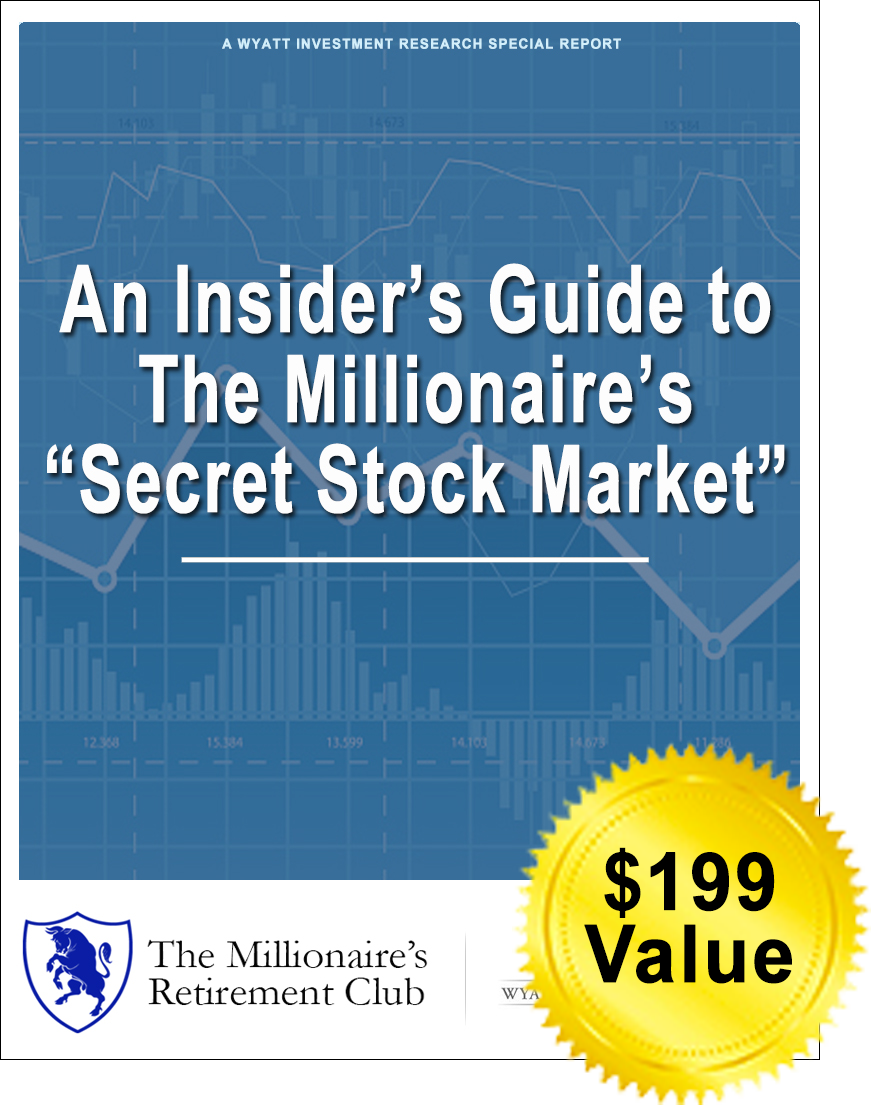 Finally discover exactly what investments are trading on the "Secret Stock Market"
Uncover their #1 "superpower" which hands you immediate returns. Mutual funds and ETFs are barred from being able to use this "superpower."
Buy "boosted" investments which can deliver you quick 25% income bumps. I'll show you how to "boost" your investment.
Profit from the 'Top Six' investment opportunities to take advantage of right now in this market.
BONUS REPORT #2
How to Easily Spot 10x Income Plays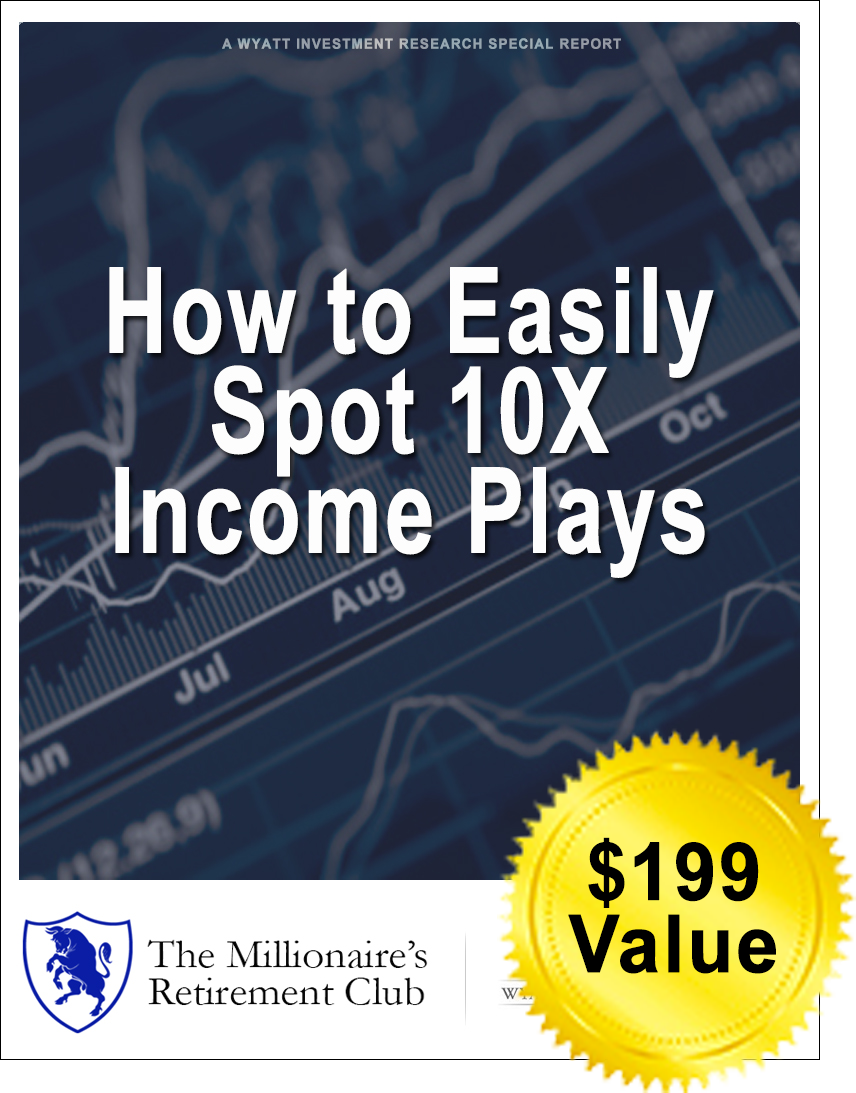 Know when to buy & sell on this "Market" while sucking as much income as possible out of the deal
Cash in on the "OP-ending" lottery which could hand you 10%-20% returns literally overnight
Uncover the buried SEC page which could be your golden ticket to quick income windfalls
Immediate Access to the
Launch Portfolio Special Issue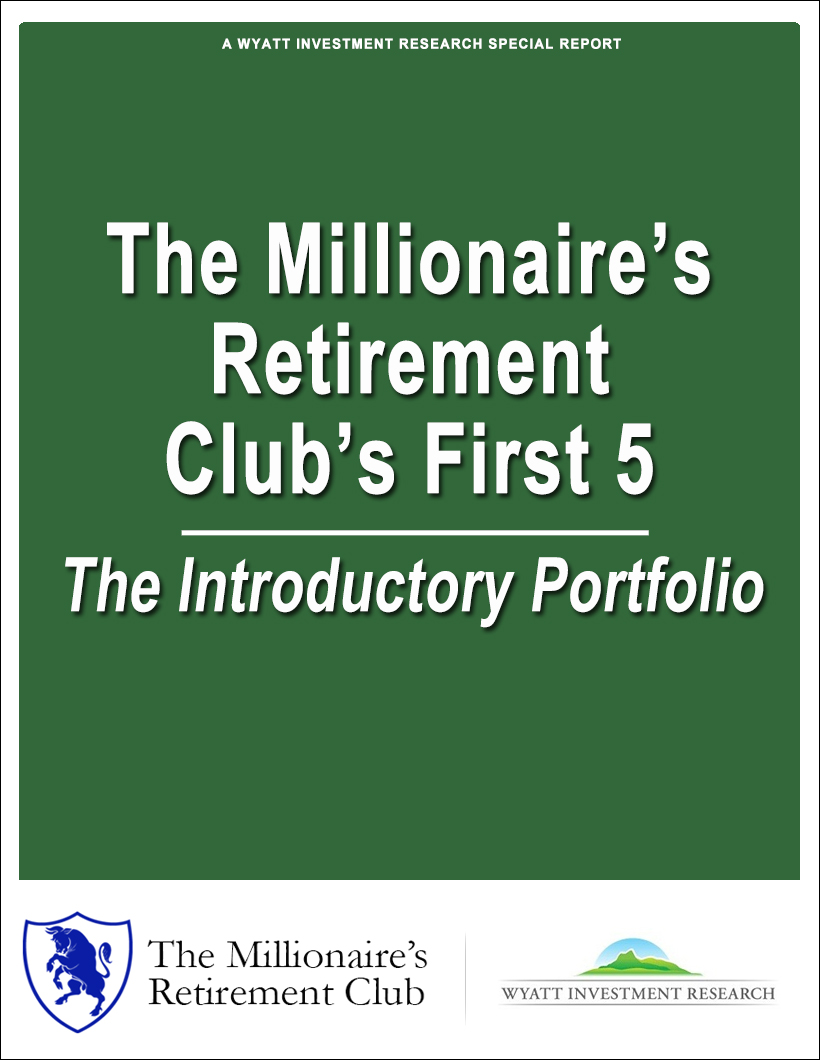 The Millionaire's Retirement Club's First 5:
The Introductory Portfolio
Complete, behind-the-scenes analysis on the hottest 5 retirement income opportunities that to BUY NOW.
Save up to 18% on your next trade.
Know precisely the price point at which to invest in order to see the most income (Steve does all the heavy lifting).
These two reports and the inaugural special issue are just the beginning…
I get access to them --- 100% free --- when I accept my invitation to become a charter member of the Millionaire's Retirement Club.
I Understand Only 50 CHARTER MEMBERS
Will Be Allowed Access At This Time
I'm ready to take this major step in my retirement journey. But, I understand over 317,559 people could see this special offer tomorrow.
Only 50 charter members will be accepted, and I want to be one of them!
The Millionaire's Retirement Club is a brand-new service from Steve Mauzy, CFA. Only a limited number of spots can be nominated for 'charter member' status.
These 50 charter members will be guaranteed: The lowest price forever compared to future members (who could pay up to 3X more).
When I join, I'll get immediate access to all the bonuses, special reports and the portfolio to the Millionaire's Retirement Club.
Given the urgent nature of this research, space MUST be limited.
I understand I will never see this 'Early Bird' pricing again as the Club grows.
If at any time I am not satisfied, I can cancel in the next 30 days and get a no-questions-asked refund.
I can still keep the 2 special reports and the inaugural issue with the hottest retirement income picks.
If I choose to stay with Steve, my membership will simply be auto-renewed at the best available price so I'll never miss a new income play.
I understand it's VERY likely the 50 spots will be SOLD OUT in the next few minutes.
If that's the case, I will need to wait until this service re-opens and I understand the price will be at least $500 higher.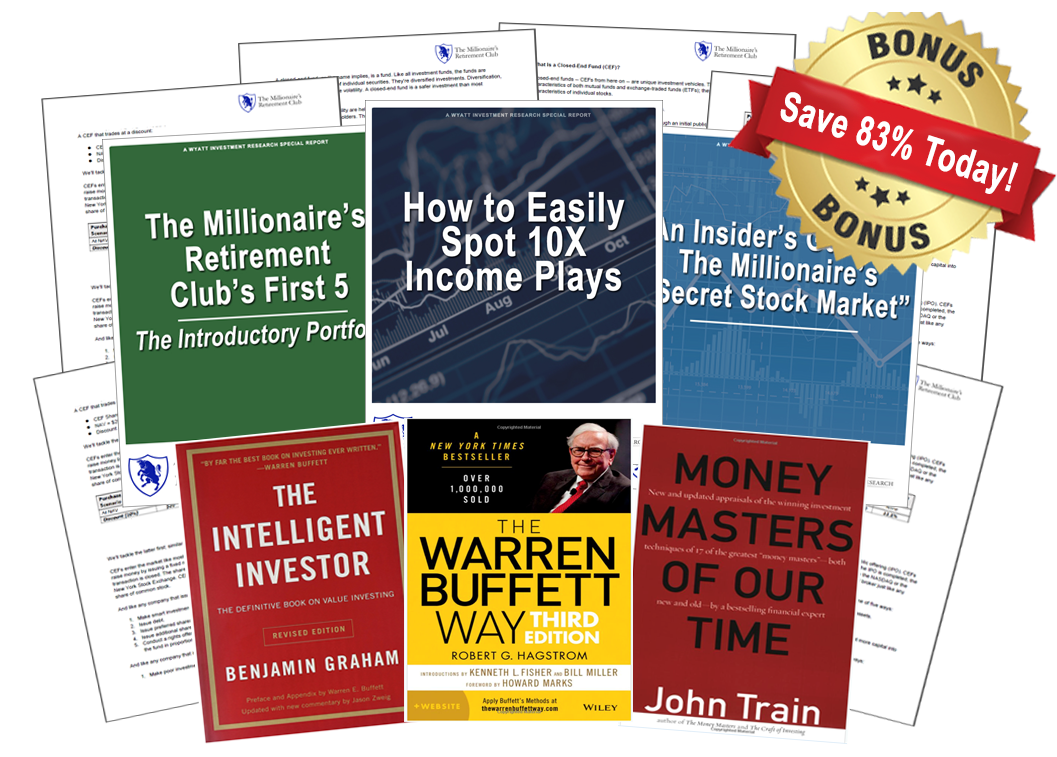 When I enroll as a PREMIUM charter member, Steve will mail me the top three books from his personal library. These books guide Steve's income strategies - and they are mine 100% FREE.

The Intelligent Investor -
Benjamin Graham: Arguably, the most influential investing book on the planet
($29.95 value) FREE



The Money Masters - John Train: Details how the richest investors ever invest in the markets. Perfect for retirees.
($23.49 value) FREE



The Warren Buffett Way - Robert Hagstrom: A 5-star rated book on Buffett's exact strategies for finding high-profit investments.
($40.44 value) FREE
As a three-year charter member of this Club, these books will be shipped to my door right away as a "thank you" for signing up.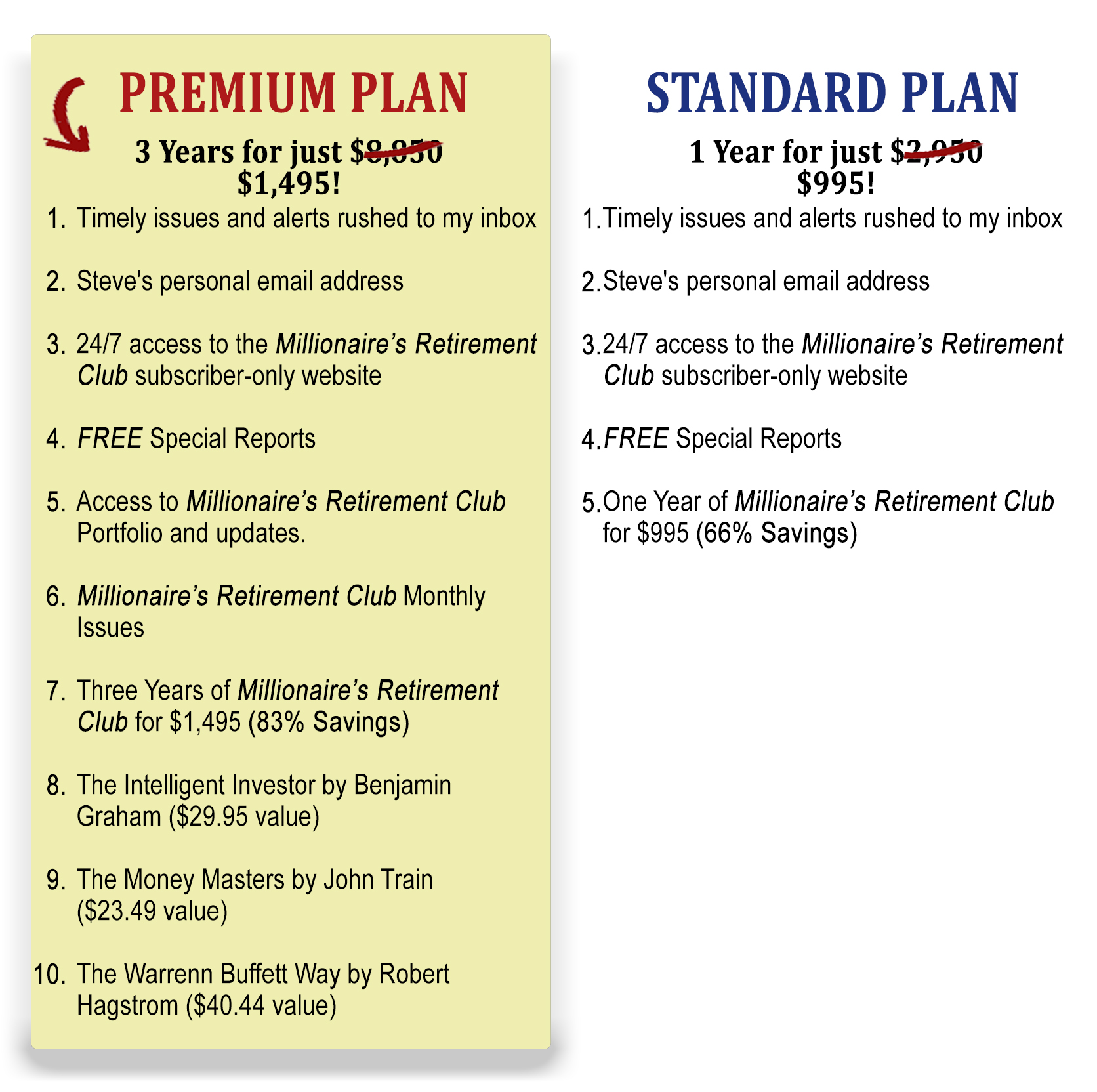 GIVE ME ACCESS RIGHT NOW!