Dear Reader,
In March, Snapchat could go public in a HUGE $20 BILLION IPO...
The biggest deal in more than 2 years.
An exclusive group of investors stand to earn HUGE profits...
By investing BEFORE shares go public on the NASDAQ.
Along the way, they could turn a $10k investment into a $3.56 million fortune!
Right now, you're missing out on these huge IPO profit plays.
But I'd like to bring you into the fold right now...
Because I've found a secret way to get you into the hottest market in the world right now.
Today, more than 97% of investors are excluded from these huge profit opportunities.
Yet I've found a way in…
And I'd like to share it with you now.
Insiders call it the Pre-IPO market…
Where billionaire investors and venture capital firms pump hundreds of millions of dollars into promising, privately held companies…
For the chance to be in on the ground floor of the next multi-billion dollar tech stocks…like Amazon, Google, or Facebook…
Before any shares ever hit the market.
It's the most exclusive game around…
And for years, it's been the restricted domain of venture capital firms, billionaire investors, and investment banks…
Yet I've found a way in…
In fact, I've found four ways…
Unusual "back-door" plays that allow you to be a part of the biggest, most exclusive game in the world…
And I'm going to show you exactly how you can invest in the top private companies – before they go public.
Don't worry – you won't have to do anything unusual…
You won't have to open a special kind of an account, or anything like that…
In fact, should you choose to do so, you could participate in all four of these opportunities right in your regular brokerage account.
And even better…
Unlike investing directly into these kinds of opportunities – which would require you to be an "accredited" investor (meaning you'd need a net worth of at least $1 million)…
There's no such requirement to get into these back-door plays.
Because these opportunities let you get started for a few hundred dollars… not a few million.
And you don't need to have any big-shot "connections" to get in on the action…
There's only one thing keeping you from participating in this exclusive market right now – and it may be the biggest hurdle of them all…
Knowledge.
Fortunately, I've done the legwork for you.
I've been researching my brains out for the past three months…
And I've discovered four unique ways to get you into the most exclusive market in the world…
Where gains of 1,842% are very possible – and happening every day.
That's how much early-in venture capital investors have already made in a company called Uber.
Uber is perhaps the most talked about Pre-IPO in the world right now…
Essentially, Uber's a ride sharing service.
And while that sounds like a simple idea… often, the simple ideas can be the most disruptive.
Uber's discovered a way to use advanced technology to improve on a real urban dilemma – being able to get a safe, reliable ride when you need it.
And it's threatening to crush the taxi industry across the U.S.
And make early-in investors extremely rich…
In 2013, as Uber was just making an impact in how city dwellers got around town – venture capital firms pumped in $258 million…
Today, Uber is valued at $68 billion… increasing in value more than ten times – 1,842% to be exact – in less than 2 years.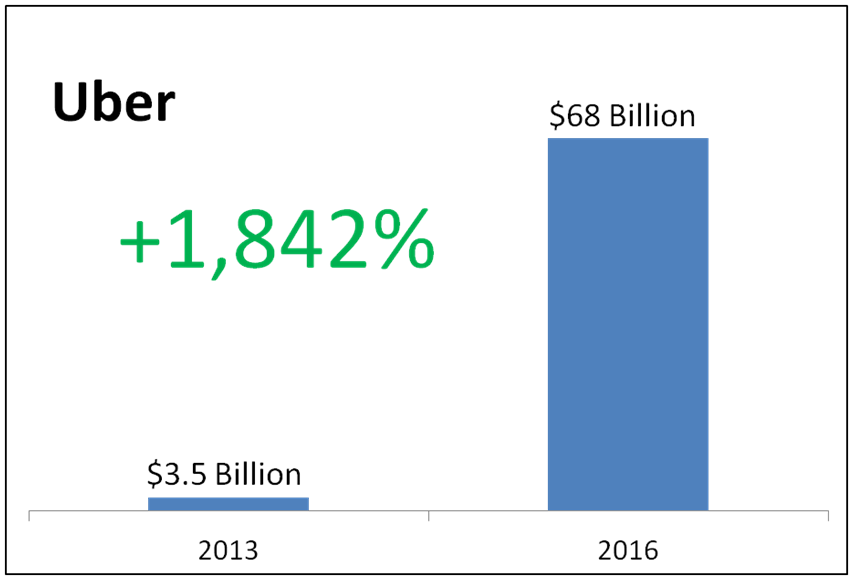 Pretty impressive…
Yet here's the thing…
In the pre-IPO game – a return of 1,842% is a drop in the bucket.
Take a look at Dropbox.
Back in 2008, investors put $6 million into this company… valuing the firm at less than $24 million.
Today, DropBox – a service that lets users easily store and share pictures, documents, and computer files – is valued at $10 billion…
Increasing its value 428 times in 7 years… or 42,818%!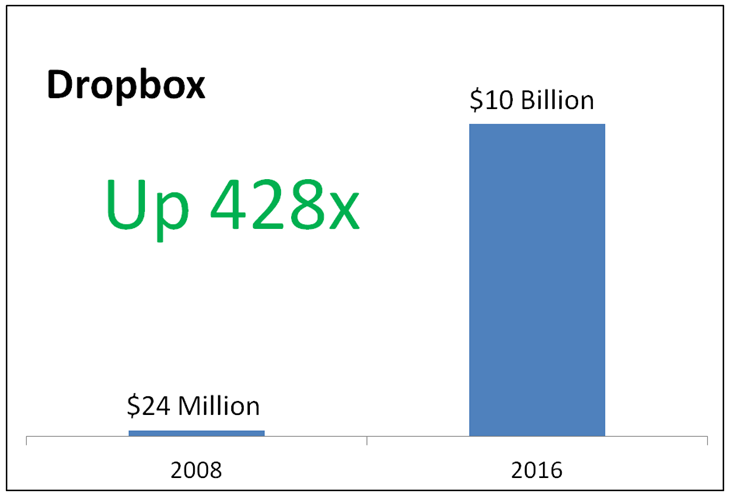 Instagram, the photo sharing mobile app – is another great mega-gain story…
In 2011, investors injected $7 million in growth capital into the up-and-coming photo-sharing app… making the company worth $25 million…
Then, just over a year later… Facebook (FB) bought Instagram for $1 billion…
And increasing the company's value 3,900%...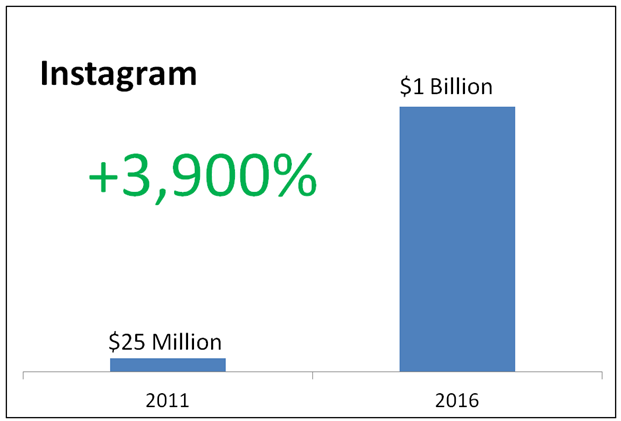 This was such a big deal at the time…
Even VC firms that were late to the party were able to double their money, practically overnight.
This is the most elite level of investing…
Venture capital firms and investment banks have had this market to themselves for years now…
Intentionally shutting out the individual investors like you and me.
Yet I think we should be able to invest anywhere we like – especially when the potential gains can be so epic…
After months of research…talking with Silicon Valley "insiders," hedge fund managers, and scouring thousands of pages of SEC filings…
I've found four specific profit opportunities for us to play this multi-billion dollar game…
Including a back-door way into one of the hottest IPOs of the year… before it goes public…
In fact, as you'll see in a moment…
I've found a way to get into a company worth $4.0 billion…
For less than $2 a share.
It's the chance to play the game just like the big venture capital firms…
And I'm inviting you to play along with me.
Because I'm also going to show you how to get in on other companies before they go public… like Palantir.
You've probably never heard of Palantir…and that's for a good reason.
Palantir is one of the most secretive companies in the world.
The Palo Alto firm makes highly sophisticated data-mining software, mostly for the government. In fact, its technology was the key to finding Osama Bin Laden.
In 2009, investors pumped $90 million into Palantir – valuing the data company at $735 million….
That may seem like a rich price tag for a private company…
But more recently, the company was valued at $20 billion…
Increasing in value by 2,621% in just six years.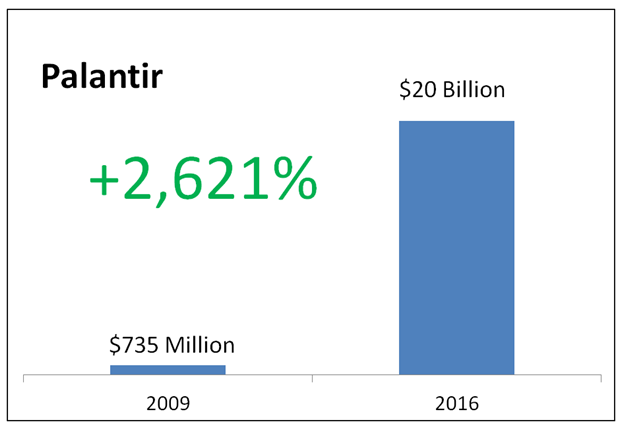 Palantir was co-founded by an entrepreneur named Peter Thiel.
He was also one of the founders of PayPal with Elon Musk…
and the very first investor in Mark Zuckerburg.
In fact, he bought 10% of Facebook (FB) for just $500,000!
At the time, Facebook was valued at just $5 million.
Today, it's +$120 share price gives the stock a $350 billion valuation!
And his 10% stake in Facebook would now be worth $35 billion.
With a big stake invested in Palantir, he thinks this could be a huge profit opportunity.
SnapChat is a mobile app that lets users share photos, videos, and messages with friends – that disappear in a pre-determined amount of time.
And it's another tech company with an exploding valuation…
Early investors got in when SnapChat was valued at $65 million…
On November 15, the Wall Street Journal reported that the company plans to go public in a $20 billion IPO.
That's makes the company 356 times more valuable… an increase of 35,614%...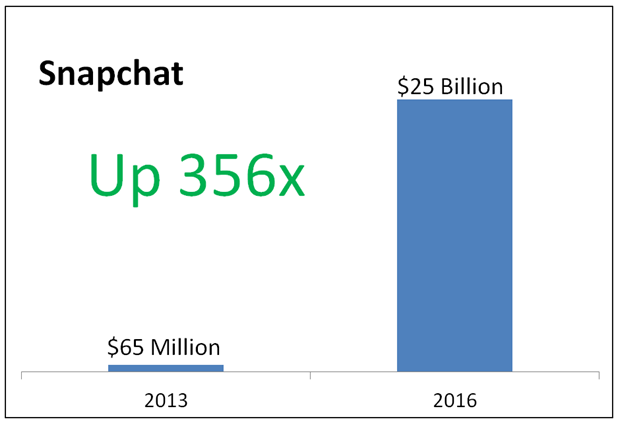 Pinterest – the online service that lets users share photos with their friends on social media – is valued at $11 billion…
And early-in investors – who put in a mere $10 million… saw the company's value increase to $11 billion… up 16,823% in 5 years.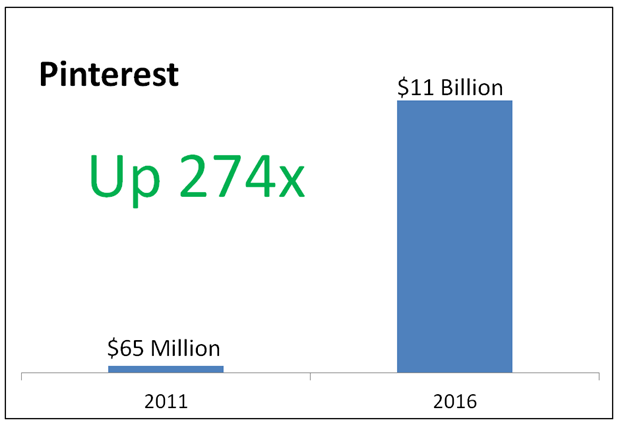 Believe it or not - the companies I just showed you are a mere fraction of the pre-IPO market…
In fact, there are, right now, 154 privately held companies valued at a billion dollars or more…
Together, all these companies are worth more than $400 billion!
Which is great news for savvy investors…
Because each of these growth companies will be looking to go public soon…
Meaning we're going to be looking at a virtual tidal wave of money-making opportunities on the horizon…
This is important to keep in mind… because another back-door opportunity I'm investing in shortly will give you a chance to be a part of dozens of these Pre-IPO stocks – before the go public…
Up until recently, it was impossible for regular investors to get into these opportunities…
And for good reason…
The venture capital firms and the big investment banks seemed to have this market pretty well sewn-up for themselves.
The reality is these private companies don't need to go public as quickly as they did in the past…
They don't have to…
Private companies previously used IPOs as a way to unlock the immense value of a company…
Nowadays… there's no pressing need for these up-and-coming firms to go public.
With venture capitalists, billionaire investors – even mutual fund managers – dumping hundreds of millions of dollars into just about every company out there – an early IPO is no longer as necessary.
In today's market, the longer a company stays private – the more valuable it can become…
In fact, these days, the majority of the company's value growth can come before the company ever goes public.
For instance – the very early investors in pre-IPO Facebook (FB) saw their shares multiply by more than 1,000 times!
Which is why I feel it's so important to you to be able to get into these private companies before the go public…
Unfortunately, the companies with the most promise – the best products, the slickest innovations, and the industry disrupting technologies…
Are being deliberately kept from you as an investor…
Because up until now, you've had no other way to participate in these shares…
Other than waiting to get in on shares in the publicly traded markets…
See, as I was researching these private firms, and the billions of dollars being raised again and again…
I knew I had to find a way in…
A way for average investors to take advantage of profit opportunities like these…
A way to carve off just a tiny piece of this $400 billion… without having to be worth millions of dollars yourself.
A way over looked by most…
So I dug into every corner and crevice of the pre-IPO market, looking for even the smallest crack in the door to get my foot into…
And finally I found it…
The lucrative pre-IPO market – jealously protected by the big investment banks and venture capitalists…
And I firmly believe that I've uncovered the perfect strategy for profiting from this pre-IPO market frenzy…
I'll be sharing these f picks with a select group of my readers immediately.
And I'd like you to be one of them.
Here's how.
There's a company that's expected to go public in the next 12 months.
When it does, it could be valued at $3.5 billion.
It's going to be one of the biggest IPOs of the year…
And I've found an extraordinary opportunity to get into this company now – without having to wait for it to go public…
Under normal circumstances, guys like you and I would have no chance of getting into this opportunity at this time…
However, we're going to sneak in the back-door and grab our share of the profits normally reserved for the big boys…
Will we make 42,818%... like Dropbox investors?
Of course, anything can happen – but I'm not counting on a gain this big…
I'm willing to settle for a fraction of that…
See, this company is one of the hottest pre-IPOs in the market right now…
And has already proven to be one of the most disruptive technologies in the country…
Imagine a technology so powerful, so disruptive, that is has the very real potential to completely destroy an entire industry.
That's the power of this unique niche in the financial markets known as FinTech… or financial technology.
FinTech is not about creating software for the giant banks and institutions…
It's about creating technology and processes so disruptive, it could one day drive traditional banking right out of business.
Fintech is using the power of computer technologies to completely by-pass banks and other traditional lending institutions…
By connecting large groups of people together for the purpose of lending and borrowing money.
And this small $3.5 billion company has been taking on one of the biggest monsters in the banking industry – one that's been in the news a lot lately…
Student loans.
The company's been raising money for cash loans for college students – without getting the government involved.
Student loans account for $1.2 trillion in debt… and the U.S. government is the biggest guarantor of student loans, responsible for $1 trillion of that load…
It's also the biggest beneficiary as these loans are paid back…
This pre-IPO outfit simply by-passes all the banks and the government – by lending money raised from other sources – often alumni of specific colleges.
Bypassing the big banks and the government makes the loans much cheaper for college students…
In fact, it's believed that by using these loans from this company, students an average of $11,783 over the life of the loan…
Considering that 40 million American's currently hold student loan debt…
That's a potential loss to the government and the banks servicing these loans of $471 billion.
For these FinTech loans, students pay no application or origination fees… no prepayment penalties…
And the best part – rates start as low as 3.5% — a fairly deep discount off the average 4.6% interest rate of government-issued student loans.
Additionally, this company is branching out into other forms of lending – offering mortgages and personal loans.
Soon, Fintech firms like this will have the traditional banking industry on the ropes…
I mean – the banking business is incredibly simple...
Banks take in deposits… and pay about 0% interest…
Loan it out to others – for 4… 5… 6%... and "bank" the difference.
It's the oldest racket in the book…
But what happens if people no longer need banks to provide loans?
What it they can get all the money they want to borrow from another source… like this Fintech company?
The banks are sunk.
This year alone, the company expects to have over $4 billion in loans.
This little company has become one of the darlings of Venture Capitalists – who recently valued it at $1.3 billion
And it's expected to be worth $3.5 billion when it goes public …
That's could be instant increase in value of 169%...
And from there – the sky's the limit.
I'm making my move now, in my personal account…
And I'd like to show you exactly how I plan to profit…
So – how am I planning to invest in a $3.5 billion company – before it goes public?
It's actually quite simple.
Let me show you now.
Few investors really know about this Back-Door Opportunity.
This is a stealth way to enter this exclusive market… and the chance to get into the $3.5 billion FinTech disruptor for pennies on the dollar…
This is a perfect play for the intelligent value investor…
Since I can't buy directly into this $3.5 billion company now…
I'm doing the next best thing…
I'm buying shares in a company that's become one of the shrewdest venture capital firms around…
And it's invested $85 million so far – and was recently reported to own 25% in this $3.5 billion FinTech firm…
And if this Fintech company goes public …
This VC firm's 25% stake could be worth $875 million – nearly 10 times more than their original investment.
My research points to something extraordinary about this opportunity…
Based on the current share price of Back-Door Opportunity #1…
Investors seem to have no idea this company is about to see a ten times return from one investment…
Because right now, you can get into this company – and by extension, the $3.5 billion Fintech firm – for under $2 share!
Which is why I've recently been buying these shares …
Because once the IPO hits…
And the rest of the investing public realizes this company's making ten times its money…
Shares could rocket.
I'm extremely confident this company will play out the way I think it will…
Because I've seen it happen before… just two years year.
Alibaba (BABA) was the most anticipated IPO of the year in 2014.
The online e-commerce company had become the dominant force in the biggest market in the world – China – and when it went public, it caused quite the stir…
Shares opened at $68… and quickly rocketed up to $99… closing its first day of trading at $93.89.
About a month and half later – shares topped $119…
If you were fortunate to get into these shares at the original offering price – $68 – you did quite nicely for yourself... a nice gain of 75%...
But it was impossible for an average investor to get into these shares…
Yet there was a back door way in…
And few people paid attention to this back-door…
Yet those who did more than tripled their money by the time Alibaba went public…
The back-door was venerable internet company Yahoo (YHOO) –
In 2005, Yahoo invested $1 billion in the up-and-coming BABA.
When Alibaba went public last year – Yahoo's stake became worth an estimated $37.7 billion… an increase in value for their original $1 billion of 3,670%...
And Yahoo shares jumped 253.2%.
And I see the exact same thing happening here…
As this little known VC firm sits back and watches its 25% stake in this FinTech firm become worth ten times more….
I love this back-door opportunity…
In fact, I think this is a much better opportunity than buying the IPO itself…
When you get into an IPO, you're buying into a single stock…
With this one VC company, you can sneak into this FinTech company…
But you also get a piece of the all the other companies this company's helped finance – before they go public…
This company has invested:
$70 Million for 15% of this online mortgage marketplace
$40 Million for 10% in this boutique online investing startup…
$110 Million for 20% of China's leading online car sales marketplace
$30 million for 25% of this direct emergency credit startup
$40 million – for an undisclosed stake – in this financial information specialist
And that's just a handful of the more than 30 companies this little-know venture capital firm owns.
I'm buying it in my own account.
And for a limited time, you'll have the chance to join me, and see every move I make in my personal trading account.
I'll show you all the details in a moment.
I'm also investing in one of smartest little companies I've seen in a long time.
It's called a Business Development Company, or a BDC.
BDCs are publicly traded investment companies.
They typically raise money by issuing debt or equity…
And then make loans or investments.
In many ways, they're similar to a bank…
But they can be much, much more profitable.
And I've found one I'm definitely buying in my portfolio next…
It focuses exclusively on rapidly growing, late-stage, private companies… companies capitalizing on "Mega Trends."
It sits on a diverse portfolio of hot, and soon-to-be-hot, pre-IPO firms – all preparing to take the stock market by storm soon.
I like the company for three major reasons… and all of them are pretty much no-brainers, as far as I'm concerned…
No-brainer #1 – the company leadership… the founder and CEO of this company is one of the keenest, shrewdest investors around, with a history of uncovering and profiting from the hottest growth stocks in the market. In fact, he literally wrote the book on investing in growth stocks… a national best-seller detailing his exact process for finding the next mega-stocks.
He's also the former head of research for Merrill Lynch, and founder of one of top private equity firms in the market…
As well as being named by Business Week as "one of the best stock pickers in the country."
So this man knows what he's looking for when it comes to outrageously successful growth opportunities.
No-brainer #2 – It's Portfolio of world-shaking companies…
The firm invests in companies across a wide range of investments, covering many of Silicon Valley's Mega-Trends – including Social Media and Mobile Communications… Cloud Computing and Big Data solutions… Online Marketplaces… and Education Technologies…
For instance, it holds stakes in the secretive data mining company I told you about earlier… Palantir… the file sharing innovator Dropbox… and in Uber competitor Lyft, which also boasts Carl Icahn as an early-in investor.
This company owns stakes in the top privately held companies in the world. The important thing to keep in mind is that each of its top-ten holdings are not just wanna-be tech companies – these are late-stage, ground-breaking companies…
And all ten could go public within the next 6-18 months…
Which means a potentially constant stream of profits flowing into this company… and into your portfolio.
Which brings me to my third reason…
No-Brainer #3 – the stock is trading at a MASSIVE DISCOUNT.
This is one of the simplest reasons I can find to buy a stock with this much potential…
And it gives you a chance to take advantage of a rare market arbitrage opportunity.
Arbitrage is a game played by the big movers and shakers in the market… grasping profits out of thin air by taking advantage of temporary pricing glitches in a stock or commodity…
And now we're looking to do the same thing with this company.
It's currently trading less than $10 a share…
But the current value of all its investments is over $15 a share…
When the market – and investors – wakeup to this great disparity…
You could make an instant 50% gain in your shares.
And that doesn't even count what could happen to these shares as each of its top-ten holdings goes public.
This is the kind of opportunity value investors like me dream about…
A deeply discounted stock with real potential to double over the coming months…
That's two of my four favorite pre-IPO opportunities…
I'm putting my own money into each of these opportunities now…
And I'd like to share these investments with you.
In fact, I'd like to share every single investment I make in my personal account…
So you can follow along and invest your money the same way I'm investing mine.
But first, let me back up a bit, and tell you why I'm doing this…
My name's Ian Wyatt.
Back in 2001, I founded Wyatt Investment Research, with one goal in mind - bring top-notch investment research and ideas to regular investors…
In the 14 years that followed, I've been able to share my insights on unique ways of making money with hundreds of thousands of people…
Yet I felt I needed to do something more.
Something different, over and above regular investment research publishing…
So, last year I invited a select handful of readers to sit beside me, and follow along as I invested my own money.
And now, I'd like to invite you to do the same thing.
I will give you access to my own personal investment account.
I'll show you everything I do – every move, every deposit, every buy and sell.
You won't have to do a thing.
Simply follow along, and do exactly what I do...
Our goal is significant: to create a $1 Million Portfolio.
Naturally, you won't need $1 Million to get started.
You can start with $1,000... $10,000... $100,000... or anything in between.
It doesn't matter...
All that does matter is your desire to make money...
Safely and consistently.
No high risk investments...
No complicated option plays...
Just my personal strategies and top ideas for investing in the market.
And fortunately for my readers… my strategy for getting into the right stock at the right time has proved extremely profitable.
I made a move into Tesla Motors (TSLA)... when no one thought a company could successfully build and market luxury electric vehicles…
I – and my readers – gained 557% on that one.
Did it again with Netflix (NFLX).
Most investors thought NFLX was down for the count –losing members and share price after a series of questionable corporate decisions…
But I could see the value in buying shares when it was down…
I'm sitting on a sweet 1,267% on that one as well. So are many of my readers.
I did pretty good with MasterCard, too. After the credit crisis, no one even wanted to think about a credit card company…
Yet I recognized the opportunity right away.
America's credit addiction was never going away, even if it'd just gotten a dose of tough love from the market crash…
And MC gave me a 403% gain.
I'm not telling you this to brag...
But because I'd like to invite you to join this small group of readers looking over my shoulder...
To follow along... step by step...
As I build my own portfolio...
And uncover the next big winners.
Like the four Pre-IPO winners I'm buying now in my account.
You won't have to do a thing.
Just follow along, and make the moves I make...
I'll show you exactly what to buy... when to buy it... how much to pay...
And perhaps most importantly – when to sell to lock in your profits... and protect your capital.
And right now, I can't see anything in the market with more potential than being able to sneak in on the biggest IPOs – before they go public.
IPO fever is revving up…
Which is the perfect opportunity for my third pick…
Again, this is your chance to get into a complete stable of some of the biggest IPO opportunities for the next 1 - 3 years…
My Pre-IPO Back-Door Opportunity #3 is a specialized type of fund that invests directly into pre-IPO opportunities…
Currently, it seeks to build and maintain equity positions from a list of 100 late-stage growth opportunities… all in the tech world…
It does this buy creating what's known as a secondary market for pre-IPO shares.
Sometimes, Pre-IPO insiders - including executives, employees, board members, and other early investors – want to sell some of their shares before the big IPO…
Unfortunately, there is not yet a public market to for these shares…
Which is where the secondary market comes in.
By creating a secondary market for highly sought after, but untradeable shares, this company can build fairly large blocks of shares in the hottest pre-IPO companies.
Their List of Top 100 disruptors reads like a who's who of Silicon Valley…
Taxi-disrupting service Uber

Super-hot hotel-alternative AirBnB

Groundbreaking mobile credit card processor Square

Online gaming juggernauts Kabbam! and Rovio

Wearable technology innovator Jawbone

Medical app ZocDoc
And 94 others…
This one investment alone has the potential to give you a piece of every major IPO for the next 10 years…
Since inception, this fund has posted a return of 35%...
And my research shows there are plenty of reasons for this exceptional performance to continue…
I just released a new investment recommendation and my research shows that it could jump 104% in the coming months.
This latest investment is a San Francisco venture capital firm…
That owns an equity stake in 37 of the most promising early stage growth companies.
These investments include Silicon Valley's best opportunities…
Including a sizable stake in wearable tech firm Jawbone.
Jawbone makes wearable bracelets to track exercise, sleep patterns and eating habits.
The private company has already raised $531 million from investors.
Top notch Silicon Valley VCs including Andreessen Horowitz, Kleiner Perkins, Mayfield Fund, and Sequoia Capital have already claimed their stake.
Jawbone's currently valued at $1.5 billion…even before the IPO.
Pre-IPO Back-Door Opportunity #4 lets you claim a stake in Jawbone…
Before its widely anticipated IPO.
All you need to do is buy a stake in this single fund…
And you'll immediately own a piece of Jawbone and 36 other pre-IPO growth companies.
So don't wait another minute.
Click Here to Access These
Top 4 Pre-IPO Back-Door Opportunities
Four ways to get into the hottest market in the world right now – pre-IPOs…
I'm buying each of these for my personal trading account now.
And I'd like to invite you to join me.
Why am I inviting certain readers to see my private investments?
We've all heard the old market adage – buy low, sell high.
It's the cornerstone of nearly every successful investor.
But it's also not as simple as it sounds.
And truth be told – most investors get it wrong.
They buy popular stocks when the shares are rising... and when shares go down, they panic and sell at a loss.
It's almost as reliable as the sunrise – individual investors make the wrong moves at the wrong times.
The reason is simple: too many investors try to go it alone.
Left to their own devices, many investors just follow the herd...
Moving from one high-flying stock to another...
Almost always right before they go down.
It happens like clockwork.
Not anymore.
Because I'm inviting you to follow along, as I invest my own money in the market.
Because when you've got money on the line... real money...
You don't want a lot of theories and formulas.
You want hard facts and solid recommendations.
Because I'm investing my own money...
I must limit the number of readers given access to my personal account. In fact, I'm only allowing 20 readers to join me this time.
You can be sure of one thing...
With my own money on the line...
I'll select only the very best stocks for consistent profits...
Ones I fully expect to not only go up...
But to keep going up.
It couldn't be simpler.
I'll show you everything you need to do.
What to buy... when to buy it... how much to pay... and when to sell.
All you have to do is follow along... and rack up the gains.
Like I did with shares of Howard Hughes Corporation – up 197% on that one.
Or Google – up 201% so far on shares of the Internet giant.
By following along with my personal investments...
You'll see how I narrow down the 5,008 listed stocks in the market...
To uncover the select few that are set to soar in price.
Like I did with Tesla, Netflix and MasterCard.
If you'd been following along when I'd picked these winners, you'd be sitting on some pretty significant gains...
In fact, if you'd put a mere $1,000 into just those four stocks...
You'd have turned that modest $3,000 into a sweet $19,950.
That's the difference between trying to do it on your own...
And following the personal moves of someone who knows the market.
It's not just about the big winners. Big winners are great – of course.
But thanks to my simple approach to the market...
For every one of the big gainers I've uncovered...
I hit at least 3 or 4 more modest winners...
Stocks like:
Apple – up 125%
FedEx – up 103%
Starbucks – up 92%
Wells-Fargo – up 71%
Pfizer – up roughly 67%
Verizon – up nearly 67%
Corning – up 51%
See, it's not about swinging for the fences – trying to smack a grand slam with every at bat.
For me, it's about consistently hitting singles and doubles...
Building one win upon another.
Do that...
And you'll be in perfect position...
When the really big plays come along.
The ones where you could make 4 and 5 times your money...
And put you well on our way to building that $1 million portfolio.
Now, I'd like to share with you these four Pre-IPO investments I'm buying for my personal portfolio.
Investments I fully expect to put us well on the path to our first million dollars.
You can read more about them in a special report I've put together called "Top 4 Pre-IPO Investments to Buy Now."
In this special report, I'll give you all the details on these four pre-IPO opportunities I just told you about.
And you can have my report free of charge – when you decide to follow along with me – and join the Million Dollar Portfolio.
As a member of my Million Dollar Portfolio, you'll be given exclusive access to every move I make in my account...
So here's how this works.
When I've zeroed in on the next big stock for my portfolio, I will write up all the details about the stock – including the recommended purchase price...
And I will email the complete report to you the day before I ever push the "buy" button in my personal account.
This will allow you to take action on my recommendation – before I purchase my shares.
It's the right thing to do.
My special report – "Top 4 Pre-IPO Investments to Buy Now." – detailing the three investments that I'm buying now in our race to make $1 million in the market.
Regular weekly installments of the Million Dollar Portfolio newsletter with a review of key events affecting our portfolio, plus a 'deep dive' on my newest Strong Buy. You'll also get timely updates on each of our current positions.
Pre-purchase bulletins on every new buy. Whenever I make a new move in my portfolio, I will send you all the details: ticker symbol, number of shares, price, and total transaction cost ... and you'll receive it BEFORE I ever make a move in my account. You'll always have the opportunity to buy or sell the investment before me.
Real-time market alerts. The markets can move quickly. And when they do, and it affects our portfolio, you'll hear about it right away. We'll keep you up to date and informed on all the actions that affect your money.
Finally, you'll enjoy detailed reports on every investment I add to the portfolio... whether it's an ETF, mutual fund, or individual stock. You'll see exactly what I'm buying and selling, and more importantly, why ... so you can determine if the same allocation makes perfect sense in your portfolio.
And of course, regular Question and Answer sessions, where I'll take your questions about the market and our portfolio. So if anything comes up, or you wonder about a move I make – let me know, and I'll do my best to answer it in the next session.
Plus, you'll get the chance to listen in on special market conference calls ... or sit in on special webinar events, where you'll get even more in-depth information about events or strategies affecting our Million Dollar Portfolio.
Not only that… You'll have unlimited access to my entire library of wealth building reports, as long as you're a member.
It's all yours when you decide to follow along with me, as we build a Million Dollar Portfolio.
By now you might be wondering about the costs for joining the Million Dollar Portfolio.
And I don't blame you.
Well, let me tell you up front – it won't cost you anywhere near as much as you'd pay to other investment professionals…
Consider…
A financial advisor would charge you as much as $5,000 in fees on a $250,000 portfolio...whether you beat the market or not.
And what if you want to invest in a top hedge fund?
Well, they won't even take your call if you don't have a minimum of $5 million to invest. Plus they'll charge you 20% of the profits you earn.
And as I mentioned earlier – there's no way you'd ever be allowed into a pre-IPO offering if you're not worth at least a cool million.
I can assure you – The Million Dollar Portfolio won't cost you anything like that.
So how much will it cost you to join me?
A lot less than you might think.
This is a unique opportunity.
To virtually sit beside me, as I put my knowledge and understanding of the market to work for you...
Buying the stocks I buy, selling the stocks I sell...
Never worrying whether you're making the right move in the market...
Because you'll be making the same moves I make.
It's sort of like being invited to join a private hedge fund...
Though you won't need $5 million to get started.
The regular retail price to join my Million Dollar Portfolio is $1,950...
Note – that's the "regular" price.
Come on board now, and you'll never pay anywhere near that – ever.
For a limited time, I'm offering you this very special deal.
Become a new member of my Million Dollar Portfolio...
And you'll receive everything –
The four pre-IPO picks... all the alerts, the newsletters, the special videos and webinars – PLUS access to all my special reports…
For a nominal subscription fee of only $495.
That's it.
More than 75% off the regular retail price.
I think this may be the best deal I've ever offered... or ever will offer.
The chance to sit beside me, make my trades, in your own account – for less than a buck a day.
What else would that buck buy you?
Something off the value menu at McDonalds?
A plastic margarita glass from the dollar store?
Heck – at today's prices, you couldn't even get a pack of gum for a buck ($1.58!!!)
But for that same buck – you could begin building your own Million Dollar Portfolio.
I've got something else to show you now...
Because I want you to be absolutely satisfied in your decision to join me.
You're Satisfaction is 100% Guaranteed
I want to prove to you the power of my personal stock picks to build a $1 million portfolio...
So I'm willing to offer you this rock-solid, iron-clad guarantee.
Join the Million Dollar Portfolio today.
Take it for a test drive for the next 30 days.
Put me through my paces.
Read all the reports. Trade the stocks I trade.
And if, after the end of the first 30 days, you're not satisfied with the picks ... the service ... or even if you decide you just don't like me...
Let me know, and I will give you a full and complete refund of your money – no questions asked.
It's that simple. If you're not satisfied with the results by following along with my personal portfolio, I want you to let me know.
You can't get any more iron-clad than that.
And even if you decide that making a million dollars is not for you – I want you to keep your special Pre-IPO report.
It's yours for the keeping, no matter what you decide.
Consider them my gift to you for giving this a chance.
Join my Million Dollar Portfolio now.
It's easy to get started.
Simply click here now to get things rolling – and in no time, you'll be enrolled as a new member of Million Dollar Portfolio.
Or, if you prefer the personal touch, you can call this toll-free number 1-866-447-8625 and speak with one of our Customer Care Specialists. They'll be able to take down all your information and get you started quick and easy.
It will only take a few minutes...
To get started on a lifetime of wealth and opportunity.
I've done all I can up to this point.
It's up to you now.
Click here now to enroll as a member of Million Dollar Portfolio.
You'll get unlimited access to the most unique investor service available today ... for less than one dollar a day.
However, keep in mind – I'm only allowing the first 100 readers access to my personal account...
And I don't know when I'll open my personal trading account again.
So if you're at all serious about making money – you'll need to respond right away.
Just click here now to get started.
There's one more thing I'd like to share with you.
Perhaps the biggest reason why I'm doing this...
Why I'm pulling aside the curtain to show readers exactly how I make money in the market.
Over the years, investors I've met and have talked with have almost always had the same worry: Fear of taking the plunge.
Fear of making the wrong moves.
Fear their timing was wrong.
Fear of appearing foolish.
The market can be a great leveler – it can humble both rich and poor alike.
Let me ask you something.
How much money do you think you could make ... if you knew you couldn't fail?
If you knew you were making the same moves as someone who has serious skin in the game as well?
If you could follow along with someone who's dedicated his whole life to making money in the markets...
Make the moves he makes, invest where he does, buy and sell ... and profit – as he does?
That's why I'm doing this.
To strike down the biggest barrier to making a fortune in the market – Fear.
No matter how much money you may have – $1 million or $100 – you'll never make ANY money if you're afraid to make the plunge.
So I've decided no one should have to go it alone.
And I'm putting up my money to PROVE you can make money in the market.
Will you make a million dollars?
Well, I can't promise that will happen...
But I can say this...
What would be your chances of making a million bucks – on your own?
Why struggle?
When with one simple click, you could make it much, much simpler to make that kind of money...
By following along with me as I build my Million Dollar Portfolio?
Or, you can call toll-free: 1-866-447-8625 and one of our Customer Care Specialists will get you started quick and easy.
I'm looking forward to welcoming you as member of Million Dollar Portfolio.
Yours for greater wealth,

Ian Wyatt
P.S. You're entitled to receive all of the stock picks in my "Top 4 Pre-IPO Investments to Buy Now" ... each one personally selected by me for their potential to increase in price as the market for private companies continues to heat up.
P.P.S. Remember – your satisfaction is completely and totally guaranteed for a full 30 days. I'm so convinced that my Million Dollar Portfolio will prove so invaluable to you as an investor, that if for any reason you decide it's not right for you, I will give you a prompt, courteous and complete refund... and you can keep all the reports we give you – our way of saying thanks for taking the time to check us out.
P.P.P.S. But you must hurry. With only 20 spaces available, this offer will be closing soon ... and I do not want you to miss out. Take 75% off the retail price – just about a buck a day. The next time we open membership in my Million Dollar Portfolio, it will cost you much more to get in.

START NOW