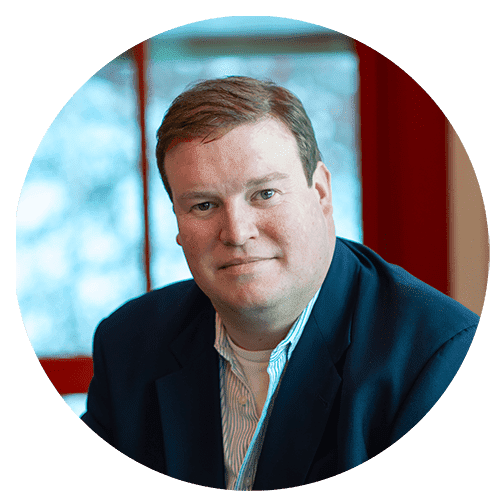 Congratulations! You're just 60-seconds away from discovering the top 4 "next generation" energy stocks for explosive profits from Warren Buffett's and Bill Gates' secret energy project.
The two billionaires are developing the next generation of power plants. They'll revolutionize the power grid – providing cheap, efficient and 100% reliable electricity to millions of Americans.
Buffett and Gates are investing $2 billion in this new technology. And the U.S. Department of Energy is also investing $2 billion in the project.
Berkshire Hathaway Energy is committed to this new technology. Soon I expect major announcements from Duke Power, Exelon and Southern Co.
It's a $6.3 trillion opportunity. And today is YOUR chance to get in on the ground-floor.
Frankly, my research suggests a handful of undiscovered stocks could soar as much as 1,368%... 3,004%... and even 7,950%! That's enough to turn as little as $500 into $40,250.
Today I'm opening the doors on this research – and I'm giving 50 people complete access.
Your spot is currently RESERVED. And I'm holding your spot for the next 10-minutes.


Claim Your FREE Bonus Reports:
The Top 4 Next Gen Energy Stocks to
BUY NOW
Massive changes are already underway. And it's creating the single biggest profit opportunity of the entire year.
That's why I want to give you instant access to my research – with details on the top 4 next generation energy stocks to BUY NOW.
It all starts with five special report bonuses! They're yours 100% FREE when you accept my invitation today.

SPECIAL REPORT #1:
Next Gen Nukes:
Inside the $6 Trillion Energy Transformation
$397 VALUE - Yours FREE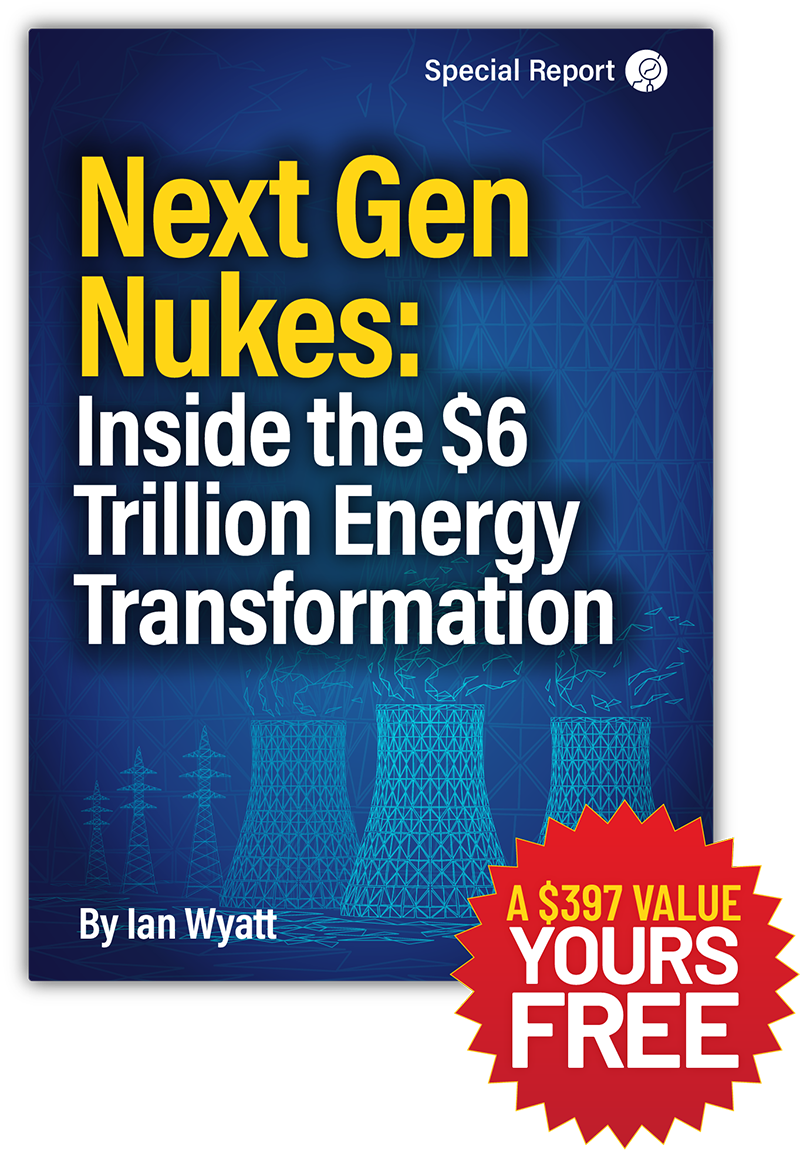 The world's demand for electricity is outstripping the supply. That's causing prices to soar – thanks to new technologies such as electric vehicles. Plus, over 100 countries agreed to STOP using dirty energy fuels by 2030.
That's why there's a mad rush to embrace next generation power plants. It's possible that over 6,357 of these plants could be built in the coming years – creating a new $6.3 trillion market.
This report reveals exactly WHAT is happening right now. And how to get positioned for explosive growth in the years ahead.
SPECIAL REPORT #2:
TerraPower's Secret U-235 Supplier
$497 VALUE - Yours FREE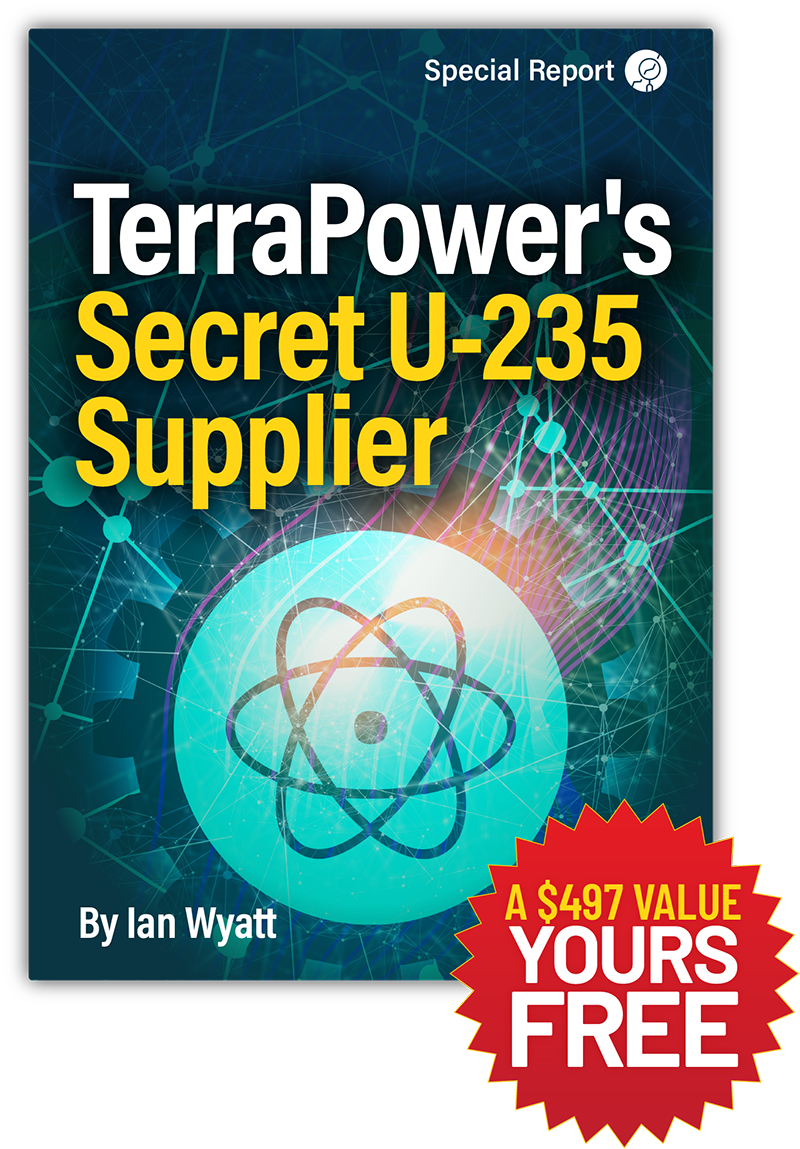 TerraPower was founded by Bill Gates. It's building the first next generation nuclear power plant in Wyoming. And the company plans to build similar plants across the U.S. and around the world.
These new nuclear power plants are 30x more effective than conventional plants. However, they require a critical energy fuel that is currently ONLY made in Russia.
One American refiner just received government-approval. It essentially creates a near monopoly here in the U.S. And TerraPower just inked a major partnership deal with this stock.
This report reveals the NAME and TICKER of TerraPower's exclusive energy fuel partner.
SPECIAL REPORT #3:
America's $5 Uranium Stock Set to Soar 374%
$497 VALUE - Yours FREE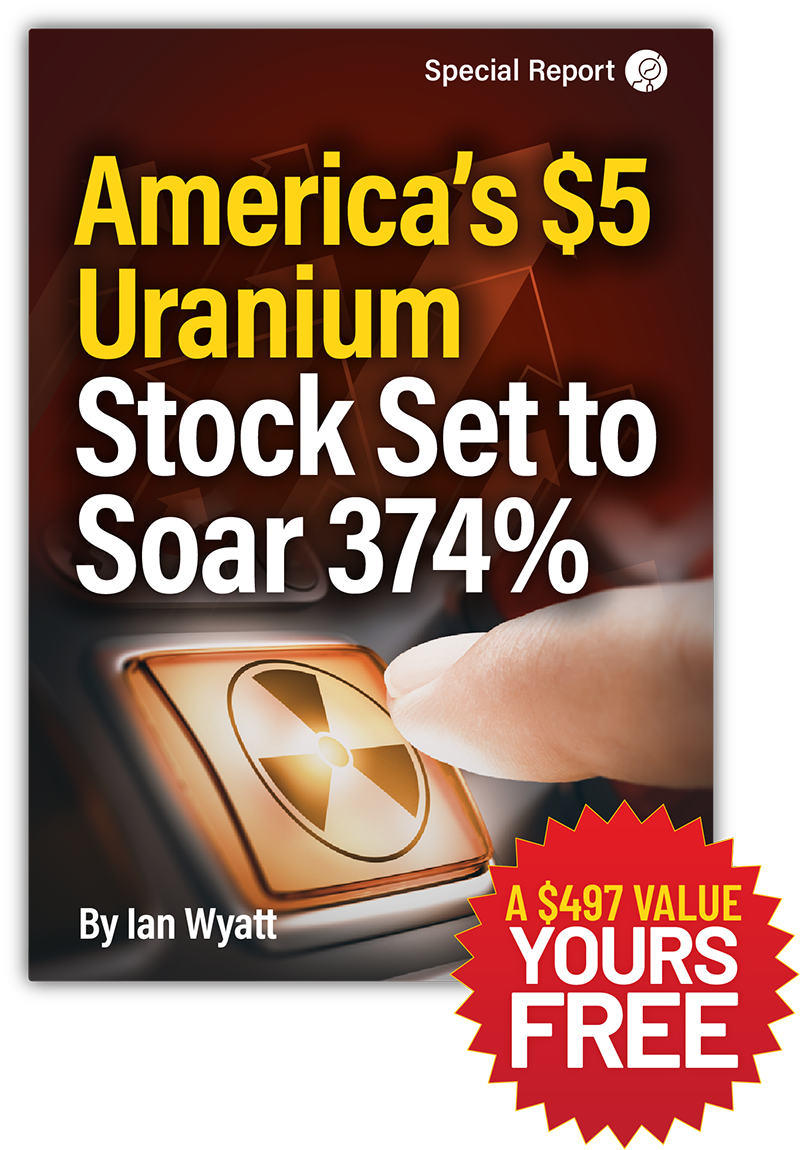 One American company is sitting on over 80 million pounds of uranium – worth over $4 billion.
Plus, that could be the tip of the iceberg. Because with +100,000 acres of land mining rights – another major discovery could be in the works.
The projects are 100% government approved and fully built. Production can literally begin with the flip of a switch.
Shares could soar 374% in the next year. And longer-term gains could be considerably higher.
Claim this report for the NAME, TICKER and price target for this stock.
SPECIAL REPORT #4:
Canada's #1 Hidden Discovery Worth +$12 Billion
$497 VALUE - Yours FREE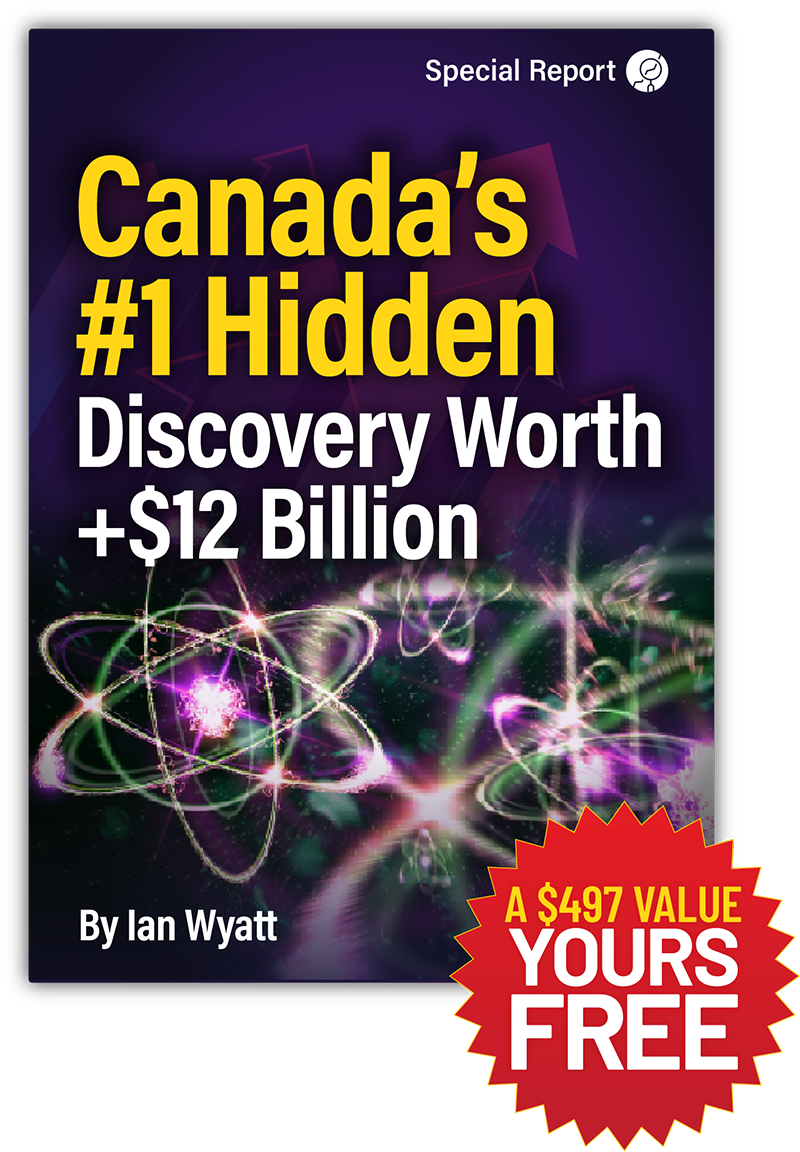 Canada is one of the world's biggest producers of U-235 uranium – and Cameco is the biggest player.
One tiny Canadian stock has staked over 700,000 acres – right next door to Cameco's world class mines. And estimates suggest that it's sitting on over 250 million pounds of this energy fuel…
Worth $12.7 billion!
Wall Street's top firms are already investing +$250 million in this deal. And today you can grab the stock for just $1.00 per share!
SPECIAL REPORT #5:
Top Next Gen Nuke Stock IPO for 313% Profits
$497 VALUE - Yours FREE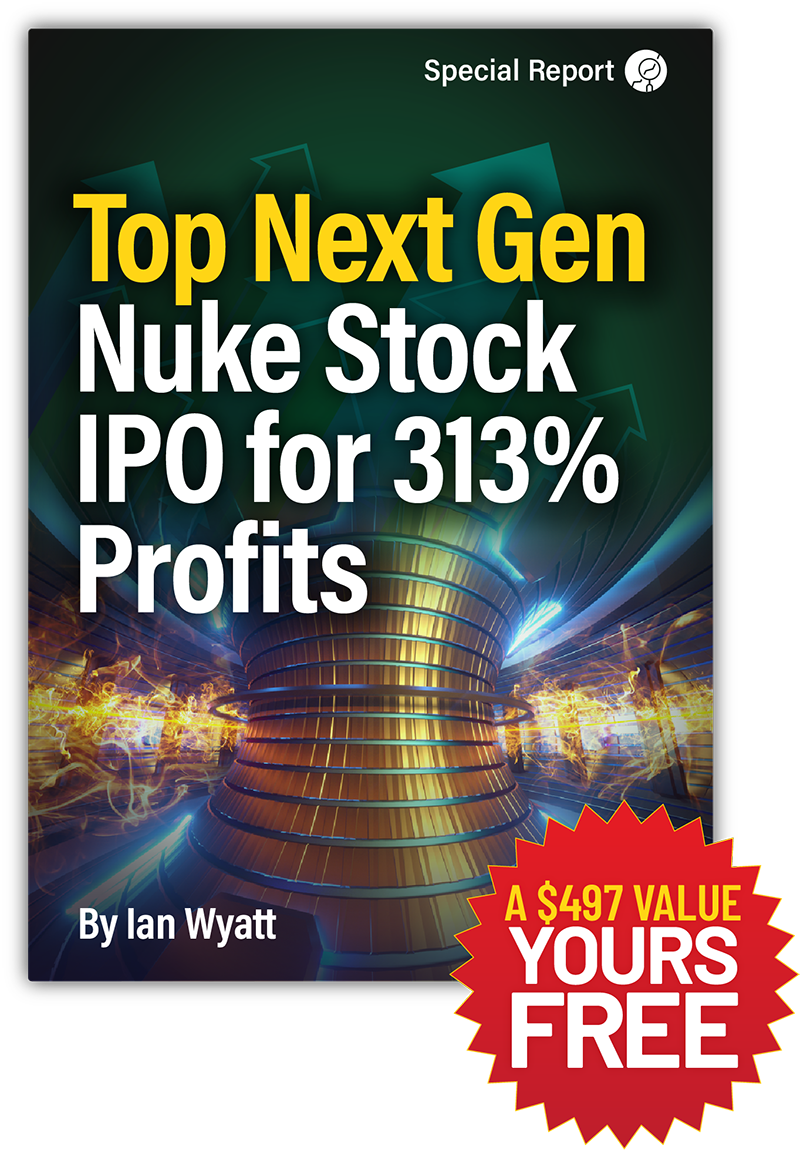 Bill Gates and Warren Buffett will NOT let you buy shares of TerraPower.
Yet you CAN scoop up shares of their #1 competitor. Industry insiders already invested $1.3 billion in the stock – BEFORE its IPO. Plus, the U.S. government plans to invest $1.7 billion!
The company has signed agreements to build 20+ power plants around the world – at a price tag of over $1 billion each.
The stock recently IPO'd. And today – you can grab your stake for less than $15 per share! Get this report for details – including NAME and TICKER.

It's Time to Build YOUR
Million Dollar Portfolio
This research on next gen energy stocks is now available for members of my Million Dollar Portfolio investment club! And that's why I'd like to extend a special invitation for YOU to join the club – and access everything.
I first opened access in 2009 – investing $100,000 of my own savings in the best stocks for explosive profits. By late 2020 the account had grown to reach nearly $1 million.
For the last 13-years I've been identifying the biggest growth trends – and my members have had a chance at maximum gains including
Tesla Motors +809%

--- electric vehicles

Google +890%

--- internet advertising

Cronos Group +1,012%

--- legal cannabis

MasterCard +1,358%

--- e-commerce and online payments

Netflix +5,981%

--- streaming video and the death of cable TV
My latest research aims to put you squarely in the center of the most profitable emerging energy stocks.
First, you'll claim urgent special reports with 10 high conviction "BUY NOW" investment ideas.
These action-packed reports will jumpstart your portfolio with 10 of my top investment ideas for the coming year. Each stock idea has the potential to at least double in the next year.
Second, you'll get complete access to my Million Dollar Portfolio investment club.
That means you'll get complete access to watch my every move in my REAL MONEY portfolio. Every buy. Every sell. Plus, I'll give you advance notice of every single trade. And that means YOU could buy my top stocks BEFORE I add them to my own account.
Here's everything you'll get with your membership:
Two new stock recommendations per month
Weekly newsletter

with comprehensive market analysis, updates, and new opportunities

Timely trade alerts

sent straight to your inbox and phone via SMS when I'm buying, selling, or re-positioning

Real-money portfolio tracker

so you can see all LIVE positions, buy up-to prices, and closed positions

VIP concierge customer support

– call or email ANY TIME with questions or comments – my # is

888-875-1960
Members-only dashboard

with ALL your research reports, newsletters, alerts, and portfolio positions in one, simple, easy-to-access location



SPECIAL FAST-ACTION BONUS
$1,990 Value - FREE for 20 Minutes
Claim your spot before the clock strikes ZERO – and I'll send you six extra bonus reports for FREE.
Each of these reports unveils a specific stock that could also deliver explosive profits in 2023 and beyond.
Metaverse Moonshot for Amazon-Beating Growth -

$299 VALUE

The Key to Joining the First Generation of AI Billionaires -

$397 VALUE

How to Skim 15,000% Off the Race to Netzero -

$299 VALUE

The Next QuantumScape for 432% Profits -

$399 VALUE

Intergalactic Space Wars: How to Get Hypersonic Gains -

$299 VALUE

America's #1 Bitcoin Mining Stock Pre-IPO -

$297 VALUE





Your Satisfaction is 100% Guaranteed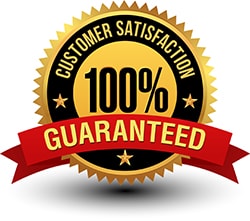 You're ready to access everything ASAP!
Plus, your satisfaction and success are 100% guaranteed in two crucial ways:
First, your satisfaction is guaranteed. If you're not 100% satisfied at any time, you can contact Wyatt Investment Research. They will cancel your membership and provide a credit toward any other research or trade alert service that's available.
Second, your performance is guaranteed. You can contact Wyatt Investment Research if you don't earn at least 300% profits in the next year using this research. If your results come up short, you can request that your membership gets extended by an extra 1-year – no questions asked.
With everything to gain – and nothing to lose – now is the time to get started with your…
EXCLUSIVE MEMBERSHIP
Lock-In the Best Deal Ever
Today you can join Million Dollar Portfolio and lock-in a huge 85% discount.
Plus, I've got one FINAL bonus for you.
Claim the PREMIUM PLAN below and you'll get 3-years of access for less than the normal price of a 1-year membership. This includes…
$6.3 Trillion Energy Revolution – 5 FREE special reports

[$2,385]

Fast Action Bonus – 6 FREE special reports

[$1,990]

Million Dollar Portfolio – 1-year of access

[$1,799]

2 FREE Years of Million Dollar Portfolio

[$3,598]
However, please understand that access must be limited.
First, this special offer is only available to the first 50 people who respond. More than 5,000 people registered for today's webinar. That means less than 1% of people can access this research.
Second, there's a strict deadline of January 11th at midnight. There will not be any extensions, exceptions or second chances.

TOTAL VALUE: $9,772
WHAT YOU PAY: $1,497

Complete Your Enrollment Below
- OR -
Call: 888-875-1960