Congratulations.
You've just seen how legal marijuana is set to grow 1,076% in the next decade, creating fortunes for early investors.
Yet the U.S. government… the big investment banks… and many of America's largest brokers and financial experts…
Are conspiring to lock you out of these profits!
But thanks to my new Million Dollar 420 Club, you're about to join an exclusive group of profit seeking investors who now have the opportunity to turn the tables on Wall Street.
Just by copying what I'm doing with my own money, you could turn $10,000 into $100,000 (or more) over the next three years!
How? By investing in the pot stocks set to profit the most… as the legal marijuana industry booms in three distinct phases.
And if you start with $100,000 — you could become a bona fide millionaire in the same amount of time!
Get set to follow me as I grow $100,000 of my own money in what I call my "Million Dollar 420 Club Portfolio."
All it will take is you spending about 1-2 hours reviewing my research each month and executing a few carefully-selected trades in the booming marijuana market…
And you could watch your retirement account shoot to the moon.
Just like Scott M. from Arizona, who is up $97,678 with my recommendations…
John M. from New York, who told me that his marijuana stock gains are at $98,822…
And Ron H. from Florida, who has watched his portfolio surge by a whopping $190,337from my marijuana research this year.
And today, as part of this unique Three-Year Offer, you can join me as a new member of my Million Dollar 420 Club Portfolio investment research service.
Here's Everything You'll Receive
When You Start Your Membership To My
Million Dollar 420 Club Portfolio
Joining me on this journey could be the best investment decision you ever make.
Becoming a member of my new "420 Club" will be unlike anything you've ever done before.
It will be educational. It will be exciting. And I promise you that it will be profitable.
And I have absolutely ZERO doubt in my mind that it will be life-changing for you in a very positive way. You'll have everything you need to start building your very own million dollar marijuana stock fortune!
When you get started today, you'll receive…
MEMBERSHIP BENEFIT #1:
My Top Stocks To Get In On The
"Marijuana Buyout Boom"
[Valued at $597]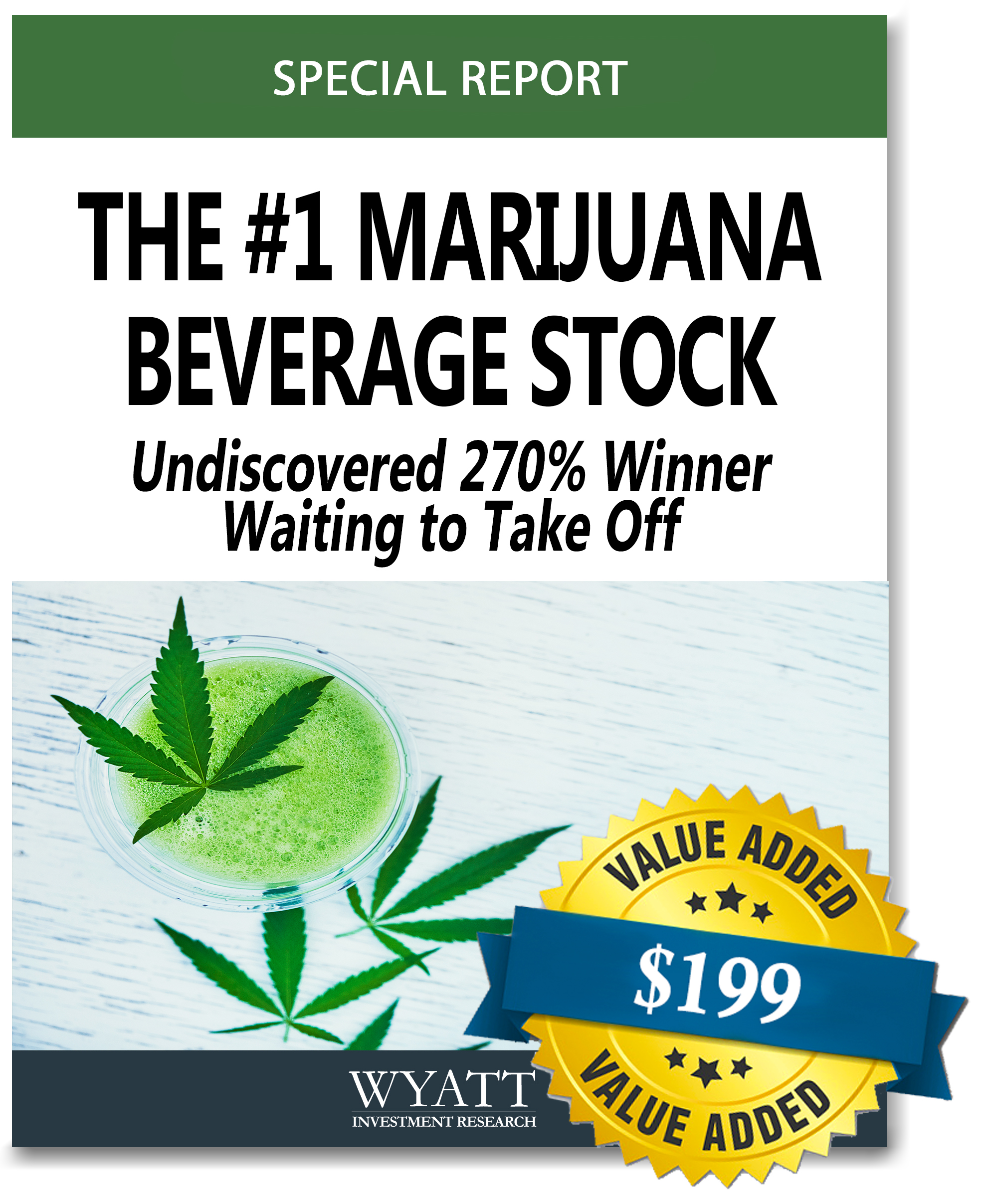 Marijuana Buyout Boom BONUS REPORT #1:
The #1 Marijuana Beverage Stock - Undiscovered 270% Winner Waiting to Take Off
I'll reveal the best stock to take advantage of the exploding interest in THC- and CBD-infused beverages. This company owns unique patent-pending infusion technology and easy access to cannabis, giving it the inside track on partnerships with major alcohol AND non-alcoholic beverage companies.
This is a perfect opportunity to make 270% (or more) within just a few weeks. But you must get in now.
Marijuana Buyout Boom BONUS REPORT #2:
Secret "Pot Profit Indicator" for 455% Gains
Learn the little-known indicator that has predicted huge price movements from 402%... to 648%... and even 821% returns.
Plus, see the brand new opportunity it's just signaled is a "BUY". It's a tiny pot company... could make you a quick 455% profit.
Marijuana Buyout Boom BONUS REPORT #3:
The Top 7 Pot Stocks for Explosive Profits in 60 Days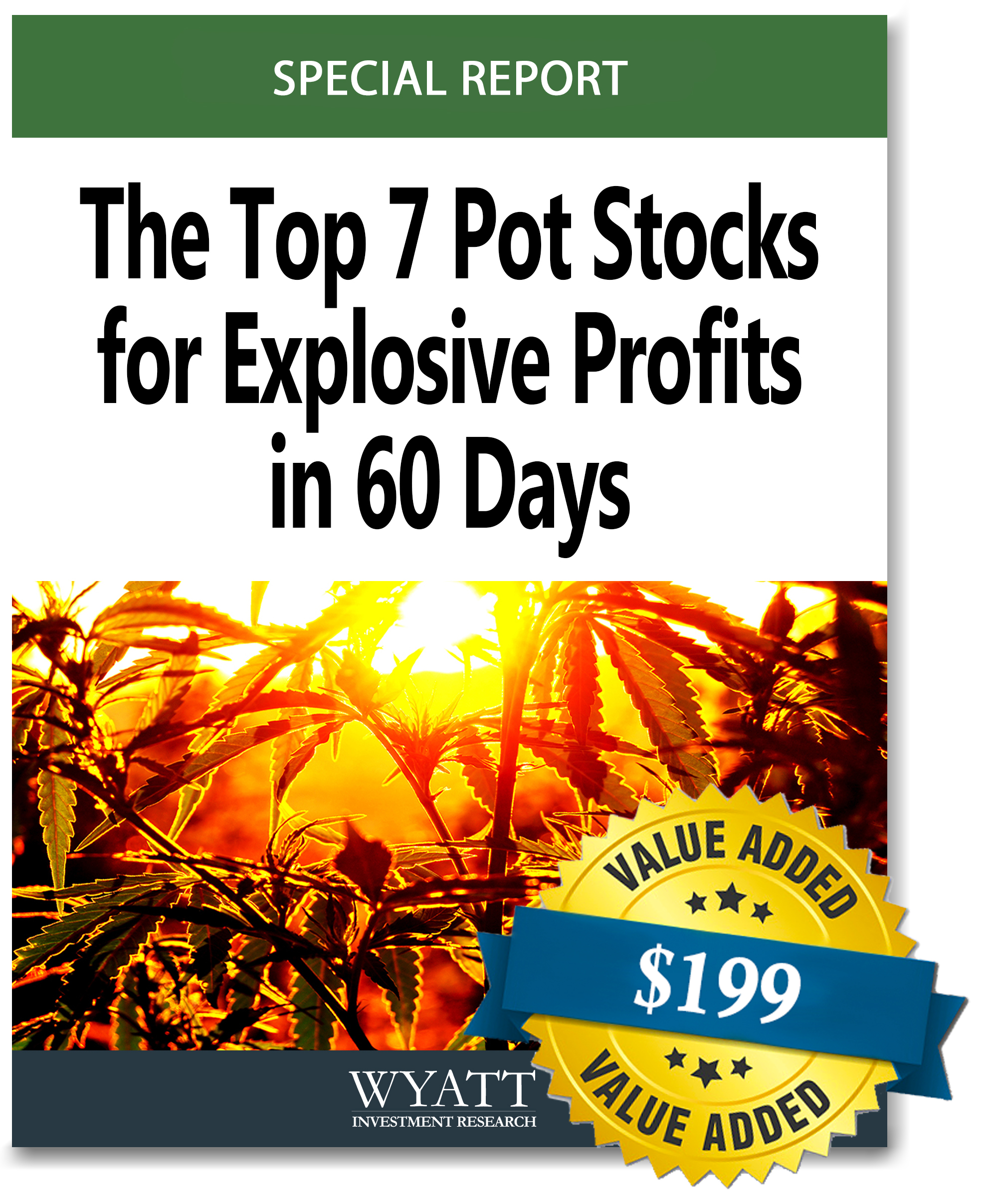 This detailed report reveals the BEST opportunities you can get in right NOW for maximum profits. If you've been "sitting on the sidelines" and missed the pot profits up until now…
Or you'd like some new opportunities to give you even bigger returns over the next two months…
This report is for you.
Marijuana Buyout Boom BONUS REPORT #4:
BUYOUT ALERT: #1 CBD Drink Stock for Big Profits in 2019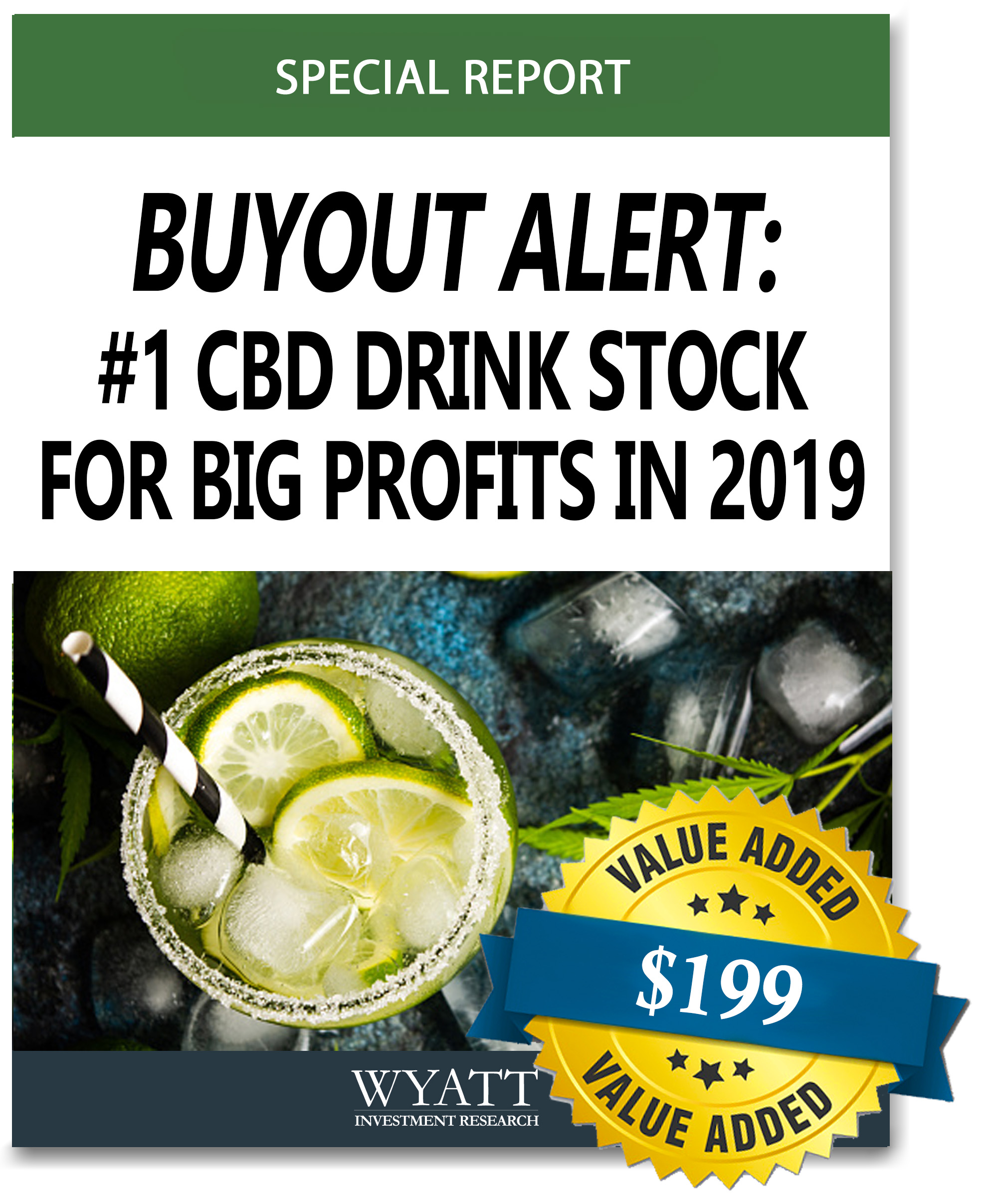 Discover the #1 CBD beverage stock for the BUYOUT BOOM. This growing company expect sales will top $300 million. And that makes this stock a top acquisition target for Coca Cola or Pepsi.
Shares could easily double or triple in 2019 - once a major announcement is made.
That's why this stock is my latest BUY ALERT.
MEMBERSHIP BENEFIT #2:
My Newly Created "One-Day PhD"
In Marijuana Investing Report Series
[Valued at $539]
Before you begin receiving my weekly newsletters and alerts, I'd like to bring you up to speed with several important reports that will get you ready to start building your own million dollar marijuana stock portfolio.
Think of these special reports as your crash course "One-Day PhD" in marijuana investing.
After going through these easy-to-read online reports during a relaxing Saturday or Sunday afternoon, you'll know more about marijuana stocks and investing than 99% of other investors!
I'm considering selling these reports individually on our website later this summer for $49 each ($539 for the whole bundle) — but when you become a member of my new "420 Club" today – you'll get them all for FREE!
MEMBERSHIP BENEFIT #3:
My Weekly Million Dollar 420 Club Portfolio Newsletter
With Real-Time Trade Alerts
[Valued at $1,995/year]
Each week, you'll receive my weekly newsletter where you'll see my Million Dollar 420 Club Portfolio started with $100,000 of my own money grow over the next three years.
I'll share what companies I'm buying, what companies I'm selling, why I'm buying or selling them, and what companies I'm closely watching to buy in the future. I'll let you know when to take profits, and when to hold on for long term gains.
From cannabis growers… to medical and pharmaceutical companies… to branded cannabis firms… to the "picks and shovels" types of companies that supply and provide much-needed services to these marijuana-related companies…
…You'll have your finger on the pulse of all the "movers and shakers" within this rapidly-growing sector of the market over the coming years.
And each of the three growth phases I'll be reporting on could provide you with the opportunity to build three separate fortunes. It's going to be an exciting three years!
Plus, you'll be able to access all of my archived newsletter issues, alerts, and special reports at any time on our private Members-Only website.
MEMBERSHIP BENEFIT #4:
My Private Monthly Online Cannabis Briefing
[Valued at $1,200/year]
As a new member, you'll have access to my monthly online video briefing where I will discuss the portfolio, particular stocks we've recently bought or sold, new innovations at marijuana and marijuana-related companies, and governmental regulations and developments.
Each monthly call will last approximately 60-90 minutes, and there will be a recording available on the
Members-Only website if you're unable to make the call.
MEMBERSHIP BENEFIT #5:
Access To My Million Dollar 420 Club Portfolio Website
[Value — Priceless!]
As soon as you join, you'll receive a log-in and password to my private Members-Only website.
Here, you can browse through all our past issues, trade alerts, and every special report and video I release for this service.
You'll be able to track my real money portfolio — month by month — and watch as we hit each milestone on the way to a $1 Million Portfolio.
As you can see from all of the benefits I just listed, I've done everything in my power to make this – in my opinion – the simplest, safest and most profitable marijuana stock research service you've ever used.
MEMBERSHIP BENEFIT #6:
Marijuana Wins Midterm Elections
[Valued at $497]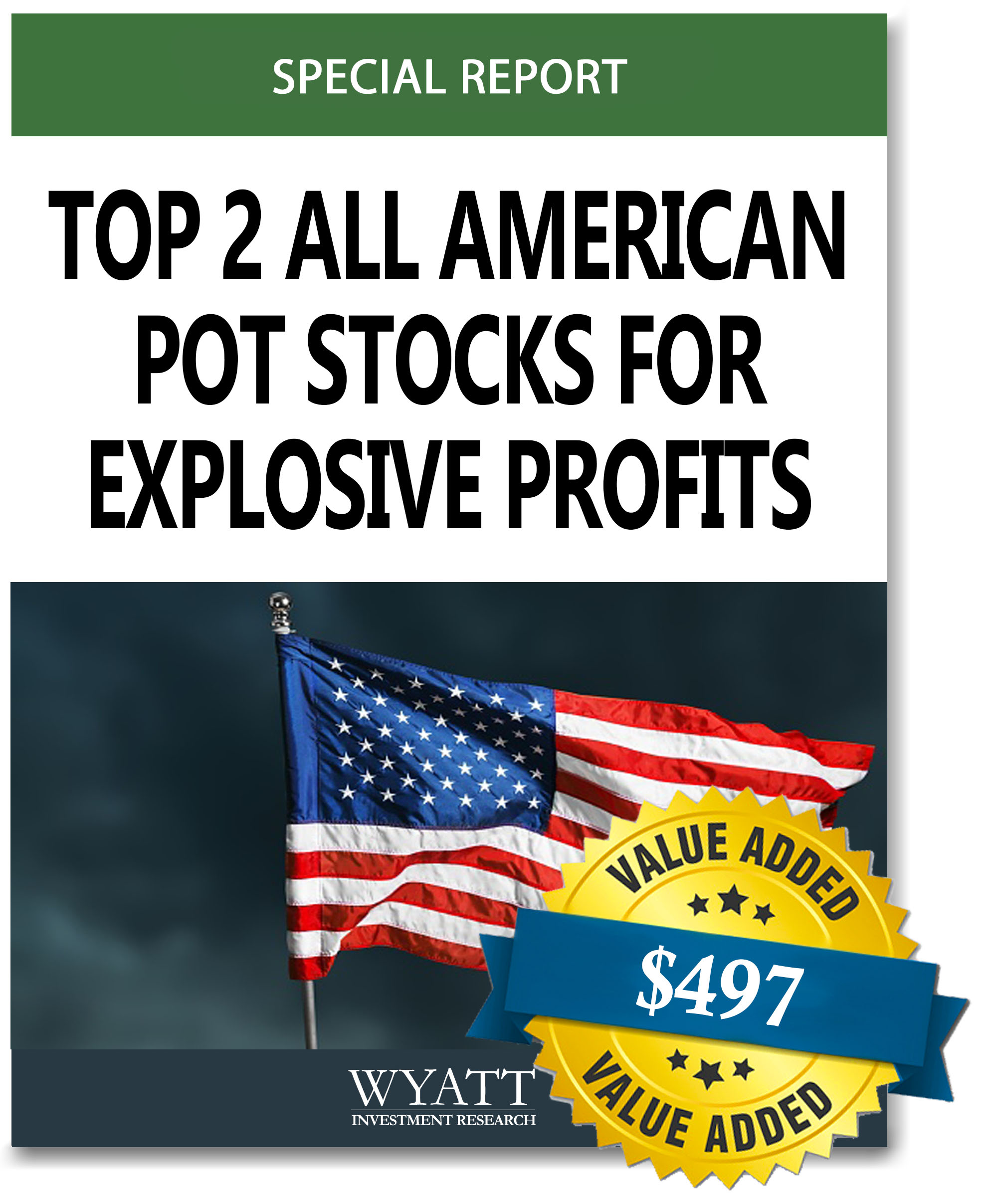 Marijuana Midterms BONUS REPORT:
Top 2 All American Pot Stocks for Explosive Profits
U.S. midterm elections on November 6th legalized cannabis in Michigan, Missouri, and Utah. That expanded the LEGAL market by 19.2 million people!
These top 2 "All American" cannabis stocks dominate the U.S. market. And their shares are ready to surge in the 2019 Pot Stock Rally. Don't wait another minute – claim this FREE bonus report today!
I Want To Help You Achieve
ALL Your Financial Goals
Over the past 17 years… I have never seen such an unprecedented opportunity in the financial markets that could allow you to retire within the next three years.
Every step I'll take you through during this 3-year money-making journey will be the very same steps I am taking with my own money.
I am putting my money where my mouth is, and will show you exactly how I plan to start and grow a million dollar portfolio in three years or less.
As I mentioned in my presentation, I have already created a high-performance "Real Money" investment portfolio similar to this several years ago that I shared with a select group of individuals.
And now, I am so sure that the marijuana industry is set to take off to the moon — I am even betting my four children's financial future on it by investing in marijuana stocks for their college savings accounts.
Starting today, you can access my best research as a new member of my Million Dollar 420 Club Portfolio investment research service.
Plus, you're 100% covered by our Performance Guarantee:
If, after three full years, if my Million Dollar 420 Club Portfolio doesn't give you the chance to turn every $10,000 invested into $100,000… or turn a $100,000 portfolio into $1 million or more, then I will continue to provide you marijuana stock research and recommendations for FREE.
Simply contact my customer care team, and they will take care of you!
Also, no matter what, you're still covered by my company's 100% satisfaction guarantee.
So if, at any point during your 3-year membership to Million Dollar 420 Club Portfolio, you decide this is not for you… give us a call to cancel the remaining portion of your membership, and to transfer your account balance to one of our other research services.
Of course, I think you're going to love being a member of this new top-tier research service, and will feel a sense of excitement every time you have the chance to take profits on your marijuana stocks.
Plus, your membership fee for this investment research could be 100% tax-deductible as an investor education expense! (Your tax advisor can let you know more.)
I'm very excited for you, and for all the money we could make in this endeavor!
To start your membership before I reveal my next investment recommendation, tell us a bit about yourself below…
Simply Fill Out The Form Below
Or Call

888-875-1960

To Get Started!