Fellow Investor,
A "Marijuana Buyout Boom" is sweeping across the market…
And if you are willing to take decisive action immediately -- you could see 270% to 455% gains in the next few months...
That's because the marijuana sector is seeing extreme growth…
And creating huge opportunities for early investors.
Ackrell Capital -- a boutique investment bank -- estimates that the marijuana sector could grow from $6.7 billion in sales…
To a mammoth $100 billion market in just a few short years.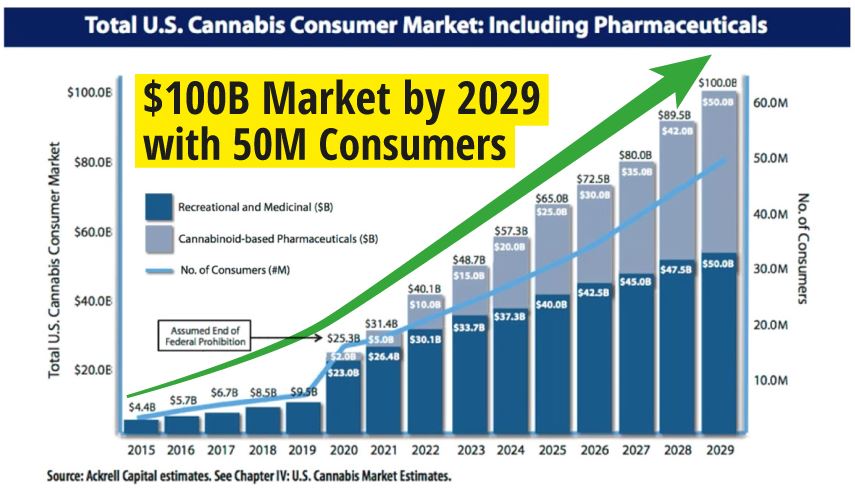 The market for legal weed is growing by 1,392%!
That's the perfect setup for quickly making 5X, 10X and even 20X profits.
Best of all, you don't have to gamble on a risky penny stock to strike it rich…
Instead, you simply follow the "smart money"...
And ride their coattails for massive returns.
You see, two things are happening right now.
First, the biggest marijuana stocks are quickly BUYING up the smaller players.
Some of these deals are "small" -- like the $101 million BUYOUT of a tiny health company by Canopy Growth.
Others are huge -- like the $2.5 BILLION BUYOUT of MedReleaf.
The strongest companies are buying the small players at a rapid pace.
But that's really just the start...
Second, alcohol, tobacco, and even pharmaceutical companies see the growth potential from legal marijuana.
And they want a piece of the action.
But rather than creating their own pot divisions...they simply BUYOUT the best companies or buy large stakes in these existing businesses.
That's the quickest way for them to get a piece of the market share, as well as exposure to the growth potential.
They don't want to waste any time -- because they know how urgent this setup is.
And that's why in order to profit from this situation, you must also act fast…
Because these buyouts are all driven by the "waves" of legalization sweeping the marketplace.
And the next wave of explosive profits in this "Marijuana Buyout Boom" will occur before Canada goes 100% legal October 17th.
Those who haven't staked their claim well before then may miss their chance... forever.
The "Marijuana Buyout Boom" is exactly the kind of opportunity I look for… one that regular folks can use to finally get the returns they deserve…
And achieve the lifestyle of their dreams.
My Mission Is To Empower Folks Just Like You To Achieve Financial Freedom…
My name, by the way, is Ian Wyatt.
I got my very first stock, Exxon before I could even ride a bike!
And while most other teenage boys I knew were spending their free time figuring out the best boozing spots in the woods that the cops never patrolled…
Or discussing which girls to take out on Saturday night dates…
I was busy studying companies' quarterly earnings reports and balance sheets.
Needless to say, I was a bit of a late bloomer in the "social arena" – but I more than made up for it when it came to investing to make money!
In fact, by 19 years old, I had already amassed a $50,000 investment portfolio…
All from stocks I had invested in during my teenage years.
But, I wanted to share my passion for investing.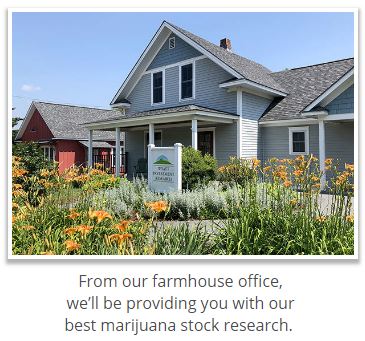 So back in 2001, I began Wyatt Investment Research.
I founded my publishing company with one simple mission:
To empower people to take charge of their portfolios -- and make incredible wealth from the market.
Today -- 17 years later -- my investment research operates out of our farmhouse office in the Vermont countryside.
I'm fortunate to serve over 350,000 daily readers…
And I've helped folks just like you achieve tremendous results in their marijuana stock portfolios: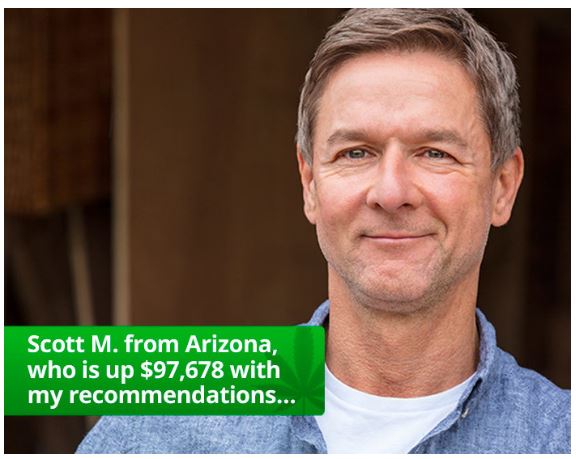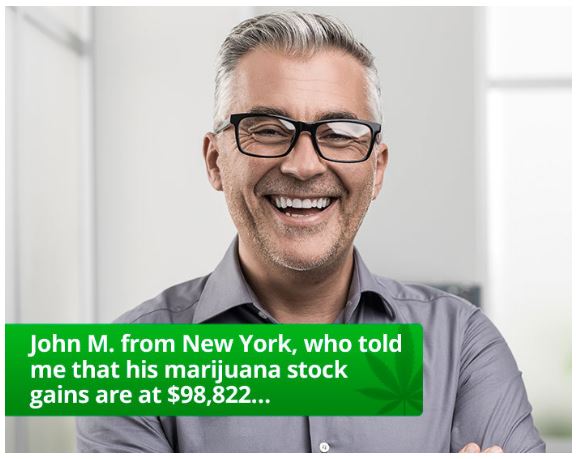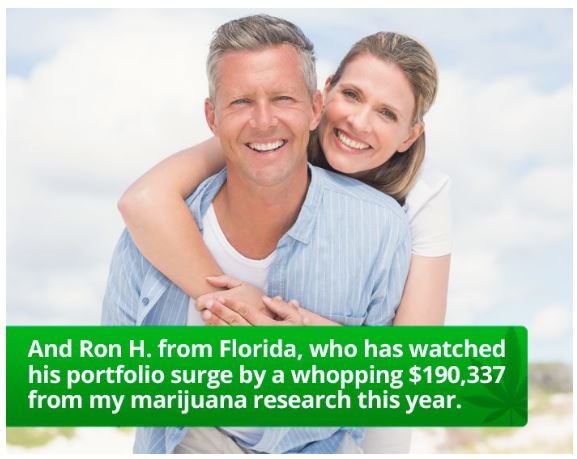 I look for the greatest opportunities in the investment world -- ones that can turn small stakes into sizeable portfolios.
And I can tell you without a doubt:
This is the most exciting (and lucrative) setup I've seen in my entire career.
But, I'm sure you are wondering: how do I know this "Marijuana Buyout Boom" is for real?
Well, the answer is simple:
Because it has already begun...
A Major Alcohol Company Just Made $700 Million In Profits From The
"Marijuana Buyout Boom"
You may have heard of Constellation Brands...
This Fortune 500 company owns Corona, Robert Mondavi, Canadian Whiskey, and Svedka.
They recently invested $200 million in Canopy Growth…
Buying nearly 10% of the entire company!
The companies are working to develop "cannabis infused drinks" for the Canadian market…
Creating an entirely new product category to complete with beer!
Constellation's CEO anticipates massive growth and profits once marijuana is legalized in Canada.
And it's a win-win for both companies
Already, this one "Buyout Boom" caused Canopy Growth to soar 176%... in just two months!
Those early gains have continued...
Constellation just reported a $700 Million in PROFIT from their investment in Canopy.
This one investment has been incredibly lucrative for Constellation.
You can bet other companies are going to follow.
That's because big companies like Constellation Brands are growing slowly....
In order to deliver value to their shareholders, they NEED new areas to expand their business.
Big tobacco companies like Altria and Philip Morris...
And huge alcohol companies like Anheuser Busch InBev and SABMiller...
They're established brands in established markets.
They aren't going to be able to expand alcohol and tobacco sales by 100%...50%...or even 20%.
So they're rushing to gain exposure to an industry growing by 1,392% in the next few years.
That's attractive.
They are racing to open their checkbooks to BUY a piece of this growth...because they know their share price depends on getting into this major opportunity.
Some estimates peg the market at $100 billion!
Yet, the CEO of Constellation Brands thinks that UNDERSTATES the growth potential.
He sees the global market for pot growing to $200 billion in just a few years.
To put that in perspective -- that's the same as the entire alcohol market for beer, wine, and spirits in the U.S.
Meanwhile, Deloitte has analyzed the pot market in Canada leading up to full legalization and said:
"Sales of legalized marijuana would surpass combined sales of beer, wine and spirits."
If the U.S.fully legalized pot -- could we soon see pot sales in the U.S. surpassing the current $200 billion in annual alcohol sales?
That would mean the global pot market would be even larger than $200 billion -- dwarfing even the projection from Constellation's CEO.
By now, I'm sure you can see:
The potential is truly enormous.
The birth of a sector this lucrative is going to set off a wave of partnerships, mergers, and acquisitions…
And early investors will see chances to get payday after payday in the months ahead.
Of the 366 stocks currently included in the Marijuana Index…
LESS than 10 are attractive buyout candidates.
That means it's crucial to BUY the right stocks…
While AVOIDING 97% of the publicly traded marijuana stocks.
Right now, just two tiny stocks at the top of my "BUY NOW" list.
And I'm going to tell you exactly how to get into this Marijuana Buyout Boom -- including the 2 companies that you need to get in right now to profit…
Plus, I'll show you the other companies that are on my "watch list"...
But first, let me tell you why should NOT invest in 90% of the companies in the marijuana sector…
Why You Need the RIGHT Companies for "Marijuana Buyout Boom" Profits
Let me be clear…
You can NOT invest in any old pot stock and expect to make 1,392% returns.
In fact, within the next 10 years…
I'd estimate that 90% of today's marijuana companies will be OUT OF BUSINESS.
Bankruptcy. Closed up shop. And perhaps sold for pennies on the dollar.
Meanwhile, a handful of companies will dominate the entire legal marijuana market.
These "World Dominators" will buy up the other smaller, quality pot companies.
Plus, companies in other industries – who want exposure to this huge growth market – will be buying up smaller players.
How do I know?
Because that's exactly what happens with every new industry.
Think about what happened in the late 1990's with the dot com boom (and bust)...
Only a few of them survived -- and are now world dominators.
Like eBay…

Or Google (now known as Alphabet)…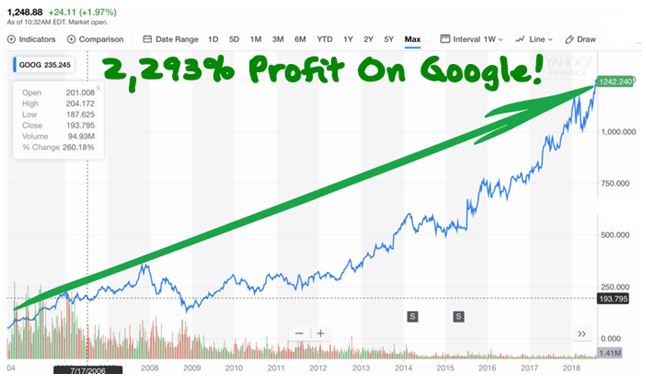 And even Amazon: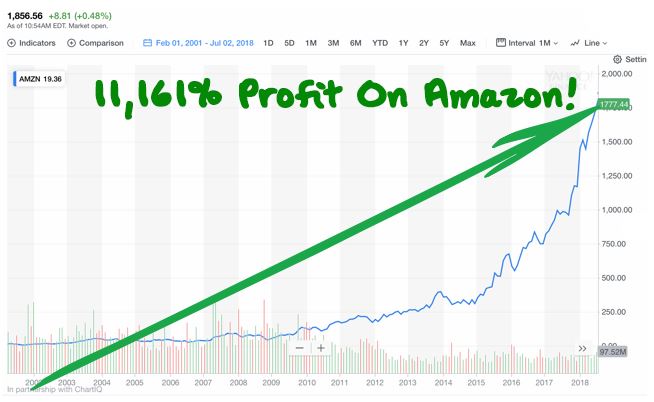 Some were bought out…
Like when eBay bought Paypal…
Or when Google bought YouTube...
And even when Amazon bought Zappos.
But… as you may recall…
Not all of the dot com companies were success stories.
In fact, most of the companies went belly up…
Think pets.com…
Or etoys.com...
Even buy.com...
And the exact same thing will happen in the marijuana sector.
Of the 366 pot companies that exist right now, I anticipate less than 10 of them will survive.
Now, no one can completely predict the future...
But with the right analysis, we can figure out which companies are the strongest businesses.
The ones with the best market positioning…
Or proprietary technology…
Good management…
Basically the best-run pot businesses on the planet.
Those are the ones that will survive, get bought out, or will merge together.
Best of all…
No matter which happens -- you can get paid big.
If they merge together, you get paid.
Like on January 24, 2018, when Aurora merged with CanniMed.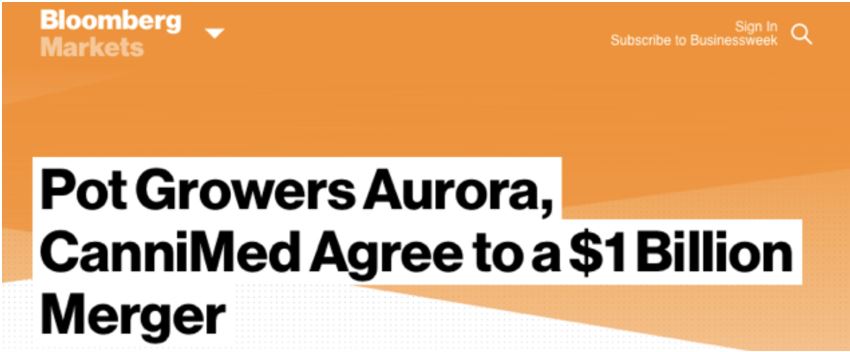 "Canadian marijuana producer Aurora Cannabis Inc. agreed to acquire CanniMedTherapeutics Inc. in a sweetened C$1.23 billion ($1 billion) cash-and-stock deal that would be the largest merger yet in the country's red-hot cannabis industry."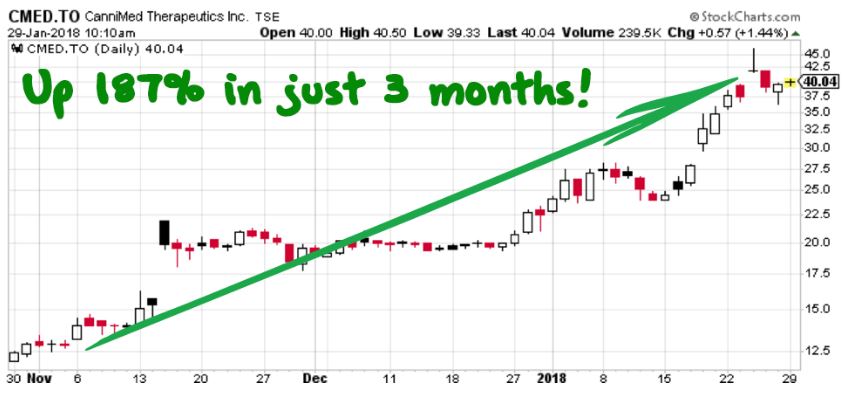 As a result of the merger, CanniMed went up 187% in just 3 months!
If they get bought out…
You still get paid.
Like on May 14th 2018, when Aurora bought out MedReleaf: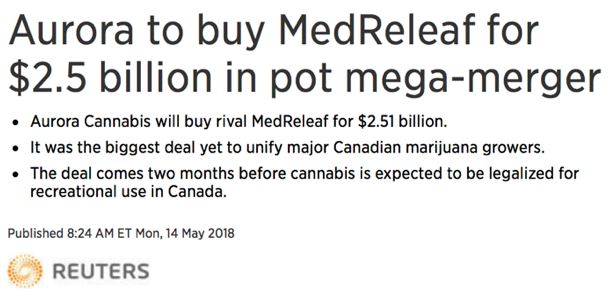 That sent MedReleaf surging 227% in just 6 months!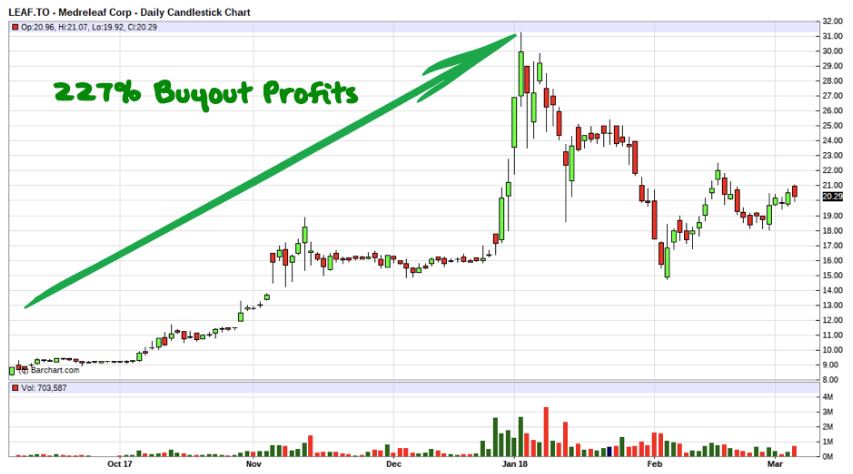 And if they survive… they could end up becoming World Dominators -- perhaps even the "Amazon of Marijuana."
Are you beginning to see why this might be your chance to make 200%...400%...or even more thanks to this "Marijuana Buyout Boom"?
Right now, my research is issuing an URGENT BUY ALERT on just two tiny "pot stocks."
Let me tell you about the first opportunity…
How to Make an Easy 270% with a
Marijuana Pre-IPO...
It's true…
A small group of "marijuana industry insiders" are planning an IPO…
They're creating a brand new company to pursue acquisitions of private U.S. cannabis companies.
And this opportunity could be VERY lucrative.
How do I know?
First, the leadership team has a track record of proven success.
Last year, they offered PRE-IPO shares to a select group of investors.
Some folks were able to BUY at just $1.65 per share.
Within a few months the stock went public…
In a HUGE initial public offering.
Shares started trading at $3.65.
That's good enough for a quick 121% gain.
Enough to more than double your money.
Best of all, investors had a shot to make even more money -- because the stock then shot up 402%!
That means a $10,000 investment grew to $50,200 -- in less than 6 months!
Incredible.
Even more shocking?
This wasn't the first time these "pot stock insiders" made these kinds of big profits for shareholders.
In 2014 they did almost the exact same thing…
They offered "Pre-IPO" shares to a select group of insiders for just $0.85…
Shares recently shot as high as $5.93…
Delivering a quick 598% gain!
A $10,000 investment in this "Pre-IPO" could've quickly turned into $69,800!
Amazing.
That's exactly the track record I'm looking for with my investments!
These industry insiders are tapping into their vast experience to create what is basically a venture capital fund for marijuana.
They're investing $17 million to fund this new company.
And YOU have a chance to buy shares now – BEFORE it begins trading.
It's called a "Pre-IPO"...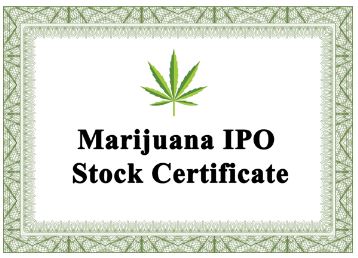 So, what is a "Pre-IPO"?
Well, as you may know, an IPO is an Initial Public Offering.
It's when a company offers shares of stock on a public exchange.
But, a "Pre-IPO" is the final financing BEFORE a company offers shares to the general public.
Typically, "Pre-IPO" shares are sold at a deep discount.
But, unfortunately… these opportunities are USUALLY off limits to regular folks like you and me.
Luckily, you can use a secret "back door" to get into this deal…
And claim your "Pre-IPO" shares right away.
You do NOT need to:
● Be an accredited investor
● Verify your net worth
● Have special industry connections
If you can buy a stock...you can get in.
But, here's the catch:
In order to get in on this "Pre-IPO"...
You must act before September 27th, 2018.
That's a hard deadline, set by the company.
So if you want in, you need to act now.
If you'd like to find out more about this company, I've written a special report:
Claim Your Pre-IPO Shares - Before a 270% Market Debut
You'll get the latest on this company…
How to get in…
My profit targets and updates…
Plus, I'll even reveal how you can get FREE BONUS SHARES in this "Pre-IPO"...
Best of all, I'm making this report available to you for free as a part of my "420 Club".
I share all my latest updates and research with a select group of people who are members of this elite club.
But the "Pre-IPO" isn't the only opportunity you'll get when you join my "420 Club"....
You'll also find out about:
Little-Known Indicator Predicts
455% "Pot Stock Profits"
Did you know that one single event can send a stock price surging?
Well, here's the best news.
This one little-known indicator predicts some of the biggest stock market winners!
Early investors were able to use this signal to cash in massive profits:
It caused one pharmaceutical company to soar 648% in just three weeks…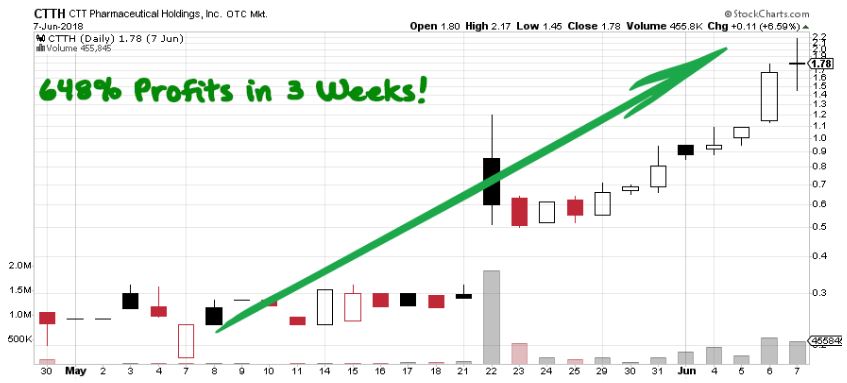 And it helped a small pot company climb 402% in five months…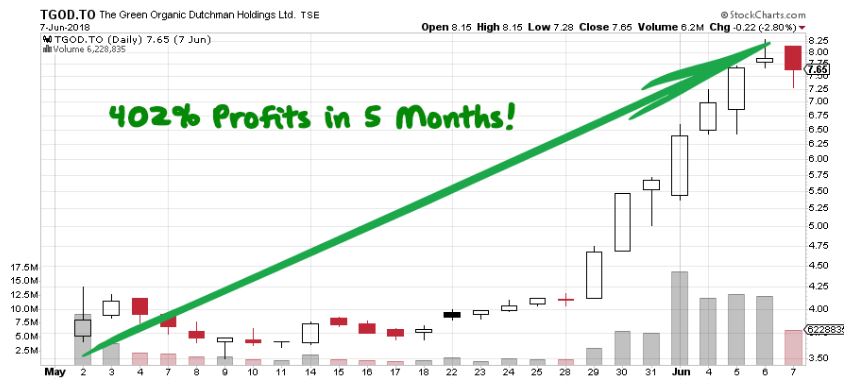 It even pushed a food and fiber company up as much as 821% in three months…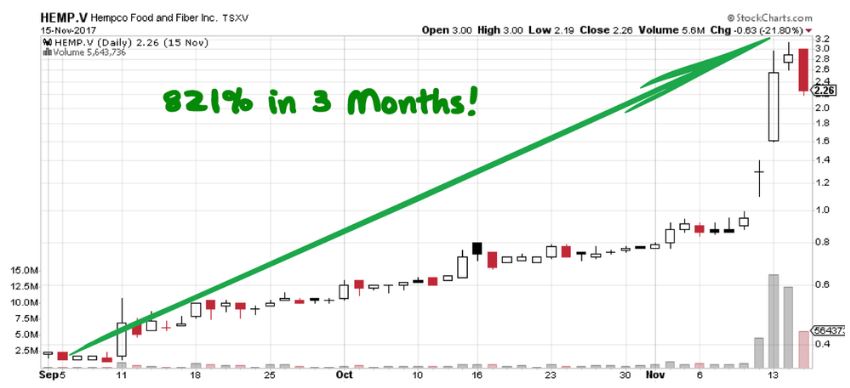 Best of all…
It's happening once more.
How does this "growth trigger" occur?
Well, it's all thanks to an investment from a major company.
When this large company decides to invest in a smaller company, it's a huge deal.
It gives that smaller company a boost of legitimacy… and the capital investment helps accelerate the firm's growth as well.
Once this "major player" invests in a company… it's like pouring gasoline on a fire.
Share prices go through the roof...
And right now, this "Kingmaker" has set its sights on a tiny cannabis company -- and put more than $5 million in cash to fund this growth stock.
And if history is any guide...this could be the biggest windfall yet.
That's because this Canadian cannabis producer is building a "cannabis brand".
It's planning to launch retail stores across Canada.
In fact, it's already secured 25 locations in Alberta and 10 in British Columbia
Even better: this pot producer is also awaiting final approval of FOUR licenses.
They're in "late stage review" by Health Canada…
And the company predicts FULL APPROVAL within 3 weeks!
These are basically licenses to print money in Canada.
And Health Canada's approval could send this stock surging - overnight.
Here's why:
Very few of these licenses are granted to sell pot in retail.
That basically creates government enforced monopoly on the consumer side of pot sales.
It would be like the government giving Budweiser a license to sell alcohol in retail…
So the ONLY stores you could buy alcohol were Budweiser controlled.
Do you think it would be easy for Budweiser to make money selling alcohol in that scenario?
When the government makes it legally impossible for other alcohol competitors to challenge them?
Of course.
Plus, this marijuana company isn't just on the retail side of things.
They produce the cannabis as well.
Their Phase 1 plan is to produce 3,700 kg a year.
That's enough to make $44.4 million in sales.
Then, in Phase 2, they plan on producing 6,500 kg a year.
That's enough to produce $78 million in sales.
And with a 20,000 kg of annual funded capacity...
That means they have the potential to produce annual sales of $180 million.
That represents a 305% increase in sales.
Most importantly: they are growing.
Growth potential is crucial for buyouts -- especially in a new, booming sector like pot.
And this new acquisition paves the way for a new 700,000 square foot indoor and greenhouse production facility.
That's almost guaranteed to send share prices soaring.
Today, you can get in for less than $1…
And I'm expecting a major price move in the coming weeks…
That's because this tiny stock could receive its cultivation license from Health Canada - sparking a major move for the stock.
So, this company is exactly what we look for to get in on the "Marijuana Buyout Boom."
And it also shows the intense scrutiny you MUST go use in order to find these types of companies.
My Research Can Help You Grow Your Portfolio 10X in Three Years or Less
For these companies to be candidates of buyouts they must go through a thorough vetting process.
I'm talking about forensic accountants…
Corporate lawyers…
Financial analysts.
They go through the ringer.
That's why you must be careful about which companies you choose.
And I want to help.
I'll even do all the hard work for you.
My team spends hundreds of man-hours researching these companies -- pouring over the details of every single potential investment.
We investigate details of each company…
All their financials…
Their business model…
Their intellectual property and proprietary technology.
Our mission is to ensure each of these companies is among the best pot companies on the planet.
Those are the ones who will truly benefit from the coming "Marijuana Buyout Boom."
And those are the companies we want to make sure we get into -- when the time is right.
Here's a few that are on my watchlist now:
I have all of this research (and more) ready for you.
It's all a part of something call my "420 Club."
What is the 420 Club?
If you're just starting out, and you only have $1,000 to get started…
This "420 Club" could help you grow your nest egg to $10,000 in just a few years.
And if you a more serious investor, who would like to quickly grow a small trading account of just $10,000 into $100,000 over the next three years…
Or turn $100,000 into over $1 million or more in the same amount of time…
Then joining me on this journey could be the best investment decision you ever make.
Becoming a member of my new "420 Club" will be unlike anything you've ever done before.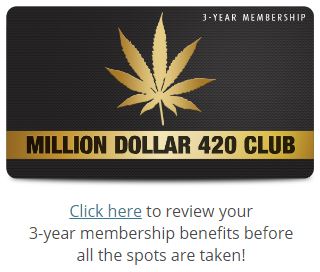 It will be educational.
It will be exciting.
And I promise you that it will give you a chance at huge, life-changing profits.
I don't know of any other way you could legally 10x your money like I'm planning to do in such a short period of time.
This is serious investing… and I'm looking for serious people to join me on this three-year money making journey.
And I have absolutely ZERO doubt in my mind that it will be life-changing for you in a very positive way.
In fact, I can't wait to start reading the stories of people I've helped become "marijuana millionaires.
With all that said…
Let me share with you everything you'll get when you join my newest and most exclusive research service, Million Dollar 420 Club Portfolio, today.

MEMBERSHIP BENEFIT #1:
My Weekly Million Dollar 420 Club Portfolio Newsletter
With Real-Time Trade Alerts
[Valued at $1,995/year]
Each week, you'll receive my weekly newsletter where you'll see my Million Dollar 420 Club Portfolio started with $100,000 of my own money grow over the next three years.
I'll share what companies I'm buying, what companies I'm selling, why I'm buying or selling them, and what companies I'm closely watching to buy in the future.
I'll let you know when to take profits, and when to hold on for long term gains.
From cannabis growers…
To medical and pharmaceutical companies…
To branded cannabis firms…
To the "picks and shovels" types of companies that supply and provide much-needed services to these marijuana-related companies…
You'll have your finger on the pulse of all the "movers and shakers" within this rapidly-growing sector of the market over the next three years.
Plus, you'll be able to access all of my archived newsletter issues, alerts, and special reports at any time on our private Members-Only website.

MEMBERSHIP BENEFIT #2:
My Newly Created "One-Day PhD"
In Marijuana Investing Report Series
[Valued at $539]
Before you begin receiving my weekly newsletters and alerts...
I'd like to bring you up to speed with several important reports that will get you ready to start building your own million dollar marijuana stock portfolio.
Think of these special reports as your crash course "One-Day PhD" in marijuana investing.
After going through these easy-to-read online reports during a relaxing Saturday or Sunday afternoon...
You'll know more about marijuana stocks and investing than 99% of other investors!
Marijuana Stock Report #1: My Top 10 "Conviction Buy List"
These will be the first 10 stocks going into my Million Dollar 420 Club Portfolio. I highly recommend you buy these stocks as soon as possible!
Marijuana Stock Report #2: Legal Weed 2020
In this special report, you'll discover several ways you can profit from the growing legal marijuana industry in the US and Canada over the next three years.
Marijuana Stock Report #3: The Pot Stock Buyout Boom — The Top 3 Canadian Targets For 2018
Here, I report on the historic mergers and acquisitions activity in this sector, and highlight three companies that could be attractive acquisition targets and provide you with exceptional profits.
Marijuana Stock Report #4: The #1 ETF For Buying Pot Stocks
Some investors love investing in Exchange Traded Funds (ETFs), which are similar to mutual funds… only with more benefits for investors. This report details what I have identified as the best ETF for marijuana stocks.
Marijuana Stock Report #5: The "Amazon of Marijuana"
This report covers a unique company that we call "The Amazon of Marijuana." The company is NOT a licensed producer. Instead, it's a global e-commerce company that sells cannabis products directly to consumers.
Marijuana Stock Report #6: The Top 3 Cannabis Biotech Stocks To Buy Now
Here, I'll share my newest research on the coming wave of cannabis related pharmaceuticals. The pharma sector is expected to be 50% of a $100 BILLION market in the U.S. and these three companies are at the forefront of the opportunity.
Marijuana Stock Report #7: Become A Legal Drug Dealer In Colombia
In this report, you'll discover a newly public company that's focused on the legal Latin American marijuana market that is currently based in Colombia and also expanding into Mexico.
Marijuana Stock Report #8: The Top 3 "Branded" U.S. Pot Stocks
These companies are not only GROWING cannabis, but they're also creating consumer brands. In fact, I wouldn't be surprised if one or more of them become a household name within the next three years!
Marijuana Stock Report #9: The BlockChain For Cannabis
By now, you likely heard about blockchain technology for cryptocurrencies like Bitcoin. This report focuses on a new company that's creating blockchain for the cannabis sector, and how the technology they're using could help secure the entire supply chain in the U.S. and Canada!
Marijuana Stock Report #10: The Cannabis Valuation Report
In this special report, you'll see how I assess the value of various marijuana and marijuana-related stocks using a unique "market cap/production capacity" valuation, and find the ones with the best value for my portfolio.
Marijuana Stock Report #11: The ULTIMATE Cannabis Stock List
To round out this report series, I've created a complete list of every publicly-traded cannabis stock through June of 2018. Just having this list alone puts you miles ahead of every other marijuana stock investor, and will allow you to even discover some cannabis companies that may offer products or services that you'd like to try out for yourself!
I'm considering selling these reports individually on our website later this summer for $49 each ($539 for the whole bundle)…
But when you become a member of my new "420 Club" today — you'll get them all for FREE!

MEMBERSHIP BENEFIT #3:
My Private Monthly Online Cannabis Briefing
[Valued at $1,200/year]
As a new member, you'll have access to my monthly online video briefing where I will discuss the portfolio, particular stocks we've recently bought or sold, new innovations at marijuana and marijuana-related companies, and governmental regulations and developments.
Each monthly call will last approximately 60-90 minutes, and there will be a recording available on the
Members-Only website if you're unable to make the call.

MEMBERSHIP BENEFIT #4:
Access To My Million Dollar 420 Club Portfolio Website
[Value — Priceless!]
As soon as you join, you'll receive a log-in and password to my private Members-Only website.
Here, you can browse through all our past issues, trade alerts, and every special report and video I release for this service.
You'll be able to track my real money portfolio — month by month — and watch as we hit each milestone on the way to a $1 Million Portfolio.

MEMBERSHIP BENEFIT #5:
My Two URGENT BUYS To Get In On The
"Marijuana Buyout Boom"
[Valued at $597]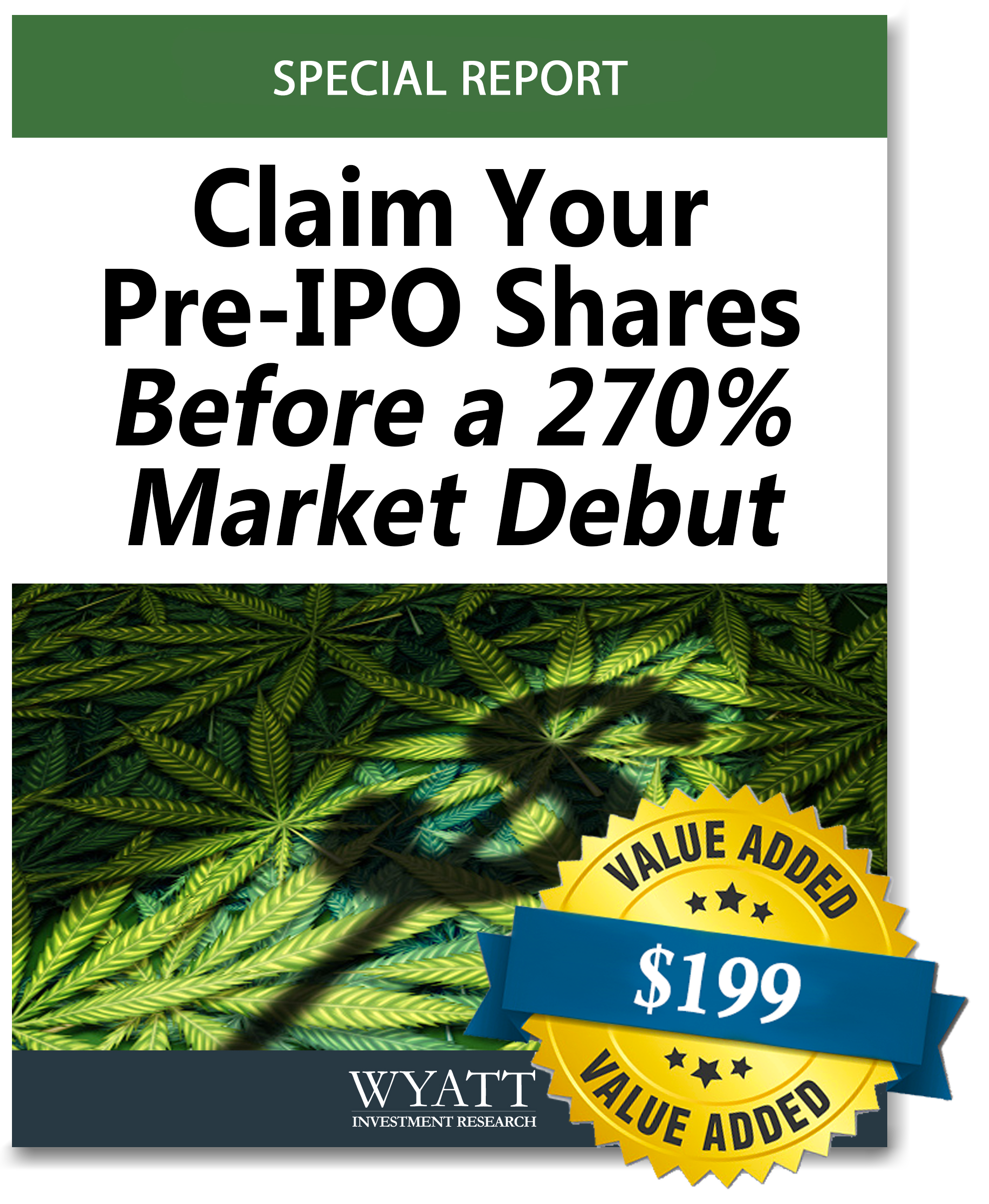 Marijuana Buyout Boom BONUS REPORT #1: Claim Your Pre-IPO Shares - Before a 270% Market Debut
I'll reveal the way you can get into a Marijuana Pre-IPO -- without being an accredited investor. This unique opportunity allows regular folks to get into a virtual venture capital firm as it acquires promising new pot companies.
This is a perfect opportunity to make 270% (or more) within just a few weeks. But you must get in now.
Marijuana Buyout Boom BONUS REPORT #2: Secret "Pot Profit Indicator" for 455% Gains
Learn the little-known indicator that has predicted huge price movements from 402%... to 648%... and even 821% returns.
Plus, see the brand new opportunity it's just signaled is a "BUY". It's a tiny pot company... could make you a quick 455% profit.
Marijuana Buyout Boom BONUS REPORT #3: The Top 7 Pot Stocks for Explosive Profits in 60 Days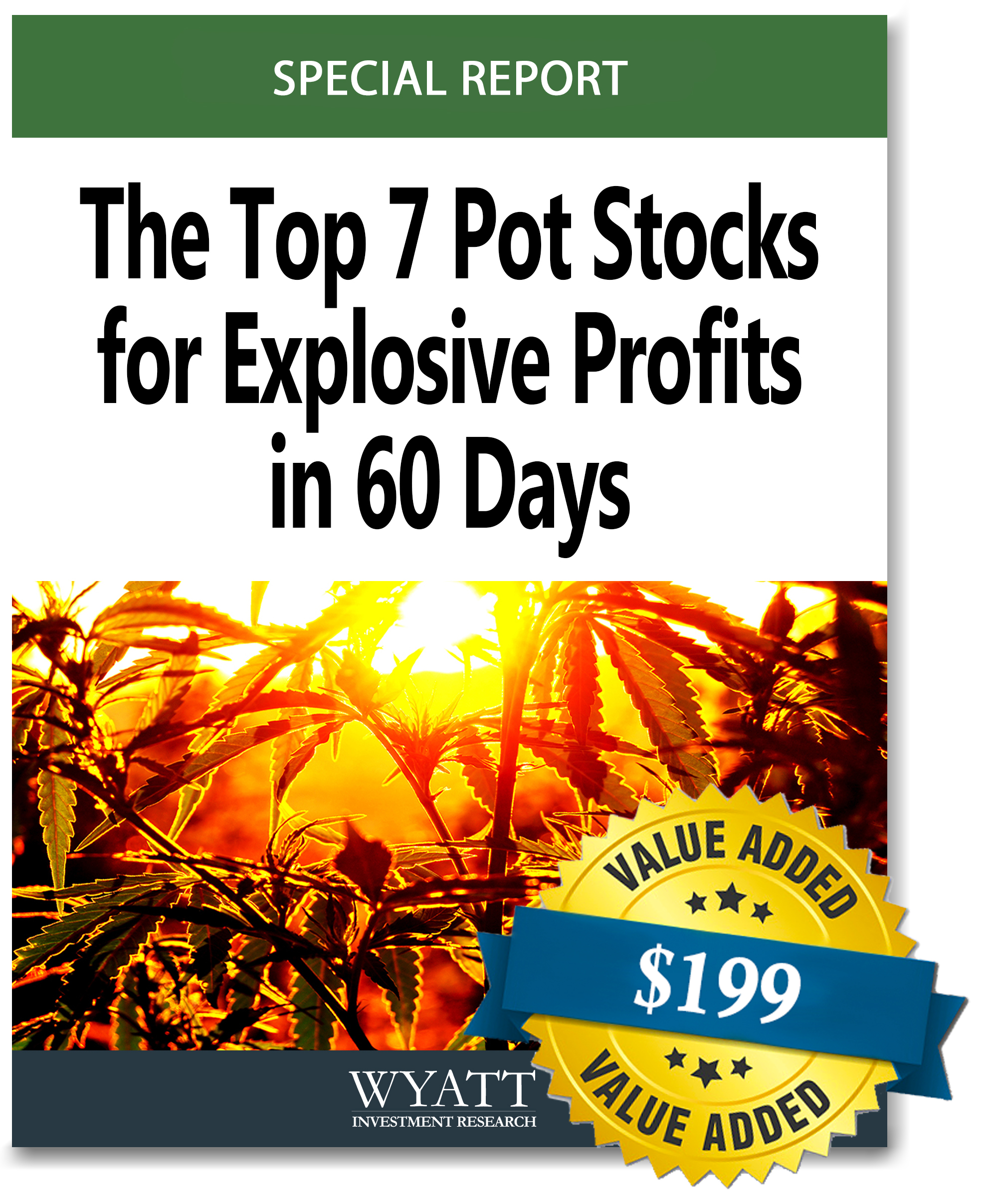 This detailed report reveals the BEST opportunities you can get in right NOW for maximum profits. If you've been "sitting on the sidelines" and missed the pot profits up until now…
Or you'd like some new opportunities to give you even bigger returns over the next two months…
This report is for you.
I'm considering selling these reports individually on our website later this fall for $49 - $199 each…
But when you become a member of my new "420 Club" today — you'll get them all for FREE!
As you can see from all of the benefits I just listed…
I've done everything in my power to make this – in my opinion – the simplest, safest and most profitable marijuana stock research service you've ever used.
That's why I think it's safe to say… you are in a position, right now, to radicallyshift the trajectory of your life in a positive way and never have to worry about money again.
Today, we are still in the infancy stage of this massive marijuana market.
It promises to grow by leaps and bounds over the next three years.
So if you'd like to be able to become a millionaire over the next three years by joining me and investing in marijuana stocks…
Then I would like to personally invite you to try out my Million Dollar 420 Club Portfolioresearch service.
And even if you don't have $100,000 to start with…
I still guarantee that you could turn every $10,000 invested into $100,000 or more in the same period of time!
Imagine the financial peace of mind that kind of money can bring you and your family.
It truly can be life-changing.
That's why I'm 100% positive that my Million Dollar 420 Club Portfolio could help you achieve all your investment goals, whatever they may be, faster than you ever thought was possible.
You just have to be willing to take the next step.
You have to be willing to discover something new, step out of your comfort zone, and follow my lead.
I'll be guiding you each step of the way.
Now, as you can imagine, I could easily justify charging as much as $10,000 for access to this service each year for experienced and already "well-to-do" investors.
And given my proven track record and results, many of them would be more than happy to pay it.
But, I didn't create this to just "help the rich get richer."
I'm a teacher at heart, and I believe this growing sector of the market could help practically anyone become wealthy in a relatively short period of time.
Plus, my goal for this service is to make it accessible to everyone…
Whether you're starting with $10,000 or $100,000 or even if you just want to discover how to become a better investor with your money in the marijuana industry.
Because of the exceptionally high profit-potential, the retail price of my new Million Dollar 420 Club Portfolio research service will be set at $2,995 a year.
That's how much you will have to pay if you sign up for this service on our company website later this year.
And that's still an incredible deal considering the value of all the membership benefits I mentioned earlier comes to $3,734.
But right now, I am going to make you a very limited offer that my accountant says is "completely insane" – but I'm going to do it anyway…
If you're among the first 200 people to join today – you'll only pay $1,795 for a three-year membership.
That's right, you're getting three full years of this service for a one-time payment of just $1,795.
In other words, you're getting three years for LESS THAN HALF of what other people will have to pay for just one year of access to this service.
So why such a substantial discount?
Quite simply, because I know in my heart of hearts that I could significantly change your financial life for the better over the next three years.
I've set out on accomplishing a HUGE investing goal of starting and growing a $1 million portfolio in three years… so it is only fitting that I create a simple 3-year membership.
I've seen far too many investors jump from one research service to the next without ever truly committing to one strategy or system, and I don't want that happening to you.
Plus, I don't want the up-front price for this service or worrying about yearly renewals ever to be an issue for you.
I can guarantee you – right now – that nobody else has ever made an offer like this before.
Fair Warning: Because of this substantial discount – I am reserving the right to only allow the first 200 people to join today at this special price.
I've never made an offer like this before, and I will likely never do it again.
Not to mention, the retail price for this service will be $2,995 per year later this year.
So with over 350,000 people already on our email list, I guarantee these spots today will go quickly.
Plus, I have one more thing for you that I think you'll really appreciate…
Guaranteed Financial Results
You Won't See Anywhere Else
Since you're willing to make a commitment to improving your financial future today, I'm going to make a commitment to you.
Here it is…
If, after three full years, if our track record doesn't give you the chance to turn every $10,000 invested into $100,000…
Or turn a $100,000 portfolio into $1 million or more…
Then I will continue to work for you for FREE.
Simply contact my customer care team, and they will take care of you!
Again, I guarantee that you won't see anyone else that is making a guaranteed 3-year offer like this.
Not to mention, in this presentation, you've already seen numerous investment recommendations I've made that provided triple-digit and even quadruple-digit gains for my readers.
So we could even hit our goal in less than three years!
Also, no matter what, you're still covered by my company's 100% satisfaction guarantee.
So if, at any point during your 3-year membership to my Million Dollar 420 Club Portfolio, you decide this is not for you…
Give us a call to cancel the remaining portion of your membership, and to transfer your account balance to one of our other research services.
We're doing this because we understand there's probably a small percentage of people who will get started with marijuana stocks who are "stuck in their ways."
They will end up still preferring more "traditional" investments and stocks that they've become used to over the years.
And that's completely OK with us.
The good news is that you can use your remaining pro-rated membership fee to switch to any of our 10 other investment research programs, which include more "traditional" investment research…
Until you find one that best fits your needs.
Of course, I think you're going to love being a member of this new exclusive research service, and will feel a sense of excitement every time you take profits on your marijuana stocks.
So just click the button below to review the details your membership.
And one more thing…
Your membership fee for this investment research could be 100% tax-deductible as an investor education expense! (Your tax advisor can let you know more.)
But remember… time is running short.
As I mentioned earlier, because of the substantial discount I'm offering…
This special offer is guaranteed only for the first 200 people who get started today, and we have over 350,000 people on our email list.
Additionally, we're closing enrollment to my "420 Club" soon and I don't want you to miss out!

[Deadline To Join: 11:59PM (EST) on Monday Sept. 24th, 2018]
I sincerely hope I've given you everything here to make this decision easy for you.
As a lifelong investor, business owner, and financial publisher for the past 17 years…
This is the most exciting adventure – aside from raising my children with my wife – that I have ever set out to accomplish.
And I hope you decide to join me.
Simply click here now to start your membership to my Million Dollar 420 Club Portfolio today.
You'll have the chance to review all the details of my special offer on the next page.
Sincerely,

Ian Wyatt
Founder and Publisher of Wyatt Investment Research