The Billionaire's Secret to Pre-IPOs

Initial Public Offerings are surging! Check out everything included in your IPO Confidential membership!
MEMBERSHIP BENEFIT #1
Weekly IPO Confidential Newsletter
Valued at $2,995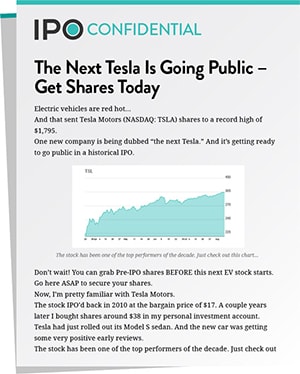 Every Wednesday you'll receive your weekly newsletter. Each issue will keep you up to speed on the booming IPO market. Plus, you'll constantly discover new Pre-IPO situations worthy of your consideration.
The newsletter will alert you to at least two new Pre-IPOs every month (and many MORE when the IPO market is hot – like it is today).
Ian promises to give you his full research file on each of these situations. And that means briefing you on the company, the transaction, and how to maximize profits along the way.
MEMBERSHIP BENEFIT #2
Pre-IPO Trade Alerts
Valued at $995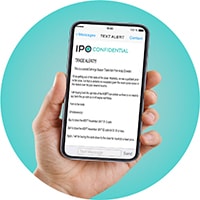 The IPO market is moving quickly. And you now understand that in order to earn big profits – you may need to move quickly.
That's why Ian will be sending you urgent Pre-IPO Trade Alerts via email and text message (SMS). These alerts will bring your attention to fast moving situations that require your prompt attention.
Your trade alerts will arrive with ALL the details. This includes the name of the company and instruction on how to secure shares in your online brokerage account. And you can either "copy and paste" these into your broker or simply read them over the phone to your financial advisor.
MEMBERSHIP BENEFIT #3
Live Model Portfolios
Valued at $995
Your membership also gives you access to three model portfolios. This includes prospective Pre-IPOs, IPOs that are confirmed to be in the pipeline, and recently completed IPOs that could soar in the months to come.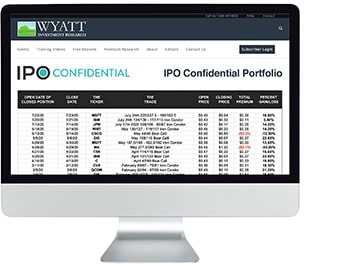 Three model portfolios will give you 3 distinct profit opportunities. And you can use these in quick succession to pull in gains from dozens of upcoming and current IPOs.
Each portfolio will target 10+ individual stocks. With a total of 30+ stocks there will be plenty of action. Yet the size of the portfolios will be completely manageable with just 10-minutes of "work" each week.
MEMBERSHIP BENEFIT #4
The Insider's Complete Database of Pre-IPOs
Valued at $1,995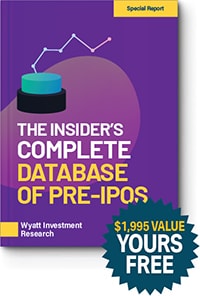 Pre-IPOs fly under the radar for 99% of investors. And just about every financial advisor in the world.
That's why Ian and his team have compiled the comprehensive Insider's Complete Database of Pre-IPOs.
This proprietary tool includes details on over 106 upcoming IPOs that Ian has targeted. And each of these is a potential Pre-IPO trade for the model portfolios.
Accessing the database will give you a leg up on 99% of investors. And it'll let you access hedge fund quality data – completely included in your membership.
MEMBERSHIP BENEFIT #5
IPO Confidential Members Dashboard
Absolutely Priceless
To stay organized, you'll get complete 24/7 access to the IPO Confidential members-only web site.
The web site will give you immediate access to everything. You'll be able to read the past issues of the newsletter, download the PDF special reports, review the trade alerts, and monitor the model portfolios.
Everything will be accessible on-demand and at your fingertips. Of course, you can always call the V.I.P. Concierge team at 1-888-875-1960 if you ever have questions or need help.

Your Satisfaction Is
100% Guaranteed
You're ready to access everything ASAP!
Plus, your satisfaction and success are 100% guaranteed in two crucial ways: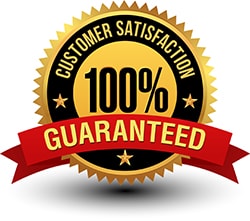 First, your satisfaction is guaranteed. If you're not 100% satisfied at any time, you can contact Wyatt Investment Research. They will cancel your membership and provide a credit toward any other research or trade alert service that's available.
With everything to gain – and nothing to lose – now is the time to get started with your…

Special Member Discount
IPO Confidential is now open for the very first time. And that's why Ian is offering this very special 1-time Member Discount.
Right now, you can access everything and lock-in a year of membership for just $1,495.
This is a huge discount from the $10,162 in annual membership benefits.
However, please understand that access must be limited.
First, this special offer is ONLY available to the first 100 people who respond. So, every spot could be claimed in the next couple hours.
Second, there will not be any extensions, exceptions or second chances.
You're now ready to enroll in IPO Confidential and claim shares in the next Pre-IPO today! And the next step requires you to either…

Complete the Secure Order Form Below
- OR -
Call: 888-875-1960