Congratulations! You're just 1-step away from a lifetime of true financial freedom and independence.
Because the Passive Income Blueprint could be your ONE THING…
That turns your dreams into a reality. Perhaps you…
Simply need to earn an extra $500 or $1,000 in monthly cash flow to help with the bills…

Must boost your earnings to $3,000 or $5,000 per month to secure your retirement…

Dream of pulling in at least six-figures in safe and steady income – WITHOUT ever having to work again.
The good news is that the Passive Income Blueprint IS the solution for taking YOUR cash-flow to the next level.
Act now and start earning…
$3,740… $5,720… and even $8,880 with Shadow Funds
18.7%... 20%... and even 22.3% income with Off Wall Street Cash Cows
$3,360 … $4,100 and even $4,500 with 1-day Supercharged Payouts
How much could you expect to earn?
Supercharged Payouts alone could easily pay out $19,815 in instant income per year. And that's just ONE of our favorite passive income strategies!
Plus, you'll get my top NEW passive income trade ideas every week!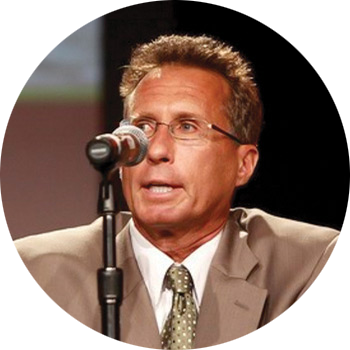 Hi. My name is Stephen Mauzy.
For the last 30 years I've been helping regular investors multiply their income with SAFE and STEADY income strategies that work – even when the stock market crashes.
You may have seen me on CNBC or read my research in Barron's Magazine. And professional asset managers have enjoyed my top ideas as a member of the CFA Institute.
Yet the most rewarding part is getting emails from my clients such as…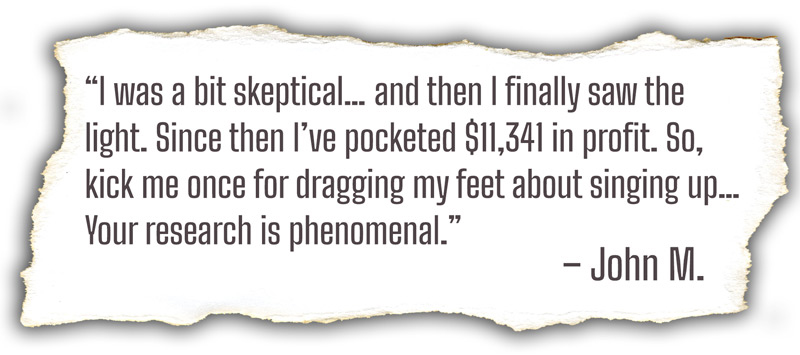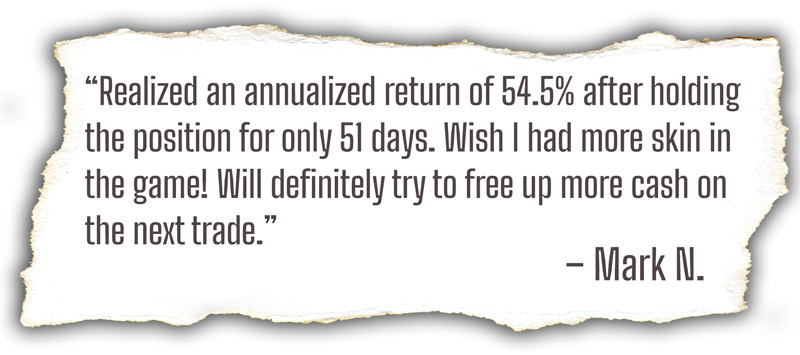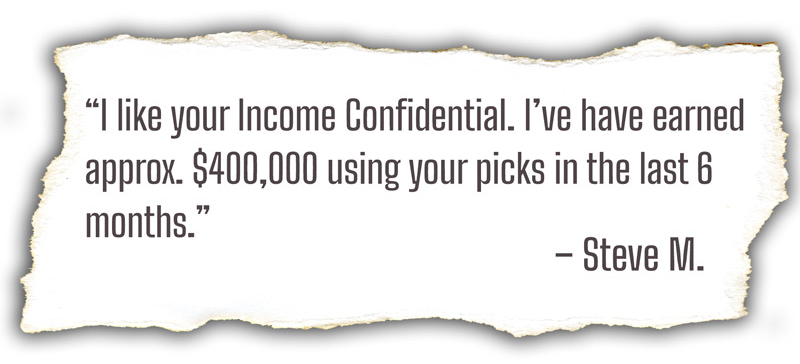 Today I'm going to share these very same and exclusive income generating trades with YOU. And it's critical that you act now because…
One of my very favorite passive income trades ENDS on November 30 at 4pm Eastern Time.
There's a NASDAQ enforced deadline. And that means there can NOT be any extensions or exceptions.
Simply complete the form at the bottom of this page ASAP.
Once you've confirmed your details – you'll get instant access to…
The Passive Income Blueprint:
The Fastest Way to 10X Your Cash Flow
10X your cash flow…
That's a 1,000% increase in your passive income. Which means…
$100 in monthly income grows to $1,000

$500 in monthly income grows to $5,000

$1,000 in monthly income grows to $10,000

$2,500 in monthly income grows to $25,000
Now, this probably seems like a big promise.
That's why I want to give you 100% FREE access to this very special quick start package.
I'll give you EVERYTHING you need to get started – including step-by-step instructions.
Here's what I'm going to give you today.


SPECIAL REPORT #1
The Passive Income Blueprint
[Valued at $297]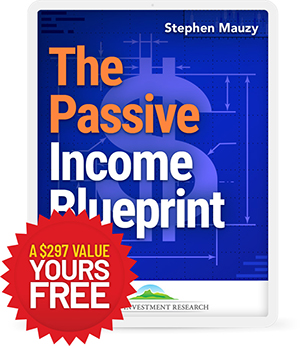 This special report reveals urgent details on exactly HOW to build wealth with passive income. And it's the perfect next step – after watching the webinar.
Inside you'll discover details on the 4-phases of passive income. Plus, I'll share additional details on how to use the passive income flywheel to multiply your wealth.
You'll want to read this report ASAP. It'll set the stage for building out your 7 streams of passive income during the coming months.
SPECIAL REPORT #2
The Secret to 88% Passive Income with
Shadow Funds
[Valued at $397]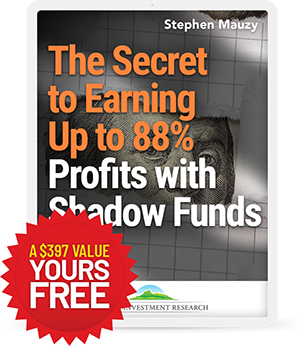 Shadow Funds are one of the most overlooked income trades. You can BUY these in a regular brokerage account – with NO MINIMUM investment. Plus, there are no special requirements or applications required.
My research just spotted Shadow Funds yielding 21%... 29%... 34%... 35% and even 67%!
Frankly, I've never found a regular stock, ETF or mutual fund that can come close to these types of high yields.
These funds are huge cash cows – typically paying out income every month. Plus, they offer sizable upside from capital gains.
During the last market crash – these Shadow Funds delivered huge gains. In fact, I was able to earn quick profits of 48%... 57%... and even 88% - even when the market was plunging!
Grab this report to discover WHAT Shadow Funds are… And why you may want to replace your stocks, bonds and ETFs with these cash-flowing funds.
SPECIAL REPORT #3
Collect Supercharged Payouts for Up To $4,501
[Valued at $397]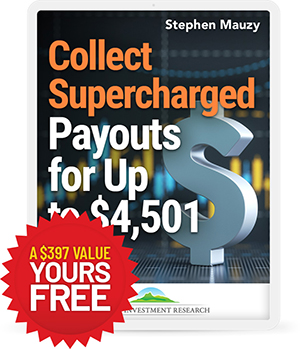 Inside this special report you'll discover WHY American companies could pay $2.5 trillion to regular investors. Plus, HOW changes to the tax code are pressuring them to issue these huge checks before December 31.
That's just the start. Because you'll also understand how to find these payouts… which checks to collect… and how frequently you can expect to be paid.
These IRS-approved payments are becoming very popular. And starting now they let you maximize your income in the coming year.
You could expect to receive $1,170 every 20 days.
SPECIAL REPORT #4
Collect 6.9% from Uncle Sam
[Valued at $397]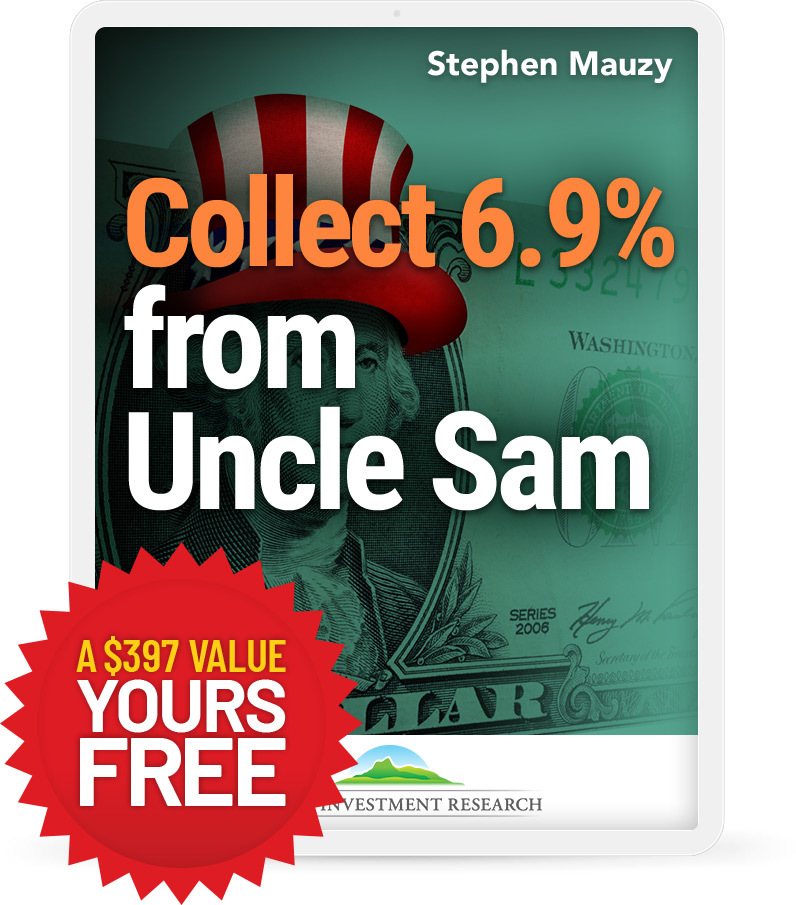 The U.S. government is quietly offering something that I call a CPI Savings Account.
This is NOT your typical CD or U.S. government bond. In fact, your local bank or online brokerage account will NOT allow you to invest.
The CPI Savings Account is designed to help you stay ahead of inflation. That's why it's yielded as much as 9.6% - the highest level ever seen.
Act now and you can lock-in this ultra-high yield. Plus, your account is 100% guaranteed and backed up by the U.S. federal government. READ THIS REPORT ASAP – it gives you step-by-step instructions.
SPECIAL REPORT #5
Top 5 Shadow Funds to BUY NOW
[Valued at $497]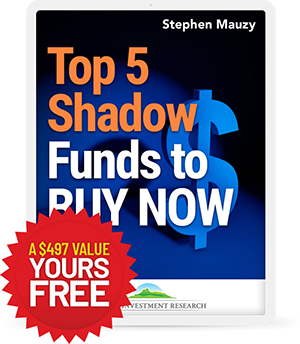 You've already seen how Shadow Funds can deliver HUGE income – plus capital gains.
Inside this just-released report you'll get my Top 5 Shadow Funds to Buy Now.
They're currently paying out at least 10% yields – paid out every single month. Plus, my estimates suggest that you could easily see another 20%... 30%... or even 40% in capital gains.
You can buy these Shadow Funds through any regular brokerage account. And my report provides urgent and specific details.
SPECIAL REPORT #6
Collect 22.3% Income WITHOUT Buying a Property
[Valued at $497]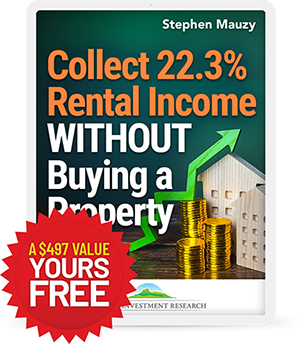 Real estate is one of the best wealth building strategies. However, most folks simply own their home. And that means they're missing out on passive income from real estate.
Today you can start collecting huge yields from real estate across the country. This FREE report reveals how to collect:
15.4% cash flow from a senior housing development
20.2% cash flow from an apartment complex in Houston
21.5% cash flow from a Miami apartment building
22.3% cash flow from an industrial park in Utah
These off-Wall Street deals…
Typically pay out 3X… 4X… or even 5X more income than your typical Real Estate Investment Trust (REIT). Plus, they offer huge upside from capital gains.
Fast Action Bonus #1!
Signed Copy of My New Book
Unlimited Income: Replace Your Salary and Thrive in Retirement
[Valued at $20]
I'm going to rush you a personalized and signed copy of my NEW book…
Unlimited Income: Secure Your Retirement and Thrive in Retirement
This book reveals over 37 single tips, tricks and strategies for growing your income by over 10X. And I'm going to rush you a copy – it'll be in your mailbox in the coming days.
Fast Action Bonus #2!
Supercharged Payout Calendar for 2023:
Schedule 18 Quick Payments
[Valued at $497]
Throw your calendar in the trash!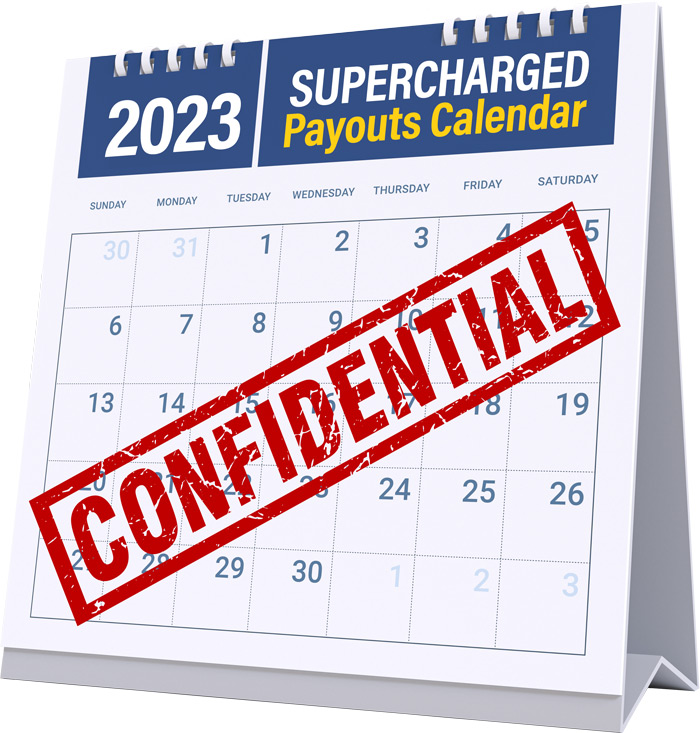 Because once you've got this "Payout Calendar for 2023" hanging on your wall…
You'll quickly be on track to collecting up to 18 quick cash payments.
Use this calendar to literally line up your future Supercharged Payouts.
It'll keep you on track for potentially collecting up to $21,735 in the next 12 months.
These special Quick Start bonuses are just the start. Because you'll also get…
Extra Black Friday Bonus!
$497 Wyatt Research Coupon
[Valued at $497]
Accept this invitation and you'll instantly get…
A FREE coupon for $497.
You can use this coupon to lock-in huge savings on any other research or trade alert service from Wyatt Investment Research. Currently we offer over 10 premium investment services. And your coupon lets you SAVE $497 on any additional service before December 31.
These extra Income for Life Bonuses will set you up for earning a lifetime of huge passive income. And they're a FREE bonus gift when you accept my invitation to Income Confidential.
Your Exclusive Lifetime Membership to
Income Confidential
Your membership gives you EVERYTHING you need grow your cash by 10X for the rest of your life. And this includes:
Weekly Newsletter Issue: Get every weekly issue of Income Confidential to discover the timeliest passive income opportunities. These urgent issues will give you the latest actionable ideas. Each issue reveals everything – explaining why and how to collect each payment. ($2,995 Value).

Live Passive Income Portfolio: Use this online tool to TRACK every single passive income trade and opportunity. You'll always know exactly when you need to enroll and when you can expect to get paid.
It'll assure that you never miss a single payment ($995 Value).

Live Private Client Briefings: Every month you'll join me for an exclusive passive income webinar. My goal is to help you confidently collect huge payments every month. And we'll work together in this small group training with less than 50 income-focused clients ($1,200 Value).

Urgent Trade Alerts: You'll get an instant trade alert every time I spot a passive income trade. And I'll send these to your email and via text message (SMS).

These alerts include step-by-step instructions that you can literally "copy and paste." Or simply read them on the phone to your broker or financial advisor.

These alerts will bring your attention to 1-day payouts of $1,450, $2,530, $3,060, and even $4,120! And these payments are possible with a $10k investment per trade.

That's why these alerts are a $995 value. And they're 100% included with your membership.

Lifetime Access: Claim your Premium Membership today and you'll instantly get lifetime access to Income Confidential. Your membership is 100% transferable to your spouse, partner, or a child.

That's right! Lock-in your huge discount today – and you'll get a lifetime of access to my very best passive income ideas. This will keep you earning huge income. You will remain a member forever.
These benefits are designed to help you get results – just like Madeline Wood from Florida…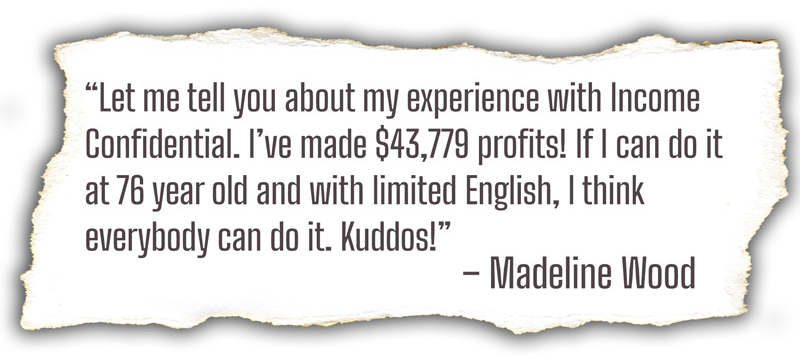 Yet right now, you can claim a very special limited time offer:
Exclusive Lifetime Membership Offer
Claim Your Huge 97% Discount
EXPIRES NOVEMBER 25 @ 11:59PM
Now, I've got to level with you…
The total value of the membership benefits is $2,995 – for just 1-year of access to the very best passive income opportunities.
That means over a 10-year period – the total value could exceed $29,950.
To celebrate Thanksgiving and Black Friday…
I'm offering a huge 97% discount.
That means you can secure a LIFETIME MEMBERSHIP for just $997.
That works out to just $97 per year – over the next decade.
This offer will disappear on Black Friday at 11:59pm.
Plus, this lifetime membership offer is ONLY available to the first 50 people who say YES by completing the form below.
It's likely that this will disappear BEFORE the deadline.
This huge discount has never been seen before. It will never be seen again.
Plus, You Can Join Me – 100% Risk Free
That's right.
I know that there's lots of B.S. out there on the Internet. And you may be a bit skeptical.
That's why I'm backing this up with my ironclad Guarantee.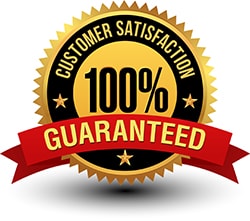 First, your satisfaction is guaranteed. If you're not 100% satisfied at any time, you can contact Wyatt Investment Research. You can cancel your membership and receive a credit toward any other research or trade alert service that's available.
Second, your performance is guaranteed. You can contact Wyatt Investment Research if you don't 10X your income in the next year using this research. If your results come up short, you can request that your membership gets extended by an extra 1-year – no questions asked.
With everything to gain – and nothing to lose – now is the time to get started.
Collect Your Next
Passive Income Payout This Month!
That's why it's crucial that you enroll today. And get immediate instructions on the next major payout.
This LIFETIME MEMBERSHIP is only available to JUST 50 new clients.
So, please complete the form below ASAP to secure your spot.
You'll get instant access to the next passive income alert. And we therefore can't allow any refunds on this membership.
It wouldn't be fair to our existing clients. Or other folks who are seriously considering this special offer.
Please respond ASAP if you're serious about growing your income by 1,000% in the next year.
*** Only 50 Spots Available ***

Complete the Secure Order Form Below
- OR -
Call 888-875-1960