How You Could Collect Your First $550 Monthly Check from Dividend Avenue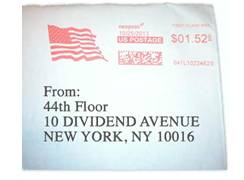 In the brief report below: Discover how to tap into this income stream and youn could receive big payouts every 30 days…
Get all the details – before the next round of checks are mailed out!
Fellow Investor,
Away from the noise and lights of Times Square and hectic pace of Wall Street is a quiet street lined with tulips.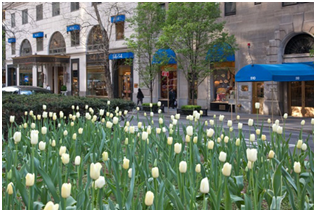 Yes, tulips in the middle of grimy Gotham.
It's a place where the oldest and richest families in America… the Rockefellers, Carnegies, Vanderbilts, and Astors… call home.
Here, the door is always held open for you. And rooftop pools and gardens are as common as coffee tables.
Bentleys pull curbside to let their passengers off at the Yale Club, the Prada store, and Sak's…

The unique companies on this one Manhattan street have "yields routinely above 8%"
– Barron's
It's an oasis of wealth.
Forbes magazine calls it "the most expensive street in the world."
It's a place so exclusive, if you don't have the right last name or checking account size, you're not allowed in.
Except, recently, I found a way in… a way to tap into the investment secrets of the extremely rich living here.
You see, the Old Money families living here have given a small braintrust… a team of 90 Wharton, Harvard, and Columbia grads… billions of their wealth to manage.
Why would the richest people in the world hand over their fortunes – a total of over $60 billion – to a small, no-name firm?
Simple.
This elite group has developed a way to deliver safe and steady payouts… a 12% yield…WITHOUT buying junk bonds, trading options or doing anything risky.
That's why I call this place "Dividend Avenue."
Because it's home to the LARGEST, and not to mention EASIEST, income available in the market today.
No wonder the "smart money" is rushing to get in on the action…
Look how much cash the most prestigious hedge funds and banks on Wall Street receive from this little-known firm on Dividend Avenue, simply by parking their money with them and collecting dividends:
BlackRock earns over $1.2 million a month in cash payouts –over $15 million a year from this firm…
State Street gets paid $6 million in dividends annually…
UBS collects $9,414.78 per day…
Morgan Stanley hauls in $2.5 million…
and Vanguard earns over $4 million.
Now, a low-risk 12% yield in these days of zero percent interest rates and sinking bonds is truly incredible…
(Especially since the average yield of a stock in the S&P 500 is only 1.9%.)
That's why Wall Street and the country's richest citizens would prefer to keep this income stream a secret.
But, sadly, there's nothing they can do about it.
You see, this exclusive firm is OPEN to the public!
All you have to know is how to contact them (I've provided instructions ahead)… and you're in! – and off collecting big monthly checks (a 12% annual yield on your money!)
There's no minimum investment…
no pre-qualifications…
and no conditions.
In fact, investors like you… some of our loyal readers… are already cashing in on this 12% firm on Dividend Ave:
"[this investment] has done very well for me. I have accumulated $2,310 in dividends."*
- Jeff C.

"I have over $750 in capital gains and just over $1,000 in dividends. That amounts to $1,800 profit on a $6,500 total investment."*
- Bernie S.

"In 2012, I received $1,366 in dividends and anticipate to receive $1,500 in dividends this year."*
- Victor N.
Now, none of these investors come from money or have immense wealth.
They're hardworking individual investors managing their own money…
Yet, they're able to invest alongside hedge fund giant BlackRock and the Rockefellers… and earn big payouts (extra income)… using just a fraction of their savings.
It's all thanks to an obscure government law, which I'll explain just ahead…
But first, let me tell you how you can join these investors and collect this income right away:

Your First Check of
up to $550*
When you invest with this firm you don't have to wait 3 months to receive your dividend check.
You can start collecting this income right away!
This firm distributes big cash dividends and mails out checks EVERY MONTH.
Some investors could earn up to an extra $550 a month.
That's enough income to pay off the mortgage on a vacation home or cover all your credit card bills.
And the best part is…
This firm has NEVER decreased these payouts!
Not during the financial meltdown of 2008, the Great Recession, or any of the recent market sell-offs.
So you can depend on this firm to deliver its 12% yield… even more so than some blue chips or Dow components.
Which is important, because as the chart below shows, this unique firm… and its expanding cash flows and huge dividends can have a dramatic and lasting impact on your personal wealth:

Triple Your Dividends on Dividend Avenue!
| | | |
| --- | --- | --- |
| Investment | Yield | Annual Income on a $15,000 Investment |
| 12% Dividend Avenue | 12.0% | $1,800 |
| ExxonMobil | 2.88% | $434 |
| Procter & Gamble | 3.07% | $459 |
| Microsoft | 3.21% | $481 |
| Intel | 3.84% | $588 |
| JP Morgan Chase | 2.80% | $432 |
Now, if you're interested in collecting these dividends, I'd like to explain in a little more detail how this firm operates and why its payouts are so large.
And tell you how you can sign up to start receiving your dividend checks right away.

A Little-known Law Signed on
June 12, 1980 Creates Today's
Income Opportunity
Back then, America… the world… was reeling from economic turmoil of the 1970s.
The market… the economy… the future… looked bleak.
Inflation was 13.5%. Unemployment reached its highest level in history (since we began tracking it). And banks and businesses were folding every day.
That's when the government struck a bargain with America's wealthiest citizens…
You see, no one was investing back then… people were hoarding cash and companies weren't growing (or hiring).
So, the IRS created a special tax-free deal for billionaires.
If the super wealthy opened up their wallets and invested in U.S. businesses, they could enjoy their profits without paying any taxes.
(A truly amazing deal for the heavily taxed 1%.)
The goal was simple: Jumpstart the economy by getting America's businesses what they really needed: fast, unobstructed capital to expand and grow.
The upside for the nation's wealthy was an easy, low-tax return on their money.
But there was major catch…
And this is where investors like you come in…
To take advantage of this opportunity, billionaires would have to pool their money in special type of investment firm… exactly like the one based on Dividend Avenue…
These firms would be regulated by the SEC and also be open to the public.
So every investor, no matter their net worth could also profit by buying shares on a public exchange.
That way, individual shareholders get the same deal as billionaires.
The result: these firms pay no corporate taxes as long as they pay out 90% of profits to their shareholders in the form of dividend checks.
But by now, maybe you're wondering, how exactly does this firm make all this money to be able to pay out such large dividends?
Well, here's how its business works:
Fat Checks From an Old
Fashioned Straightforward
Cash-Cranking Business
As I mentioned earlier, the goal of this firm is to invest in burgeoning American companies.
The kind of company that already has a foothold… one with real products… and one with existing customer bases, factories, and talented employees… but needs capital to expand and grow.
Except there's a major difference…
This firm is nothing like venture capital or private equity or anything like that.
This firm on Dividend Avenue gives businesses straight up capital… it purely lends it out.
They don't sit on the board, or have activism agendas, or attempt hostile leveraged buyouts.
This firm provides capital to the best and fastest-growing American businesses so they can quickly expand (at a tidy profit of course!).
I think you'll agree this is an investment you can get behind!
Because this firm makes money creating jobs here in the U.S... by helping to grow businesses, increase productivity, and contribute to our economy.
And right now it's providing funding to 126 companies across 9 different industries including: adhesives, chemicals, food distribution, energy, transportation, and machinery – uncomplicated, money-making enterprises.
I realize this unique firm almost sounds like a bank. And that might be true if this were the 1950s.
Back then, banks were institutions that borrowed money at one rate, and then lent at a higher rate – earning profits on the spread between those rates.
(These days, banks aggressively spread out their money to make a quick buck... taking on tremendous risk just to make a few extra bucks.)
That was their only means of revenue. So it put extra emphasis on insuring their loans wouldn't default.
Which is exactly how this firm on Dividend Ave. operates… in fact, and this is something that should help you rest easy at night… it has to!
This firm can't gamble – and has ZERO RISK to rising interest rates!
That same law that lets ordinary Americans invest in what was previously a billionaires-only firm, also states that this firm's assets must be twice as high as its debt...
That means it must always have enough capital to cover its investments and loans (it can't take big risks).
And since it can't be over-leveraged, it has to make money the old fashioned way... with sound lending and investments that pay off.
The best part is, all of its loans are floating… meaning this firm has locked in its spread.
It makes the same interest on its loans whether the Fed increases interest rates or lowers them.
When you look at it... this firm on Dividend Avenue is specifically designed to reward you, the individual investor with safe and steady payouts...
And you don't have to wait to start cashing in…
The next round of dividend checks are scheduled to be paid out in the next 30 days...
But in order to collect – you must be invest by the ex-dividend date:
June 12, 2015.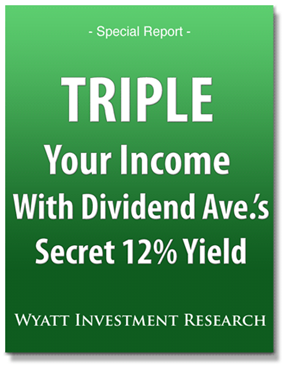 That's why I'd like to give you our latest research report – Triple Your Income with Dividend Ave.'s Secret 12% Yield.
In it, we provide every detail to start collecting this income right away.
Including a full in-depth analysis of all its revenue streams and exactly how this firm is funding its 12% yield… and why it's poised to continue to pay huge dividends in the future.
And when you request this report today, you'll be able to access it – INSTANTLY – so you can read over all details right away.
But I must tell you that it's simply not enough for me to send you this special report and wish you well...
I want to make sure you get ongoing analysis concerning this special 12% firm on Dividend Avenue...
So you always know exactly when your dividend checks are arriving!
That's why when you claim your special report, Triple Your Income with Dividend Ave.'s Secret 12% Yield, right now...
I will also give you a full 12 months of email alerts and access to our exclusive income investment service, High Yield Wealth.
But before I send you your report…
Please allow me a quick introduction.
My name is Ian Wyatt. I publish a unique investment advisory service called High Yield Wealth.
In 2011, I decided I had enough of this "low income" era of near zero interest rates.
Investors looking to grow their nest egg or generate income in retirement were robbed of historically safe investment vehicles.
Treasuries, CDs, and bonds were, and still are, yielding next to nothing.
That's why I launched High Yield Wealth...
To help investors like you secure a reliable and steady stream of income by investing in the world's very best high dividend-paying investments.
Stable investments including...

An oil, gas, and refining operation raking in tremendous profits and rewarding shareholders with 9.9% dividends.


An agricultural manufacturer that produces must-have fertilizers and pays a generous 8.9% dividend.


A land baron that's swimming in cash and snapping real estate on the cheap and yielding a whopping 7.9%.

My team and I find high yield investments like these by spending countless hours researching stocks, funds, and MLPs...
searching for only the most reliable and safest income opportunities for our loyal High Yield Wealth readers…
Opportunities like the chance to collect steady monthly payouts from the special 12% firm I wrote to tell you about today...
How You Could Start Receiving
Your 12% Dividend Checks –
on June 12, 2015
To get everything you need to know for collecting these huge dividend checks with our special report, Triple Your Income with Dividend Ave.'s Secret 12% Yield...
AND – get you on your way to earning even more income with High Yield Wealth...
I've made it easier than ever for you to get started...
Right now, when you reply only through this web page, you'll get these two wealth-building resources for ONLY $49 – 50% OFF our normal rate.
That's a detailed analysis of this unique firm on Dividend Avenue, the full details on how you can receive your first check of up to $550 later this month...
AND A FULL YEAR of ongoing communication and investment research, including new, official stock recommendations and email alerts... all for one LOW price.
Now I realize that with the June 12th deadline approaching fast...
this kind of time constraint could lead to a hasty decision or, worse, a missed opportunity.
That's why I'd like to direct your attention to our new subscriber policy that guarantees this is a win-win for you and makes the report FREE if you choose.
You're special money-back guarantee!
If at any point during the next 3 months you find that High Yield Wealth isn't for you, you can simply call my customer service manager to cancel: no hassles, no run-around, no hard feelings – just a prompt and courteous 100% refund.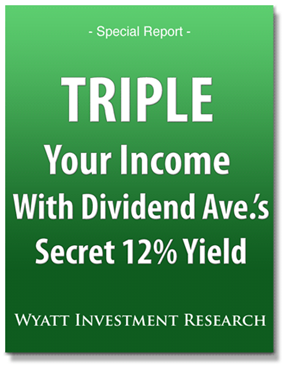 And your special report, Triple Your Income with Dividend Ave.'s Secret 12% Yield is yours to keep with my compliments.
Of course, this kind of guarantee makes it possible to get everything we have to offer and pay nothing...
That's okay. Because that's just how confident I am in what we have to offer you!
Now, let's review everything you'll receive when you start today…
When you request your report, Triple Your Income with Dividend Ave.'s Secret 12% Yield... you'll instantly get access to my income service High Yield Wealth…
Where you'll be able to log in to our subscribers-only website and view all our open positions and read over every past issue and piece of dividend research.
Each High Yield Wealth issue reveals a new income investment opportunity – handpicked and thoroughly researched by myself and my team of analysts – that's poised to deliver reliable and high dividend payouts over the long-term.
You also get the full rationale behind every high-yielding recommendation... including any potential risks... so you'll have everything you need to make your own sound investment decisions.
Along the way, you'll also receive updates and alerts on current portfolio holdings, so you always have our latest research and know exactly where we stand.
Here's everything you'll get when you decide to you try High Yield Wealth today:

12 monthly issues filled with in-depth research on new dividend investment recommendations including price targets and detailed projections on how much money you can expect to make.


Portfolio updates sent on the third Monday of every month containing the latest news on recommendations and a full portfolio review.


Timely buy and sell alerts delivered directly to your inbox, so you don't miss any moves or income opportunities.


New and frequent special reports on some of the best dividend investments available today as well as strategies for maximizing your profits.


LIVE customer service during regular business hours and 24/7 access to the subscribers-only website.


100% money back guarantee – If you're not completely satisfied – if you don't completely agree that High Yield Wealth is the best income service for you – simply request a refund during your 90-day trial, and you'll receive all of your money back, guaranteed!

PLUS! – You'll instantly get your special report Triple Your Income with Dividend Ave.'s Secret 12% Yield.
So you can get all the details of this incredible opportunity... and start collecting your dividends on June 12th and every 30 days after that!
AND – When you respond right now and only through this web page, you'll receive 3 BONUS reports, (a $90 value) FREE!
In addition to all the benefits above, you'll also receive:
BONUS REPORT #1: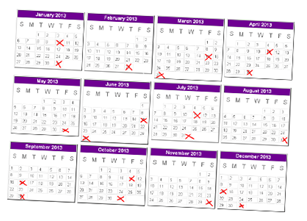 The Monthly Dividend Calendar 2015 –
(a $29.95 value) YOURS FREE!
Grab $5,670 in dividends with the dividend calendar! If you're looking for monthly income that's reliable, steady and simple to collect, this calendar is exactly what you need. In it, you'll see when the payments are scheduled to come, which companies are sending out payments and how often each month you'll get paid.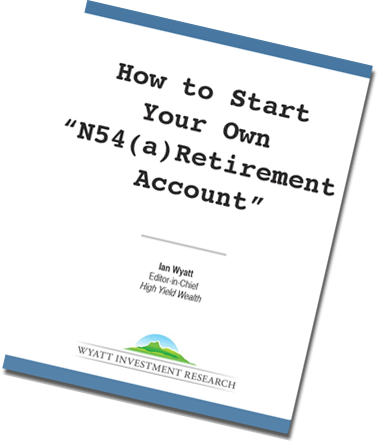 BONUS REPORT #2:
How to Start Your Own "N54(a) Retirement Account" – (a $29.95 value) YOURS FREE!
A little-known government loophole could allow you to collect up to 5 times more income than a 401(k) account – and could pay you $5,000 to $25,000 in extra income every year. Inside, you'll discover the simple steps to take to start collecting extra income for retirement.
BONUS REPORT #3: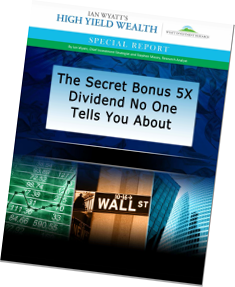 The Secret Bonus 5X Dividend No One Tells You About – (a $29.95 value) YOURS FREE!
This report will reveal exclusive details on this oil drilling company, as well as thorough research on what is happening in Brazil's sizzling offshore oil industry. Strong cash flow, low debt, and concentrated insider ownership all point to a company you can keep counting on for special bonus dividends.
Add it up and you're getting 4 reports designed to help you start collecting income right away!
And they're YOURS FREE!... simply for taking a risk-free trial to my High Yield Wealth service – for much less than what it would cost to take you and your family out to the movies.
Frankly, I've never published a research service before that was so universally appropriate for any investor, no matter what age or what level of net-worth... until High Yield Wealth...
I urge you to click the link below... read over your special report Triple Your Income with Dividend Ave.'s Secret 12% Yield… so you can start collecting big, fat payouts now... every 30 days after that!
Click here to start now and collect your
first big check June 12th!
Good Investing,

Ian Wyatt
Chief Investment Strategist
High Yield Wealth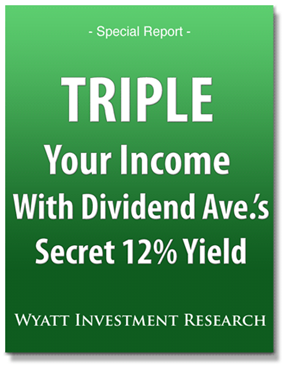 P.S. I'm making this report, Triple Your Income with Dividend Ave.'s Secret 12% Yield, available to you now – RISK-FREE – for a limited time only. As I said, if you decide High Yield Wealth and this report is not right for you... you can immediately cancel (and at any time your first 3 months) and receive a full refund – and your special report and all BONUS reports are yours to keep with my compliments. So you really have nothing to lose and everything to gain!