While the rest of the country is getting gouged by federal, state, and local taxes... a handful of everyday Americans are using a little-known rebate program to completely pay off their real estate taxes.
This program is available to ALL U.S. citizens… regardless of income or employment status…
Anyone can collect a share of the more than $171 million that could be paid out in Real Estate Tax Rebates this year.
The best part: These refund checks are mandated by the U.S. Government... meaning you could start to collect now!
In fact, you could be eligible to start join investors who collected payments of up to $6,175.50 last year!
Fellow Investor,
If you're like most Americans, you had to fork over at least $2,000 in real estate taxes last year… that's the average rate.
I currently pay about $6,000.
And every time real estate taxes rise… it makes my blood boil!
Because it penalizes not just me… but the people I care about most… members of my family who are retired and living on a fixed income.
That's when I started searching for a way to fight back against rising real estate taxes.
And what I found was even more exciting and profitable than I could have imagined.
To start, I learned that a handful of everyday Americans are regularly collecting thousands of dollars in Real Estate Tax Rebate checks every year:
Like Henry Woodall, 50, he receives a government-mandated rebate of $2,884.50 every 12 months.


Or Daniel Schreiber, 70, he's no longer working full-time and collects a big fat refund of $4,050– year in and year out.


Or pastor John L. White, 69, he receives a whopping rebate check of $6,175.50 every year.
And even more surprising…
I found that some people are bringing in so much extra income from this Real Estate Tax Rebate Program…
that they actually have enough money left over to cover all their mortgage payments for year...
buy a second home... a slopeside chalet in Colorado!
Or fund their dream retirements in Aruba.
Like, Sarah Kolowski, who last year, received more than $11,550 in rebate checks.
Or David MacLean who collects giant Real Estate Tax Rebate checks of $24,264.
These are just a few of the proactive Americans who are signed up to get their share of the more than $171 million that could be paid out through this exclusive Real Estate Tax Rebate Program.
It's generated so much income for people, I've heard this special program referred to as a "retirement plan" in and of itself.
Either way, it's hard to deny the substantial life improvements that the Real Estate Tax Rebate Program is having on everyday Americans.
And I haven't even told you the best part...
Thanks to the unique nature of this program, you're eligible to start collecting your rebate right away…
You see, these rebates don't pay out annually… they pay out as often as every month!
When you enroll today, you could start receiving checks every 30 days…
This is money you can set aside to pay your real estate taxes…
Or spend on whatever you like: pay off your bills… fund a kitchen renovation… or even splurge and use it to buy a new set of golf clubs.
However you decide to use the money… the bottom line is, you don't have to wait to start collecting!
Which is yet another reason I'd like to show you how you can join these folks and...
Now before I go on, you should know that this isn't some long-winded pitch to convince you to fill out reams of paperwork at city hall…
or invest in real estate plays like Toll Brothers or the Home Depot – those can be good investments – but this is something completely different.
You can enroll online this program today...online...in as little as 3 minutes.
And you're eligible to receive these Real Estate Tax Rebate Checks regardless of how big or small your salary is…
whether you are retired or working…
and no matter what the size of your portfolio is…
Truth is, ALL Americans are eligible to receive these rebates.
Plus, this program is backed by the U.S. government, which makes sure that each and every rebate check is paid out in FULL.
And in times likes these… when interest rates are rock bottom, income is hard to come by, and real estate taxes are continuing to go up… it's easy to see why Americans need a break more than ever.
Now if you're still interested, I'd like to explain in a little more detail how this Real Estate Tax Rebate Program works…
And tell you how you can sign up to start having checks deposited into your account – on a regular basis.
You won't hear about it from your mortgage broker... your bank… or even your realtor.
Chances are they won't be able to tell you anything about it.
And while it's among the easiest ways to earn extra income to pay off real estate taxes – (or anything else for that matter) – I'd be willing to bet that not one in 1,000 people know this type of program even exists.
It's amazing that it's remained under the radar for so long.
But with real estate taxes sky-rocketing the way they are, I'm not surprised this is finally starting to get the attention it deserves.
Now if the idea of collecting a Real Estate Rebate Check seems far-fetched, or unbelievable... I completely understand how you feel.
I didn't believe it at first either...
But I can tell you with full confidence that this is in fact, a perfectly legal way for you to get paid back for all the money you spend in real estate taxes...
In fact, my readers and I have been collecting these checks for years!
Is it the same as getting a tax refund?
Well, not exactly...
And it's not government charity either.
The good news is that by signing up for these Real Estate Tax Rebates, it's very likely that you'll earn you enough extra cash to pay off your real estate taxes.
What's more, after a few years in the plan, you could be taking in even larger payments... much larger.
After the housing market crashed, Real Estate Tax Rebates have been raised 4 times...even while home prices were sinking after the mortgage bubble burst.
Now you might be surprised to learn that the Real Estate Tax Rebate programs are nothing new.
The truth is, in-the-know Americans have been receiving these ever-increasing payments since the 1960s!
If you feel as though you've been "missing out" – I hate to be the one to break it to you – but you have likely missed out on thousands of dollars in Real Estate Tax Rebate checks.
The good news is, by the time you finish reading this letter, you'll know everything necessary to count yourself among the select few Americans who take advantage of this unique program.
Let me explain...
As you might recall, back in the mid 1950s, housing was booming... they couldn't build homes fast enough!
The problem was there was shortage of capital to build all these homes…
Demand for new homes was far outstripping supply… and as a result home prices were being driven up – unfairly punishing would-be new homeowners.
That's when President Eisenhower stepped in and passed a law that provided an unprecedented opportunity that would allow for massive inflows of private investment capital where it was needed most – to build new homes and neighborhoods for quickly growing American families.
And despite the fact that most people still don't know about this law, it turned out to be one of Eisenhower's most critical moves in office because it made it possible for towns, cities, and suburbs everywhere to rapidly expand… without putting the cost on individual taxpayers.
By 1965, Real Estate Tax Rebate plans were gaining in popularity as expansion continued and home prices – and along with them, taxes, – were spiking to new highs.
But once things leveled off in the 70s, a lot of folks completely forgot about these rebate checks.
That is until Americans saw their real estate taxes get jacked up through every major house boom since… the late 1980s… the mega housing bubble that peaked in 2006… and of course, now.
Home sales are picking up again…
Case-Schiller reports 95% of all real estate markets saw dramatic improvement last year.
And once again real estate taxes are being raised in lock step with rising home values.
(I know my taxes increased last year.)
It's no wonder that Real Estate Tax Rebate programs are once again gaining in popularity.
In fact, more people are cashing in on these programs than ever before!
Now, remember, these figures aren't annual… they're MONTHLY.
This program could send you a check each month!
But by now you must be wondering…
Where is all this money coming from?
And how is this Real Estate Tax Rebate Program funded?
Well, you might be glad to know it's not coming out of the pockets of taxpayers like you and me.
(It's government mandated… but not a government handout.)
It's coming straight out of the coffers of the very businesses that made a fortune off of booming real estate prices – commercial real estate developers.
Let's take a closer look at one of them now...
There's one under-the-radar company that is legally obligated to siphon off the majority of its cash flow and pass it on everyday citizens.
Last year, it distributed over $171 million to just a few thousand check recipients...*
But why are these checks so big?
Well, it's because this company makes millions off the most profitable tracts of real estate... commercial land.
And the government requires that the bulk of the profits go right into the Real Estate Tax Rebate program...
Here's how it works...
This company hauls in millions owning, acquiring, and building big commercial real estate developments…
I'm talking office buildings, factories, warehouses, retail stores… massive buildings and pieces of land.
And this is key… because the real estate rental business is more lucrative than ever.
You see, it used to be companies would build their own facilities and own their own real estate.
Sears famously owns all its stores… thousands of locations in nearly every city in America…
Today, the land these stores sit on is worth more money than what the company makes selling clothes and tools!
The simple truth is, land isn't cheap any more.
And since the housing bust… capital and mortgages can be hard to come by.
That's why when companies open new locations… offices, stores, manufacturing facilities… they typically lease buildings or properties.
And they turn to this real estate company to rent them!
This company rakes in millions from companies including Corning, Pennzoil, and Verizon.
(In fact, it owns over 70 giant, cash cranking commercial properties.)
And as I mentioned earlier, this firm is required by law to pay out 90% of the profits from its real estate business into the Real Estate Tax Rebate Program.
That's $171 million… that could be paid out to citizens like you and me – each year.
That's why out of the select few companies funding this government-mandated Real Estate Tax Rebate Program... this one company is safest I know of to help you earn back the money you've had to pay on taxes over the years – AND collect a regular income.
Plus, over the past couple years, it's continued to contribute more and more to the Real Estate Tax Rebate Program – paying out bigger checks every time!
And the next check is scheduled to be paid out in the next 30 days...
But in order to collect – you must be enrolled in the Real Estate Tax Rebate program.
That's why I'd like to send you our latest research report – How to Collect Your Government-Backed Real Estate Tax Rebate Checks – right away.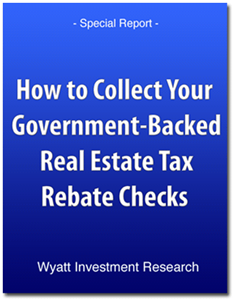 In it, we provide every detail you need to get started now. Including how to enroll and every detail of this company and how it funds its rebate checks – so you know exactly how much you could receive.
And when you request it today, you'll be able to access it – INSTANTLY – so you can read over all details right away.
But I must tell you that it's simply not enough for me to send you this special report and wish you well...
I want to make sure you get ongoing analysis concerning this Real Estate Tax Rebate Program...
So you always know exactly when your checks are arriving!
That's why when you claim your special report, How to Collect Your Government-Backed Real Estate Tax Rebate Checks, right now...
I will also give you a full year of email alerts and access to our exclusive income investment service, High Yield Wealth.
But before I send you your report…
Please allow me a quick introduction.
My name is Ian Wyatt. I publish a unique investment advisory service called
High Yield Wealth
.
In 2011, I decided I had enough of this "low income" era of near zero interest rates.
Investors looking to grow their nest egg or generate income in retirement were robbed of historically safe investment vehicles.
Treasuries, CDs, and bonds were, and still are, yielding next to nothing.
That's why I launched High Yield Wealth...
To help investors like you secure a reliable and steady stream of income by investing in the world's very best high dividend-paying investments.
Stable investments including...
A unique financial firm that's swimming in cash and has a whopping 11.4% yield.


An oil, gas, and refining operation raking in tremendous profits and rewarding shareholders with 9.9% dividends.


An agricultural manufacturer that produces must-have fertilizers and pays a generous 8.9% dividend.
My team and I find high yield investments like these by spending countless hours researching stocks, funds, and MLPs...
searching for only the most reliable and safest income opportunities for our loyal High Yield Wealth readers…
Opportunities like the chance to collect steady monthly payouts from the special Real Estate Tax Rebate Program I wrote to tell you about today...
To get everything you need to know for collecting Real Estate Tax Rebate Checks with our special report, How to Collect Your Government-Backed Real Estate Tax Rebate Checks...
And get you on your way to earning even more income with High Yield Wealth...
I've made it easier than ever for you to get started...
Right now, when you reply only through this web page, you'll get these two wealth-building resources for ONLY $49.
That's detailed instructions on how to enroll in the government-backed Real Estate Tax Rebate Program...
AND A FULL YEAR of ongoing communication and investment research, including new, official stock recommendations and email alerts... all for one LOW price.
That's why I'd like to direct your attention to our corporate policy that guarantees this is a win-win for you and makes the report FREE if you choose .
Your special money-back guarantee!
If at any point during the next 3 months you find that
High Yield Wealth
isn't for you, you can simply call my customer service manager to cancel: no hassles, no run-around, no hard feelings – just a prompt and courteous 100% refund.
And your special report, How to Collect Your Government-Backed Real Estate Tax Rebate Checks is yours to keep with my compliments.

Of course, this kind of guarantee makes it possible to get everything we have to offer and pay nothing...
That's okay. Because that's just how confident I am in what we have to offer you!
Now, let's review everything you'll receive when you start today…
When you request your report, How to Collect Your Government-Backed Real Estate Tax Rebate Checks... you'll instantly get access to my income service High Yield Wealth…
Where you'll be able to login to our subscribers-only website and view all our open positions and read over every past issue and piece of dividend research.
Each High Yield Wealth issue reveals a new income investment opportunity – handpicked and thoroughly researched by myself and my team of analysts – that's poised to deliver reliable and high dividend payouts over the long-term.
You also get the full rationale behind every high-yielding recommendation... including any potential risks... so you'll have everything you need to make your own sound investment decisions.
Along the way, you'll also receive updates and alerts on current portfolio holdings, so you always have our latest research and know exactly where we stand.
Here's everything you'll get when you decide to you try High Yield Wealth today:
12 monthly issues filled with in-depth research on new dividend investment recommendations including price targets and detailed projections on how much money you can expect to make.
Portfolio updates sent on the third Monday of every month containing the latest news on recommendations and a full portfolio review.
Timely buy and sell alerts delivered directly to your inbox, so you don't miss any moves or income opportunities.
New and frequent special reports on some of the best dividend investments available today as well as strategies for maximizing your profits.
LIVE customer service during regular business hours and 24/7 access to the subscribers-only website.
100% money back guarantee – If you're not completely satisfied – if you don't completely agree that High Yield Wealth is the best income service for you – simply request a refund during your 90-day trial, and you'll receive all of your money back, guaranteed!
PLUS! – you'll instantly get your special report How to Collect Your Government-Backed Real Estate Tax Rebate Checks.
So you can get all the details of this incredible opportunity... and start collecting your Real Estate Rebate Checks!
In addition to all the benefits above, you'll also receive:
BONUS REPORT #1: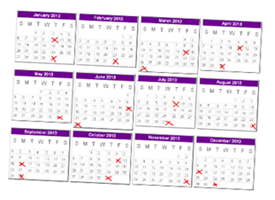 The Monthly Dividend Calendar –
(a $29.95 value) YOURS FREE!
Some investors have collected up to $5,670 in dividends with the monthly dividend calendar!* If you're looking for income that's reliable, steady and simple to collect, this calendar is exactly what you need. In it, you'll see when the payments are scheduled to come, which companies are sending out payments and how often each month you'll get paid.
BONUS REPORT #2:
Top 5 Investments for a Safe 8% Yield*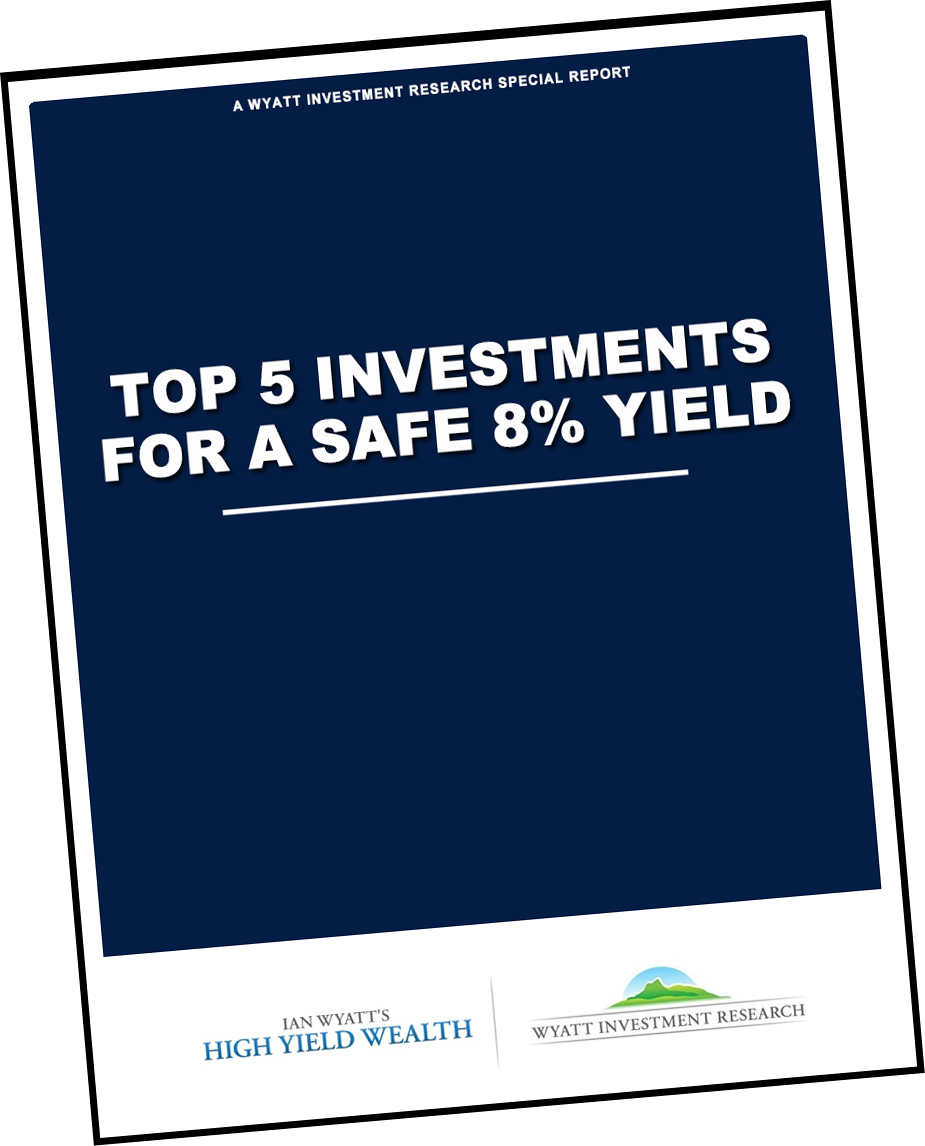 (A $29.95 value) YOURS FREE!
The Federal Reserve's war on savers continues, pushing investors into ever-riskier investments. The good news is you don't have to play the Fed's game. That's because we've found the sweet spot – a small group of safe investments now yielding between 7% and 10%*. For rising income that's truly sustainable, look no further.
BONUS REPORT #3:
2 Cash-Cranking Dividend Growers on Buffett's Island
(A $29.95 value) YOURS FREE!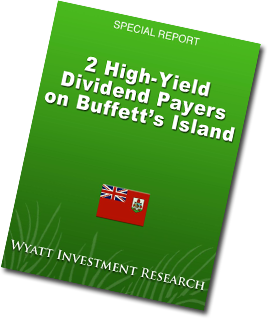 Imagine the ultimate safe haven for investors – no personal or corporate income tax, no capital gains tax…where wealth can be amassed far faster than you ever dreamed possible. This island paradise is no dream. It's real. And it's why Warren Buffett and many other mega-wealthy investors have parked billions of dollars here. The best part: you can join them in just minutes!
Add it up and you're getting 4 reports designed to help you start collecting income right away!
And they're YOURS FREE!... simply for taking a risk-free trial to my High Yield Wealth service – for less than what it would cost to take you and your family out to the movies.
Frankly, I've never published a research service before that was so universally appropriate for any investor, no matter what age or what level of net-worth... until High Yield Wealth...
I urge you to click the link below... read over your special report How to Collect Your Government-Backed Real Estate Tax Rebate Checks… so you can enroll in the program and start collecting big, fat checks... every 30 days!
Click here to start now and collect your first
rebate check!
Good Investing,
Ian Wyatt
Chief Investment Strategist
High Yield Wealth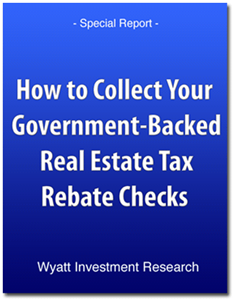 P.S. I'm making this report, How to Collect Your Government-Backed Real Estate Tax Rebate Checks, available to you now – RISK-FREE – for a limited time only. As I said, if you decide High Yield Wealth and this report is not right for you... you can immediately cancel (and at any time your first year) and receive a full refund – and your special report and all BONUS reports are yours to keep with my compliments. So you really have nothing to lose and everything to gain!
Click here to get your report now