"The Latest Retirement Strategy: Become A Landlord"


Fellow Investor,
It's no secret that owning property and collecting monthly rent checks is one of the most lucrative and reliable ways to earn extra income for retirement.
That is, if you don't mind spending your "golden years" fixing leaky faucets...
Collecting security deposits...
And chasing down deadbeat tenants!
Because the truth is, aside from the fat, monthly rent checks, being a landlord is kind of a hassle.
And while we could all use extra income these days - buying up rental properties and becoming a landlord is certainly NOT for everyone.
That's why you might be interested to learn that there's a simple way to collect a "rent check" - every month of the year - without any of the burdens of actually being a landlord...
Just like Archie P., 57, of Indiana, who collected another "rent check" for $1,200 in July... without ever having to think about 3am plumbing catastrophes or security deposits.*


Or take for example, J. Hawks, 52, from Brooklyn NY, who regularly receives "rent checks" of $1,926 - and never worries if tenants will pay rent on time. (He knows they will.)*


And retiree, Carlos T. Hernandez, 68, who collected yet another "rent check" worth $459.63 in March of this year, while never having to shovel a sidewalk or mow a lawn.*
These are just a few of the in-the-know Americans who are funding their retirements and growing their wealth with a unique rental income secret that Reuters recently called:
"...The Easiest Play on the Real Estate Market"

The best part? These folks are collecting extra income on their own terms... without owning property or dealing with the countless pitfalls associated with being a landlord.
And in this letter I'll explain how you can join these smart real estate investors and start receiving regular "rent checks" in your mailbox - beginning next month.
Now a lot people find it hard to believe they can collect a monthly "rent check" without actually being a landlord.
And I can't blame them.
While it's among of the surest ways to collect extra income every month, by my estimates, 99% of people have no idea this type of real estate investment even exits.
But it has nothing to do with options, or tricky accounting, or anything you might consider questionable.
It's simply an overlooked income opportunity that's available to any American - retired or not - and it could pay out thousands of dollars a month in "rent checks"*...
So I think it's worth at least a few minutes of your time.
It could mean the difference between continuing to collect near-zero percent interest on U.S. Treasuries, CDs or savings accounts... and improving your financial situation with a life-changing investment in real estate.
Not only that, but you can get started today for less than $20!
To break it down for you in the most basic terms: I'm talking about becoming a partner with an already -established landlord.
But not just any landlord:
An extremely successful, well-diversified landlord with a Harvard MBA, who has some of the wealthiest and most reliable long-term tenants in the nation.
A landlord whose 72 rental properties across the country (encompassing nearly 10 million square feet,) are currently 98% occupied.
And that's part of the reason this landlord is able to pay out such consistent and oversized "rent checks" to partners.
In fact, long-time partners have now received 93 consecutive monthly "rent checks."
But there's another - even more important reason that partners do so well for themselves...
Thanks to a special agreement with the government, this unique landlord PAYS NO TAXES...
That's right - he pays zero in corporate tax.
But of course there's a catch: In exchange for these tax benefits, he's also required by law to pass along the majority of his monthly profits (over 90%) to partners... like you and me.
When it comes down to it, when you partner with this landlord - you get all of his financial benefits, with none of his problems.
You simply get a generous "rent check" in the mail every month...just like rest of his grateful partners.
That's why our experts refer to it as being a "Paper Landlord."
And they all agree; it's a lot better to collect a rent checks every month as "Paper Landlord" than as physical landlord.
See what I mean?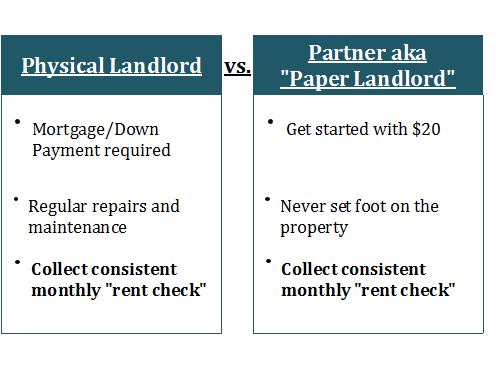 Now it's not hard to understand why being a "Paper Landlord," or partner, is a better way to collect extra income.
As a partner with this landlord, finding tenants and unclogging toilets are none of your concern. That means you just sit back and wait for the "rent checks" to arrive in your mailbox.
And as I mentioned, anyone can become a partner right away... and start collecting a steady income stream derived from this landlord's exceptional portfolio of rental properties... starting next month.
Nowadays, the average landlord is happy if a tenant signs a 1-year lease...
And actually fulfills it.
If the tenant stays longer... Even better.

Just one of this landlord's 72 rental properties and close to 10 million square feet of commercial space.
But the landlord I've been telling you about doesn't waste his valuable time with 1- or 2- or even 3-year leases.
You see, he typically signs his tenants for 10 years or longer.
Which explains how he's able to maintain those 98% occupancy rates I mentioned earlier.
Of course, there aren't many individuals out there who would agree to sign a 10-year lease on a rental house or apartment.
That's why the landlord I've been telling you about doesn't rent to individuals.
In fact, he doesn't deal in residential housing at all.
As you may have guessed, this landlord specializes in commercial and industrial properties.
After all corporate tenants typically have a lot more "rent money," not to mention a far better track record, than the friendly folks responding to an ad for an "Affordable 1-Bedroom Apt in Detroit".
I'm talking about major American corporations like Corning, T-Mobile, Penzoil and Sara Lee and many others business I'm almost certain you're already familiar with.
And you don't need me to tell you that these tenants always pay their rent on time. They're rock-solid from a financial perspective - and certainly aren't going out of business in the foreseeable future.
It goes without saying, that they're far more reliable than just about any residential tenant.
Not to mention this landlord has struck a pretty amazing deal with them.
You see, he's made Corning, T-Mobile, and the other tenants agree to cover 100% of the property tax, insurance, maintenance and repairs on the their rental properties.
If it sounds like an unusual lease, you're right.
But from the landlord-perspective, it's the perfect arrangement. (And believe it or not, his tenants don't seem to mind it one bit.)
And because his properties are so well diversified - he owns commercial, industrial AND medical office spaces spread all across the country - even if one sector, region or property should be hit by hard times, or a long-term tenant should decide to vacate - it only represents a small fraction of portfolio.
Now imagine if you were a residential landlord and you lose your only tenant. All of a sudden you're missing out on 100% of your rental income. Now that's a problem!
I should also mention that this landlord is always acquiring new property and out of his 72 properties, he only has 2 vacant spaces. And if his track record is any indication, I don't suspect they'll remain vacant for long.
In fact, he's just recently purchased another amazing property in Ohio.
What's more, this massive building is already being leased by a well-known children's hospital. And already it's already paying off for both the landlord and his partners.
These are just a few more reasons this landlord has been able to write increasingly generous checks to his partners over the past ten years...
For instance, long-time partner, Hilda Trebert of Gorham, NH opened her mailbox and found yet another monthly "rent check" in the amount of $4,734.*


Or Max B., 57, of Florida, who is already retired, just collected a "rent check" in August worth $404.88. And after talking it over with the landlord, he thinks his next "rent check" could be even bigger.*
And that not only goes for Max, but for ALL of the partners. In a recent conference call, the landlord I've been telling you about stated:
"I think this year might be a good chance for us to raise the [amount of partner rent checks]".
As partners who have worked with this landlord over the past decade already know -- it wouldn't be the first time.
Right now, there are hundreds of other savvy Americans who are now cashing in on this relatively unknown real estate investment secret - and improving their lives - one "rent check" at a time. Keep reading, and you'll find out how you too can...
As I mentioned, this landlord has now paid out 93 consecutive monthly "rent checks" to partners.
That includes all the years before, during or after the Great Recession... when this landlord continued to pay his partners their monthly "rent checks" without any fluctuation or delay.
The point is, there's no doubt in my mind he'll be sending out another round of monthly round of checks to his partners next month... and for years to come.
In fact, if you become a partner very soon you'll be eligible to collect your first "rent check" as soon as next month.
Which is why I want to send you the full investment research report I've just finished on this unique opportunity.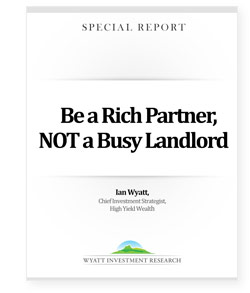 It's called "Be a Rich Partner, NOT a Busy Landlord".
Inside you'll discover the easy steps you can follow which could allow you to collect "rent checks" of $500... $1,000... or even $5,000 a month as a partner with this landlord.*
As you'll see, it's extremely simple to get started - and all you need is an online brokerage account or an investment broker you trust.
And in just a minute, I'll tell you how to get your own copy of the report, "Be a Rich Partner, NOT a Busy Landlord" - and starting collecting "rent checks" - before the opportunity passes you by.
You see, there's no way of knowing just how long this landlord will be accepting new partners. And I wouldn't want you to miss out on this exceptional chance to grow your income - and your wealth - in the coming years.
But before I explain exactly how to go about getting your own copy of "Be a Rich Partner, NOT a Busy Landlord" let me take a moment to introduce myself.
Hi, I'm Ian Wyatt, Founder and President of Wyatt Investment Research.
Over the past decade, my company's ongoing commitment to delivering unparalleled investment research has made us one of the nation's top independent research firms.
I'm proud to say we now serve more than 350,000 readers across the country and around the world.
Every month, our top analysts recommend dozens of profitable opportunities, ranging from blue chips, value investing and options trading, to growth stocks, small caps and commodities.
But of all the opportunities in the market, income investments and dividend paying stocks are far and away the most popular among our readership.
Which is why in early 2011, I started a new service called High Yield Wealth.
It's a unique advisory newsletter dedicated to finding under-the-radar and overlooked income opportunities.
As it turns out, 2011 was the ideal time to start sharing these exclusive income ideas with our readers...
Traditional income investments like U.S. Treasuries, money market accounts and CDs were yielding next to nothing.
I'm sure you know that these investments are yielding even less today: Under 1% in many cases.
The point is, if you want consistent and substantial income - you're not going to get it from traditional income investments...
Which is the very reason that I launched High Yield Wealth: to help readers like you collect extra income from alternative, high quality investments that most Americans are not even aware of.
Part of the reason high yielding investments are so popular among retirement-minded Americans is that they consistently pay out extra income... whether the market is up or down.
And quite simply, there's no better way to collect extra income than with income opportunities like the one I've been telling you about today.
When you decide to take a no-risk trial subscription to High Yield Wealth, every month you'll receive new investment research on the most profitable income producing opportunities in the world.
In each issue you'll find out exactly how and when to buy my favorite high-yield investments with the potential to provide safe, lucrative levels of income for many years.
You'll also get immediate access to all of my special research reports.
In fact, there's another report I want to tell you about.
I call this report, "Top 5 Investments for a Safe 8% Yield"...
The Federal Reserve's war on savers continues, pushing investors into ever-riskier investments.
The good news is you don't have to play the Fed's game. That's because we've found the sweet spot – a small group of safe investments now yielding between 7% and 10%.
For rising income that's truly sustainable, look no further.
And you'll receive this report, as well as "Be a Rich Partner, NOT a Busy Landlord" just as soon as you accept a risk-free trial subscription to High Yield Wealth.
My research team and I have worked diligently to bring all of this research to you, and I believe you'll find that the High Yield Wealth service is one of the most profitable and easy-to-use investment resources you'll ever encounter.
In just a minute, I'll let you know how you could get started today for less than 75 cents a week.
But first, how you can know for sure if High Yield Wealth is right for you?
Here's what you can do to find out for sure...
If you're interested in getting the full details on how to start collecting monthly "rent checks" and the other research we've discussed in this letter, I'd like to give you a risk-free chance to evaluate High Yield Wealth for a full six months.
That way, you can be absolutely certain that it's worth your time and money.
So here's what I propose:
If you'd like to review my High Yield Wealth research, just let me know. I'll then immediately send you all of the research on the opportunities I've mentioned:
Free Special Report: "Be a Rich Partner, NOT a Busy Landlord" (A $29.95 value, yours FREE)
Free Bonus Report: "The Monthly Dividend Calendar " (A $29.95 value, yours FREE)
Online access to dozens of back-issue of High Yield Wealth, featuring the complete details on every investment in our portfolio.
Plus, you'll receive a new issue of High Yield Wealth every month with my personal recommendations for the most profitable income investment. In every issue I'll reveal another unique way to get more income from investments that most people overlook.
Now you might expect to pay at least a few hundred dollars for an advisory service of this scope and quality. In fact, I charge close $1,000 a year for similar investment research services.
But I'll have you know, the regular retail price of one full year of High Yield Wealth is just $99.
I'd like you to have a chance to review my research and boost your income. And I don't want the price to be a factor in your decision.
That's why, for a LIMITED TIME - and only through this special invitation - I'm offering you a full year of High Yield Wealth at the introductory rate of just $49.
That's not a typo. One full year of my income service will cost you only $49. That's about 94 cents a week, or just $4.08 a month.
And as I said: if you're not completely satisfied in the first 3 months of your trial subscription, I'll gladly refund the entire $49, no questions asked. Either way, the research we've discussed today is yours to keep--FREE.
I hope you'll join me.
Click here to start now and collect
your first "rent check"

(You'll have a chance to review everything
you get before you begin.)
Good Investing,
Ian Wyatt
Chief Investment Strategist
High Yield Wealth
P.S. You're still reading... so I am going to assume you're still not 100% convinced that my income advisory service is right for you.
And that's perfectly understandable.
Which is why I'd like to tell you about another benefit of starting your risk-free trial subscription to High Yield Wealth today.
It's one of the most popular aspects of the service - and one I'm confident that any retiree or income investor would benefit from.
It's called the Monthly Dividend Calendar...
In short, this simple calendar includes every detail you'll need to get signed up for some of the best and safest dividends in the stock market... ensuring you'll have a reliable stream of income for today and for years to come.
In fact, once you print your 12-month calendar, you could collect high yield dividends every month from each of the 12 upcoming monthly dividend payments...
No worrying about the day-to-day ups and downs of the stock market: just dividend checks from cash-rich publicly traded companies.
And you'll get instant access to it the moment you accept your risk-free trial to High Yield Wealth.
If you're not completely satisfied with the calendar - or any aspect of my investment research - in the first 3 months, I'll happily return every penny of your $49 subscription fee.
Click Here to Start Your Trial