Dear Reader,
Starting January 13th, a simple calendar like the one pictured below could help you immediately collect income, every month.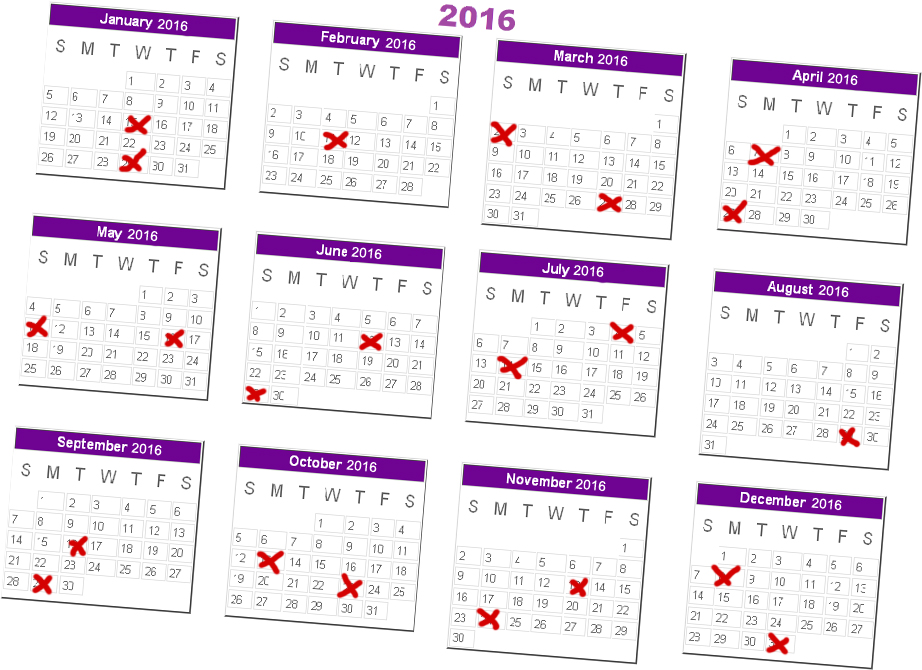 While most folks are scrambling to buy and sell stocks for capital gains - you could be simply cashing dividend checks, regularly - like a paycheck.
In short, this simple calendar includes every detail you'll need to get signed up for some of the best and safest dividends in the stock market to ensure you have a reliable stream of income.
No worrying about the day-to-day ups and downs of the stock market: just dividend checks from cash-rich publicly traded companies.
In this letter, I'll tell you ALL of the information on this calendar - including when EACH payout will come, how much it will be and exactly how you can receive this calendar to make sure you NEVER miss a potential payment.
In order to receive the next payout on February 1st, you must be a shareholder of record by January 13th!
I've marked both of these dates on the Dividend Calendar.
I call this company "The World's Most Reliable Dividend Payer" because there's literally not a more reliable dividend payer in the market.
That's the whole point of this dividend calendar: It's specifically designed to help you collect regular, reliable income for as long as you want.
The other exciting part of the Monthly Dividend Calendar (which you may have guessed by the name) is that it reveals how to collect AT LEAST one dividend payment per month.
But it's also designed to give you two payouts in some months...
It's up to you if you want to re-invest those dividends in more shares (which will increase your payments dramatically in future months) or if you want to make payments on a new car or maybe go on vacation.
The point is: it's steady and reliable - and it comes at least once a month.
How can I know you'll be able to collect this income at least once a month?
Simple.
In order to design the Monthly Dividend Calendar, I needed to find sound investments with a dedication to paying substantial dividends. You might be aware that most companies clearly have no interest in returning capital to shareholders. The fact is - most companies don't pay dividends - and never will.
A 2009 study conducted by DePaul University says that "there is a significant worldwide decline in the propensity to pay dividends."
The same study shows that the number of dividend payers has dropped dramatically in just the past 27 years...
In 1985, 75% of publicly traded companies paid dividends.
Today, that number has flipped completely...
Now, nearly 75% of companies DON'T pay dividends.
And even the ones that do pay dividends can't always do it sustainably.
After all it's not much use to own a company if it just started paying dividends last month or only recently. For instance, Starbucks only started paying dividends in March 2010.
That's not enough of a track record to prove to me that Starbucks is committed to paying dividends every quarter for years to come.
If you want to give yourself a chance to collect income EVERY month, you have to do two things:
1) Find companies with a clear dedication to

ALWAYS

paying dividends,
on time, in ever larger amounts. As their business grows and thrives in
profitability, so do their shareholders.

2) Seek out a mix of companies that pay

REGULAR

dividends of at least
once a quarter (or 4 times a year).
Some companies only pay a dividend once a year like the car insurance company Progressive - but that's not helpful when you're trying to collect monthly income.
Four times a year is nice, and I've included two such companies on the Monthly Dividend Calendar.
But I also found a unique income investment that pays you EVERY month.
That's right, this one single dividend investment makes up the backbone of the Monthly Dividend Calendar - ensuring that you can collect at least one check a month - no matter what happens in the stock market.
That's why I call this investment the "Monthly Dividend Payer."
And the managers of this monthly dividend company get it:
American retirees and investors want monthly income. They don't want to have to wait 3 months in between payments.
The mortgage bill comes every month. So does the electricity bill. The cable bill. The phone bill.
No one pays their bills or balances their checkbook quarterly.
American households operate on a monthly schedule - so this investment's managers filled the niche.
Even better - they always pay on the LAST day of every month. It's a dividend payment you can set your watch to.
And if you own just 1,000 shares of this company, you could collect about $110 a month. It's that simple.*
$110 a month might not sound like that much - but that's reliable grocery money, or enough for a nice night on the town.
Or you can use it to pay the electric company - every month.
And that's the baseline amount you'll collect every month - but some months you'll collect much more.
Like in April.
There's nothing out of the ordinary or special about April that makes it one of the most profitable months in my Monthly Dividend Calendar.
It just so happens that you could collect 6-times more income than the usual $110.*
That's only if you own 1,000 shares of my favorite dividend investment of all time.
The details of this dividend investment are all in the Monthly Dividend Calendar.
But when you own 1,000 shares, you could receive about $700 in April from this company.*
And that's in addition to the $110 you could get from the Monthly Dividend company.*
So in April, you could collect $810. Not bad.*
The thing is, building a sustainable monthly stream of income from dividends isn't difficult or really all that expensive to get started.
And April is just one of the 12 months of the dividend calendar year filled with income opportunities...
Next July, the Monthly Dividend Calendar reveals a way that ANYONE could collect up to 6 different dividends...*
And you might be thinking that you probably won't want to own all 6 companies that payout in July.
And that's fine.
But the great thing about July on my dividend calendar is that you have plenty of great options.
For instance, perhaps the best way to collect income in July is to buy just 2 of the stocks paying out that month...
Which 2?
Well, on July 10th, you could collect 2 dividend checks with an average yield of 5.5%.*
That's just on one day in July.
If you just want to collect 2 dividend checks that begin paying out this July (and every July afterwards) then you can ignore the other 4 dividend payments - or maybe just wait until the following July to further build your income stream that month.
But even if you only buy 100 shares each of the 6(!) different dividend opportunities in July, you could collect over $1,060 total...*
Or keep it simple - and just buy 100 shares each of the 2 companies paying out on July 10th. That way you know you could collect over $325...*
As far as I'm concerned, July is one of the best months to get started with the dividend calendar.
But it pales in comparison with August...
Instead of rattling off a long list of confusing dividends being paid in August...
I'd just like you to look at what your payouts might look like that month.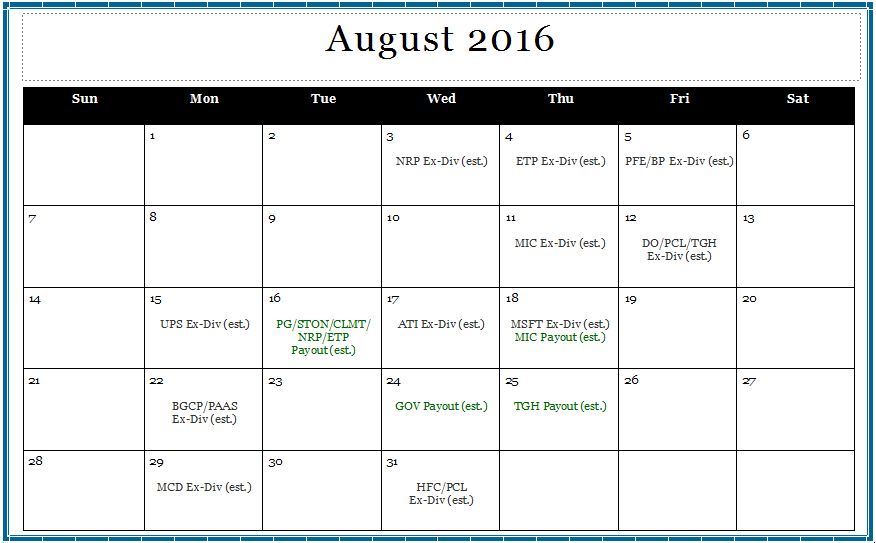 If you're keeping score, that's 8 total payouts in August.
One of these payouts is from the Monthly Dividend Company I already mentioned. Consider that a starting point for August though...
It's easy to forget with all of your other investments and the noise we all get bombarded with from the market and the mainstream media - but you could easily collect income nearly every week of the year if you have the right information.
It makes other types of investing almost irrelevant. Why bother fretting over stock prices and the constant chatter of TV personalities, analysts, economists, politicians and "market experts" when you can just quietly collect as much (or as little) income as you want on a near-weekly basis?
If that sounds like a better way to invest to you, then I'd like to send you this calendar immediately.
Here at Wyatt Investment Research, we recommend dozens of profitable investment ideas each month... everything from value investing, options trading, small cap stocks, short selling, growth stocks, and commodities.
And since we have a large and diverse group of readers, it's true that not all of our recommendations are "just-right" for everyone.
But that's why we decided to focus on the idea of income.
It's so easy and effective that all of our readers can benefit from it.
High net worth, low net worth, kids in college just getting started or 83 year old retirees.
Everyone can use income generating investments in their portfolio.
So we launched a brand new investment service dedicated to income in early 2011.
We call it High Yield Wealth.
Early 2011 was the perfect time to start bringing income ideas to our readers, because all the typical "safe" investments like Treasuries and CDs were yielding next-to-nothing.
They're yielding even less today.
So if you want yield - if you want reliable, steady, monthly income, you're not likely to get it from the government or from banks.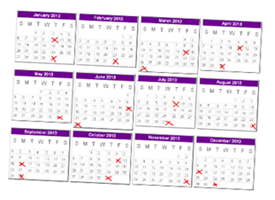 That's exactly why we've launched High Yield Wealth - and why we've put together the Monthly Dividend Calendar.
A lot of our subscribers enjoy this type of investing - because they know they can depend on the regular income - even when the stock market is on the rocks.
So if you're interested, I'd like to send you the Monthly Dividend Calendar, today, right now. Inside, you'll discover all of the details on the dividend paying companies you need to own to collect regular monthly income but also:
How much time you have to enroll in each of the three dividend paying companies.
How many shares you need to own in order to collect the exact amount of income you desire.
When you'll receive each dividend payment!
You'll receive this calendar at no cost as soon as you take a risk free trial to High Yield Wealth.
Let me tell you a little about your trial membership to High Yield Wealth and why you should consider signing up today - but remember - the deadline to get signed up for the next monthly dividend payout is January 13th...
We've never published a research service before that was so universally appropriate for any investor, no matter what age or what level of net-worth... until theHigh Yield Wealth...
While we have a number of different income opportunities we cover, income from dividends lies at the heart of this service.
We typically alert you 1-2 months before each dividend is announced. All of these dividend stocks are extremely safe, easy to understand, and simple to buy and sell.
I should tell you, the rules governing dividends CAN be complex. They sometimes differ from exchange to exchange.
The rules can also vary depending on the size of the dividend, whether it's paid on an ETF or a regular stock. Or even in which country of origin the company is headquartered.
But we completely take care of all the guesswork - we make every dividend as simple and easy to understand as falling off of a log.
Most importantly, you'll know when to buy and when to expect your dividend payments.
And we do hours of research on each company before we even mention it to you...
You see I personally oversee the research and stock recommendations in High Yield Wealth. I work closely with Stephen Mauzy, a very smart stock analyst I hired for the specific purpose of focusing ENTIRELY on dividend research.
With our letter, High Yield Wealth, we closely watch each dividend that's announced - every single one in the market - and only pass on to you the best potential dividend research.
Each month, you'll receive the current issue reviewing our open positions and letting you know about other unique income opportunities we're following.
Each recommendation you receive from us will be simple, concise, clear and straightforward. We'll reveal all of the specific details of each dividend company - how to buy it, how much you'll receive, and how to sell it if need be.
With your membership you'll also get:
12 monthly issues filled with in-depth research on new dividend investment recommendations, including price targets and detailed projections on how much money you can expect to make.
Portfolio update issues every week containing the latest news on recommendations, a full portfolio review, updates on top stocks to buy, and an interactive Q&A session with members.
Timely buy and sell alerts delivered directly to your inbox, so you don't miss any moves or income opportunities.
New and frequent special reports on some of the best dividend investments available today as well as strategies for maximizing your profits.
LIVE customer service during regular business hours and 24/7 access to the subscribers-only website.
100% money-back guarantee: If you're not completely satisfied - if you don't completely agree that High Yield Wealth is the best income service for you - simply request a refund during the first 90 days and you'll receive all of your money back, guaranteed!
I hope you decide to give this exciting service a try.
Good Investing,
Ian Wyatt
Chief Investment Strategist
High Yield Wealth
P.S. I almost forgot - I recently added ONE MORE monthly dividend payer to the calendar. Now, there are two investments you can buy to receive safe, steady MONTHLY payouts. These payouts typically come on the second week of each month - meaning that you're just a few days away from missing out. To get signed up before the dividend goes out...
Click Here Now.