Fellow Investor,
Today, I'd like to introduce you to three unique companies I call Dividend Al Capones.
Like Capone, these American businesses control vast empires that generate extreme amounts of cash.
These three companies are so profitable... so rich... that with the money they make in just one year: $27 billion in pure profits... they could easily buy other companies – big, household names including Clorox, Alcoa, or Sony.
Of course, they wouldn't buy up companies like these… unless they were a threat.
You see, Dividend Al Capones make all their money without the tiniest of disruptions from competing businesses...
Or even the U.S. Government.
These companies are deeply entrenched in our economy...
They hold monopolies that dominate entire sectors.
And they do everything in their power to protect their money flows...
Including greasing the Washington bureaucracy to make sure laws and court cases go their way.
At the end of the day, these powerful companies only answer to one group of people…
Their partners… the shareholders entitled to their fair share of the spoils… and big, generous dividends.
And they are big…
Last year alone, these three Dividend Al Capones paid out a whopping $16 billion to their investors.
But not in the form of special one-time payments…
These cash cranking companies pay consistent dividends over and over again.
In fact, they've been doing it for decades.
It shows you exactly how well the first of our three Dividend Al Capone has rewarded its shareholders over the years:
Quarter after quarter… year after year… this company's investors receive bigger and bigger payouts…
Already this year, this company's hiked its dividend up 10%.
These large cash payouts are a big reason why an investment in these companies would far greater reward you than the vast majority of stocks…
It shows the performance of all three of our Dividend Al Capones over the past 2 years compared the market's return over the same time…
Now, I think you'll agree that this is exactly the kind of company you'll want to invest in.
The kind that pays ever-increasing dividends… allowing your investment to grow for years…
Giving you much-needed income in retirement to cover the bills… or padding your children or grandchildren's college funds with new money…
These are all admirable uses for your dividends, sure, but you could also have some fun too.
I like to put mine towards a membership at my local country club.
These dividends are big enough to pay for a year's worth of greens fees!
Which brings me to an important point…
It's the reason why I feel safe recommending these companies to you today…
You see, what separates these highly profitable companies from the rest of corporate America is exactly how they make their money.
Because they aren't like Apple…
They don't have to dazzle people with new and expensive products every three months or they'll go out of business.
They have a captive customer base to be sure… and their products are in high demand…
But they have what Apple doesn't… and that's market share.
They've cornered the market.
(Apple holds just over 30% of the smartphone market and 10% of the computer market.)
There's no competition… because they won't allow it.
They'll either undercut them in the marketplace… or simply buy them out and take their revenue streams for themselves.
The chart below demonstrates how the second of the three companies I've identified as a Dividend Al Capone has completely taken over its market…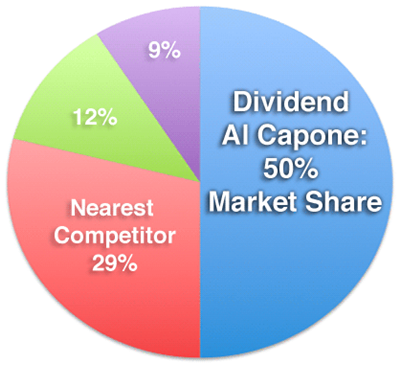 Now, this cutthroat philosophy isn't just applied to where they sell their products…
They own everything along the supply chain.
The raw materials… the factories… the stores…
They make money on everything involved in making and selling their products – controlling every aspect of their businesses and squeezing every last dime out of them.
This dedication to generating cash is why our third and final Dividend Al Capone has been able to pay shareholders big dividends for so long…
This company is so profitable… so dominant…
(last quarter it accounted for 77% of new business in its sector)
That it's paid out 487 consecutive dividends.
That's well over a century of dividends… and it's never missed one payment.
Not during the 2008 financial crisis… the deep recessions of the 1970s… or even the Great Depression…
It makes so much money… its business is so safe… that it always pays – no matter what!
Frankly, I don't know of a more reliable dividend-paying investment.
And the best part is…
This company and our other two Dividend Al Capones can continue to grow and generate exceptional returns – without requiring an excess of capital.
Let me explain…
These companies don't have to spend much (if anything at all)… on research and development… creating whole new products… or building expensive new factories.
Where a company like Facebook reinvests the bulk of its profits into growing its business and expanding…
These companies can invest just a fraction of their profits… mere blips on their balance sheets… and continue to grow exponentially – year after year.
"The ability for [Dividend Al Capones] to increase dividends
from here remains very strong..."
– Chris Sheldon, Chief Investment Officer,
Dreyfus Funds, March 5, 2013
Now, with these companies performing so well… and having a documented history of rewarding shareholders… you might think they are commonly held.
But despite the fact that these are among the safest investments in the world... and offer ever-increasing dividends... people still don't own them.
Most investors are ignoring these high dividend companies!
According to a recent The Wall Street Journal poll, self-directed investors only have 8% of their portfolio allocated to these high yield companies.
Instead, they're opting for cash – with a 0% yield… foreign stocks… or ETFs.
No one is buying the safest and most reliable income opportunity available in the market today… it's truly shocking.
Now, I can't wait to give you the names and ticker symbols of all three of companies – plus all the important details including a full in-depth analysis…
Including how much you can expect to collect in dividends in the months ahead.
But out of respect for my subscribers, I can't reveal everything in this email.
I have to give all this to you in the form of a brand new special report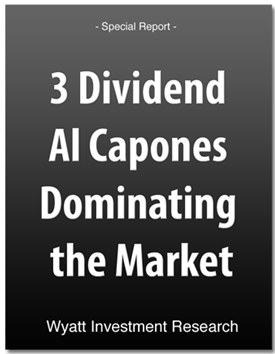 It's called... 3 Dividend Al Capones Dominating the Market.
And it's YOURS FREE for the asking!
You'll be able to access it – INSTANTLY – so you can read over all details right away.
Inside, you'll see exactly how these special companies make all their money, starting with…
Dividend Al Capone #1:
You'll get full details of this company that's raised its dividend 10-fold over the past decade.
If you had invested $10,000 when I first recommended this company two years ago, you could have collected $913 in dividends alone… analysis begins on page 3.*
Dividend Al Capone #2:
On page 6… you'll get everything you need to know about the company that's gobbled 50% of a massive consumer market.
It's reaping billions and currently yielding over 5%. You could have collected $924.43 in dividends from a $10,000 investment if you bought when I first recommended this company.*
Dividend Al Capone #3:
Finally, on page 10, you'll get an in-depth look at the cash-cranking company that's paid out over a century of dividends.
This company is so stable, you could retire on it alone! In fact, readers who invested $10,000 just under 12 months ago could have already collected $428.57 in dividends.*
And that's in addition to some nice share appreciation...
All of these stocks have risen a combined 33%!*
Now, before I tell you how you can get your hands on this special report, for free...
My name is Ian Wyatt. I publish a unique investment advisory service called High Yield Wealth.
In 2011, I decided I had enough of this "low income" era of near zero interest rates.
Investors looking to grow their nest egg or generate income in retirement were robbed of historically safe investment vehicles.
Treasuries, CDs, and bonds were, and still are, yielding next to nothing.
That's why I launched High Yield Wealth...
To help investors like you secure a reliable and steady stream of income by investing in the world's very best high dividend-paying investments.
Stable investments including...
A unique financial firm that's swimming in cash and has a whopping 11.4% yield.


An oil, gas, and refining operation raking in tremendous profits and rewarding shareholders with 9.9% dividends.


A land baron rich in real estate that's cutting regular dividend checks of 9.2%.
My team and I find high yield investments like these by spending countless hours researching stocks, funds, and MLPs...
Searching for only the most reliable and safest income opportunities for our loyal High Yield Wealth readers.
I travel the globe and meet with corporate insiders and local experts face-to-face to get the full story behind the world's best income investment opportunities.
Opportunities like the chance to collect steady dividends from the three cash-cranking companies I call Dividend Al Capones.

All you have to do to get this special report is accept this no-risk invitation to try my exclusive income service, High Yield Wealth.
Here's how we'll begin...
When you decide to try High Yield Wealth today you'll instantly get your brand new report, 3 Dividend Al Capones Dominating the Market.
You'll also be able to login to our subscribers-only website and view all our open positions and read over every past issue and piece of dividend research.
Then, every month, you'll receive the latest High Yield Wealth issue via email.
Each High Yield Wealth issue reveals a new income investment opportunity – handpicked and thoroughly researched by myself and my team of analysts – that are poised to deliver reliable and high dividend payouts over the long-term.
You also get the full rationale behind every high-yielding recommendation...
Including any potential risks...
So you'll have everything you need to make your own sound investment decisions.
Along the way, you'll also receive updates and alerts on current portfolio holdings, so you always have our latest research and know exactly where we stand.
Here's everything you'll get when you decide to you try
High Yield Wealth today:
12 monthly issues filled with in-depth research on new dividend investment recommendations including price targets and detailed projections on how much money you can expect to make.
Portfolio updates sent on the third Monday of every month containing the latest news on recommendations and a full portfolio review.
Timely buy and sell alerts delivered directly to your inbox, so you don't miss any moves or income opportunities.
New and frequent special reports on some of the best dividend investments available today as well as strategies for maximizing your profits.
Live customer service during regular business hours and 24/7 access to the subscribers-only website.
100% money back guarantee – If you're not completely satisfied – if you don't completely agree that High Yield Wealth is the best income service for you – simply request a refund in the first 90 days of your trial, and you'll receive all of your money back, guaranteed!
PLUS! – you'll instantly get your special report: 3 Dividend Al Capones Dominating the Market.
So you can get all the details of this incredible opportunity to earn what The Wall Street Journal calls, "mega-dividends."
In addition to all the benefits above, you'll also receive:
BONUS REPORT #1: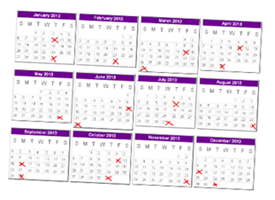 The Monthly Dividend Calendar –
(a $29.95 value) YOURS FREE!
Some investors have collected up to $5,670 in dividends with the monthly dividend calendar!* If you're looking for income that's reliable, steady and simple to collect, this calendar is exactly what you need. In it, you'll see when the payments are scheduled to come, which companies are sending out payments and how often each month you'll get paid.
BONUS REPORT #2:
Top 5 Investments for a Safe 8% Yield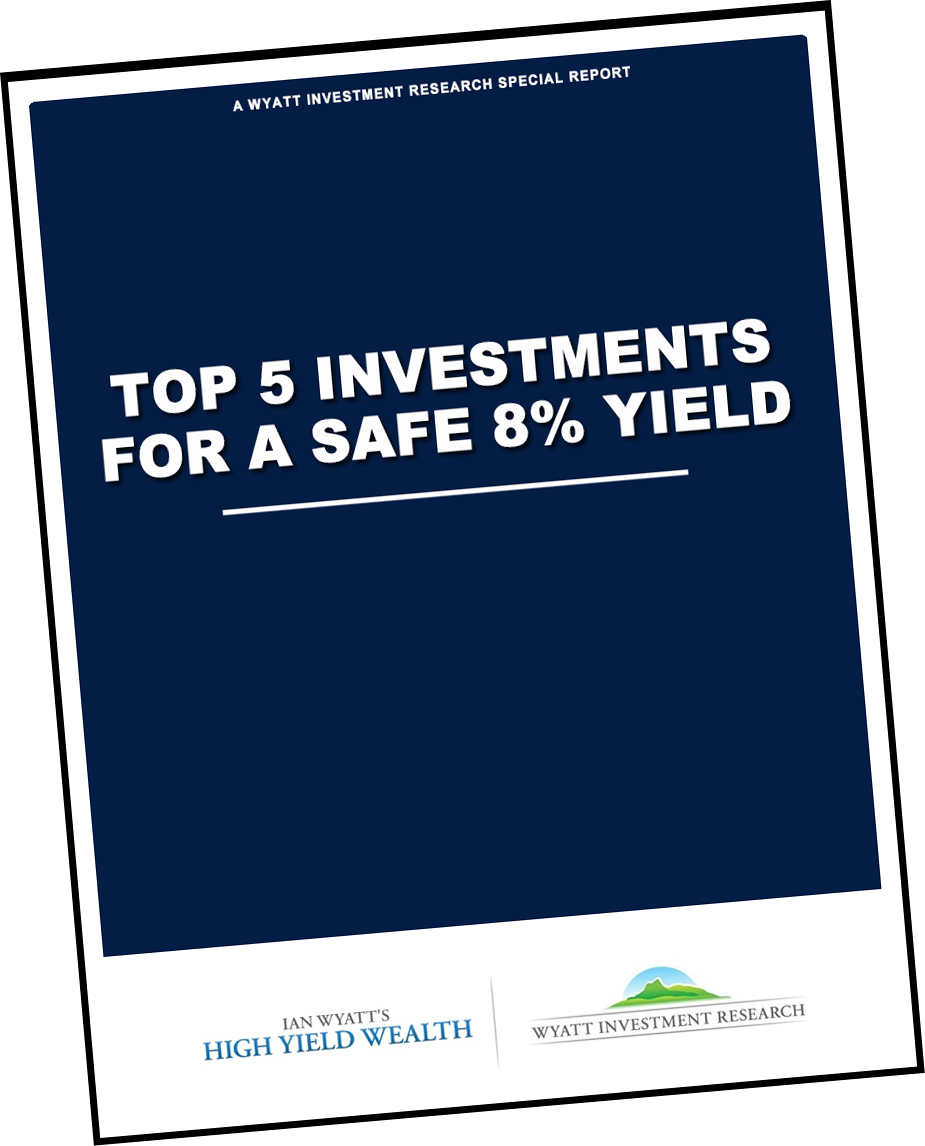 (A $29.95 value) YOURS FREE!
The Federal Reserve's war on savers continues, pushing investors into ever-riskier investments. The good news is you don't have to play the Fed's game. That's because we've found the sweet spot – a small group of safe investments now yielding between 7% and 10%. For rising income that's truly sustainable, look no further.
BONUS REPORT #3:
2 Cash-Cranking Dividend Growers on Buffett's Island
(A $29.95 value) YOURS FREE!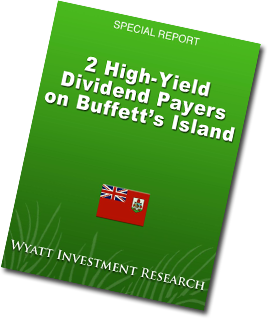 Imagine the ultimate safe haven for investors – no personal or corporate income tax, no capital gains tax…where wealth can be amassed far faster than you ever dreamed possible. This island paradise is no dream. It's real. And it's why Warren Buffett and many other mega-wealthy investors have parked billions of dollars here. The best part: you can join them in just minutes!
Add it up and you're getting 4 reports designed to help you start collecting income right away!
Frankly, I've never published a research service before that was so universally appropriate for any investor, no matter what age or what level of net-worth... until High Yield Wealth...
But with so many people hungry for better returns for their money, high yield publications and services are charging a premium these days – $500, even $1,000 and more per year.
I want you to be able to enjoy the benefits of safe, secure investments that offer real returns for your money…
Returns that can make a difference in your life.
And I'm not looking to get rich off the backs of hard working men and women looking for solid investment research. I'm just looking to cover the bills here.
So I've decided to offer High Yield Wealth for much less than the other guys.
Through this exclusive invitation only, I'm offering a jaw-dropping discount.
If you act right now, you can get High Yield Wealth for only $49 a year.
That's 12 monthly issues... plus buy and sell alerts... your special report,
3 Dividend Al Capones Dominating the Market…
And your 3 BONUS REPORTS (a $90 value) – all for what it would cost to take you and your family out to the movies.
And remember, this offer is completely risk-free and comes with…
Our satisfaction guarantee. If you're not completely satisfied during your 90-day trial period, just call our office and request a 100% refund. Plus, you'll get to keep everything you've received so far – including the special reports – as our gift to you.
And all your special reports, including 3 Dividend Al Capones Dominating the Market are yours to keep with my compliments.
Of course, this kind of guarantee makes it possible to get everything we have to offer and pay nothing...
And that's okay. Because that's just how confident I am in what we have to offer you!
I think once you see the real income my readers and I are earning month in and month out, you'll decide to join us for long haul. (And if not, no hard feelings.)
I urge you to click the link below... claim this special offer and all your bonus reports... because there may never be an easier or better time to start collecting these big, fat dividends than right now.
Click here to get your report and
start collecting these big dividends!
Good Investing,
Ian Wyatt
Chief Investment Strategist
High Yield Wealth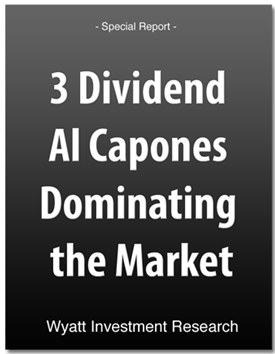 P.S. I'm making this report, 3 Dividend Al Capones Dominating the Market, available to you now – RISK-FREE – for a limited time only. As I said, if you decide High Yield Wealth and this report is not right for you... you can immediately cancel (and at any time your first 90 days) and receive a full refund – and the report is yours to keep with my compliments. So you really have nothing to lose and everything to gain!
Click Here to Get Your Report!