Shangri-la.
To many, it remains the mythical island paradise described in British author James Hilton's 1933 novel Lost Horizon.
But for the world's wealthiest investors and CEOs, this paradise is real.
Very real.
No, it's not just because of its warm, tropical breezes and its pristine, crystal-clear waters.
And it's not just because there's no crime and little-to-no unemployment.
You see, this island paradise differs from so much of the developed in a much more fundamental way…
Here, hard work and saving are rewarding – not penalized with confiscatory taxes and near-zero interest rates.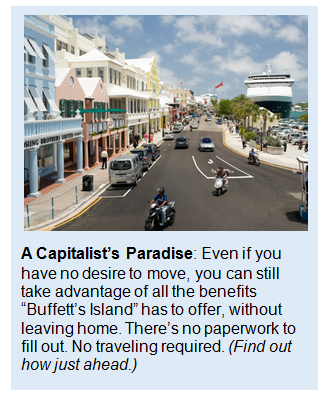 Here, investors aren't burdened with income taxes, capital gains and stifling bureaucracy…
Instead, they are allowed to keep and grow what they earn.
The result: this little island is now the third-richest country in the world, with a per-capita income of $86,000.
It's no surprise why some of the world's wealthiest have decided to park so much of their money here…
People like: Warren Buffett...George Soros...Bill Gates...John Paulson...David Einhorn...Ross Perot...and many more.
And here's the really good news: You join all of them in just a few minutes!
When you do, the difference it can make for your wealth is absolutely staggering.
Let me show you…
Say, you had a $100,000 portfolio invested here... and it returns 15% a year (a great return). If that money were invested in the U.S., you'd have to pay an ordinary income tax on your gains and you'd be left with a $50,000 profit after 5 years. Not bad…
But when you invest on this island, you don't have to pay these taxes… and your profit balloons to $77,000.
That's $27,000 that would normally be forfeited to the U.S. government that you now get to keep and spend as you please.
No wonder some of the greatest investors and financial minds in America have joined Warren Buffett and invested millions of their personal fortunes here, including:
Michael Bloomberg...Bill Gates...George Soros...Ross Perot...
and hedge fund billionaires John Paulson and David Einhorn.
Even U.S. mega-corporations safeguard their money here. Google recently avoided $2 billion in income taxes by shifting revenues into offshore subsidiaries here.
Now, this island and its benefits aren't just for the super rich… it's for individual investors like you too.
You can join Buffett and invest here, regardless of your net worth... whether you're working or retired… or you have $500 or $5,000 to invest…
And you can do it today, in a matter of minutes, right through your brokerage account (more on this ahead).
In fact, it's so easy... so profitable... a select few Americans are using this paradise to fund their retirements... and collect a steady stream of income – all from the comfort of their home (even though living here would be great).
Like, Ben Sanders... every 6 months he has $1,260 deposited in his account from his investments here.*
Daniel Franklin receives over $3,600 in extra income...*
And Vern L. Maher collects over $6,360 in cash – every year.*
Now, there's nothing illegal about this income stream (this is all sanctioned by the U.S. government).
These investors are actually collecting pure, old-fashioned dividends… paid out by publicly traded companies based on this island.
The thing is, these are much, much larger than your average payouts.
That's because, as I mentioned earlier, companies here don't have to forfeit their profits to the government… no matter how much money they make.
That means, they're able to generate much larger cash flows than companies based in the U.S.
And the best part is… these offshore companies siphon all their excess cash to shareholders in the form of big dividends.
And that's why I'm writing you today… to tell you how you can join the few investors taking advantage of this investment opportunity…
And tap into this steady and reliable income stream for yourself – starting with the two highly profitable companies my team and I discovered on this island.
Both have super-high margin businesses and a track record of increasing their dividends quarter after quarter.
Let's look at the first one…
Our first high dividend company is located in a small office building across the street from the island's most prestigious yacht club.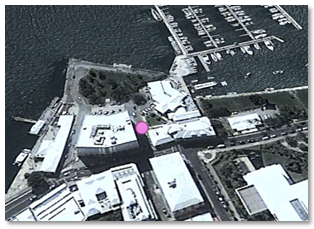 Here, a small staff of 150 people manages a worldwide business that earns $463 million a year.
A low overhead operation to be sure…
Yet – they're growing very fast.
This company has increased revenues 13% a year (for 7 straight years).
And, by my projections, it will increase revenues to $590 million in 2015 compared to $529 million in 2014.
So, where is all this money coming from?
Well, this lean and profitable firm is in the shipping business… except that it owns no ships or ports…
It's in the shipping container business.
In fact, it's the largest container company in the world with over 1.7 million in circulation (most are leased out to decades-old customers).
And, unlike shipping lines that require huge capital investments and staffing expenses… this company is a nimble, high-margin business.
You see, it only takes a few months to build more containers or move them from slowing to growing economies. This company quickly adjusts to changes in demand.
Which is key, because with trade barriers and tariffs being rolled back… and global trade accelerating all around the world… this company is in the perfect position to continue rolling in the cash.
In fact, it has decades of growth ahead of it as global trade is projected to grow 5.25% a year – swelling to $287 trillion by 2050 from $37 trillion in 2010.
And there's nothing limiting this company's profit potential.
It makes money in every industrial country all over the world... imports or exports… and along every step in the shipping process (its containers quickly move from ships to trains to trucks.)
Plus, since this company operates on the tax-friendly island I've been talking about, it's able to keep more of its profits…
So, it's able to use its massive cash flows to reinvest and grow its business (earnings have DOUBLED since 2007)... while simultaneously paying out big dividends.
It's the perfect high-yield, high-growth scenario.
And the best part is, you can invest today... right through your brokerage account.
You see, this company may be based offshore, but it's not an ADR or listed on a foreign exchange.
It's listed on the NYSE. And dividends are paid out in U.S. dollars – so you're getting your full payment.
Which is great if you're looking for more income, because right now this company is yielding close to 6.2%.
And it's increasing payouts consistently. Have a look...
This Cash-Cranking Company Increases Its
Dividend Regularly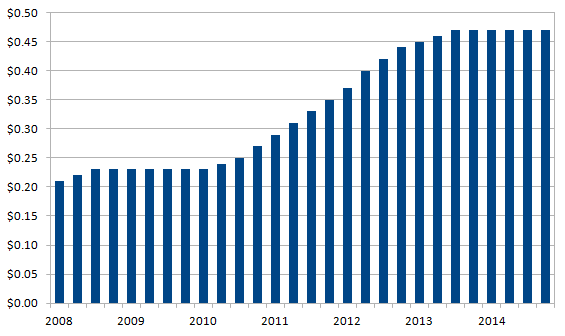 And according to my projections, this company will continue to increase its dividend payouts in the months and years ahead.
In fact, an investment today could soon yield over 6%!*
Which is why I believe now is the very best time to get in.
And since it's based in the investor-friendly nation I call, Buffett's Island – you're not subject to ordinary income taxes on these dividends. (These big dividends are considered qualified by the IRS.)
So, when you invest in this company today... you're not only collecting big dividends... you'll also pay less in taxes… and you'll be positioned to capture some nice capital gains as shares of this company rise in value.
I can't wait to give you this company's name and ticker symbol – plus all the important details including a full in-depth analysis of all its revenue streams... so can you invest on this island and start collecting these dividends from the comfort of your home.
But out of respect for my subscribers, I can't reveal everything here.
I have to give all this to you in the form of a brand new special report...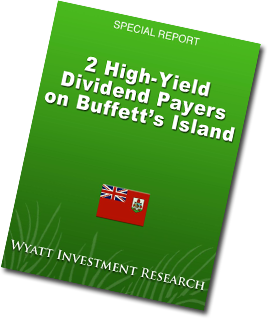 It's called 2 High-Yield Dividend Payers on Buffett's Island.
And it's YOURS FREE for the asking!
You'll even be able to access it – INSTANTLY – so you can read over all the details right away.
And you'll discover exactly how this company is funding its massive dividend increases... and why it's poised to continue to raise its dividend in the future.
You'll also find out about one more dividend-paying company based on this island… another company on pace to raise its dividend and reward shareholders with bigger and bigger payouts.
Which is important, because companies like these... those with expanding cash flows that consistently raise their dividends – also known as Dividend Growers... can have a dramatic and lasting impact on your personal wealth.
As the chart below shows, Dividend Growers far outperform the market and even most dividend paying stocks...
Dividend Growers CRUSH the S&P 500
Nearly 4 to 1!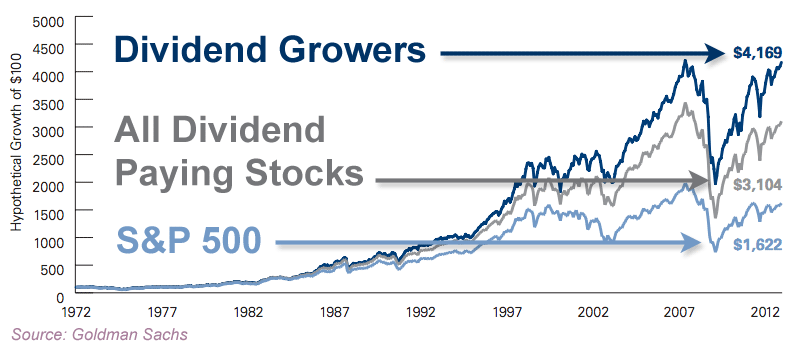 But the trick is investing in these dividend-growing companies early on... while they are still in their golden years of growth.
That way, you're maximizing your yield and watching your dividends grow year after year. Because not all growth is sustainable…
For example, Intel is one of the best dividend-growing companies in history – having increased its dividend each of the past 25 years.
But this gravy train is coming off the rails...
Intel's dividend growth is slowing. For years, payouts grew at a 10.5% clip, but now they've fallen into the single digit range – rising just 7% in 2012.
But the trick is investing in these dividend-growing companies early on... while they are still in their golden years of growth.
That way you're maximizing your yield and watching your dividends grow year after year.
This next company provides just such an opportunity:
Based on Buffett's Island, this unique insurance company pays no taxes on its profits – making it legally obligated to hand them to investors like you!
And as a reinsurer of natural catastrophic events – windstorms, hurricanes, earthquakes – it is immune to the market risk ordinary insurers are exposed to.
Barely two-years old, it also has rock-solid financials – clearing the way for years of steady growth.
Profit margins are a solid 33%, while debt is almost non-existent.
And the best part: this company has more than doubled dividend payouts over just the last year.
Grab it today, and you could lock in a fat 9% yield.*
My name is Ian Wyatt. I publish a unique investment advisory service called High Yield Wealth.
In 2011, I decided I had enough of this "low income" era of near zero interest rates.
Investors looking to grow their nest egg or generate income in retirement were robbed of historically safe investment vehicles.
Treasuries, CDs, and bonds were, and still are, yielding next to nothing.
That's why I launched High Yield Wealth...
To help investors like you secure a reliable and steady stream of income by investing in the world's very best high dividend-paying investments.
Stable investments including...
A unique financial firm that's swimming in cash and

has a whopping

12.2% yield.

*




An oil, gas, and refining operation raking in tremendous profits

and rewarding shareholders with

7.5% dividends.

*




A land baron rich in real estate that's cutting regular dividend

checks of

8.1%.

*
My team and I find high yield investments like these by spending countless hours researching stocks, funds, and MLPs... searching for only the most reliable and safest income opportunities for our loyalHigh Yield Wealth readers...
Opportunities like the chance to collect ever-growing dividends from the two highly profitable companies based on this investor-friendly island paradise.
All you have to do to get this special report is accept this no-risk invitation to try my exclusive income service, High Yield Wealth.

Here's how we'll begin...
When you decide to try High Yield Wealth today you'll instantly get your brand new report, 2 High-Yield Dividend Payers on Buffett's Island.
You'll also be able to log in to our subscribers-only website and view all our open positions and read over every past issue and piece of dividend research.
Then, every month, you'll receive the latest High Yield Wealth issue via email.
Each High Yield Wealth issue reveals a new income investment opportunity – handpicked and thoroughly researched by myself and my team of analysts – that are poised to deliver reliable and high dividend payouts over the long-term.
You also get the full rationale behind every high-yielding recommendation...
Including any potential risks...
So you'll have everything you need to make your own sound investment decisions.
Along the way, you'll also receive updates and alerts on current portfolio holdings, so you always have our latest research and know exactly where we stand.
Here's everything you'll get when you decide
to you try High Yield Wealth today:
12 monthly issues filled with in-depth research on new dividend investment recommendations including price targets and detailed projections on how much money you can expect to make.
Weekly updates sent every Monday containing the latest news on recommendations and a full portfolio review.
Timely buy and sell alerts sent the minute there's breaking news concerning any of our investments -- so you don't miss any moves or income opportunities.
New and frequent special reports on some of the best dividend investments available today as well as strategies for maximizing your profits.
Live customer service during regular business hours and 24/7 access to the High Yield Wealth subscribers-only website.
100% money back guarantee – If you're not completely satisfied – if you don't completely agree that High Yield Wealthis the best income service for you – simply request a refund in the first 90 days of your subscription, and you'll receive all of your money back, guaranteed!
PLUS! – you'll instantly get your special report: 2 High-Yield Dividend Payers on Buffett's Island..
So you can get all the details of these two high dividend companies including their names, ticker symbols, and our target share prices.
AND – When you respond right now and only through this web page, you'll receive 3 BONUS reports, (a $90 value) FREE!
BONUS REPORT #1: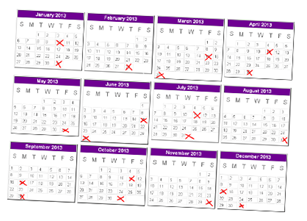 The Monthly Dividend Calendar
(a $29.95 value) YOURS FREE
Some investors have collected $5,670 in dividends with the monthly dividend calendar!* If you're looking for monthly income that's reliable, steady and simple to collect, this calendar is exactly what you need. Inside, you'll see when the payments are scheduled to come, which companies are sending out payments and how often each month you'll get paid.
BONUS REPORT #2:
Top 5 Investments for a Safe 8% Yield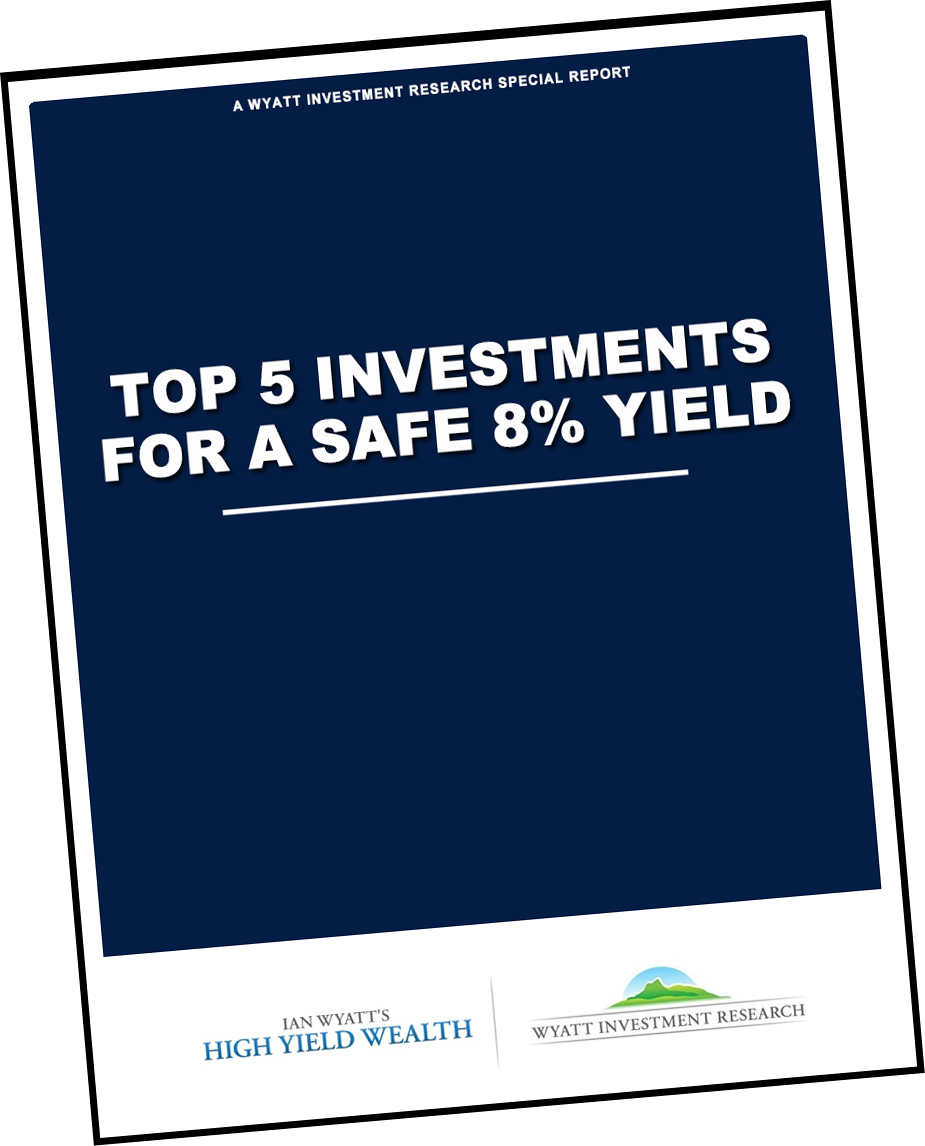 (A $29.95 value) YOURS FREE!
The Federal Reserve's war on savers continues, pushing investors into ever-riskier investments. The good news is you don't have to play the Fed's game. That's because we've found the sweet spot – a small group of safe investments now yielding between 7% and 10%. For rising income that's truly sustainable, look no further.
BONUS REPORT #3:
Be a Rich Partner, Not a Busy Landlord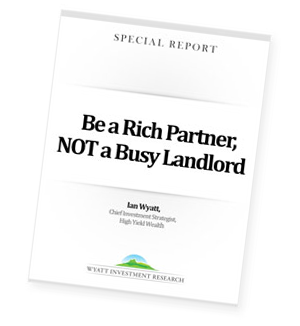 (A $29.95 value) YOURS FREE!
Owning rental property can be lucrative. It can also be a big headache with maintenance, repairs, deadbeat tenants, mortgages and property taxes, for starters. But a few lucky Americans have found their way around all this. Some investors have collected fat "rent checks" every month…without owning a single property. One of them collected $1,962 in a single month!*
Add it up and you're getting 4 reports designed to help you start collecting income right away!
Frankly, I've never published a research service before that was so universally appropriate for any investor, no matter what age or what level of net-worth... until High Yield Wealth...
But with so many people hungry for better returns for their money, high yield publications and services are charging a premium these days – $500, even $1,000 and more per year.
I want you to be able to enjoy the benefits of safe, secure investments that offer real returns for your money…
returns that can make a difference in your life.
And I'm not looking to get rich off the backs of hard working men and women looking for solid investment research. I'm just looking to cover the bills here.
So I've decided to offer High Yield Wealth for much less than the other guys.
Through this exclusive invitation only, I'm offering a jaw-dropping discount.
If you act right now, you can get High Yield Wealth for only $49 a year.
That's 12 monthly issues... plus buy and sell alerts... your special report, 2 High-Yield Dividend Payers on Buffett's Island.
AND your 3 BONUS REPORTS (a $90 value) – all for what it would cost to take you and your family out to the movies.
And remember, this offer is completely risk-free and comes with…
Your satisfaction is guaranteed. If you're not completely satisfied during your 90-day trial period, just call our office and request a 100% refund. Plus, you'll get to keep everything you've received so far – including the special reports – as our gift to you.
And all your special reports, including 2 High-Yield Dividend Payers on Buffett's Island. are yours to keep with my compliments.
Of course, this kind of guarantee makes it possible to get everything we have to offer and pay nothing...
And that's okay. Because that's just how confident I am in what we have to offer you!
I think once you see the real income my readers and I are earning month in and month out, you'll decide to join us for long haul. (And if not, no hard feelings.)
I urge you to click the link below and read over this report right away… so you can find out everything you need to about this island and its beneficial tax laws. And get all our research on these two highly profitable companies – so you know exactly how they're able to keep raising their dividends, quarter after quarter.
Click here to get your special report and
start collecting these big dividends!
Good Investing,
Ian Wyatt
Chief Investment Strategist
High Yield Wealth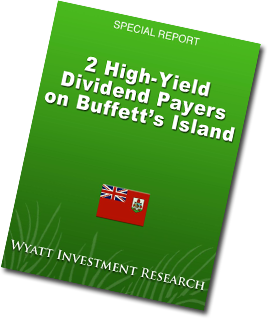 P.S. I'm making this report, 2 High-Yield Dividend Payers on Buffett's Island., available to you now – RISK-FREE – for a limited time only. As I said, if you decide High Yield Wealth and this report is not right for you... you can immediately cancel (and at any time your first 90 days) and receive a full refund – and the report is yours to keep with my compliments. So you really have nothing to lose and everything to gain!
P.P.S. Remember, these two companies are increasing their dividends at just about every 3 months. To maximize your yield, now may be the best time to invest in these companies – before their shares rise any higher!
Click Here to Get Your Report