Finally, a simple way to collect $340... $521... and even $1,340 in instant income on your trades!
YES, I'm ready to earn 10X more income in 2019!
I understand that on November 13th – with just 5 minutes of "work" – Andy Crowder was able to collect $2,201 on just 3 trades.
TRADE #1: $340 from Exxon
TRADE #2: $521 from Pfizer
TRADE #3: $1,340 from Verizon
GRAND TOTAL: $2,201 income
Now it's my turn!
These types of trades happen EVERY SINGLE WEEK.
And when I accept this limited-time invitation… Andy will immediately start sending me special alerts via email.
These alerts include all the details and step-by-step instructions…
For earning huge, up-front income payments from America's safest stocks and exchange traded funds.
I can simply "copy and paste" these trade alerts and quickly start WINNING at least 85% of my trades!
PROVEN RESULTS:
Win 85% of Trades with the
10X Income System
Andy spent 6+ years creating the ULTIMATE income trading system.
It's based upon his Wall Street training at Oppenheimer & Co. Plus, his 1-on-1 mentorship with a founding "floor trader" at the Chicago Board Options Exchange.
This "insider experience" allowed Andy to discover PRO-LEVEL trading strategies.
And today, he's going to share everything with me!
It's called the 10X Income System.
Why? Because it's proven to deliver up to 10-times more income from the safest stocks and ETFs.
Just take a look at the winning results from this year:
Selling Puts Income: WINNING 100% of trades
Covered Calls Income: WINNING 100% of trades
Poor Man's Covered Calls: 97% total profits
Dogs of the Dow Trades: 204% total profits

TOTAL RESULT: winning 85% of trades
With these proven results…
It'll be easy for me to boost my income… beat the market… And exceed my personal income goals in 2019!
The best news is that I can get COMPLETE ACCESS… at an unbelievable discount.
My Cyber Monday Discount:
SAVE $14,380
With this exclusive Cyber Monday Discount, I'm ready to SAVE $14,380 off the regular membership!
With this special offer, I'll secure 4-years of UNLIMITED ACCESS…
For far less than the regular cost of a 1-year membership!
Give me instant access to High Yield Trader – with the best deal ever!
Armed with the strategies – and trade alerts – I'll be ready to earn HUGE income from the safest American stocks and ETFs.
It's the perfect solution – whether I'm just starting to trade with $500… or if I already have a 6-figure account.
Plus, Andy will give me his Income Trading Quick Start Package to get me started today!
Give Me 4-Years
Unlimited Access
Yes, I'm ready to start trading today!
Andy's High Yield Trader gives me unlimited access to the 10X Income System.
That means I'll get complete access to everything…

TRADE ALERTS:
Earn $340 - $1,341 Instant Income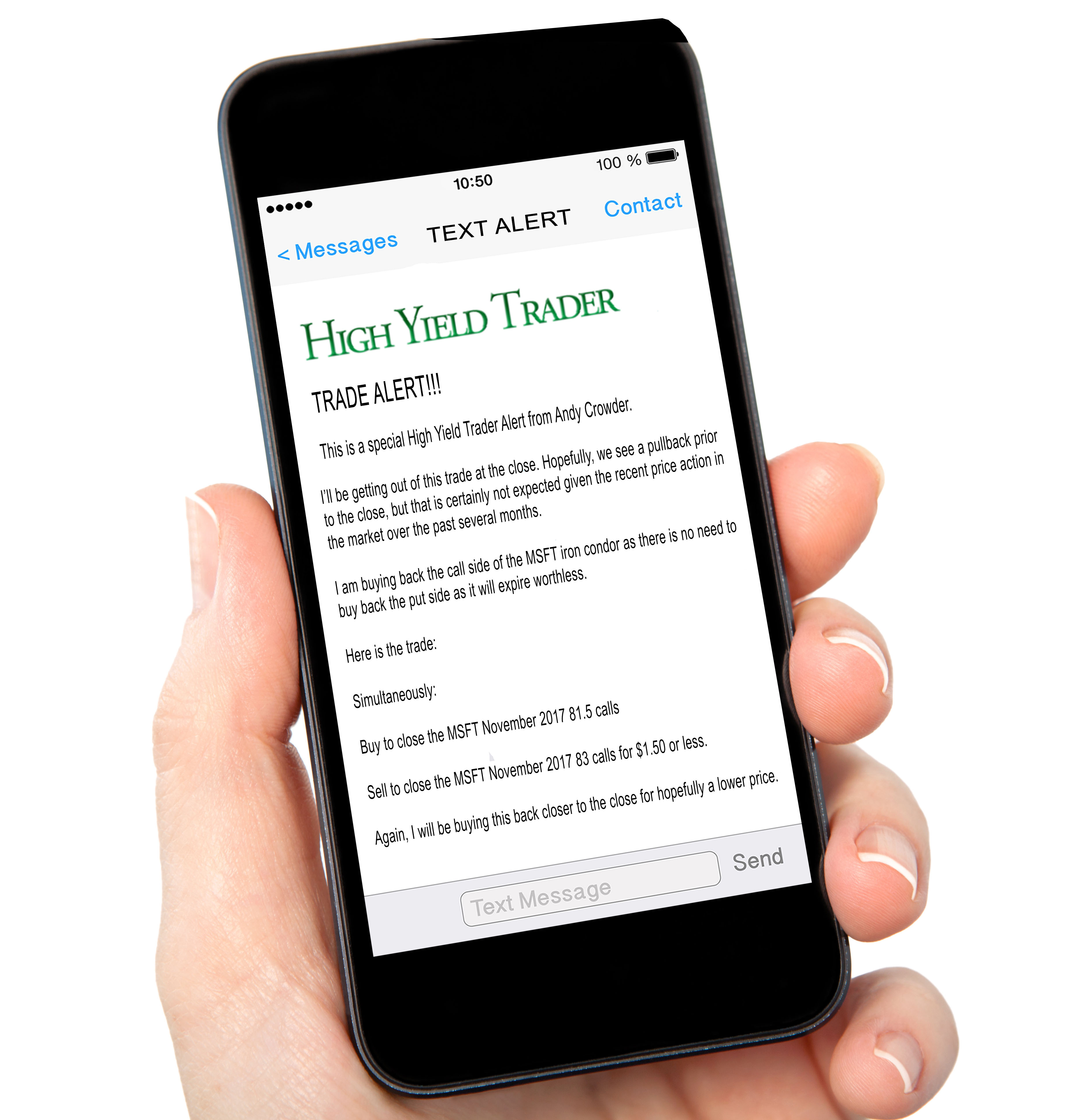 Get profitable trade alerts with step-by-step instructions. Each trade includes just 2 simple steps – easy to copy and execute.
Plus, with 10 – 20 trades per month, there'll be plenty of quick profit opportunities to earn $340 - $1,341 per trade!

SPECIAL REPORTS:
Discover the Top 3 PRO-LEVEL Trading Strategies for ANY Market
I'll instantly download 5 special bonus reports from Andy's private library. This includes Andy Crowder's Complete Guide to Options Profits, Income for Life: The Fast Track to a Lifetime of Wealth, Inside the Poor Man's Covered Calls Strategy, plus much more.

VIDEOS:
Become an Income Trading Pro in Less Than 30 Days
Give me instant access to 10+ hours of exclusive videos. I can download them to my computer or iPad and quickly discover the secret to winning 85% of my trades.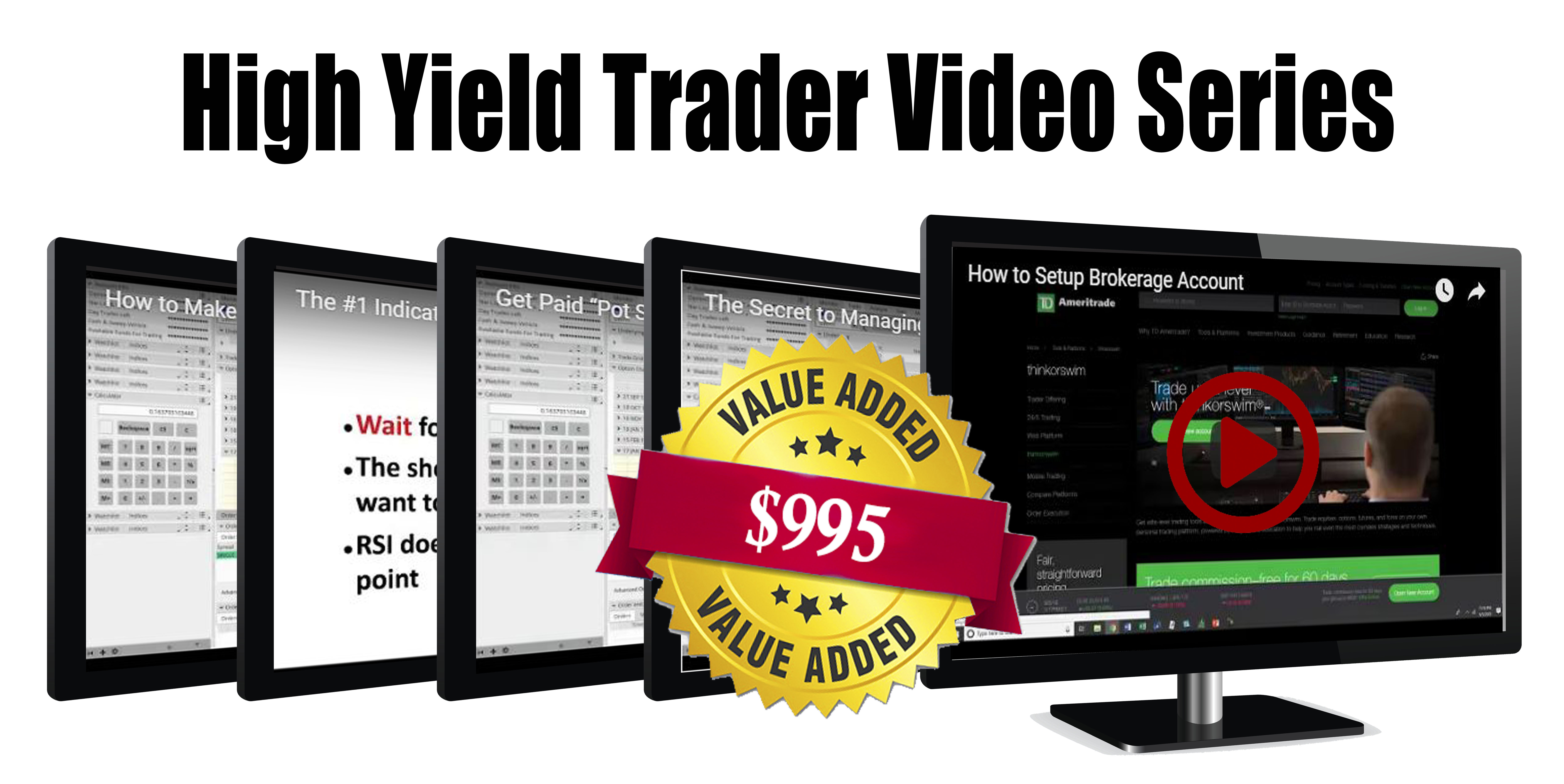 LIVE WEBINARS:
The Secrets to Winning +85% of Trades
I'm ready to STOP LOSING MONEY. Every month, I'll join Andy for a LIVE 60-minute trading webinar. It'll let me discover a new aspect of income trading, review LIVE trades and get 100% support.
Plus, Andy has just announced a very special EXTRA BONUS.
BONUS #1
The 10X Income Masterclass
Normally $795 – It's FREE
With this special offer, I'll also get LIVE ACCESS to Andy's just announced…
10X Income Masterclass
These 3 LIVE webinar training reveals Andy's PRO-LEVEL income trading strategies in a small group setting.
This extra bonus will give me…
These LIVE webinars will happen during "market hours."
Of course, if I'm unable to attend a LIVE training I can simply download the video recording and watch on my own schedule.
Now, I understand that Andy will be selling event tickets for $795.
With this special Cyber Monday discount, I'll get a FREE TICKET.
Plus, I can even get a FREE companion ticket for my spouse, friend, relative or colleague!
But that's not all!
To celebrate Thanksgiving, Andy is going to give me EVEN MORE.
BONUS #2
Income Trading Mentorship
Normally $2,400/year – It's FREE
To help guarantee my success…
Andy has agreed to be my personal income trading coach and mentor for the next 12-months!
I understand that Andy isn't a financial advisor – and can't give me personalized investment advice. But that won't stop him from being there to support my growth – every step of the way.
With this Income Trading Mentorship, I'll get:
Elite coaching from a 20+ year trading PRO
100% support from someone who has "been there and done that"
Complete access – I'm just one call or email away from talking directly with Andy
The Income Trading Mentorship normally costs $2,400 / year (that's $200 per month – PAID IN ADVANCE).
However, he's so committed to my trading success…
That he's going to offer this – 100% INCLUDED FOR FREE – with this Cyber Monday Discount!
This means I'm going to get:
1. High Yield Trader for 92% off
2. The 10X Income Masterclass for FREE
3. Income Trading Mentorship with Andy Crowder for FREE
All of this would normally cost $15,175.
But I'm going to get 100% access to everything for just $995!
With this Cyber Monday Discount, I'll get all of this for 4-years!
It's all specifically designed to guarantee my success.
After working with thousands of clients – over the last 6-years – Andy has developed the perfect system.
As a result, he's willing to back-up this special offer with a very special…

10X Income Guarantee
That's right.
Andy has personally guaranteed that I'll have a shot to earn 10-times more income in 2019.
What does this mean?
If I "copy and paste" Andy's income trade alerts for the next 12-months…
And I haven't increased my income by 10X…
I'll call the Wyatt Research headquarters at 866-447-8625 and let them know that I came up a little short.
In the unlikely event that happens, I'll get an EXTRA YEAR of membership – 100% FREE.
But it gets even better…
My membership is also backed up with a 90-day, 100% satisfaction guarantee.
That means I can test drive Andy's entire High Yield Trader and the 10X Income System.
I'll be able to…
Get 30+ LIVE trade alerts
Participate in 3 members-only webinar events
Download 5+ special bonus reports
Watch 10+ hours of training videos
And if I have any doubts… regrets… or 2nd thoughts…
I can simply call the office and get a 100% credit toward any other research or trade alert service from Wyatt Investment Research.
It's that simple!
So, unless QUIT INVESTING… I'll simply find something else that's a better fit with my investment goals.
Only 100 Spots Available
This exclusive discount is ONLY available to the first 100 people who say "YES" – including me!
I understand that 103,917 people received this same invitation…
And less than 0.1% - that's 1/10 of one-percent – can get access.
So, it's very likely that this entire offer will be completely CLOSED before the official deadline…
DEADLINE: Cyber Monday
Monday, November 26 @ Midnight
That's right.
I understand that this special Cyber Monday Week sale can't go on FOREVER.
No matter what happens, this page will go OFFLINE…
Monday, November 26 @ Midnight Pacific Time
Now is my chance to claim access…
Before the first 100 new members say YES…
And before the clock strikes midnight!
Sincerely,

Ian Wyatt
Founder and Publisher of Wyatt Investment Research

YES! Give me the 92% Cyber Monday Week DISCOUNT!