Hurry...
Just follow this simple rental list – put a security deposit down on one…two…three…or heck 10 or more of these 50-star rated opportunities.
Then just collect monthly rental premium from each stock rental throughout the entire year of 2021.
It's really just that simple.
Just put a deposit down on the stocks in this list when I give you the signal and sit back, relax, and count your cash every month for the next 12 months straight.

Stock Rental Field Checklist ($199 Value)
This is going to make it EXTREMELY easy for you to locate your own stock rental opportunities.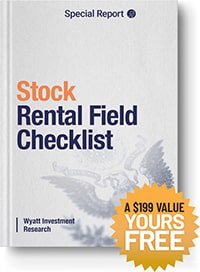 And it's as simple as making sure each opportunity you look at checks off the criteria on this list.
Think of it as a checklist you'd have for looking for a good property.
Safe neighborhood? Check.
Next to a good school? Check.
Property values rising? Check.
In much the same way, this proprietary Stock Rental Field Checklist makes it easy for you to simply check off each qualifier on the list.
And if a stock checks all the right boxes – then you know you have a winner that can make you a TON of great income every month.
And don't worry, because we only concentrate on the best, safest, most trusted blue chip stocks…
The "pond" you're fishing in is very small – and it's easy and fast to find great opportunities that check off all the boxes.

You're going to gain access to over five hours of premium video education.
This is over-the-shoulder training on how to find these opportunities in your brokerage account, select the correct criteria, and execute your stock rental positions.
You'll be able to follow along step-by-step when putting down a security deposit on a stock rental royalties opportunity…
And then begin collecting monthly rental royalties for hundreds of dollars to thousands of dollars a month.

You'll have access to your very own private, password-protected stock rental command dashboard.
This private web portal can be accessed on your PC, laptop, phone, or tablet.
It contains all the stock rental information you need in one convenient location.
Inside you'll be able to access all of the manuals, checklists, and video training I just mentioned.
You'll also find real-time portfolio trackers for ALL our open stock rentals.
That means you can choose to follow along with the SAME stocks I'm renting.
It also means you can back-test my track record and results and use that to make your own stock rental decisions…
Not only that, you'll have access to a comprehensive FAQ section covering virtually everything you'd ever want to know…
And if the answer you need is not in the FAQs there's an exclusive contact form that let's you submit any questions or comments directly to me and my team.
You will also have access to a special customer support number, which allows you to ring us up any time during normal office hours if you have any question at all.

If you're following along with any of the stocks I'm renting in my portfolio, then every time I'm ready to collect another month's Rental royalty check I will send you a timely email notification (you can also request text notifications).
Each notification makes it simple for you to follow right along with me and collect the same Rental Royalty checks I am.
It's as simple as just following my lead!
You will also have access to a full archive of every single rental royalty alert I've ever sent – directly in your stock rental command dashboard.

Private Mentorship ($3,995 Value)
I am here for you and I am here to help you.
I want this to be an easy, stress-free process for you and I want to make sure you're able to receive your first rental royalty check ASAP.
That's why I make it easy for you to contact me if you need any help or guidance.
You'll get access to my regular LIVE coaching sessions where I will help you make sense of the markets, show you how to execute trades and get the most out of every trading opportunity.

You can also ask me questions one-on-one during these LIVE coaching sessions.
That way, if you need any help or guidance, or if you have any issues or questions, you know 100% that I've got your back and I'm here to help and mentor you.
Access All This PLUS These Amazing FREE Bonuses...
On-Demand Dividends ($199 Value)
This straight-to-the-point guide is going to show you how to CREATE your own dividends from stocks you already own.
Or ANY stocks you want to buy and hold in the future.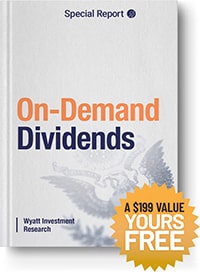 For example, do you own 100 shares of Apple?
If so you can immediately create a dividend next month of $710 cash in your pocket.
And you can increase your annualized returns by up to 45.6%!
Do you own 100 shares of Google? You can generate $3,700 cash and boost your annualized return by 41.1%!
Netflix? $1,645 next month and up to 228% annualized boost on returns.
In fact, you can use this On Demands Dividend Strategy with nearly any stock you own INCLUDING ETFs!
For example, you can use this with SPY and create $535 cash in your pocket next month!
And you can do that as long as you want! This allows you to boost your annualized returns on SPY by as much as 36.5%!

The Secret "Reverse Rental" Strategy For Bear Markets ($199 Value)
One of the biggest questions I get is "what about bear markets, when stocks tank?'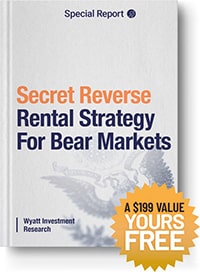 The good news is that there is actually a stock rental strategy that let's you make money in a bear market when those same stocks are going DOWN.
And I want to show you exactly what this "Reverse Rental" Strategy is.
In fact, right now – even though we haven't officially entered a bear market – I am using this "Reverse Rental" strategy on two down-trending stocks.
This is your Recession proof strategy to keep in your pocket if the market goes South.
And I believe this is going to give you an immense peace of mind.

$1,200 to $1,200,000: The Secret To Scaling Your Rental Income Business ($199 Value)
Listen, if all you have is enough to put a $1,200 security deposit down on a single stock rental and bring in $150 a month…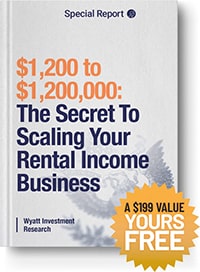 The fact is you can SCALE this.
If you can do that with ONE rental – then you can make enough to do it with two…then three…then four…
And when you have 5, 10, or 15 stock rentals in your wheelhouse.
Then who is going to stop you from scaling up the SIZE of those deposits? And thus the SIZE of your monthly rental income on each of these stocks?
When you can scale intelligently by reinvesting and compounding your money, then there is no limit to what you can accomplish.
In this guide I reveal the best tactics, practices, and methods for steadily scaling up your own Stock Rental Income Business.

ZERO-DOWN Stock Rental Income Cycle Strategy ($199 Value)
What if you could use this stock rental strategy to make immediate income WITHOUT even putting down a security deposit?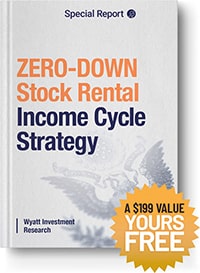 That's right…there is a strategy I use every day that allows you to immediately start drawing monthly income from a stock you DON'T own without putting down any kind of deposit whatsoever.
In fact, we're using this strategy with FIVE stocks right now to create income with ZERO money down.
Including Pfizer, Diamond Offshore Drilling, and Starbucks.
High Yield Trader Inner Circle Membership ($5,991 Value)
Everything You Need to Start Cashing Monthly Royalty Checks Today for Just $16,486 $995!
WARNING: I can only guarantee access to the first 50 people who take action on my High Yield Trader Inner Circle today. The reason why is pretty simple…
If I let too many people in all at once the fact of the matter is I won't be able to provide the personal attention you deserve.
I'm just one guy.
And when my clients want to schedule calls with me or have questions for me through email I want to be there for you which means I can't have thousands upon thousands of people in my Inner Circle.
Then I wouldn't be able to actually be there for you when you need me.
That's why…

Only The First 50 People Who Take Action Below Will Be Guaranteed a Spot in My Inner Circle...
There is an easy, no-stress paycheck waiting for you on the other side of the form below.
That's a fact.
And in just one hour from now, after you read my 60-Minute Fast Track To Your First Stock Rental, you could be collecting your first check.
There is nothing stopping you from bringing in massive amounts of monthly income every month like clockwork – nobody except yourself.
All you have to do is take action….
This is the easy, consistent, no-stress cash-in-your-pocket income you've been waiting for.
The High Yield Trader Inner Circle could be your ticket to the life you deserve.
I've seen hundreds of my clients do it. You can do it too.
I've got everything you need inside.
It's time to act.
I'm Ready! Show Me How to Collect My
First Check TODAY!
Just complete the short, secure form below and subscribe to my High Yield Inner Circle right now.
Or, if you'd prefer, you can also sign up by phone…just call my VIP Member Services team at 1-888-875-1960 from 9AM to 5PM EST.
You're just a few minutes and a click-of-the-button away from a future like you've never imagined.
Don't let this opportunity for easy monthly income slip through your fingers.
See you on the inside…