Game Changers
Dear Reader,
We don't have a lot of time to act…so I'll make this brief.
Soon I'm sending an urgent "Buy Alert" to an exclusive group of just 1,000 investors.
The reason is simple.
I've just completed some of my most important investment research of the year.
And my new recommendation could be my most profitable of 2015.
Now, this investment isn't right for everyone. And I'll warn you right now…
This stock is tiny, with a market capitalization of just $700 million.
That's small enough to keep this promising idea below the radar of 99.9% of investors.
The company is right in the thick of the massive construction boom raging across America and much of the world.
But this is no building supply or manufacturer.
A leader in its tiny niche, this tech dynamo is helping push the construction industry into the 21st century with its cloud-based project management software.
In fact, it's the only provider of software that includes construction payment management, pre-qualification management, document billing and environmental certification projects.
All of this may not sound terribly sexy, but this $700 million microcap has a $20 billion+ market to chomp on…and already holds the fourth largest contractor in the world as a customer.
What's more, it's now in talks with one of the top three – telling me it's only a matter of time until it shoots to the stars.
This is a major reason why big Wall Street banks like BlackRock, Vanguard and Fidelity are scooping it up.
In fact, I urge you to grab a piece of it as soon as possible.
After all, it is companies like this one that are busy changing the world for the better.
They're also changing the lives of investors.
These small, overlooked stocks could deliver a profit bonanza…sometimes overnight.
Take Ambarella (NASDAQ: AMBA) – a small tech company specializing in making semiconductors for shooting, sharing and playing high-definition video.
Its technology, called system-on-a-chip, is extremely energy-efficient –allowing all functions to be performed on a single chip…and it is already being used in Android smartphones.
The company is a key supplier to GoPro (NASDAQ: GPRO)…who was buying up huge supplies of these chips.
Undervalued and off the radar of most analysts, I urged Game Changers readers to pile into the stock at $15.
Just two years later, shares of Ambarella are trading at $115.
Then there's Endocyte (NASDAQ: ECYT), a small biotech working with Purdue and Duke Universities to develop treatments targeting the most deadly kinds of cancer.
With a fat pipeline and being deep into clinical trials in the U.S. and Europe, I saw the progress it was quickly making and told my readers to get into it while they could.
Just seven months later, we walked away with 114.5% gains.*
Of course, there is lots of money to be made in low-tech stock as well.
I urged my readers to purchase Susser Holdings Corporations (NYSE: SUSS), a small family owned convenience store blossoming all across the state of Texas.

Nothing fancy, but its business model was as rock-solid as they come.
Just two years and four months later, we pocketed an astounding 228% profit.*
By zeroing in on stocks destined to experience rapid growth spurts, we can repeat these winners over and over.
It's why Game Changers readers have also made triple digit profits on these little-known stocks:
100% from Taipan Resources in 8 months*…
104% from Diamondback Energy in 8 months*…
190% from Endeavor Silver in 2 years, 3 months*…
In other words, this is about as close as it comes to getting rich quick.
And there has never been a better time for you try out Game Changers – 100% risk free.
You can try the service today…receive my latest investment recommendation…and access my entire portfolio.
Simply test drive the service for 30 days.
If you're not 100% satisfied, just call my office at 866-447-8625.
And I'll be happy to give you a prompt and courteous refund – no questions asked.
When you try Game Changers, here's what you'll receive:
My complete investment research on this latest stock recommendation.
52 weekly issues of the Game Changers
–
each contains my latest research, chart analysis and updates on portfolio holdings. Every issue explains the full rationale behind my every move... and includes discussions on stock price movements, stop losses and upcoming events – so you'll have everything you need to make sound investment decisions.
Clear and concise investment ideas – driven by the power of my Hot Zone system. I've spent five years proving and perfecting this strategy … helping to boost returns while lowering risk.
Two NEW opportunities to 100% profits each month
–
You'll receive two official investment recommendations each month ... these include new ideas as well as ultra-timely alerts to add exposure to stocks under current coverage.
Email alerts sent to your inbox the minute there's breaking news concerning a Game Changers stock – so you'll always know exactly what's happening with every stock recommended and what, if any, action to take.
Fully transparent portfolio where you'll be able to see every transaction, cost basis and trade information.
Access to the Game Changers subscribers-only website.
LIVE Game Changers customer service specialists available during regular business hours, to help you with all your subscription needs.
That's not all…
Save $1,000 today
When you join us soon, you'll receive something extraordinary.
As you can imagine, Game Changers doesn't come cheap.
Not with gains this big and this fast. Finding rare, life-changing opportunities like these takes a lot of work.
However…when you act now, you'll receive an entire year of Game Changers for just $397.
That's $1,000 off of the usual price – a 70% savings.
Believe me, getting my publisher to agree to this kind of deal wasn't easy.
So I urge you to join us while there's still time.
When you do, you'll have a full 30 days to make sure Game Changers is right for you.
If it's not, just let me know by the end of day 30 and you'll receive an immediate refund.
It's that simple.
But you must act now.
So join the party today…and get ready for the chance to receive life-changing returns in almost no time at all.
Good Investing,
Ian Wyatt
Chief Investment Strategist
High Yield Wealth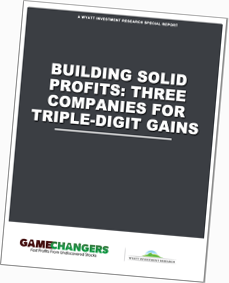 P.S. When you join us, you'll also receive a special report, Building Solid Profits: Three Companies for Triple Digit Gains. It's the perfect way to get started on your journey to making one triple-digit winner after another. And it's yours, free, just for taking advantage of this limited-time offer.
P.P.S. Remember, your $1,000 savings expire soon. After that, you'll have to pay the full price. Please don't let this rare opportunity slip through your fingers.
Order Now
*Legal Notices: Investing in securities carries certain risks for loss just as much as it presents opportunities for profits. Our investment newsletter editors have researched the investment(s) mentioned in this marketing promotion and special report(s). The opinions included herein are those of the author, and are made using publicly available information. We are not a registered investment advisor, money manager or a broker dealer. Every investor is advised to conduct his or her own research, due diligence, and consult with a financial advisor before making an investment decision. Potential future returns or income claims made in this promotion are based on a combination of calculations, historical data, and the evaluations of our editors. Individual results may vary. The claims, projections, and estimates CANNOT be guaranteed and should not be considered as such.