Fellow Investor,
Right now, we're on the verge of a record dividend payout season...
With dozens of companies getting ready to make giant, one-day dividend payouts that dwarf anything we've ever seen.
We're expecting a record number of these huge payouts in late 2016 and early 2017.
But it may surprise you to learn that these special payouts happen all of the time. Just look at a few that paid out recently...
20% dividend from Symantec Corp
52% dividend from Source Capital
13% from HSN Inc.
In some cases these one-day payouts are as high as $122 for every share owned...
And we've even seen dividend yields of 87%!
In other words, shareholders with even just a thousand shares could rake in as much as $122,000... in a single-day!
These payouts are known as special dividends...and they are not freak occurrences.
In a typical month, there are 8 - 12 of these special dividend payouts.
The simple fact is that most investors don't know anything about special dividends.
But our research has found that these payouts provide a timely opportunity for earning more income.
Six months ago, we began a research project dedicated to regularly collecting the biggest payouts.
We started working on this project after one of our research analysts showed us how he was using it to generate extra income in his personal account.
And as we'll reveal, it's very straightforward and easy to use, but also very profitable.
After researching over 4,218 of these special one day payouts, I've discovered a simple profit strategy.
Here's the nuts and bolts of how it works:
Step 1: Buy a stock right after a special dividend is announced, and collect giant 5 - 60% payouts of up to $5,000 or more in just one day.
Step 2: After you collect the income, then you can hold onto the stock for several weeks or months and earn even more. So you can basically collect a huge payout and then wait a few more months for even more gains.
Let me show you just one example of how this dividend strategy works...
The simplest way to show you how this dividend strategy works is to illustrate with a recent dividend...
Let's take a look at a giant, one-day payout from a company called Computer Sciences Corporation.
This company headquartered in Virginia provides a vast array of information technology, and other computer solutions to vendors around the world.
It made $11 billion in revenue over the past year, so it's not a small operation...
And because all of its customers are other businesses - many of them private - you probably haven't heard of Computer Sciences...
Which means you probably also didn't hear about their special dividend announcement in November 2015.
They quietly issued a press release announcing a $10.50 per share dividend.
And if you bought the stock before the ex-dividend date, you would have collected $10,500 for every 1,000 shares you owned. Not a bad one-day payday.
But that's not the best part.
You see, my research team and I analyzed over 20 years of these special dividends. What we found was in many cases, shares of companies that pay large one-day dividends jump in the weeks and months after the payout.
And Computer Sciences was no exception.
Within 30 days, the stock price jumped $2 a share...
And those gains were in addition to the $10.50 per share dividend.
In short, investors collected the giant dividend and they also made even more money as the share price soared after the payout.
And you could have earned these huge gains in less than one month.
But how can you know for sure if this strategy is right for you?
At Wyatt Investment Research, we're a small boutique firm.
So when we spot an exciting trend or find new information that can help our readers, we have the flexibility to make it happen quickly. And we know our readers run the gamut from young active traders to retirees to working middle class scrimpers and savers.
So we're always on the lookout for new investment ideas that are appropriate for any investor.
As part of our work to find unique income opportunities, one of our researchers pointed out a large dividend he had just collected. It was a 52% one-day payout from Source Capital...
It amounted to $32 a share! For every 100 shares he owned, he pocketed $3,200...
"Like hitting the lotto" is how he put it.
We thought - 52% sounds great. But what happens to the stock after such a big payout?
As it turns out, after the first 45 days following this payout, the company's stock was up another $2.
If it worked with this company - how often is this special dividend strategy profitable?
I have isolated a method for selecting the very best special dividends...
And in many cases, you can collect the large dividend and wait while the stock rallies over the next few months.
We'd started researching these special dividend situations late last year...and we've spent more than six months looking at EVERY special dividend we could find since 1992.
We analyzed the stock price action before, during and after a special dividend gets paid out...
Analyzing a total of 4,218 special dividend situations.
As far as we can tell, no one has ever taken on this type of dividend research project. So the information we've discovered about this specific dividend strategy has never before been published.
But we've found a way to only target the best of the best of these special dividends that give you the highest possible income...
I won't bother you with all of the super specific details right now...but we've identified 3 key rules that tell us when to buy.
Once you know these rules, it's as straightforward as buying the stock, collecting the dividend, and waiting for the gains...
If it sounds simple, that's because it really is. And it's what makes this strategy unlike any other income approach in existence.
It's so straightforward, and since we've done all the heavy lifting, there's no guesswork involved...
Anyone can use this strategy.
But what's even more exciting is that according to our research, we're about to enter into a monumental period for special dividends...
As we looked through reams of data, we found some very interesting trends.
There are basically three primary reasons that companies issue special dividends.
They're cash rich and having nothing worthwhile to invest in.
They're near the end of the year and want to unload cash for tax purposes.
They fear a disastrous change to the tax-code and want to pay their shareholders while they still can.
Back in 2012, we saw these 3 trends converge with the Fiscal Cliff and President Obama's budget battle with Congress.
Legislation on Capitol Hill included higher tax rates on dividends.
In corporate boardrooms across America, company insiders decided to reward their shareholders with record payouts.
While everyone was focused on political nonsense, HUNDREDS of American companies issued one-time cash payouts in the last 6 months of 2012.
These huge dividends included:
Costco: $7 a share
CNH Global: $10 a share
Sturm and Ruger: $4.50 a share
NeuMarket Group: $25 a share
Booz Allen: $6.50 a share
And hundreds more...
In fact, in the final three months of 2012...
A record breaking 233 special dividends were recorded...
And payouts totaled a staggering $30.9 billion.
I can't even list them in this letter. There are just too many.
Just like 2012...right now there is great uncertainty in Washington D.C. And that uncertainty is at the heart of a huge upcoming special dividend payday.
Right now there are several factors that lead us to believe 2016 could be an even bigger year for special dividends.
First, American companies have tons of cash. In fact, they have more cash on their books today than at any point in history.
America's largest companies - those in the S&P 500 - have a grand total of $2.1 trillion sitting in offshore bank accounts. And that doesn't include the billions they keep in U.S. banks.
Second, Presidential candidates Hillary Clinton and Donald Drumpf promise to drastically change the tax code.
Third, with the economy growing slowly, companies have fewer and fewer attractive investment opportunities.
As a result, they want to offload cash and distribute it to their shareholders.
This trend is already unfolding...with select companies starting to make these payouts.
In just the past months we've seen giant dividends from Pilgrim's Pride (11% yield) and Intercontinental Hotel Group (15% yield).
Our research shows that there are many more special dividends are on the horizon…
And the only real question is "which extra large dividends should we collect?"
When you have an opportunity to collect dividends of 10% - 60% or more in one day with reliable safety, why bother with normal dividends of 1 - 5%?
That's exactly why we created this income strategy.
Right now, the market has a blind spot for these special dividends.
Now that we've discovered this blind spot, we want to help you profit from it.
So we've been analyzing our data to bring you up to speed on how this works...
That's why I asked my most senior income expert to help map out the IDEAL circumstances to collect special dividends.
His name is Steve Mauzy, and if you've been a reader or subscriber at Wyatt Investment Research, you probably know him as the founding editor of our premier dividend service: High Yield Wealth.
But Steve isn't an outspoken guy. If you've read any of his work you know how he much he hates risk and the unknowns in the market.
Steve doesn't talk about it himself. But he's a Chartered Financial Analyst, which is like an MBA on steroids. Being a CFA is one of the most rigorous standards in the investing world.
It involves taking a series of extremely difficult exams that most test takers fail multiple times. Yet, Steve passed it on his first try.
So to have Steve advocate this type of unique income strategy is huge. I know if this opportunity wasn't conservative, reliable and crystal clear, he wouldn't be recommending it.
By the time Steve makes a special dividend recommendation, all the hard work is done. It's just up to you to decide if you're ready to buy shares and collect a giant dividend.
He's already worked hard to make it as seamless as possible.
That's exactly why he's created two just-released special reports that provide all the details on this income strategy.
Before I reveal how to claim the special reports and when to start collecting these huge special dividends, there's one more facet of this strategy I need to tell you about.
Once a company pays out a large dividend, the stock can rally for months afterwards.
But right around the day of the payout, the stock typically declines in price.
This exact price action happens with regular dividends too.
And It's completely expected. When a company has less cash, the price goes down similarly.
it's a market reaction - but it creates a powerful opportunity.
That's because when most investors are in the dark. They have no idea that exchanges have these rules in place.
So most investors panic. They sell at the worst possible time...
And because they don't understand these special dividend situations, it creates a powerful tailwind for the stock. It shakes out all the weak hands and creates an attractive buying price for new investors.
Take a look at what happened with Advent Software....
In 2013, this company paid a $9 a share dividend... and the stock dropped 37% almost immediately.
But within a month, Advent regained that 37%...and even more.
And our research shows in many circumstances, companies that pay large special dividends also have huge capital gains too...
What we've learned is that collecting these dividends can be one of the safest and most reliable ways to make money in the investing world.
It seems counterintuitive when the average yield for the S&P 500 is 2% and bank accounts don't pay anything.
But the market has a huge blind spot when it comes to these payouts...
So this blind spot is why we started this research into special dividends.
And it's why we're launching a brand new service based on this income opportunity called Dividend Confidential.
In a minute, I'll explain how to get complete access to this just released trade alert service …
But first, you need to understand something important.
Dividend Confidential is an entirely new way of looking at one-day dividends. That's because it's based on our original, in-house research.
As we've shown, a select few companies that payout big one-day dividends experience solid capital gains in the months following the payout.
That presents an interesting challenge...
Depending on your tax situation, collecting a one-day payout might be advantageous - or it might not be.
We've discovered that in some circumstances it can be even more lucrative to buy the stock on the ex-dividend date and to take your profits as pure capital gains.
It all depends on your circumstances...
So as a Dividend Confidential reader, you can profit two different ways. It's up to you.
Here's how it works:
As soon as we vet a new payout, we send you an alert. At this point, you have two choices:
You can look for yourself and see if the payout is something you're interested in, buy the shares and collect the dividend...

OR

You can wait until after the ex-dividend date and take advantage of huge capital gains as the stock soars following the ex-dividend date.
Either way, we'll give send you an email or text message alert when it's time to harvest profits.
Remember that for the best special dividend trades, the stock price soars for 3-18 months after the payout.
This is not a day trading or even a weekly trading service. This is month to month strategy. It doesn't require constant monitoring - but if you want to capture the biggest gains, you do need to pay attention to our timely alerts.
To make our strategy clear, we've written a special report called The Special Dividend Profit Strategy for Collecting 5% - 60% Payouts (a $99 value).
Inside, you'll discover:
How to identify the very best special dividend trades
When you need to buy
How long you'll need to own the stock.
When you should sell
We've made this report as straightforward as possible...to help you get started immediately.
The report is a special bonus for charter members of Dividend Confidential.
When you become a Charter Member you'll also get a 2nd Bonus Report: The Complete Guide to Special Dividend Investing (a $99 value).
This report is vital reading for anyone who wants to know the nuts and bolts of what happens behind the scenes of a special dividend. As a boutique research firm, we think it's our responsibility to help you understand the "why" as well as the "how" of our investing ideas.
So this report is basically a detailed look at a variety of special dividend situations and how they play out.
It also includes:
A VITAL exception to the rules of special dividend investing that involves companies paying out over 25% yields. It's important to know this exception if you intend to collect these types of large payouts.

Real Case Studies of recent special dividends. This inside look at the before, during and after of a special dividend payout will give you total confidence, and you'll know how and why this strategy works.

A full glossary of terms – so you'll have a one-stop resource for the vocabulary of dividend payouts.
Both reports are specifically designed to get you 100% up to speed on this unique strategy…setting you up for bigger dividends and consistent capital gains.
I can promise that if you put our Dividend Confidential recommendations to work, you'll have a virtually full-proof means of adding thousands of dollars in extra income to your account over and over again.
I'm proud to say the Dividend Confidential income trading strategy is unlike anything available at any publisher, hedge fund, trading firm, or investment advisor.
But this opportunity to try out this research is limited in more ways than one.
We're launching Dividend Confidential with a small, select group of people before we open the doors to the greater public.
Since this is a new service, and we want to make sure we can do a great job helping people and answering as many initial questions as possible, we have to set a hard limit on new subscribers.
Only 100 people will get access to this service. Any more than that, and I'm not sure we can guarantee the quality of customer service we pride ourselves on.
That's why we're limiting this Charter Membership Discount to the first 100 people. After those 100 spots are taken, we'll be closing the doors on Dividend Confidential.
But you should know that 1,000 people attended our live event…and we're opening this up to all 350,000 of our subscribers. So we expect to hit this limit very quickly…
It's also important that you're aware of our strict deadline.
When you accept my invitation and take a trial membership to this service, you will be first in line to profit.
With an amazing $1,200 discount off the normal price, we can't keep this Charter Membership deal open forever.
After Friday the annual membership is going up – in a BIG way.
In fact, the regular annual membership is $1,995.
And perhaps most exciting, when you sign up for a Charter Membership, you'll be among the first 100 people to read our brand new special dividend research – including our inaugural issue of Dividend Confidential.
You'll be on the list to receive upcoming special dividend alerts. We'll send you our alerts, emails and text messages as SOON as the next huge payout happens. We're expecting to send this first alert within two weeks.
I can tell you we've already spent the better part of six months putting this research together. We didn't know if this special dividend strategy would pan out until after we'd spent hundreds of hours digging into the data.
And after narrowing down the exact types of special dividends that promise the greatest profits to our readers, we know we have a great product that will help you succeed in the market over the months and years to come.
That's why we're launching this service: we've found something unique, profitable and appropriate for almost any investor who's looking for income, capital gains or both.
I'm proud of the work we've done creating this premier income alert service for serious investors.
And I'm trilled to have Steve Mauzy leading Dividend Confidential.
Because as our resident dividend expert, I know he'll do a great job finding large, safe dividends each month. I've never met in the financial world has the kind laser-sharp focus that Steve has for dividend research.
With Dividend Confidential, you'll see Steve and his research team vetting each and every special dividend that's announced—every single announcement, and upcoming payout.
We'll also publish a monthly summary of our open positions and let you know about the other "special situations" we're following.
Each recommendation will be clear and simple. There will be no guesswork of any kind – ever. You'll know when to buy, what to pay, when to sell and how much you should expect to make.
Let me take a minute to tell you more about what you'll receive as a Dividend Confidential subscriber: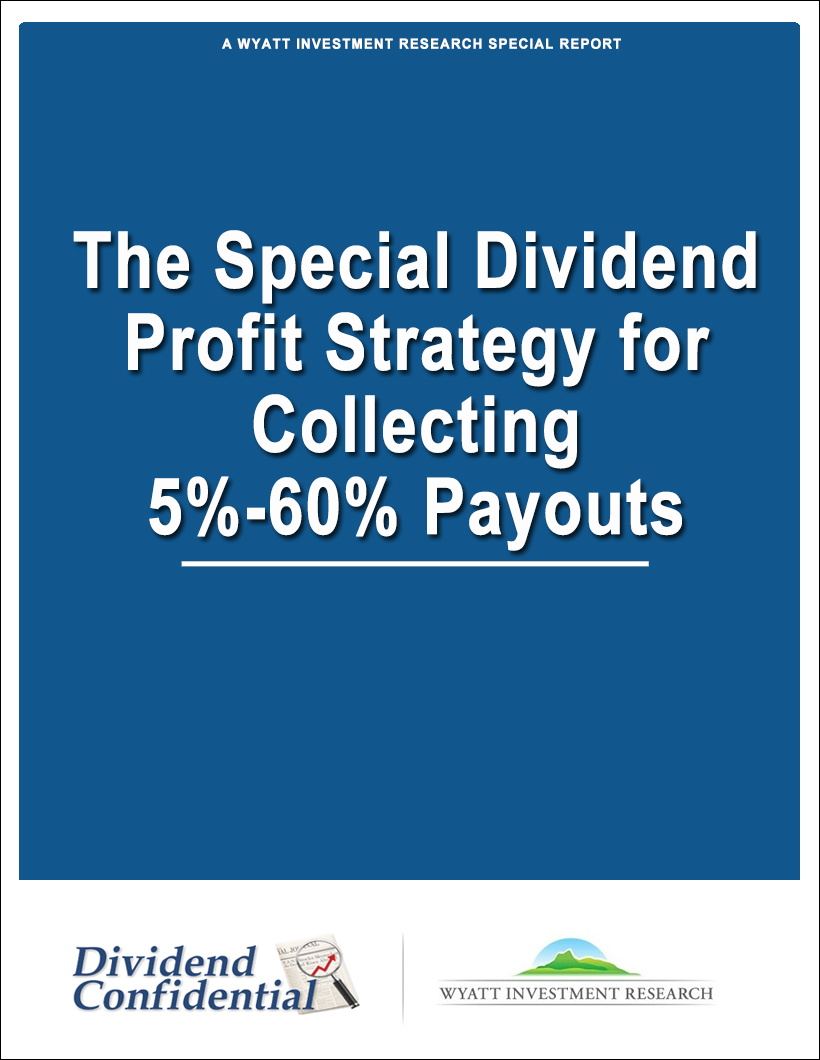 Special Report #1 - The Special Dividend Profit Strategy for Collecting 5%-60% Payouts:
This report reveals everything you need to know to use this service. Whether you're a capital gains investor or an income investor, you'll find out all details necessary to profit from this dividend strategy.
- $99 Value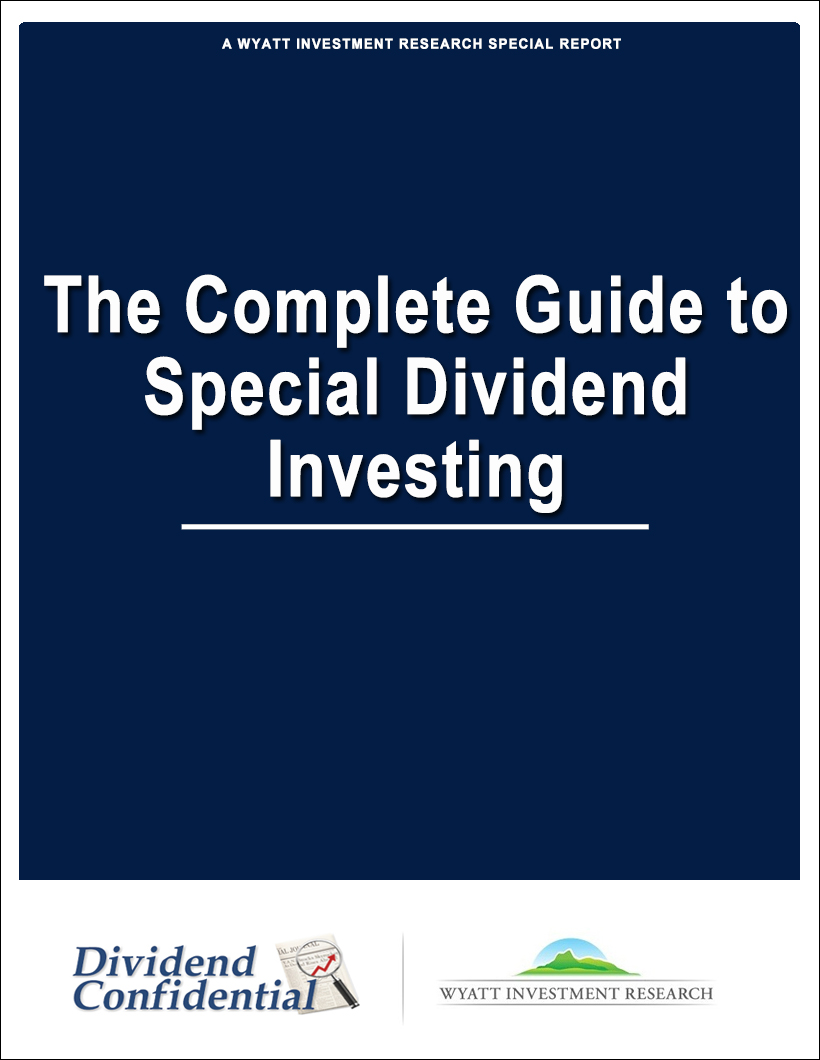 Special Report #2 - The Complete Guide to Special Dividend Investing:
This detailed research took us 6 months, and hundreds of hours to complete. It shows everything we've found about special dividends. It's a never-before-seen report on how special dividend stocks crush the market in the months following payouts.
- $99 Value
Monthly Newsletter Issue: On the last Wednesday of every month, we'll send you a monthly issue including the latest special dividend announcements and a full portfolio review, including any new developments or tradable special situations.
Dividend Confidential Alerts: Every time a company announces a new special dividend, we'll alert you via email and text message, letting you know if it's safe and big enough to grab.
You'll also have your password to the members-only Dividend Confidential website...where you can access the model portfolio, newsletter issues, special reports, and the latest alerts.
While we anticipate a slew of special dividends to be announced any day now, I urge you to buy two specific companies in particular.

Both of these companies pay a small, regular dividend.
But they return the lion's share of their dividends just once a year in the form of a large, special dividend payment.
These consistent special dividend payers are the first companies we're recommending to Dividend Confidential subscribers. Steve has been monitoring these companies, and their performance has been remarkable…

When you sign up for a trial subscription, we'll give you immediate access to a brand new inaugural issue of Dividend Confidential that Steve Mauzy just completed on these companies called, "Two Consistent Special Dividend Payers to Own Today."

Click here now to view this report.
I hope you understand that given the work we've put into this project, we charge a lot for the Dividend Confidential.

If you're making $5,000 every few months with our recommendations, you shouldn't mind paying $2,000 or more for the information that's helping you make safe and easy gains.
But today, we're offering a special, Charter Member discount of 60% off the regular price of Dividend Confidential.
And we're doing this for a short time only.
CLAIM YOUR 30-DAY
RISK FREE TRIAL NOW
It's important that you understand that this is the first time we're offering this service. There won't be another chance to become a charter member of Dividend Confidential.
Our customary guarantee still applies, of course. If you don't agree with me that our Dividend Confidential strategies are some of the safest and easiest ways to invest, I'll refund 100% of your money at any time during the first 30 days of your membership.
I hope you'll decide to join us.
To take advantage of this offer, just click here.
Good Investing,
Ian Wyatt
P.S. We're heavily discounting Dividend Confidential for a short time only, and selling it for $795.
But you can still test the Dividend Confidential for FREE for the next 30 days.
If you aren't happy for any reason... and if you aren't easily adding thousands of dollars to your bank account every month, I'll refund your $795 - no questions asked.
After that, the normal annual membership goes up to $1,995.
That makes right now your only chance to claim a Charter Membership at the best-ever $795 price.