Congratulations – things are about to change in a big, big way for you.
When you have access to a trading signal that brings you consistent, quantifiable results of 65% gains on average then life can get a whole lot easier and a whole lot more profitable.
You don't get stressed out when making a trade anymore

You know what kind of results to expect on average

You can grow a small account into a large account quickly

You can remove emotion from trading

You can trust the process because it's been proven to work
The X-Signal Has Proven Itself For 4 Years
The results speak for themselves…
Average Winning Trade =

114.3%

Average Losing Trade =

26.7%

Average Gain Across All Trades =

65.3%

Average Trades Closed Each Month =

2
What Can This Mean For You?
$1,000 risked capital per trade = $653 average
$5,000 risked capital per trade = $3,250 average
$10,000 risked capital per trade = $6,530 average
These trading results have remained remarkably consistent during the last 4 years – despite changing market conditions.
BlockBot Scans the Markets And Follows the Insiders
This is no run-of-the-mill, out-of-the-box "chart indicator."
This proprietary algorithm is programmed to scan for specific insider buying criteria by the largest institutional players in the market.
Here's how it finds the highest quality trades…
Scans The Market Constantly

6,468 Stocks

2,781 ETFs

745 Warrants

411 ADRs

Looks For Unusually Large Levels of Block Trading Activity
Only large institutions with millions upon millions of dollars to throw around can initiate private block trades with their brokers.
Now it's your turn to track these huge insider transactions. And make your own trades right alongside the biggest Wall Street firms.
Taking these trades can results in quick triple digit gains…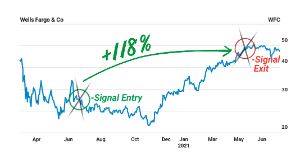 Like this one on Wells Fargo.
That ended up in a
118% gain.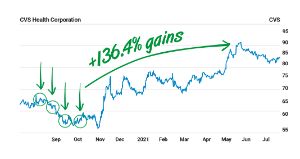 Or this one on CVS.
Which ended up in a
136.4% gain.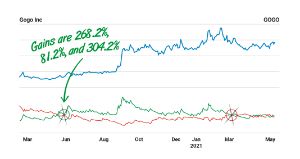 Or this one on GOGO,
Inc.
Which made 268.2%... 81.3%... and 304.2% gains.

When buying pressure officially overtakes selling pressure, it sends a clear "X-Signal" at the best time to get in a trade


With BlockBot Profits You Get These Signals Sent Straight To Your Inbox And Phone With Clear Instructions
No complicated software to download.
No frustrating code to learn.
No maintenance required.
Just sign up, follow the trade alerts, and collect your profits as they come.

Here's Everything You Get As A Member
Special Report:
The X-Signal Decoded
[$299 Value]
Curious how the X-signal works and why it's so powerful?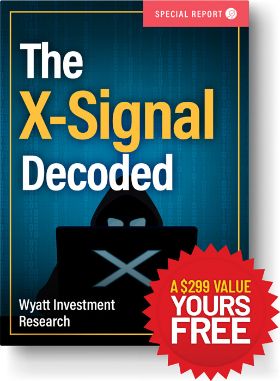 This simple, easy-to-understand guide has everything you need to decode this powerfully reliable trading signal.
You'll see all the details on BlockBot Algo-X, how it scans for stocks, which stocks it scans, and how often it scans for them.
Then you'll see exactly how and why it decides to flag down individual stocks based on block trading activity.
For example – what is considered "unusual" block trading?
And how do BlockBot's settings help deliver only stocks that have the best likelihood of moving BIG?
And finally, you'll learn exactly what makes the X-Signal appear and why you should feel confident jumping into a trade each time it does.
Once you decode The X-signal you'll have the unshakable confidence to get in and out with huge potential profits.
High Level Training:
BlockBot Trading Masterclass
[$597 Value]
This is big. BlockBot editor Andrew Packer has been in this industry for decades.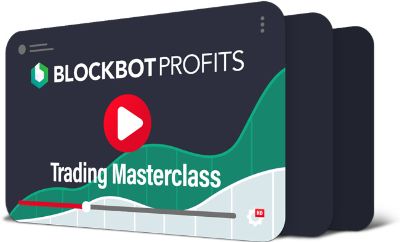 In the past, he's spoken at packed seminars and he's charged thousands upon thousands of dollars for individual one-on-one consultations.
He's successfully managed money for some of the highest net worth individuals in the United States for a very hefty price tag.
Yet he told me he wants to get you on your feet taking these trades and potentially cashing in these gains ASAP.
In order to do that, he knows he's going to need to give you the "getting started" guidance you deserve.
That's why he's putting on this exclusive trading masterclass to all charter members today of BlockBot Profits.
Inside he'll walk you through the tricks he uses to get in on these X-Signal stocks for bigger-than-average gains.
And even walk you through the process of how he uses BlockBot to find these high confidence trading opportunities.
Plus, he'll hold a lengthy question-and-answer session so that any questions you have will be addressed.
He'll even record the session so you can go back and review it any time you need to.
BUY NOW X-Signal Trade #1:
The Healthcare Platform Ready To Move 668.9%
[$399 Value]
Get this alert at 3PM TODAY.
This consumer-focused digital healthcare platform is getting bought up by big Wall Street whales left and right.
Recently someone purchased 423,823 shares for $18 MILLION in just one day
Then about a week later they bought another $18 million!
In fact, all in all over the course of just 5 trading days -- $59 MILLION was purchased through six block trades.
Some big player is accumulating a massive position.
And all of this buying has given us an OFFICIAL Insider's X-Signal.
And this pick could bring you as much as 668.9% profits.
BUY NOW X-Signal Trade #2:
422% E-Commerce Fortunes
[$399 Value]
This one is setting off alarm bells left and right and it's looking incredibly convincing that this stock could experience an EXPLOSIVE move upward.
This e-commerce related stock serves an incredibly dedicated, niche audience.
And despite being down 675 from its all-time-highs, SOMEBODY is going all-in and they are an absolute WHALE.
Remember – people sell a stock for all kinds of reasons. But they BUY stocks for only ONE reason – they think the price is going up in an enormous way.
Right now BlockBot is lighting up like a Christmas tree with the level of buying activity.
700,000 shares on ONE trade for $38 million…
521,322 shares in ONE trade for $20 million…
1.4 millions shares on ONE DAY for $72 million…
All in all over the course of just 9 trading sessions 17 block trades have gone through for $196 MILLION total.
Best of all An Insider's X-Signal has just been triggered.
And this alert is going out TODAY at 3PM.
BUY NOW X-Signal Trade #3:
320% Upside For This Cloud-Based Solution
[$397 Value]
Another GIGANTIC whale dip-buy opportunity.
Institutions are backing up the truck on this cloud-based software solution for medical professionals.
Almost overnight block buying activity has spiked into a frenzy and this has already caused share prices to start rising.
399,732 shares purchased for $27 million in a single trade…
Then another 360,742 shares purchased for $24 million a few days after that…
All in all over just 5 trading days, whales have gobbeled up $81 MILLION worth of shares across 6 block trades.
And this has triggered an Insider's X-Signal.
Could big news come out on this stock soon?
It's very likely – and if/when it does you definitely want to be in on it.
BUY NOW X-Signal Trade #4:
Buckle Up For 506.8% Potential With AI Cars
[$299 Value]
The algorithm is going berserk right now with how much block buying is happening with this autonomous vehicle stock.
In fact, over the course of just 9 trading sessions whales have purchased $73 MILLION worth of stock across 22 block trades.
And the buying is showing no signs of slowing down.
In fact just a few days ago another 500,000 shares were purchased for $8 million right before the market closed.
No wonder BlockBot is sending out a big, fat X-Signal.
Autonomous vehicles are revolutionizing the automotive industry, but for the average "stock picker" out there it can be incredibly difficult to know which one is worth investing in or not.
Why sit around guessing?
If whales are buying up THIS stock behind the scenes – while not touching any of the other autonomous vehicle plays – then it's safe to say your focus should be lasered in on this potential winner.
BUY NOW X-Signal Trade #5:
Banking 200% Potential Gains On The Global Semiconductor Shortage
[$299 Value]
This is the report of the FREE trade you received in the webinar. A recap of all the details are included.
As you may have heard – the ENTIRE world is experiencing a massive semi-conductor shortage. And it's showing no signs of letting up.
Bloomberg notes that the chip shortage is expected to stretch through the end of 2022 to at least the second half of this year.
And the problem is getting so bad that the Biden administration is mulling over plans to help "fix" the problem with legislation.
Also – many other countries as well are starting to view semi-conductor manufacturing as a matter of national security.
But which stock should you choose?
How about the one that GIANT Wall Street whales are buying up in bulk – one that has seen $177 MILLION of capital flow into it exclusively from Wall Street insiders over the last few weeks alone?
Follow the smart money and potentially book up to 200% or more with this timely play.

Membership Perk:
BlockBot Command Dashboard
[$1,569 Value]
This private web portal can be accessed on your PC, laptop, phone, or tablet. And it contains all the BlockBot trade information you need in one convenient location.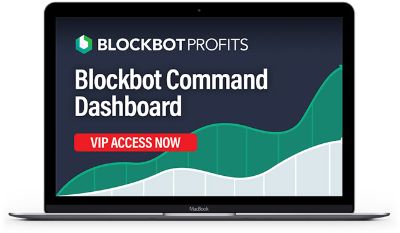 Inside you'll be able to access all your reports, issues, and alerts with full details on trade entry and exit perimeters.
You'll also have access to our portfolio tracker for ALL open and closed positions.
Plus, positions that are still a "buy" will be highlighted for you so you'll always know which opportunities are still ripe for the taking.
Not only that, you'll have access to a comprehensive FAQ section covering virtually everything you'd ever want to know.
And you'll also have access to an exclusive VIP contract form that lets you submit any questions or comments directly to our US-based in-house customer service team.
Finally, for those most pressing questions or concerns, you'll have a direct toll-free phone line to our in-house team as well.
Membership Perk:
X-Signal Premium Alert Service
[$995 Value]
With this service you will never miss an X-Signal.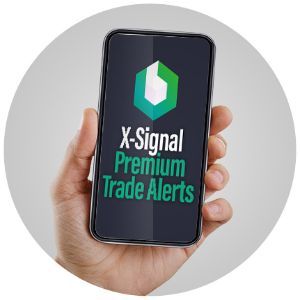 Every time there is a new X-Signal for 50%...100%...300% or more potential profits, Andrew will send you clear details on the opportunity straight to your inbox with simple-to-understand trade entry instructions.
You can also opt-in to receive these alerts straight to your phone via text message as well.
BONUS #1:
Earn 1,000% Bigger Profits With This One Simple Trick
[$199 Value]
Believe it or not, there's a little-known method to potentially book up to 1,000% more gains on X-Signal stocks.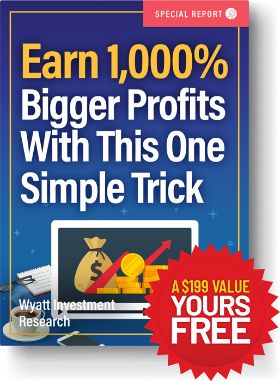 And no – I'm not talking about options.
In fact, this secret is so powerful you can even use it to get FREE bonus shares of stock.
Or, you can get deep, deep discounts on stocks – far below what they're actually trading for on the open market.
And this can actually multiply your profits by up to 1,000%, or possibly even more.
In fact, using this method on one stock saw 2,259% higher gains than using the old method of buying the stock itself.
This bonus report will show you what this trick is so you can exploit it for profit-boosting gains.
BONUS #2:
The 10x Stock Booster Formula
[$127 Value]
In this report, you're going to see Andrew's proprietary booster formula using a certain type of options contract.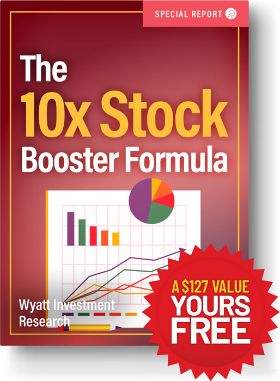 You see, most people who buy options do it the wrong way and this can actually hurt their returns.
The method Andrew uses is a little unorthodox, but it works like gangbusters.
In fact, Andrew consistently gets 10x returns over the move of the underlying stock itself using this method.
That means if the stock moves 15% Andrew can make 150%.
And now, with this simple, easy-to-understand bonus report you'll be able to potentially 10x your profits as well.
SPECIAL DISCOUNT:
1 Year of BlockBot Profits
[$9,443 Value]
BlockBot Profits is the most expensive single service we've ever offered here at Wyatt Investment Research and the simple reason is because it's so extremely powerful and consistent.
NOTICE: Your Satisfaction Is Guaranteed
Although there are no cash refunds for this special charter membership offer each new member receives a 100% satisfaction guarantee.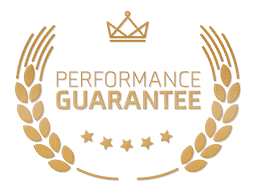 PLUS – You Get An Extra-Long, 12-Month Performance Guarantee
With this special offer, we're going to completely shoulder all of the risk.
That means, you can give BlockBot Profits a complete test-drive over the next TWELVE months.
And, if you don't receive at least 500% total portfolio gains - just contact my office and let us know that you came up short.
YOU WILL GET AN EXTRA YEAR OF MEMBERSHIP FOR NO COST.
But we really don't think it'll come to that.
Members have the chance to book 65% average gains. So in reality your portfolio gain should be MUCH higher!
Complete Your Enrollment Below
- OR -
Call: 888-875-1960
WARNING:

Leave this page, void your spot