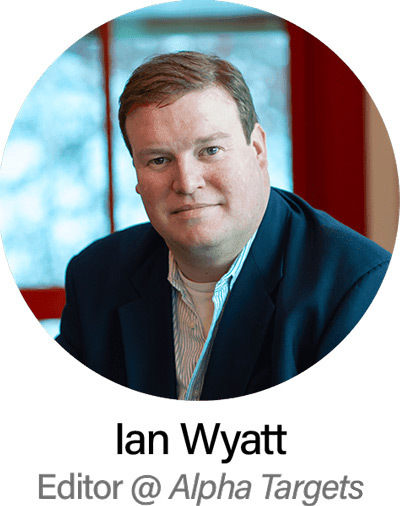 Congratulations! You've just discovered how Tesla CEO Elon Musk is quietly preparing to release his…
Secret Master Plan 3.0.
The billionaire's new "master plan" will set the stage for a Battery Metals Super Cycle. In fact, Tesla is already sparking a massive battery metal "land grab."
Every automaker including Tesla, Ford, General Motors, Volkswagen and Toyota are rushing to secure critical partnerships to produce millions of batteries.
They're signing deals with undiscovered stocks. And the size of these deals is absolutely massive…
$186 million deal to acquire 80,000 pounds of cobalt per year
$1.7 billion agreement to buy nickel from a midwestern mining stock
$5.1 billion agreement to buy lithium from an Australian company
Dozens of additional deals could be announced in the coming weeks.
Once a deal is announced – shares can quickly jump 132%... 548% or even 614%!
That's why it's critical to invest BEFORE these deals hit the news.
So, what is the next hidden stock signing a +$1 billion deal?
Grab instant access to my FREE reports – giving you the NAMES, TICKER SYMBOLS and complete analysis on my top 5 picks.


Claim Your FREE Bonus Reports
Before Elon Releases Master Plan 3.0
It's beyond the point of no return…
EVs are going to be everywhere. GM plans to build 1 million per year. Ford expects 2 million. And Tesla is eyeing 10 million per year by the end of the decade.
Electricity is the fuel of choice for the next generation of vehicles. And the battery becomes the critical technology powering 30 million new EVs produced every year by the end of this decade.
That's why the battery market is expected to grow by 2,400% - according to Morgan Stanley.
This creates a +10-year boom for companies that are making next generation batteries. Plus, it creates an urgent demand for the metals that are inside every battery.
That's why I want to give you instant access to my research – with details on the top 5 stocks to BUY NOW.
Each of these companies could soon announce major partnerships. And that news could send shares doubling or tripling in price. It's critical that you get this research and ACT NOW.
SPECIAL REPORT #1
America's #1 Battery Recycling Stock to Buy Now
$297 VALUE – Yours FREE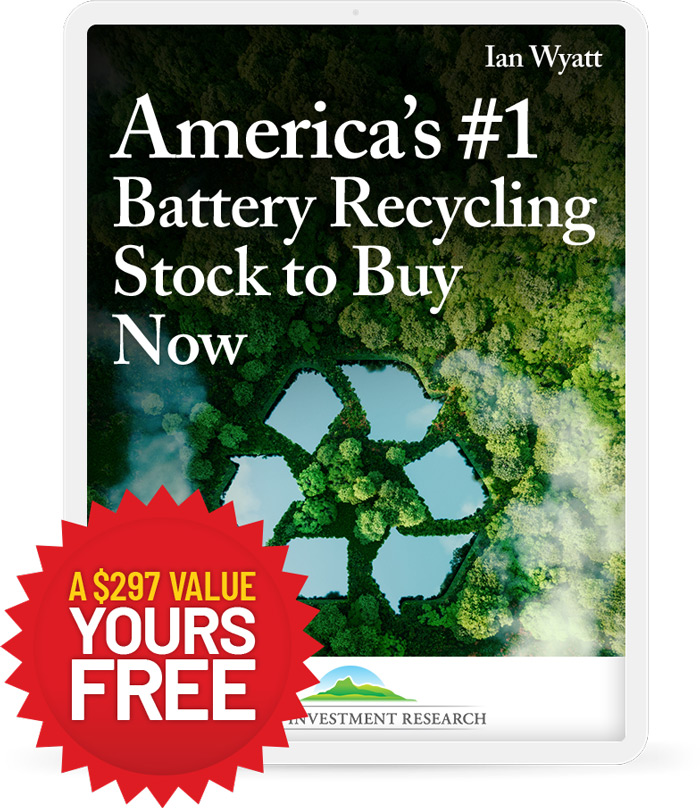 One American company is recycling dead batteries from smartphones and EVs. It's turning those worthless batteries into new metals. It's 100% green – and avoids spending 5 - 10 years to build new mines.
The company is building battery recycling centers in Alabama, Ohio and New York. Plus, expansion in Europe and Canada is also underway. Soon they'll be recycling enough batteries for 225,000 new EVs per year!
This company expects 400% sales growth next year. Within 3-years their annual sales could top $1 billion! This explosive growth suggests the stock could soar 614%.
SPECIAL REPORT #2
Lithium Stock Secures $730 Million Tesla Deal
$297 VALUE – Yours FREE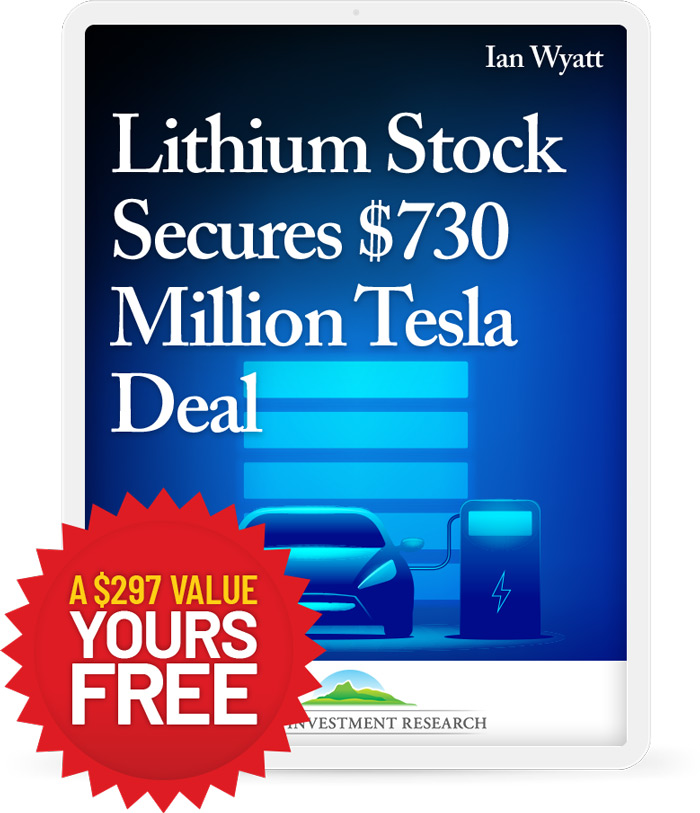 Tesla just signed a major deal with this stock that could be worth $730 million. They also have +$4 billion in supply agreements with top battery makers.
I'm expecting additional major announcements in the coming weeks. That's because the company will start pumping lithium from the ground this year. And battery Gigafactories are desperate to secure more lithium.
Today this stock is trading below $2 per share. However, the share price is starting to move higher. And it could easily triple before the first shipment in December.
SPECIAL REPORT #3
Micro Cap Wins $1.7 Billion Battery Deal with Tesla
$397 VALUE – Yours FREE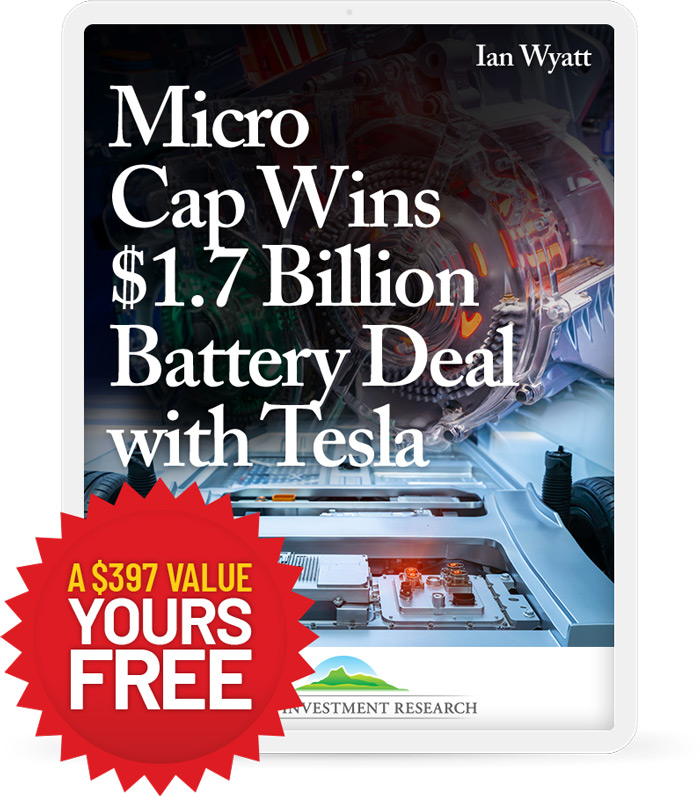 Nickel may be one of the most overlooked battery metals. Yet automakers are desperate to secure this critical mineral. That's why Tesla just signed an agreement to purchase +150 million tons from a North American company.
This undiscovered stock is sitting on over 3.9 million tonnes of nickel. So, they'll have no trouble supplying Ford, General Motors and any other automaker producing EVs in the U.S.
Today you can grab a stake for less than $0.50 per share. And the stock could soar to over $2.50 when the company signs additional deals.
SPECIAL REPORT #4
America's Undiscovered Rare Earth Metals Trade
$297 VALUE – Yours FREE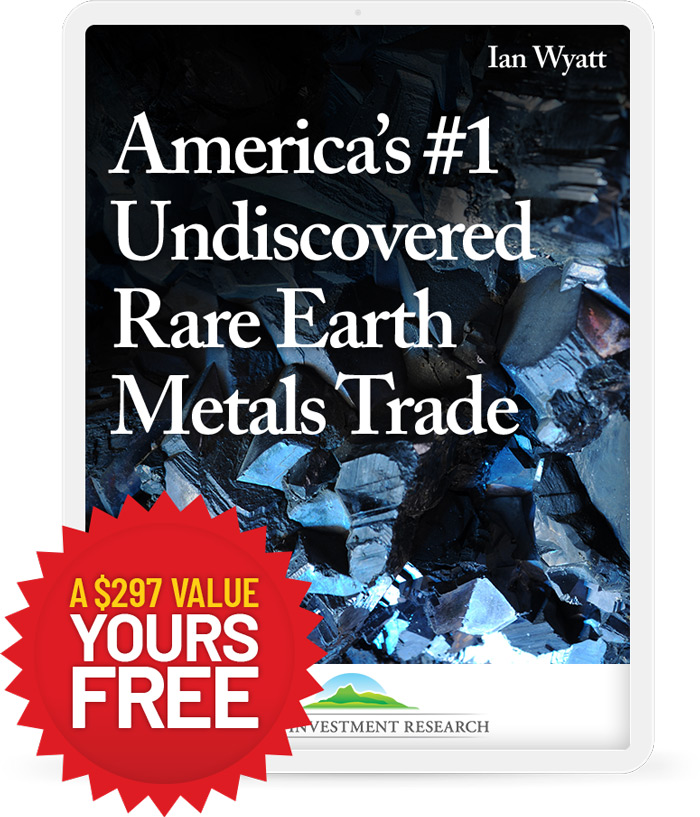 The U.S. has been completely dependent upon China for rare earth metals. Until now…
One new American company has quickly secured a 15% market share. And they're now supplying rare metals for use in EVs and battery storage devices.
Demand is through the roof. Sales this year will exceed $500 million. Plus, the company is a cash-cow – producing over $380 million in annual profits.
Wall Street loves the stock – with State Street, Morgan Stanley and Blackrock each investing +$100 million. Plus, company insiders own 20% of the entire company.
This stock has the hallmarks of a triple digit winner. And major agreements could be the catalyst to send this stock soaring.
SPECIAL REPORT #5
The Battery Gigafactory Growing by 1,108%
$397 VALUE – Yours FREE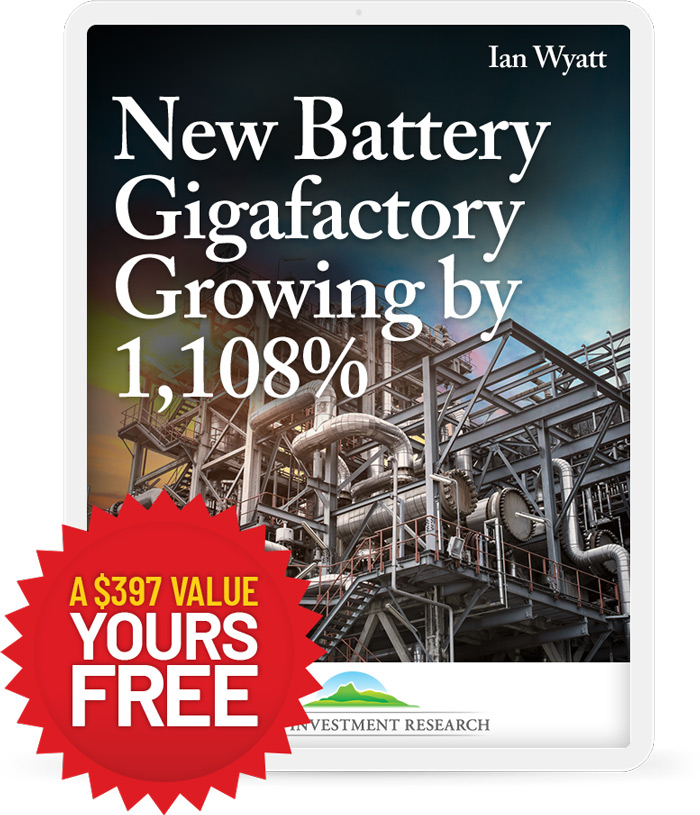 There's a race across the world to build battery Gigafactories.
One undiscovered tech stock partnered with the Massachusetts Institute of Technology. Together they've developed a breakthrough EV battery that will extend range and reduce costs.
They're currently building 2 battery Gigafactories in Europe and the U.S.
Sales are expected to jump by over 1,108% this year. Plus, the longer-term outlook calls for +$2.3 billion in annual sales!
That type of explosive growth ALWAYS attracts investors to a stock. That's why it's critical to buy shares now – before they ink critical supply agreements in the coming months.
Alpha Targets Pinpoints the
Next Explosive Trades
These five FREE research reports are being released to celebrate the launch of a brand-new research and trade service called Alpha Targets.
Alpha Targets is 100% focused on spotting breakout trades that can help your portfolio crush the market.
One word of WARNING…
This is NOT a long-term "buy and hold approach. If you simply like to hold ETFs and big blue-chip stocks for 3 – 5 years – this probably is NOT for you.
This IS the perfect solution if you want actionable trade ideas in your email inbox every week.
Today I'm launching Alpha Trades with 5 timely trades to profit from Elon Musk's Secret Master Plan 3.0.
These trades are simply your starting point…
Every month you'll get a MINIMUM of 2 actionable trade ideas. And while there is no guarantee on the results…
Every trade will target a minimum of a 100% profit.
That's right. You'll ONLY get trades with a reasonable chance to double your money in less than 12-months.
For the last 13-years I've been identifying the biggest growth trends – and regular folks have had a chance at maximum gains including…
Google +890%
Cronos Group +1,012%
Moderna +1,466%
MasterCard +1,576%
Netflix +5,981%
Here's what you're going to get…
First, you'll claim 5 urgent special reports with my highest conviction stocks to "BUY NOW" – BEFORE Elon releases Master Plan 3.0.
These action-packed reports will jumpstart your portfolio with these top investment ideas for fast profits in the coming months. Each stock idea has the potential to at least double in the next year.
Second, you'll get complete access to my Alpha Trades investment research.
That means you'll get to watch my every move in the portfolio. Every buy. Every sell. With regular updates along the way.
Here's everything you'll get with your membership:
Two new stock trades per month
Weekly newsletter with comprehensive market analysis, updates, and new opportunities
Timely trade alerts sent straight to your inbox and phone via SMS when I'm buying, selling, or re-positioning
Live portfolio tracker so you can see all positions, buy up-to prices, and closed positions
VIP concierge customer support – call or email ANY TIME with questions or comments – my # is 888-875-1960
Members-only dashboard with ALL your research reports, newsletters, alerts, and portfolio positions in one, simple, easy-to-access location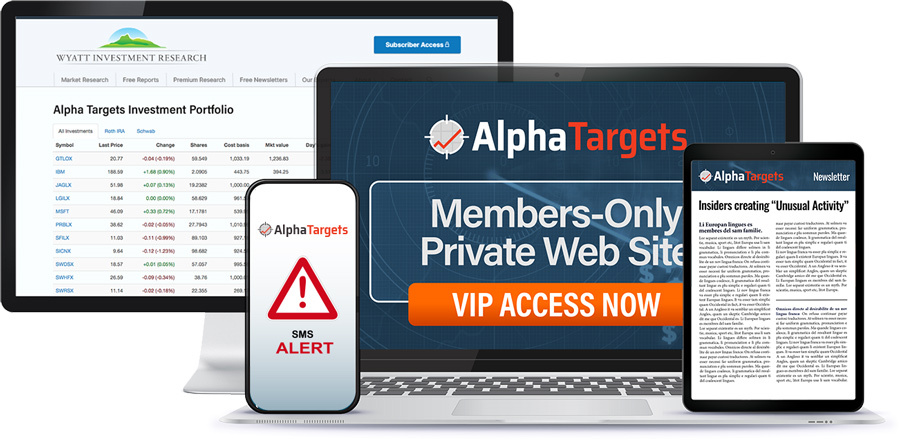 SPECIAL BONUS
$694 Value
FAST ACTION BONUS #1
The Green Battery Metal Stock with +500% Growth
$297 VALUE – Yours FREE
It may surprise you to learn that graphite is the top metal inside an EV battery. Millions of new EVs means a coming 500% increase in demand for the battery metal.
One North American company is sitting on over 65 million tonnes of this metal. They're planning to begin production as soon as next year.
I'm expecting a major +$1 billion supply agreement will be signed by the end of this year. That single partnership could send this stock doubling from a recent price of $5.
Once production begins this stock could easily be trading at $25. That means investors who jump into the stock now could be looking at 337% profits in the next 12 months.
FAST ACTION BONUS #2
$1 Battery Stock Powering 2.3 Million EVs
$397 VALUE – Yours FREE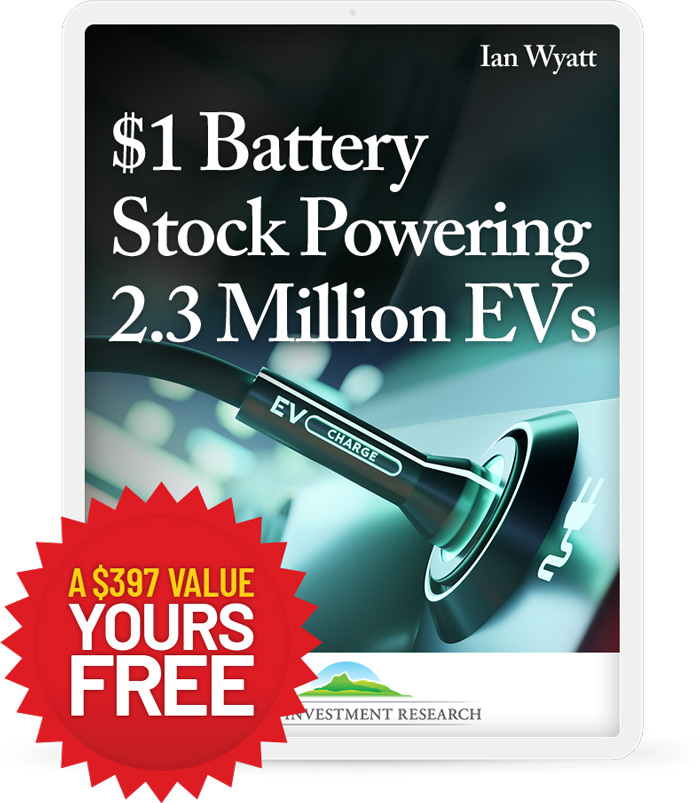 This international company is currently producing mines in Africa. It's launching a refining facility in the U.S. with over $100 million in funding from the Department of Energy.
That's why Tesla just signed an agreement to buy graphite from this tiny stock. It's a major move that means Tesla will be far less dependent upon China suppliers.
The Tesla deal is simply the first deal. U.S. automakers are desperate to source this critical metal locally. Another deal could quickly send this $1 stock soaring to new all-time highs.


Your Satisfaction is 100% Guaranteed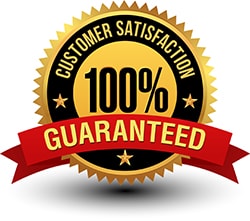 Plus, your satisfaction and success are 100% guaranteed in two crucial ways:
First, your satisfaction is guaranteed. If you're not 100% satisfied at any time, you can contact Wyatt Investment Research. They will cancel your membership and provide a credit toward any other research or trade alert service that's available.
Second, your performance is guaranteed. You can contact Wyatt Investment Research if you don't earn at least 300% profits in the next year using this research. If your results come up short, you can request that your membership gets extended by an extra 1-year – no questions asked.
With everything to gain – and nothing to lose – now is the time to get started with your…
TOTAL VALUE: $8,379
WHAT YOU PAY: $797

Complete Your Enrollment Details Below
- OR -
Call 888-875-1960